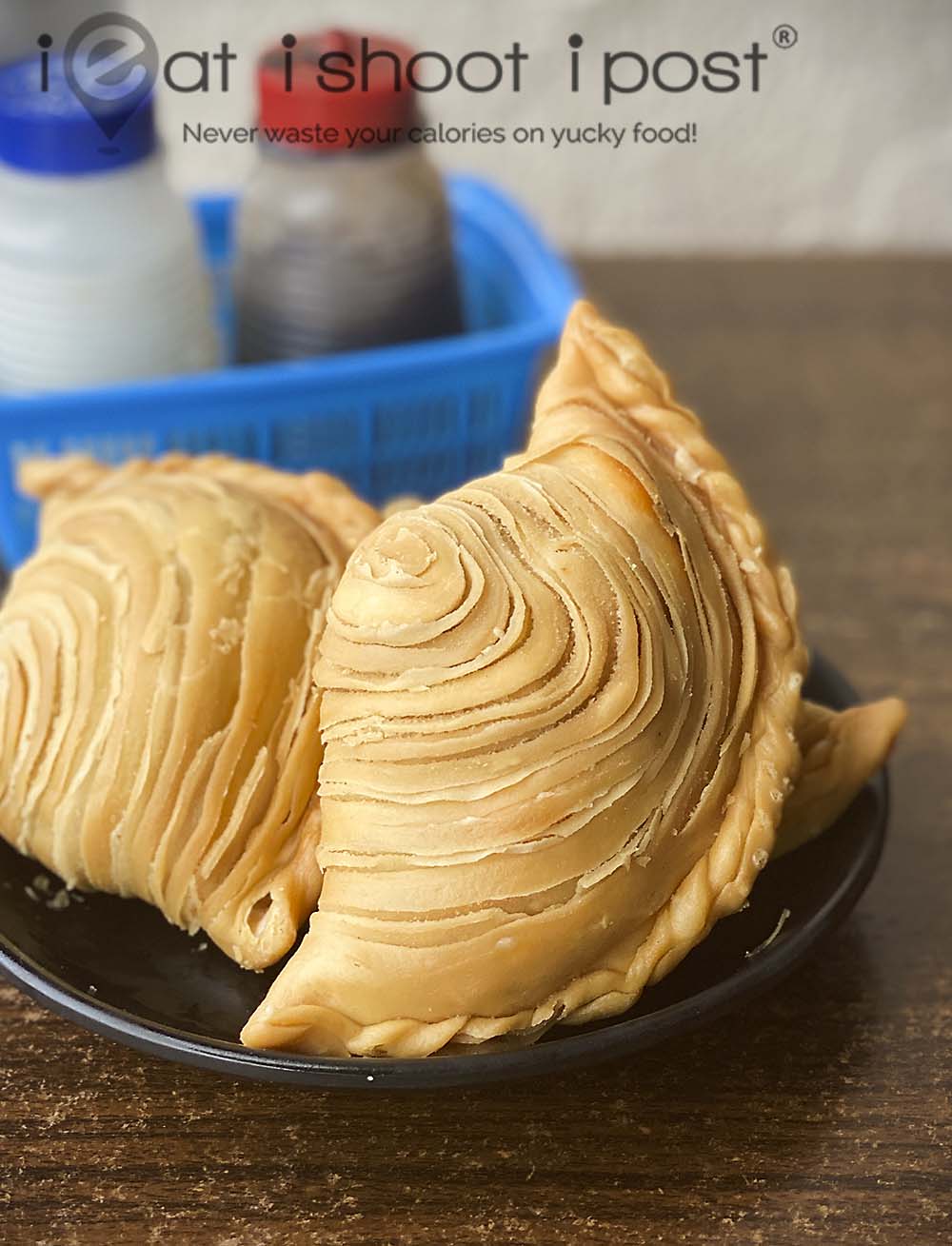 Click here to read my previous story posted on Dec 8, 2008.
Question:  Name me five dishes that have been created right here in Singapore.
Perhaps you managed to rattle off five or more in one breath or perhaps you find yourself struggling. But when you start delving into the history of Singapore food, it is amazing how many of our beloved dishes are invented right here on our little Red Dot!
Take this type of spiral crispy curry puffs for instance.  They were created by Mdm Lim Sai Hiong in the early 90's while she was still selling fishball noodles behind Macpherson Market.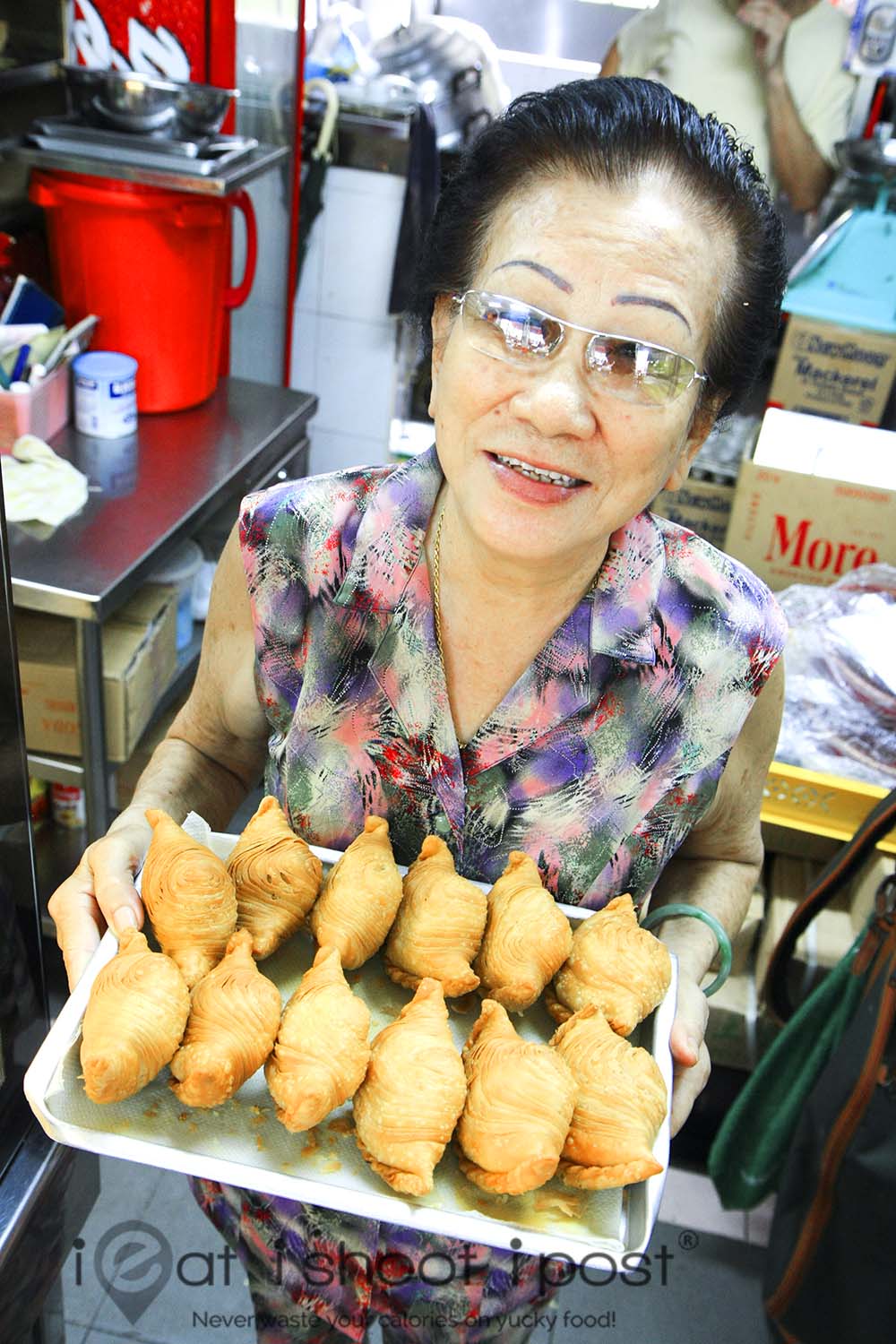 Being a charitable soul, she used to make items like Soon Kueh, Png Kueh, Tau Sar Piah and Poh Piah to give away to needy customers.  Being also very innovative, she often experimented and came up with new dishes.  One of these was the the spiral curry puff whose striking pattern was inspired by the snail.  The double layered oil and water dough is a traditional technique used to make the flaky layers of tau sar piah.  Making use of the same technique, she re-fashioned it to make the beautiful spiral layers of her now famous crispy curry puffs!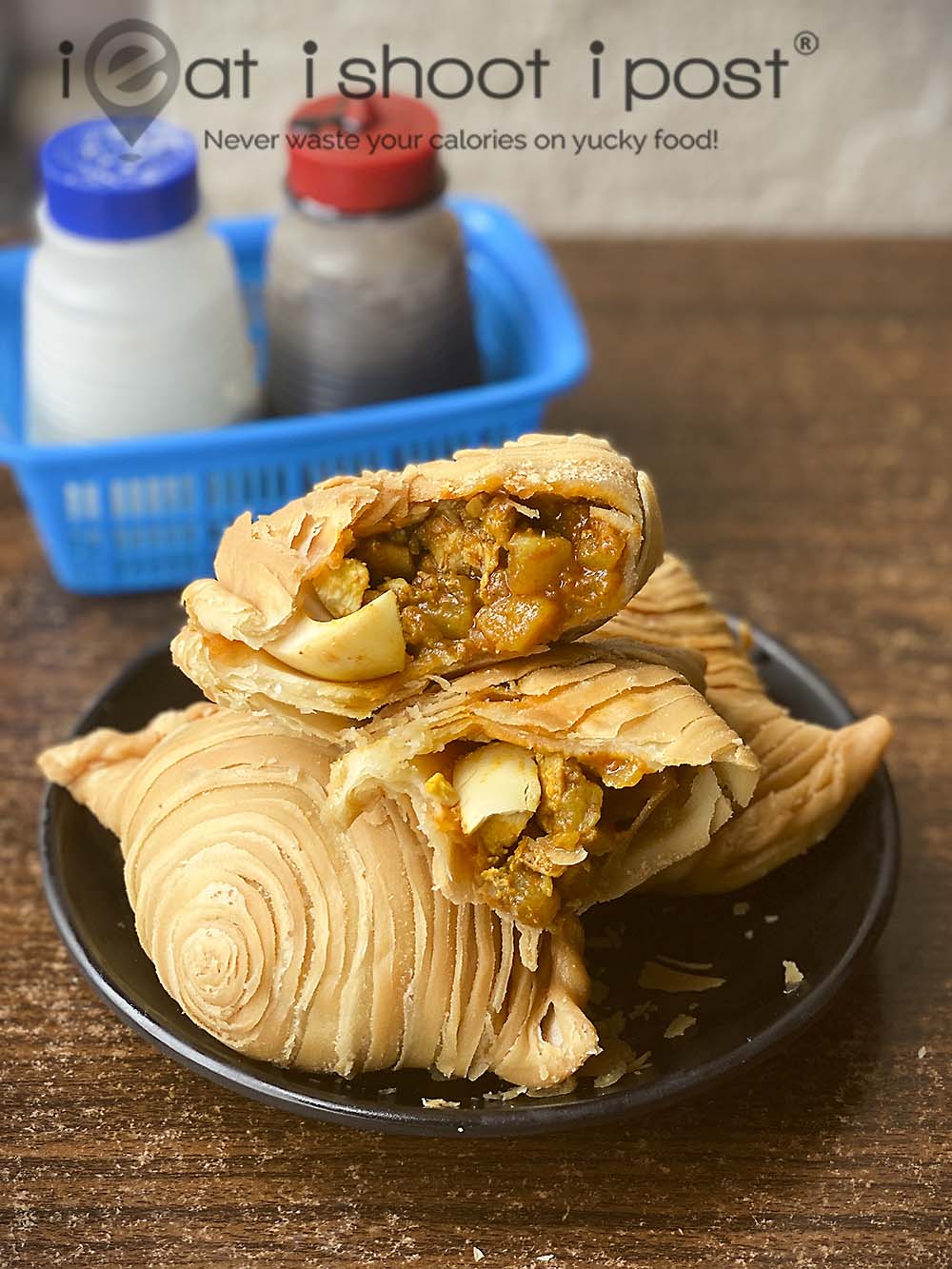 With their distinctive look and amazingly crispy crust, the curry puffs soon became quite popular and in 1991, they opened their dedicated curry puff stall in the coffeeshop at Blk 1A Eunos Crescent.  Soon, the unique curry puffs became popularly known as those Curry Puffs from Blk 1A or 1A Curry Puffs for short.
You may be familiar with the 1A Curry Puffs sold at shopping centres kiosks?  Third generation owner, Mei Lan, tells me that they were started by one of their workers who had worked for them at their first stall and are not related to them.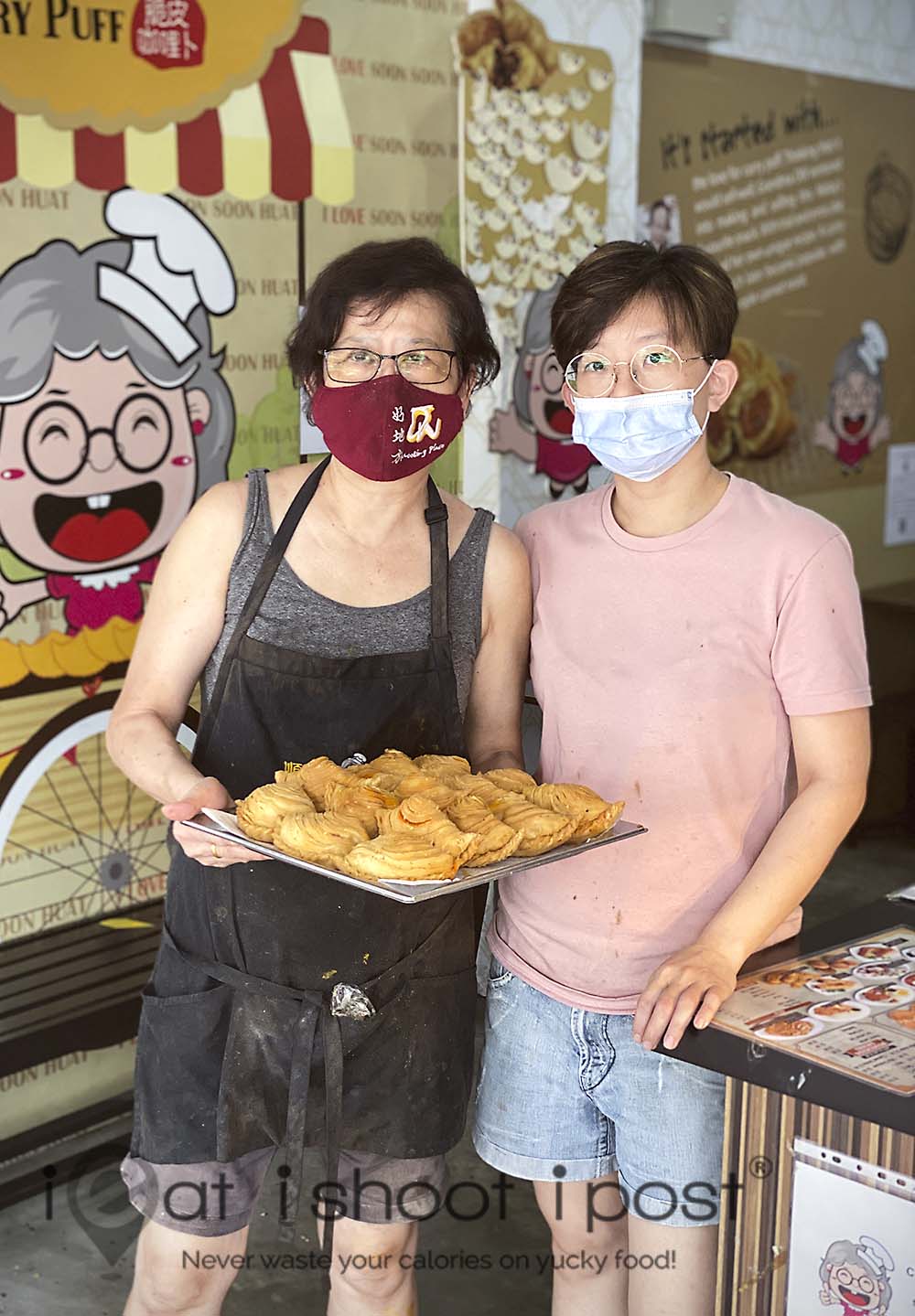 The stall moved to Henderson in 1998 which was where I met grandma.  At the time they were still being sold as "1A Crispy Curry Puffs" but they soon dropped the name and marketed themselves as Soon Soon Huat which was the original name of the stall.   They moved again to Kim Tian in 2012 before finally settling at the current location along East Coast Road in 2016.
I had known of the move earlier but I wasn't able to interview Mei Lan,  at that time as she was undergoing treatment for brain tumour.  I told them that I would return once Mei Lan had finished treatment but as such things go, a few months quickly turned into a few years!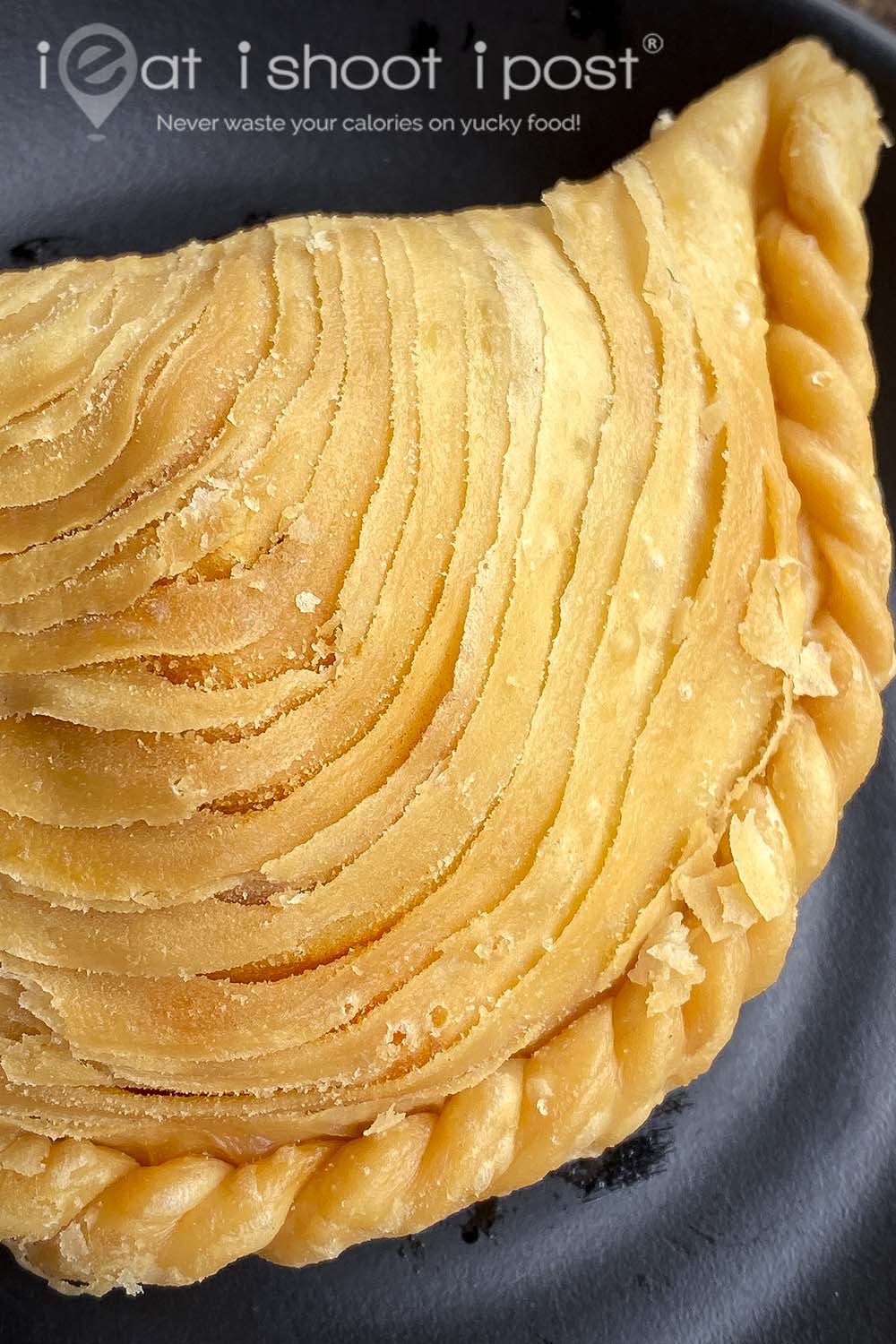 It was a happy rediscovery when I recently popped into the shop for a curry puff and a cup of tea. Truth be told, it has been quite a while since I ate a curry puff.  It isn't exactly health food so I reserve my calories only for ones that are worth it.  These were so good that I actually ate two!  The skin is amazingly light, tender and crisp while the filling is moist and flavourful without being overly spicy!  4.5/5
The great thing is that now they operate a cafe, so you can sit down with a curry puff and a cup of kopi or teh. They also have other flavours like custard and durian if you are looking for something sweet!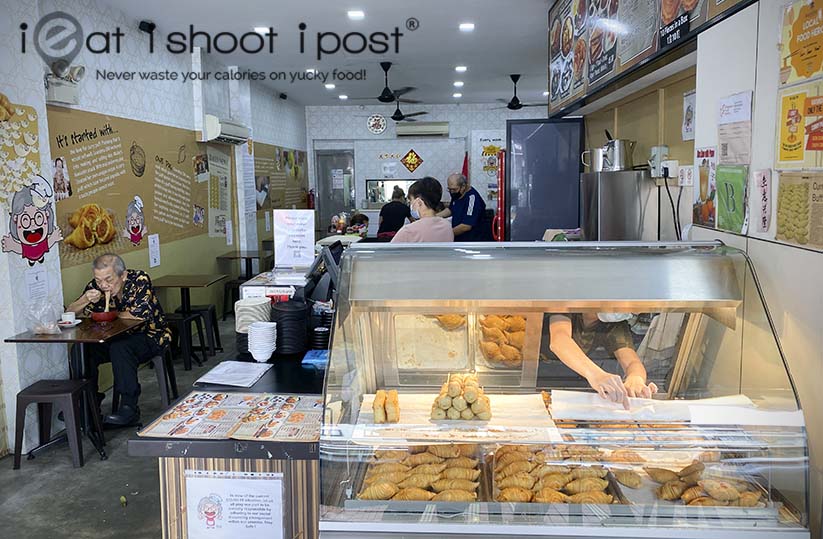 Conclusion
These are some of the best curry puffs you can get your hands on and they were created right here on our little Red Dot!
Oh, if you are still struggling to think of five iconic dishes invented in Singapore, you might like to read origin stories of the following:
1.  Kueh Tutu
2.  Katong Laksa
3.  Hokkien Mee
4.  Fish Head Curry
5.  Chilli Crabs