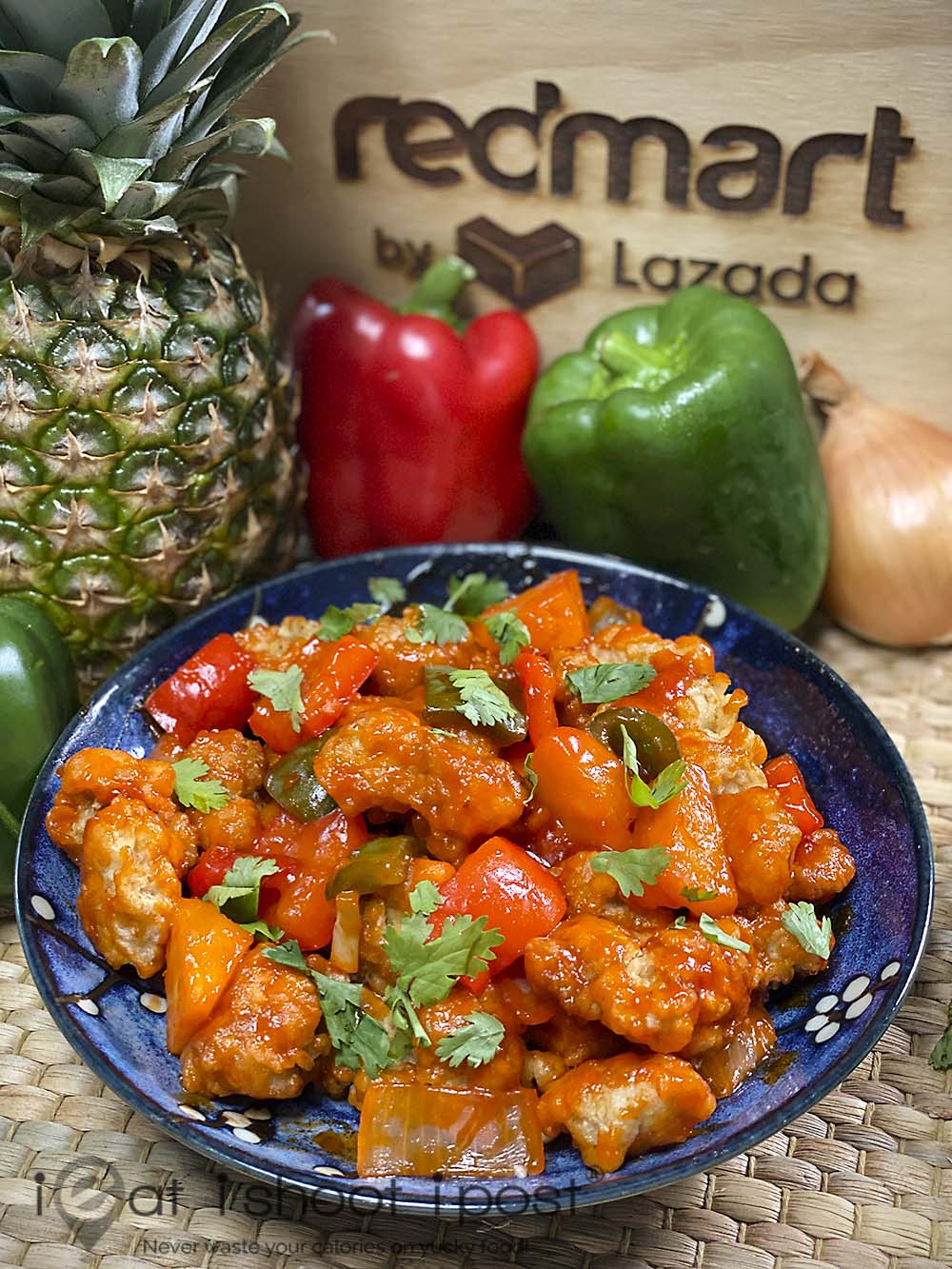 When I wrote my 2nd sweet and sour pork recipe in 2015, I thought that was my final recipe.  I couldn't think of what else could I do to make it better.   Then, in my last trip to Hong Kong, I experienced the most sublime sweet and sour pork ever and that became the inspiration for this third version of the recipe!
The thing that really blew me away was the crispiness of the batter as well as a unique piquant flavour.   I have been told by many old school chefs that they used to make the sauce from the hawthorn.  Although you can buy dried hawthorn at medicinal shops, I found that it is easier to use haw flakes which is easily available online from RedMart.
In Hong Kong, there is so much emphasis on the crispiness of the batter that they even serve sweet and sour pork on a bed of ice to keep the batter crisp!  We are not going to do that, but in this recipe I introduce a new way of making the batter that results in a crispier crust and at the same time keeps the oil clean!
Recipe
Ingredients
All ingredients used are available on RedMart.  Just click on the ingredient to get to the item.
Sauce
Haw flakes 1 pack
Water 1 cup
Tomato Ketchup 1 Tbsp
Plum sauce 1 Tbsp
Sugar 2 Tbsp
Optional: Super Oren coloring 1/8 tsp (for added colouring)
Vegetables for the sauce
Green capsicum 1/2
Red capsicum 1/2
Yellow Onion 1/2 medium bulb
Diced Pineapple 1 cup
Meat and its Seasoning
Pork collar 300g
Ginger juice 1 Tbsp
Chinese Wine 1 Tbsp
Chicken stock powder 1 tsp or Chicken Stock cube 1/2
Salt 1 tsp
MSG 1/2 tsp (optional)
Baking soda 1/2 tsp
Tapioca flour 2 Tbsp
Egg 1
Sesame oil 1 Tbsp
White pepper 1/2 tsp
Batter
Tempura Flour 1 cup for dusting
Tempura Flour 125g to mix with cold water
Ice cold water 180ml
Or
Plain flour 80g
Corn flour 30g
Rice Flour 15g
Baking powder 1 Tbsp
Ice cold water 180ml
Sunflower Cooking Oil 500ml

Method
1.  Pound pork collar with meat tenderizer
2.  Marinate pork with seasoning
3.  Pound haw flakes into powder and cook with water, tomato ketchup, plum sauce and chicken powder.  Set aside.
4.  Dust the pork with flour mix and set aside
5.  Heat oil to 160 C
6.  Mix tempura flour with cold water and lightly mix.  There should be some dry flour left
7.  Dip pork in batter and fry till light yellow.  Approx 3 mins.  Set aside
8.  Heat wok and caramelise sugar.
9.  Add the sauce ingredients and then the vegetables
10.  Simmer for 5 mins.  Thicken with cornflour slurry
11.  Heat oil to 190 C fry pork till golden brown.
12.  Add pork to sauce and quickly toss to coat
13.  Serve immediately.
Happy Cooking!
Disclosure:
1. This video is produced in partnership with RedMart
2. Some links above are affiliate links, meaning, at no additional cost to you, we will earn a small commission if you click through and make a purchase.

Check out our other RedMart recipes here:
Tea-smoked Salmon recipe
Steak with Mushroom sauce
Crispy Chicken with Colonial Curry Sauce
Mapo Tofu Recipe
Also read about: RedMart supplier stories
Red Dot Farm – high tech veggie farm
BluCurrent – smart fish farm
Seng Choon Farm – Egg Farm