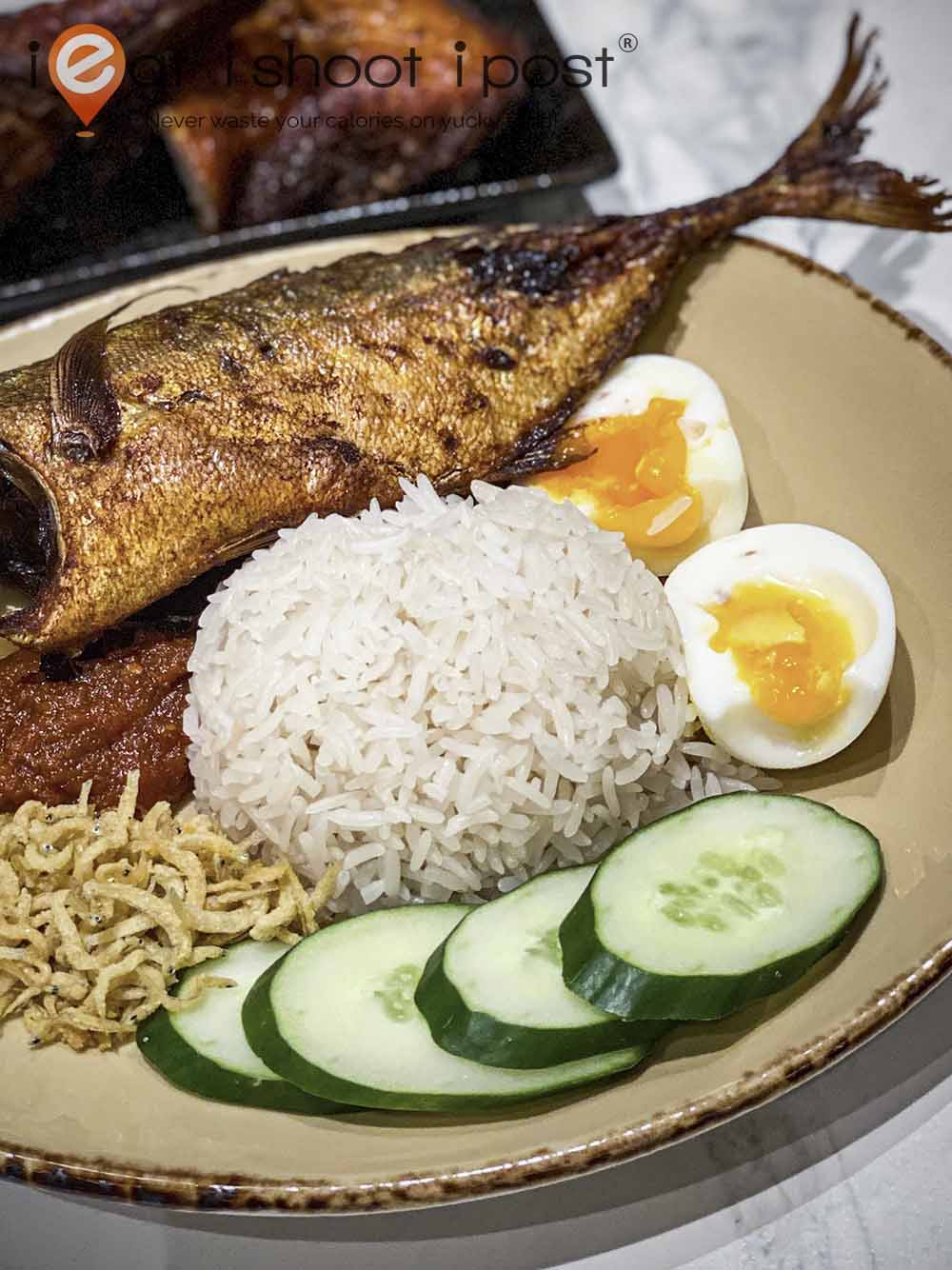 Rempapa:  Has Damian D'Silva finally settled down?
Just what is Singapore cuisine?  We have been trying to define it for the longest time, but the answer seems to be as elusive as the answer to the "Meaning of life" or "Why is there suffering in this world" or "Does my wife really mean it when she says she doesn't need any presents for Christmas?"
When it comes to cuisine, the Japanese, the Thais, and even the Americans don't seem to have the same existential predicament. Is Singapore food simply our range of hawker food?  Surely it can't be that narrow and yet, that is what we submitted to UNESCO for recognition of intangible heritage.  In 2010, UNESCO officially recognized French and Mexican CUISINE as Intangible Cultural Heritage. Does the food that we enjoy also have a unique character that makes it instantly recognizable as Singaporean CUISINE?  The answer is a resounding, "SURE, OF COURSE!", but like the smell of durians, it is perhaps not so easy to define.
Singaporean cuisine might be hard to define, but you can certainly experience the length and breadth of it at Rempapa, the latest restaurant by Masterchef Judge, Damian D'Silva.
I have been a huge fan of Chef Damian ever since I first blogged about him at Big D's in 2008.  At the time, he had just closed Soul Kitchen and was operating a Western food stall out of a coffeeshop!  The food was great, but I hadn't an inkling of just how wide Damian's repertoire really is.  From there he relocated several times and I wrote about his menus at Folklore and Kin, but he always seemed restless.
Now at Rempapa, I get the sense that the (bald) eagle has finally landed.
After having followed Damian for over a decade, I can safely say that the menu at Rempapa has finally captured the essence of his culinary philosophy, and, the quintessence of Singapore cuisine.
From Peranakan, to Eurasian, Chinese to Malay, Indian to British, and a smattering of the current influences on Singapore cuisine.  Rempapa basically serves the food which makes anyone who has grown up here feel like it's food that was can proudly call our own.
But it is not just about the range of food on the menu.  It's about Damian's insistence on doing things properly that really makes the food stand out.  At Rempapa, you only get served fresh or chilled meats and all the rempah (mise en place) and sauces have to be made in-house.  The Kaffir lime leaves that go into the salads have to be thinner than a hair's breadth and the coconut milk has to be squeezed by hand.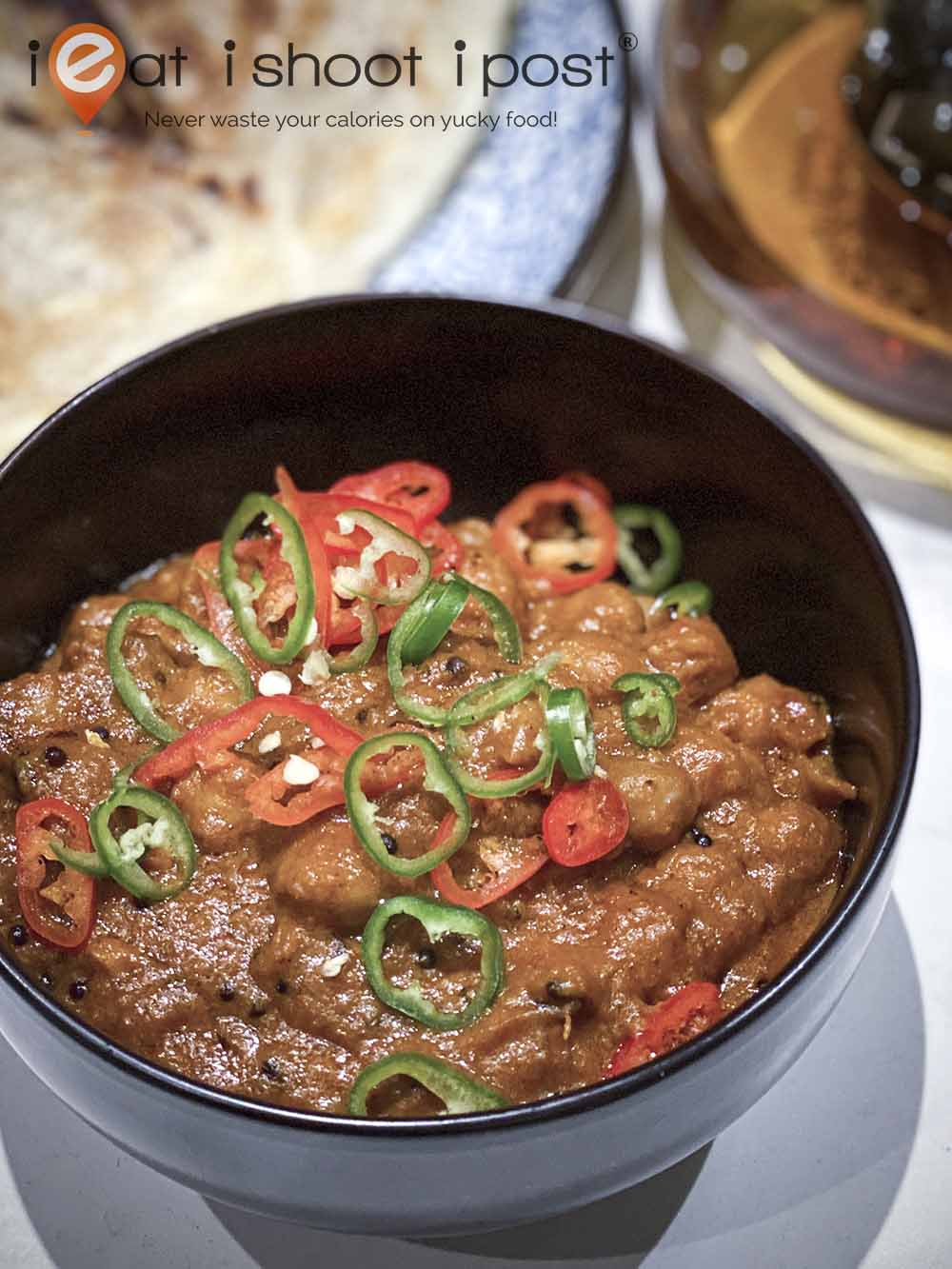 But enough talk, let's drill down on the menu items.
First off, let me say that there really are too many great dishes on the menu for me to cover.  Unlike other restaurants where you get the same-o' same-o', there are many dishes here which I haven't come across before which I would really like to try!
But let's start with some breakfast/brunch items.  I was really hooked on his chickpea curry with prata.  The chickpeas were cooked to the perfect texture and the Indian style curry which had a strong tomato tang went so well with the prata.  For this dish, you can also opt for string hoppers (putu mayyam).  4.5/5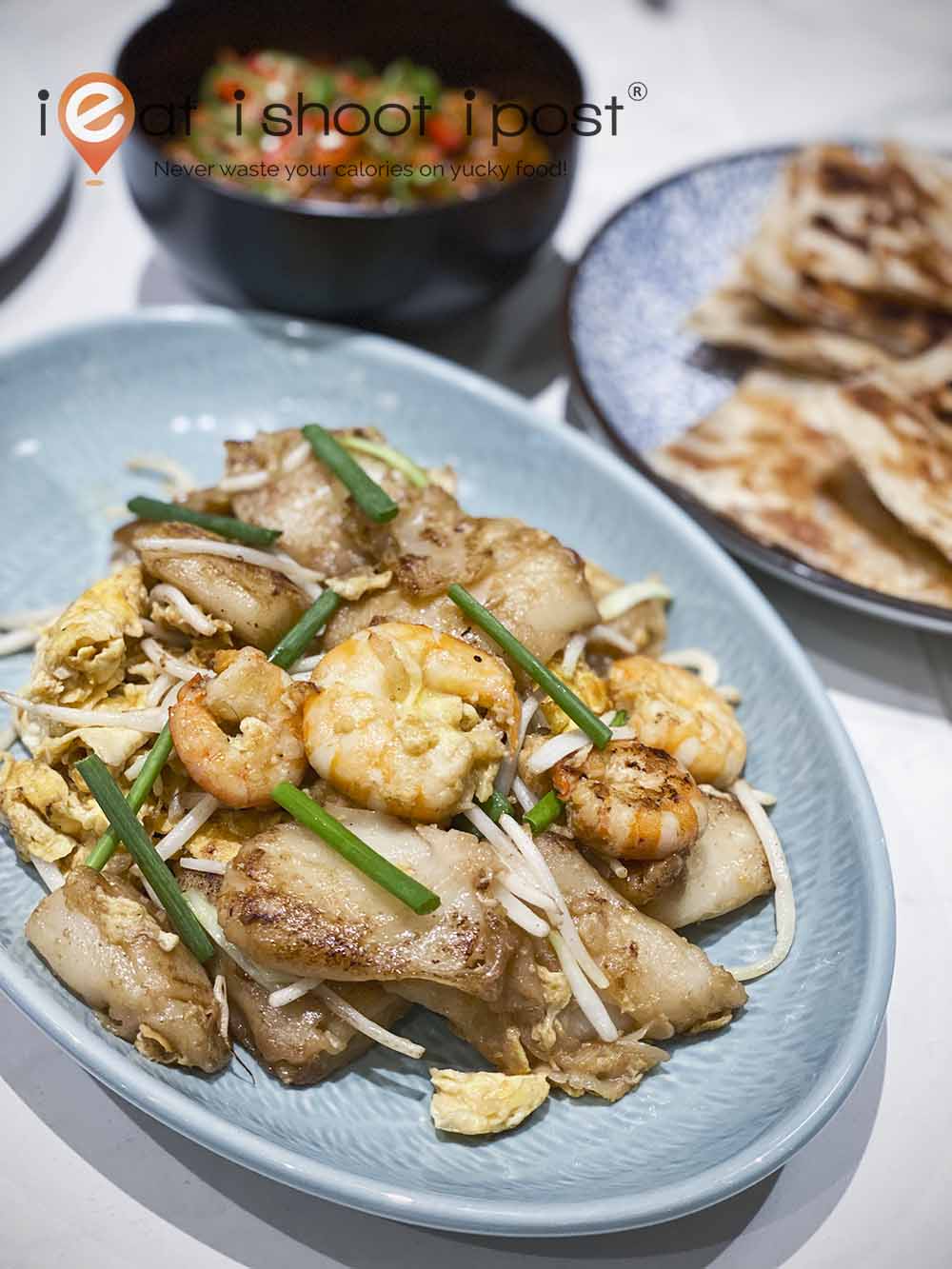 Another dish which I resonated with was the fried chee cheong fun.  This is a traditional Penang dish which his head chef grew up eating.  It looks like a simple dish on the surface, a permutation of our local fried carrot cake perhaps, but it was really good.  The chee cheong fun had that requisite wok hei, the eggs were fluffy and the tau gay crisp.  Perfect breakfast food! 4.5/5
Damian's Nasi Lemak is made by first soaking the rice overnight, then steaming it without added water for 45mins after which freshly squeezed coconut is added and the rice allowed to rest for another 45mins to soak up the milk.  This is followed by another three rounds of steaming and mixing until the rice has soaked up the coconut milk while still retaining a toothy texture. The fried chicken berempah which is part of the Nasi Lemak set is really good!  It is marinated in rempah overnight before being fried and so the flavour has penetrated all the way to the bone.  Unfortunately, Damian's version of the sambal chilli is savoury rather than sweet which didn't quite resonate with me as I grew up eating the sweet version.   But it would certainly remind the older generation the Nasi Lemak of yesteryear when the fish served would be anything that is caught in the net that day! 4.25/5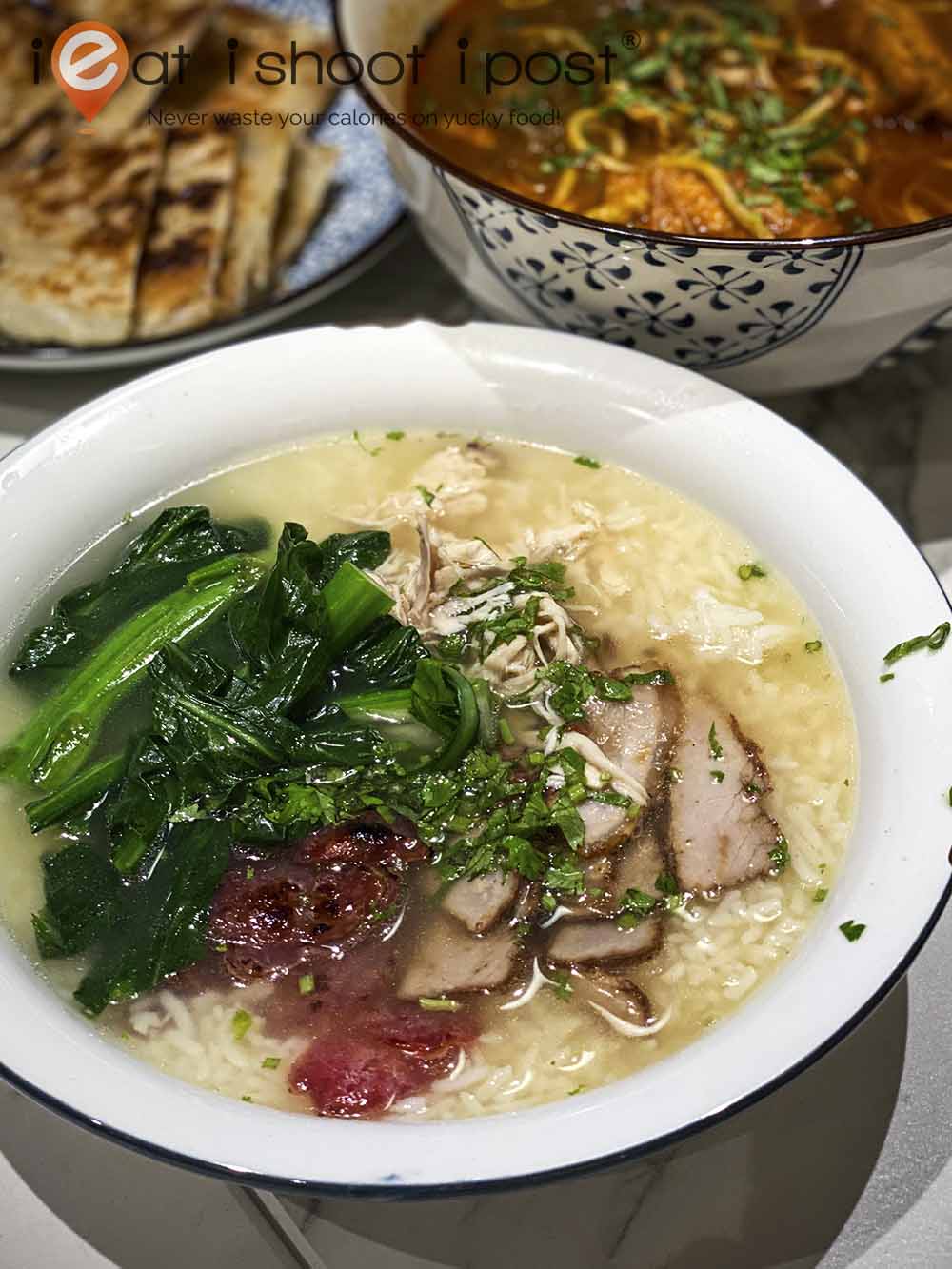 Another forgotten dish that is being resurrected by Damian is kai fan.  The "kai" here refers to the sidewalk rather than chicken.  So this is not chicken rice but "sidewalk rice". It is a dish that Damian remembers eating as a kid with his grandpa along Boat Quay.   It is essentially a very basic form of pao fan where rice is topped with lup cheong, charsiu and shredded chicken and submerged in a flavourful chicken broth.  What amazed me was the flavour of the XO lup cheong in the soup itself!  It's the first time I have come across this and it was quite a revelation.  This is ultimate soul food for those days where you just want something simple and soupy! 4/5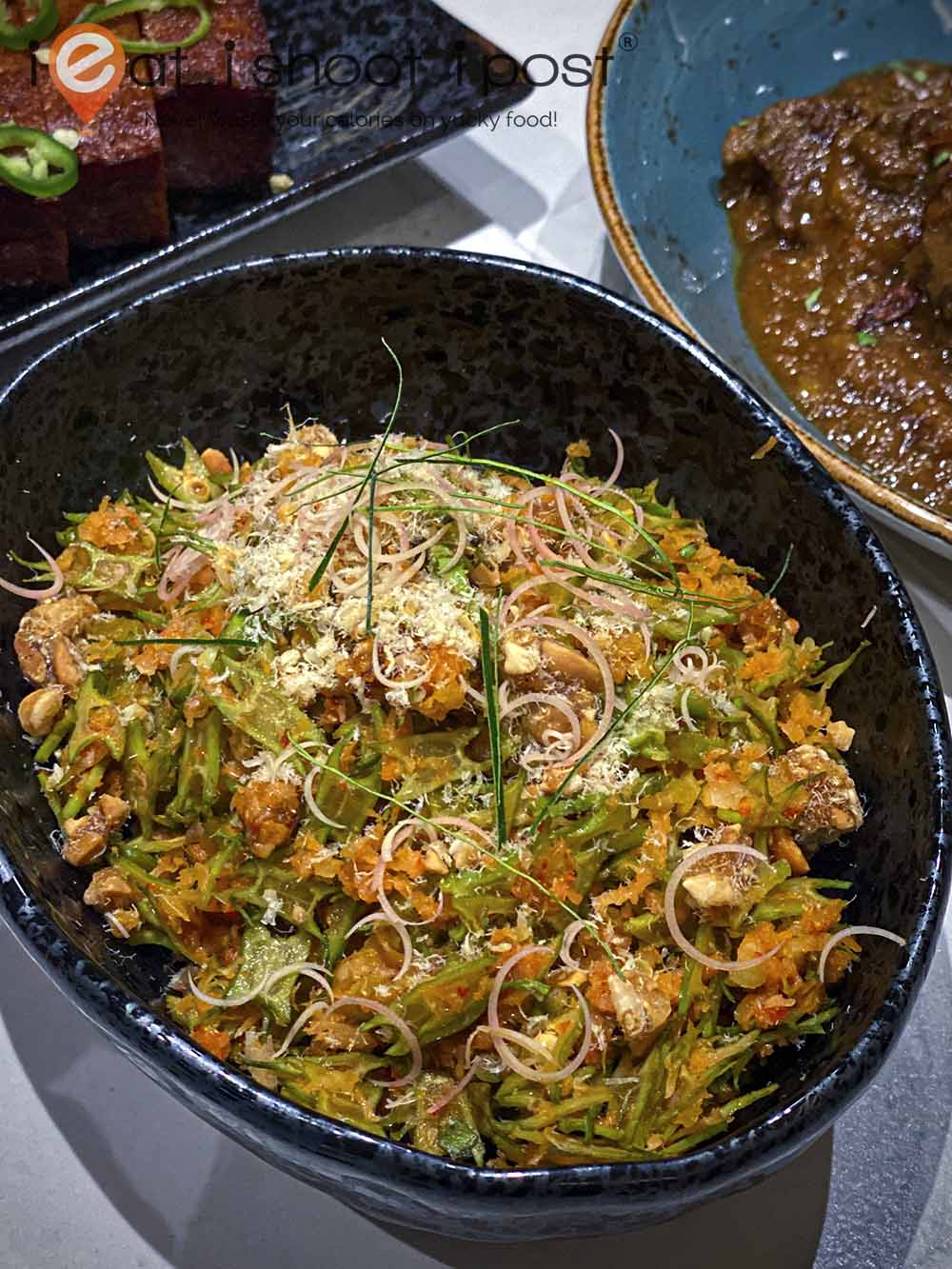 For a refreshing side dish, I highly recommend the kedongdong (Ambarella) salad.  This cold and tangy salad made from thinly sliced wing beans, baby shrimp, and fresh herbs is a testament to the knife skills in a Peranakan kitchen!  Hidden amongst the slivers of herbs and veggies are delightful nuggets of peanut brittle which adds sweet contrast to the tangy salad.  4/5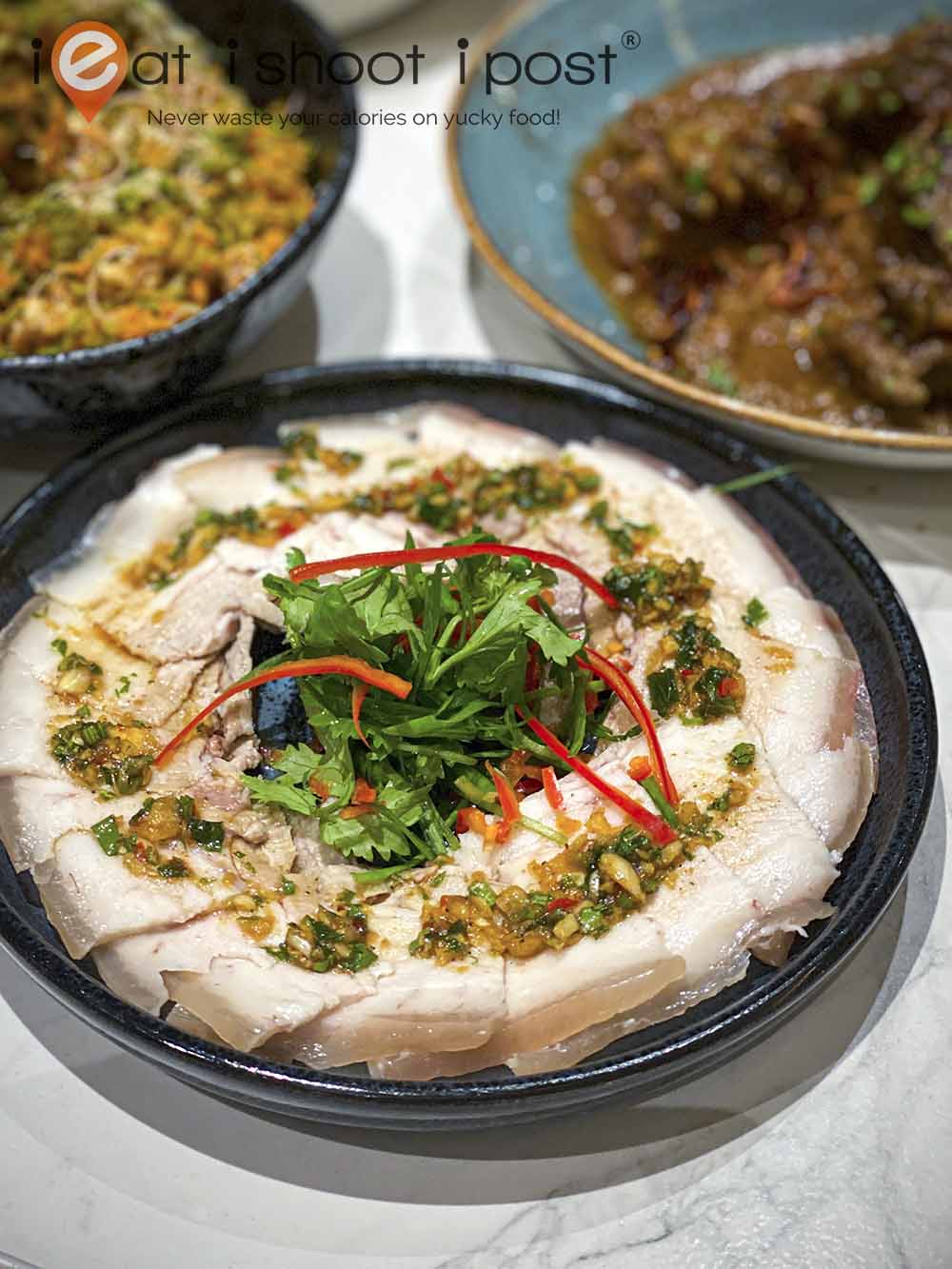 Another side dish to recommend is the slow cooked belly pork with Ah Seng sauce.  This is the type of dish you order to go with a mug of beer or cocktail.  The pork belly is cooked till the skin has that perfect jelly like texture and the meat is tender but still has a nice chewy bite.   Roll up the slice of pork with the sauce and some coriander leaves and you'll have something you can't stop at one.  4/5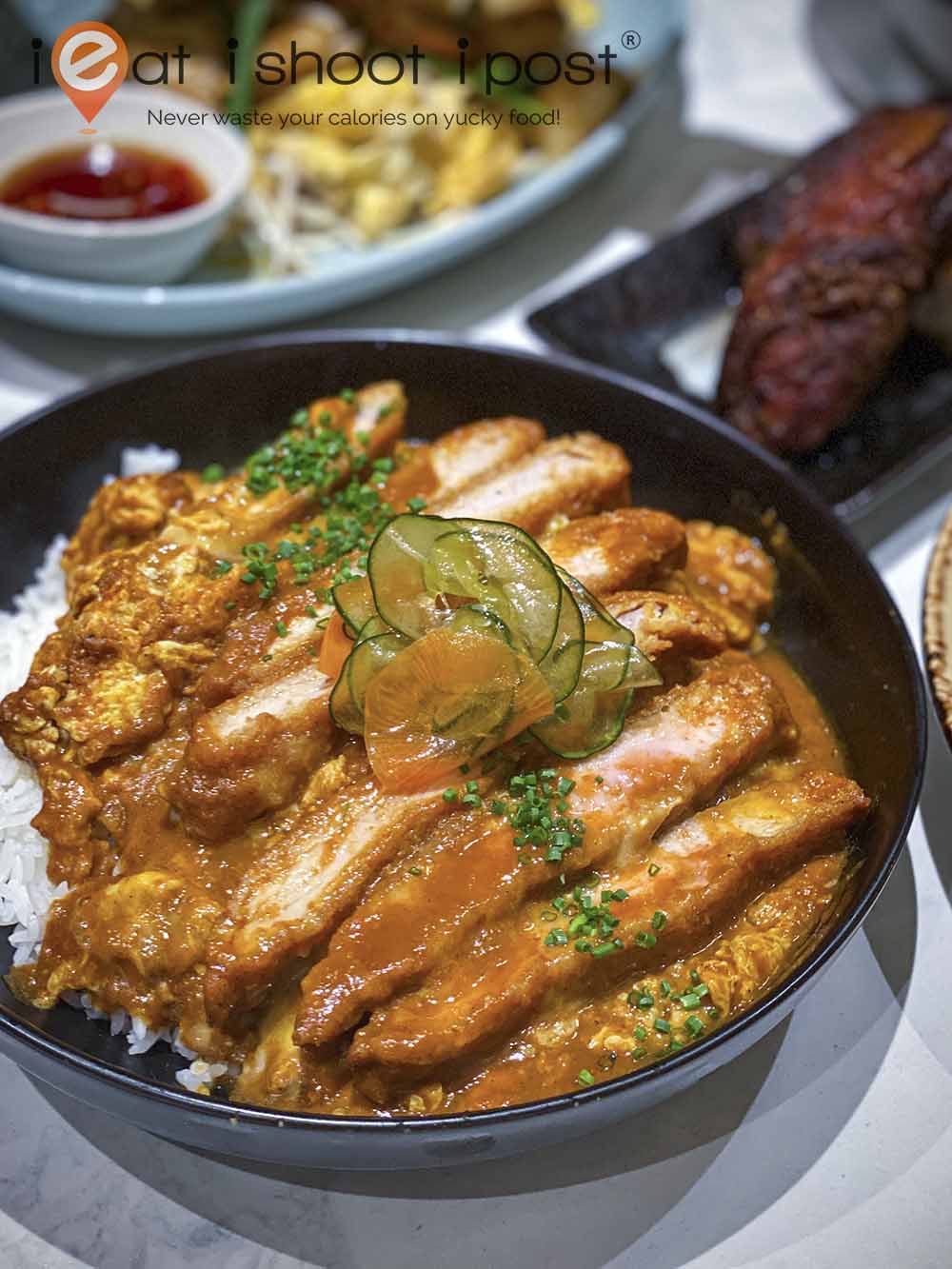 The Pork Chop Curry Rice is the only dish I tried which I felt did not live up to its full potential.  It is one of Damian's New Heritage dishes which tries to marry traditional flavours (Hainanese Curry Rice) with dishes that present-day Singaporeans enjoy. (Katsu don).  The pork chops were just a tad dry and the curry, which has been toned down to cater to the younger generation just didn't quite have the kick of either curry rice or curry katsudon.  3.5/5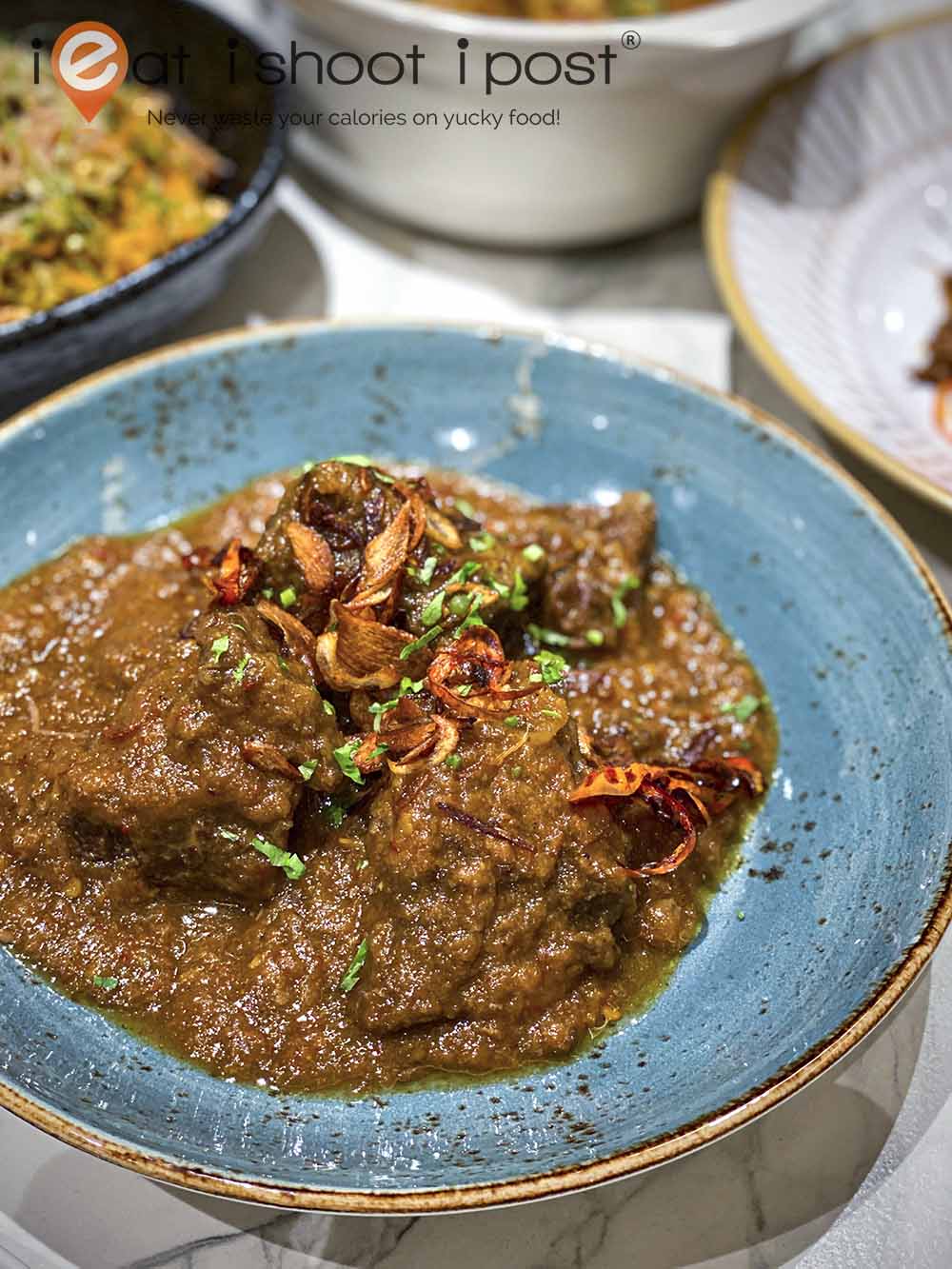 One Eurasian dish which I discovered at Rempapa was the Baca Assam.  "Baca" is the Eurasian term for "Beef" and this is essentially beef cheek which is slow-cooked in tamarind and other spices until it is fork-tender.  Definitely worth a try! 4.25/5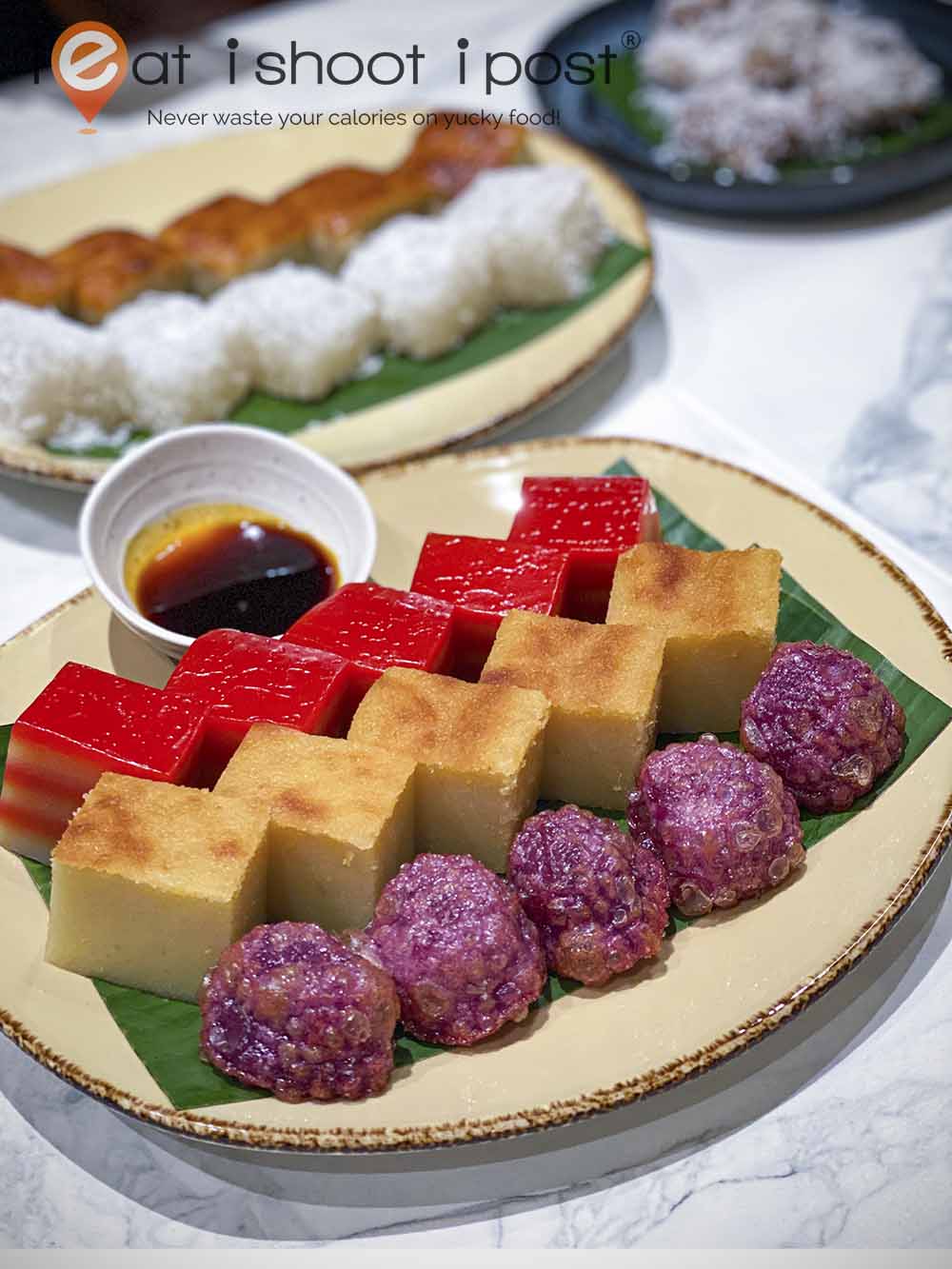 A meal at Rempapa would not be complete without dessert.  You will find some of the best Nonya Kuehs here including some, like the pulut ubi which you might not have come across before! Chef's insistence on using only fresh coconut milk, top quality gula melaka and no shortcuts really make a difference to the kueh! 4.5/5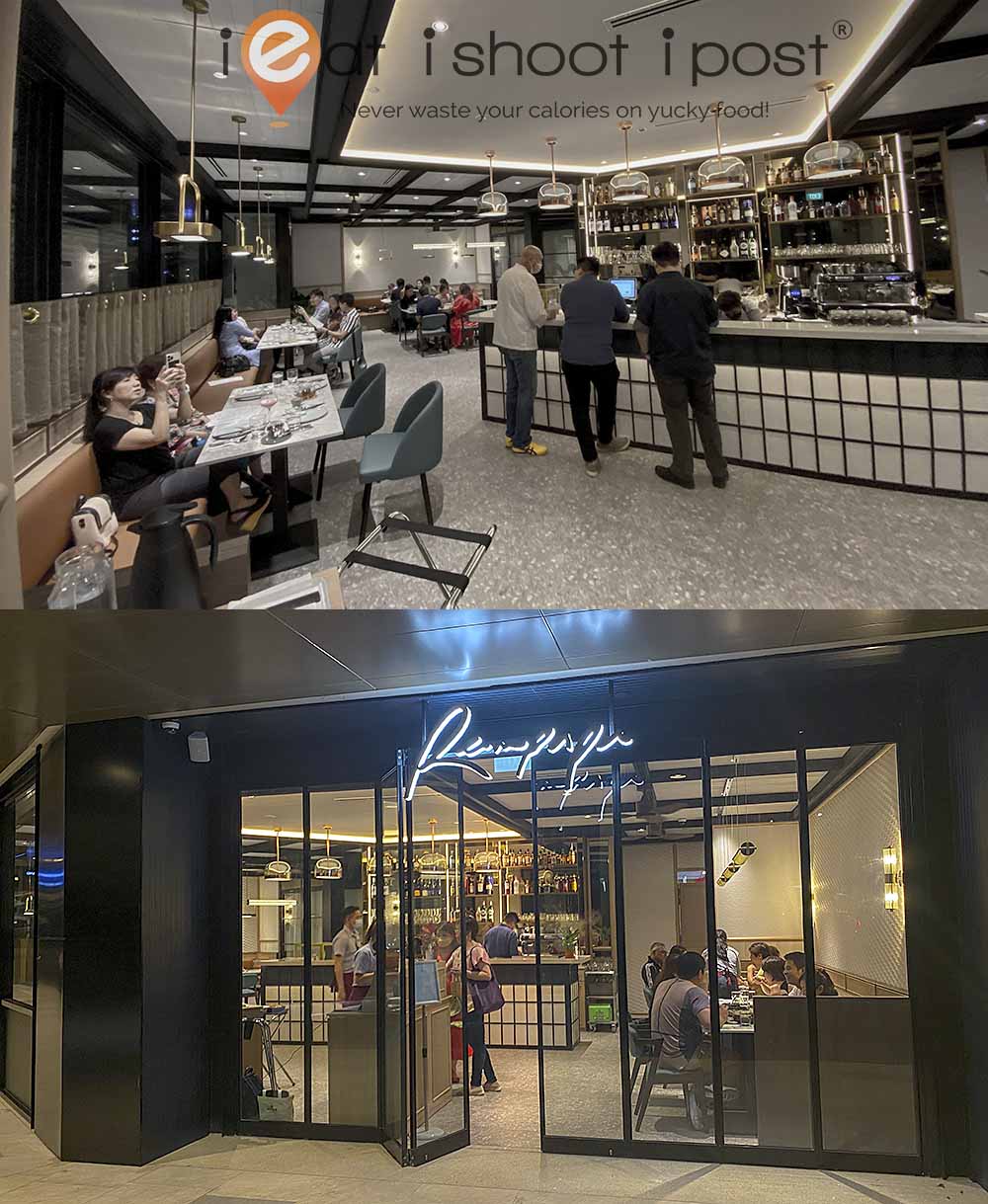 Conclusion
Has Damian D'Silva finally found a place to really settle down?  It certainly looks like it this time round.  He even has a special room set aside to serve his exclusive Chef's menu!  Rempapa looks set to be the Mecca for lovers of Singapore cuisine!