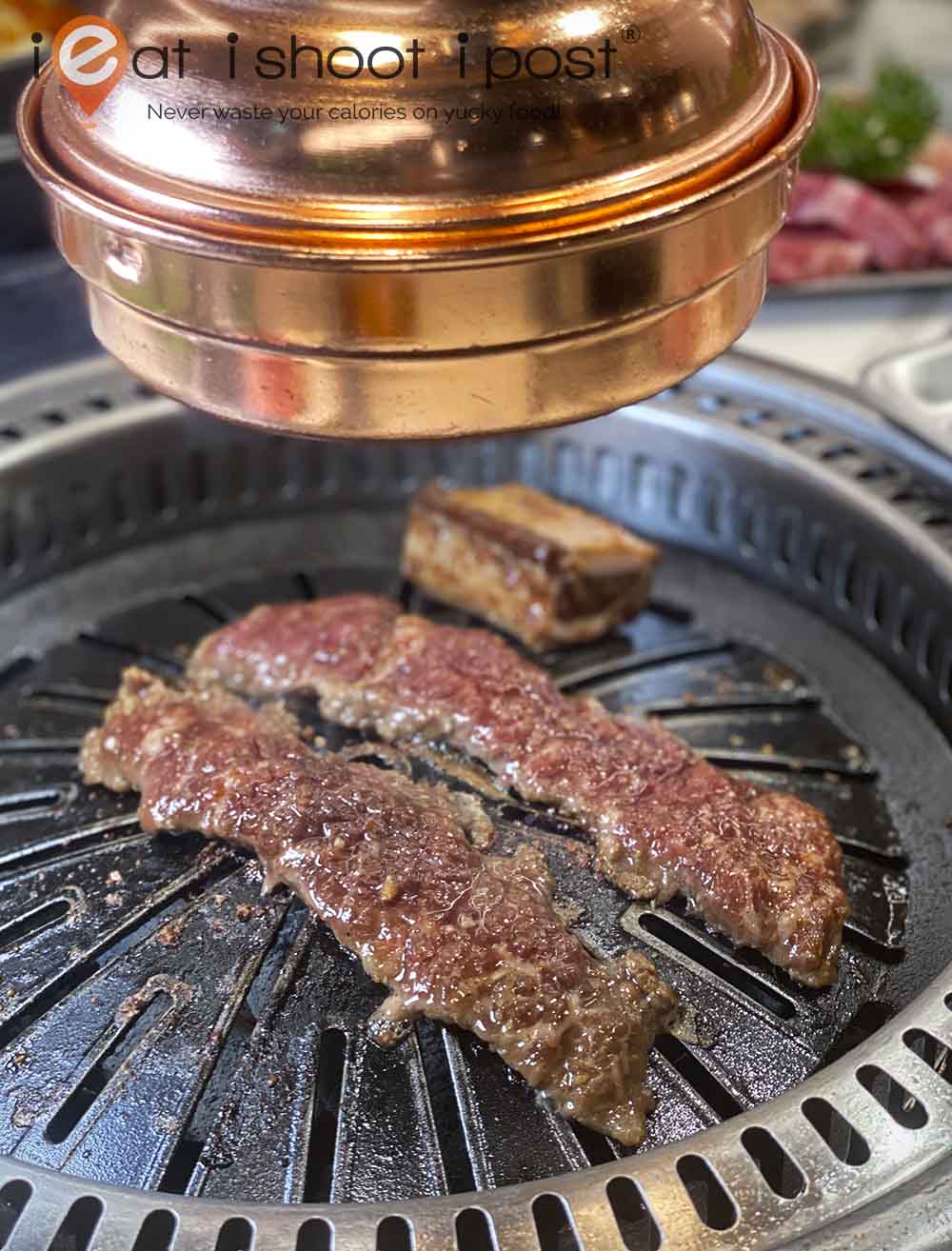 Grilled meats are my kind of thing.  When we made our trip to Korea before the pandemic, all we ate for lunch and dinner was Korean BBQ.  There are different styles of grilling the meat.  Some of the cheaper places offered a hot plate and a gas stove while the more fancy ones always insist on using charcoal and premium meats.
The beauty of a charcoal grill is that when the fats drip onto the charcoal, it turns into smoke which billows upwards to baste the meat with its smokey flavor.  That is why the premium places always insist on having the exhaust over the top of the grill so that the smoke can properly carass the meat before being whisked away so that the customers don't have to wash their hair when they reach home.
Korean BBQ is very well established in Singapore and there are BBQ restaurants that will cater to any budget.  On one end of the scale, you have your "all-you-can-eat" Korean BBQ which my daughter really loves when she is out with her friends, and on the other end is the kind of restaurant that serves premium meats,  which she really loves when she is out with her parents.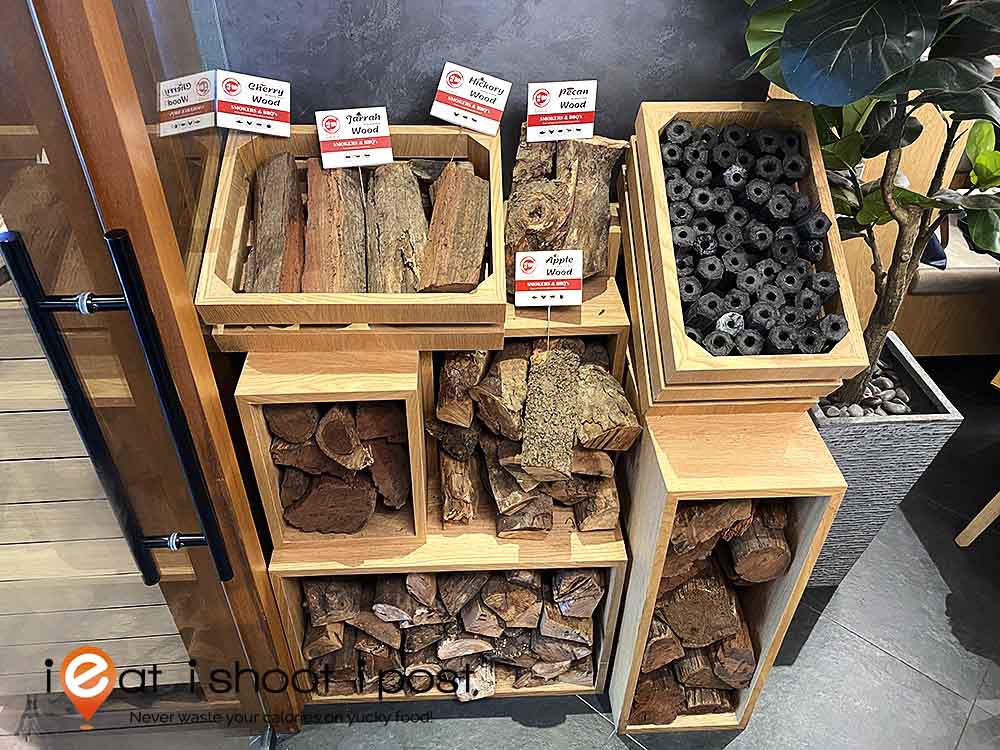 So what makes Omma different from the rest of the Korean BBQ restaurants in town?
In short — Wood Smoke.
As far as I know, they are the first Korean BBQ to offer different types of wood smoke with which you can enjoy the meat.  The wood smoke adds an extra dimension of flavour to the meat which any grilled meat enthusiast would appreciate.
For an extra $3, you get to choose from Hickory, Pecan, Cherry, Apple and Mesquite wood which comes together with the charcoal when they bring the brazier to the table.
If you are unfamiliar with the flavour of wood smoke, you might have trouble deciding on which wood to choose.  We managed to try all five and here is our recommendation:
Hickory:  If you really want a strong smokey flavour, but can have a slightly bitter aftertaste
Mesquite:  Strong enough but not overpowering, nice for grilled pork and beef.
Apple:  If you want a more delicate and sweet smoke flavour.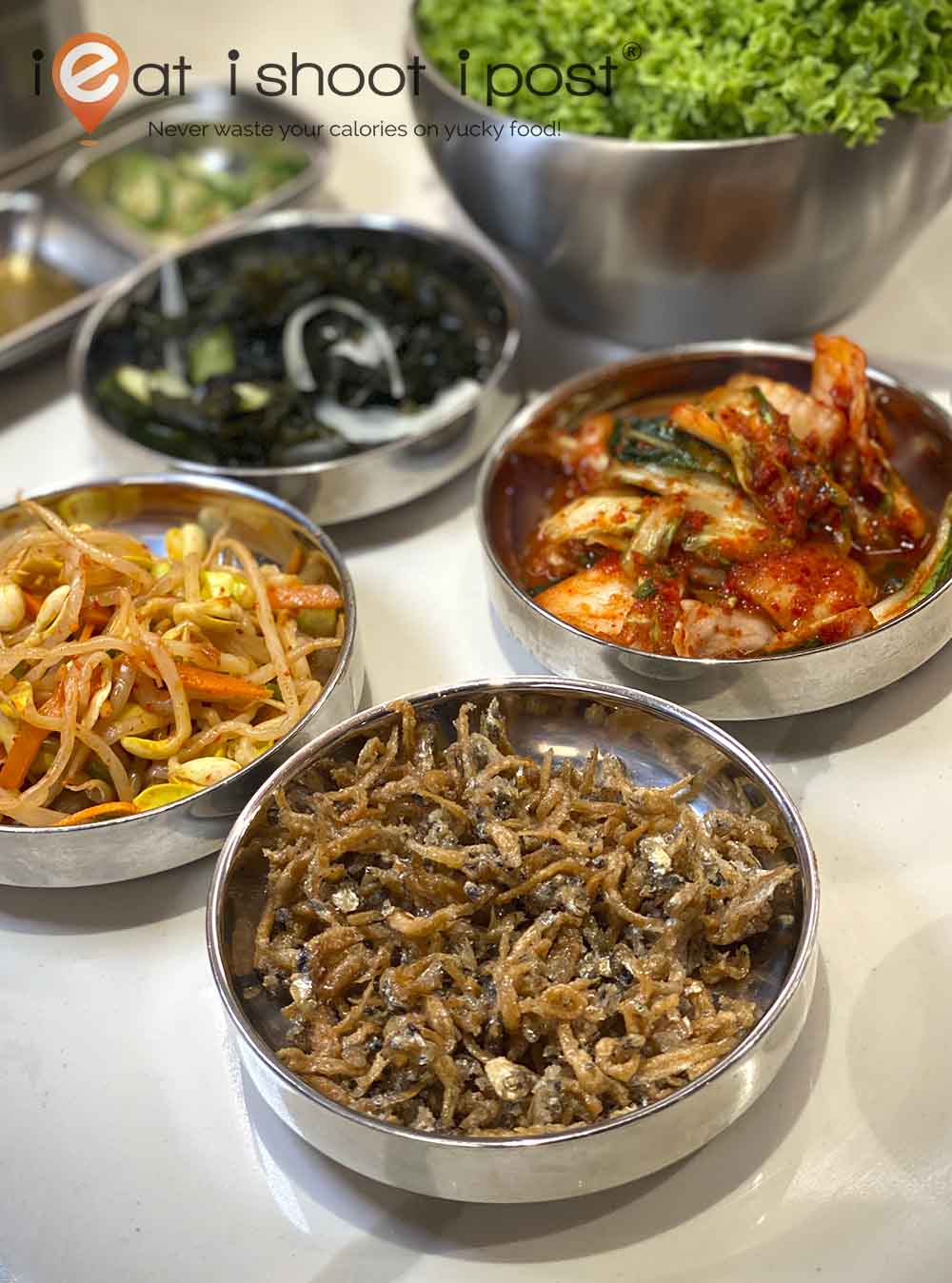 The other thing that differentiates Korean BBQ restaurants is the quality of the banchan ie side dishes.  The banchan here has been tweaked to our local palate which suits me really well.   I am usually quite ambivalent about kimchee but I actually liked the one here which is slightly sweeter than those found in other places.
They cycle their banchan, so on any day, you get a selection of four.  I still remember the days when Korean BBQ first made its appearance in Singapore when you used to get unlimited servings of 8 to 10 different banchan!  Over the years, the number seems to have shrunk and most Korean BBQ places will serve only 4 or 5.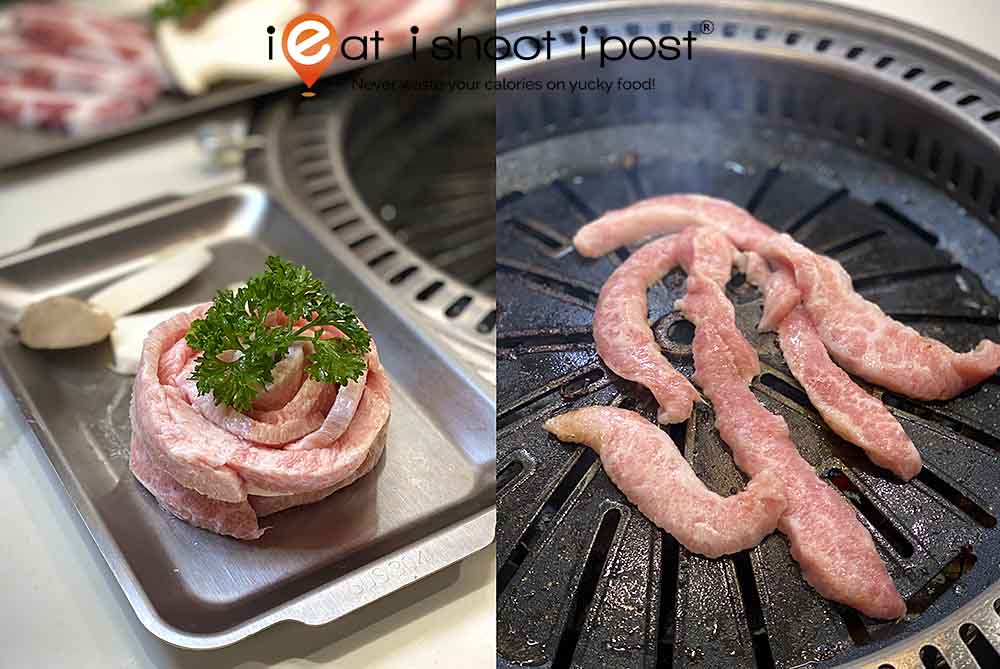 The quality of meat here is very good.  I especially liked their Iberico pork jowl which is very nicely marbled.  They also trimmed off the layer of fat which can sometimes be excessive, especially if they use cheaper pork.  They have a pork set here for 2-3 pax which has 180g Iberico pork jowl, 180g Iberico pork collar and 180g Black Pig belly plus steamed egg, soy bean soup and freeflow banchan for $60 which I thought was very reasonably priced.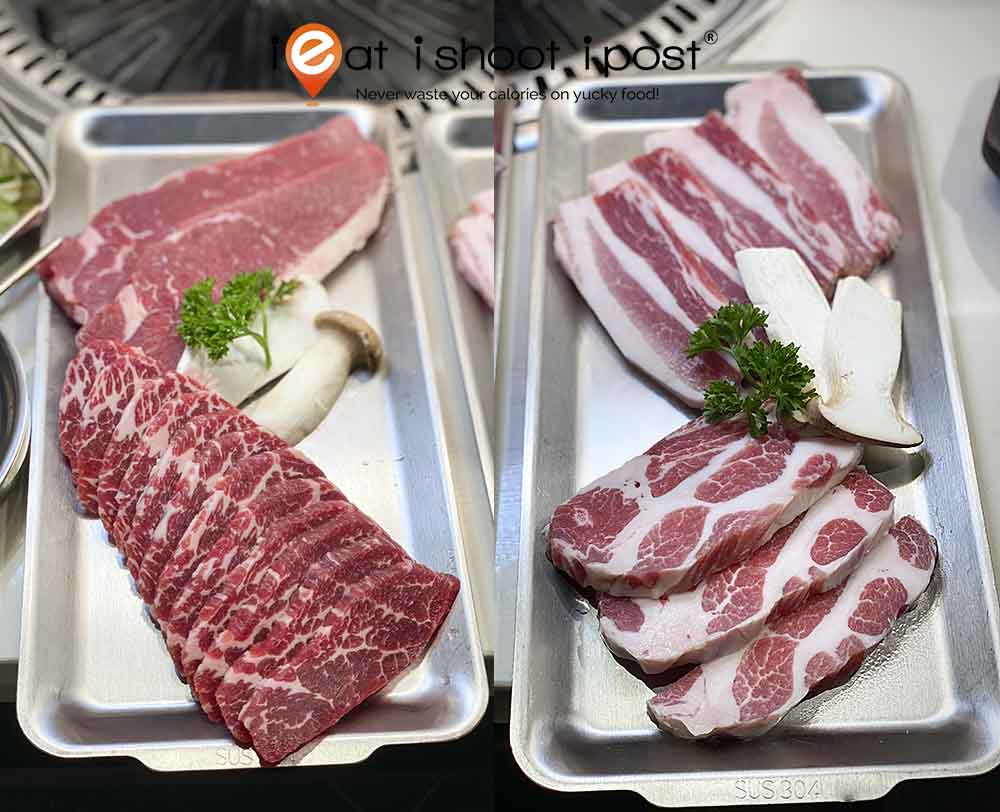 If you want a mix and pork, they have a special set that has 180g each of Iberico pork collar, pork belly, beef striploin and beef ribs.  The beef is the normal grass-fed beef which is not so well-marbled which is ok if you are after lean meat.  But if you prefer marbled meat, then my suggestion is to order their pork set and add on some A4 Wagyu beef ala carte. ($81 per 180g)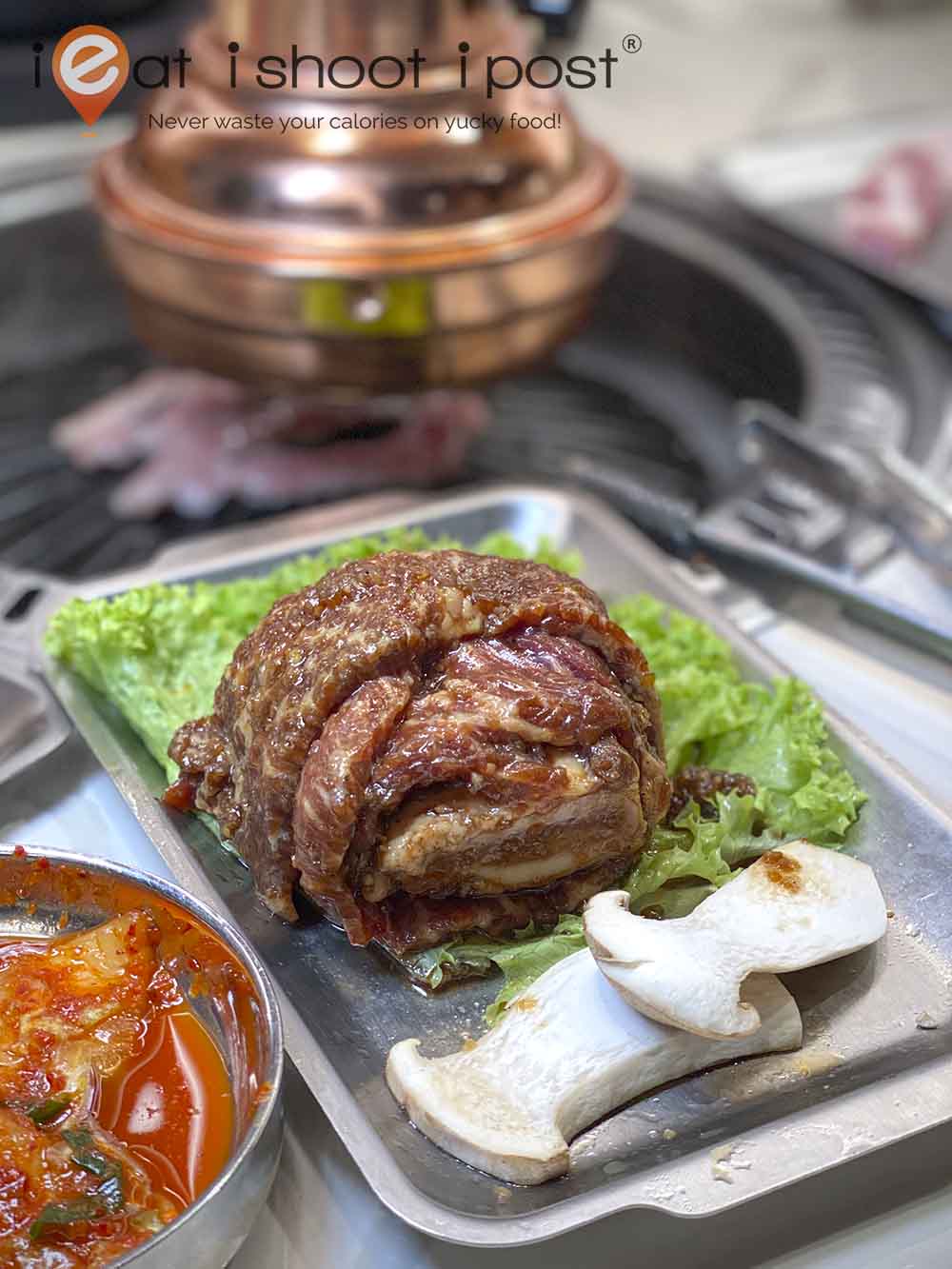 Their marinated beef rib, $45 (180g) was a little disappointing.  The meat was a little over marinated such that the meat didn't have that texture and juiciness when you bite into it.  In general, I feel the iberico pork and wagyu here will give you more bang for the buck than their beef.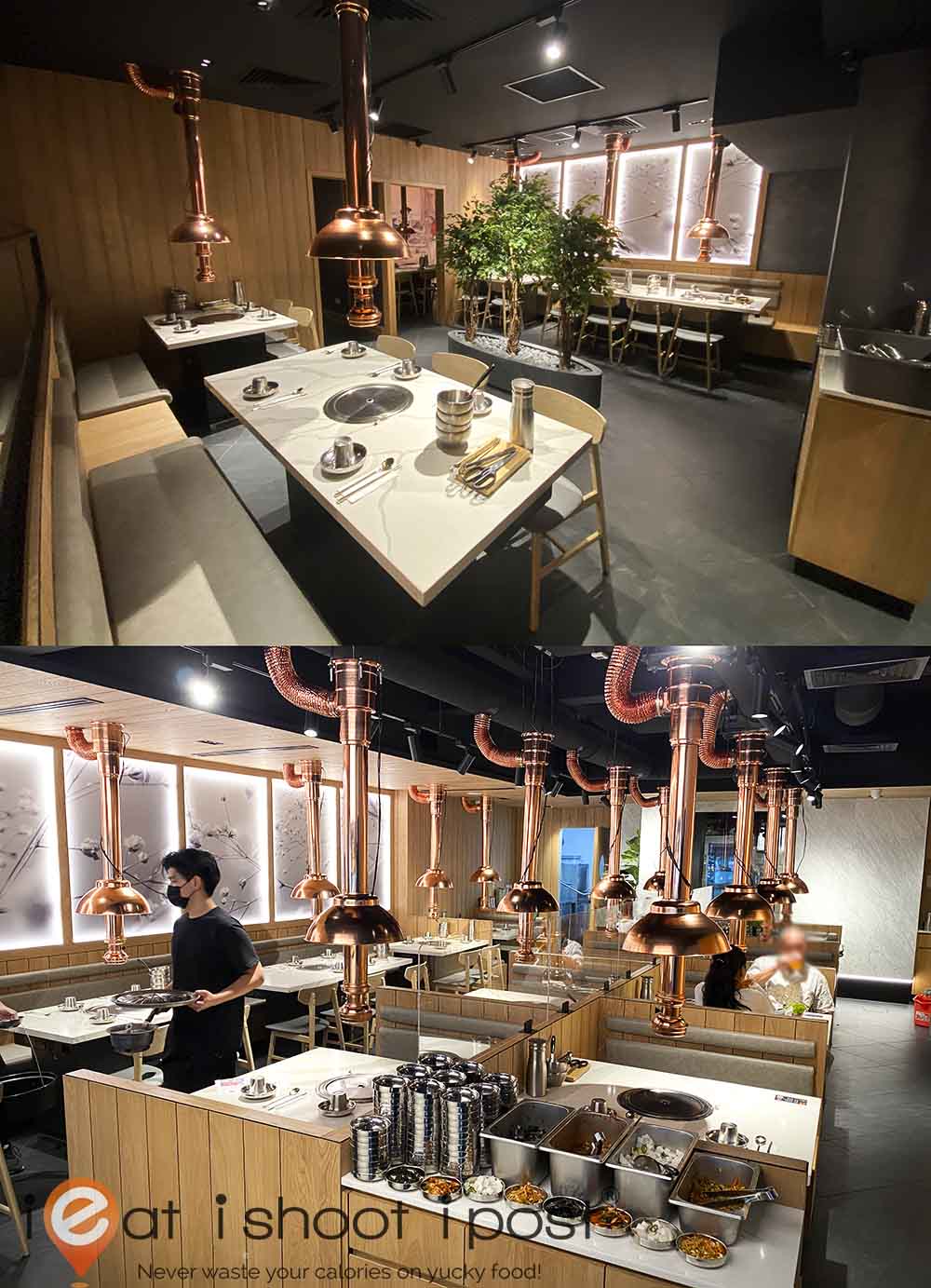 Conclusion
Good mid-range Korean BBQ restaurant whose key differentiating factor is the choice of adding wood smoke flavour to the grilled meats. We liked the banchan and the iberico pork jowl and collar and their pork sets are very attractively priced.   We would have liked a wider range of beef cuts as they currently only offer A4 Wagyu striploin or rib eye. Their standard beef cuts are a little pricey compared to the Iberico pork and Wagyu which were very reasonably priced.
Special Offer
Free flow beer for everyone on the table if you spend a minimum of  $150 in a single bill.
Disclosure
This was a media invite.  That means that the meal was hosted with no obligations to write unless we felt it is worth recommending.