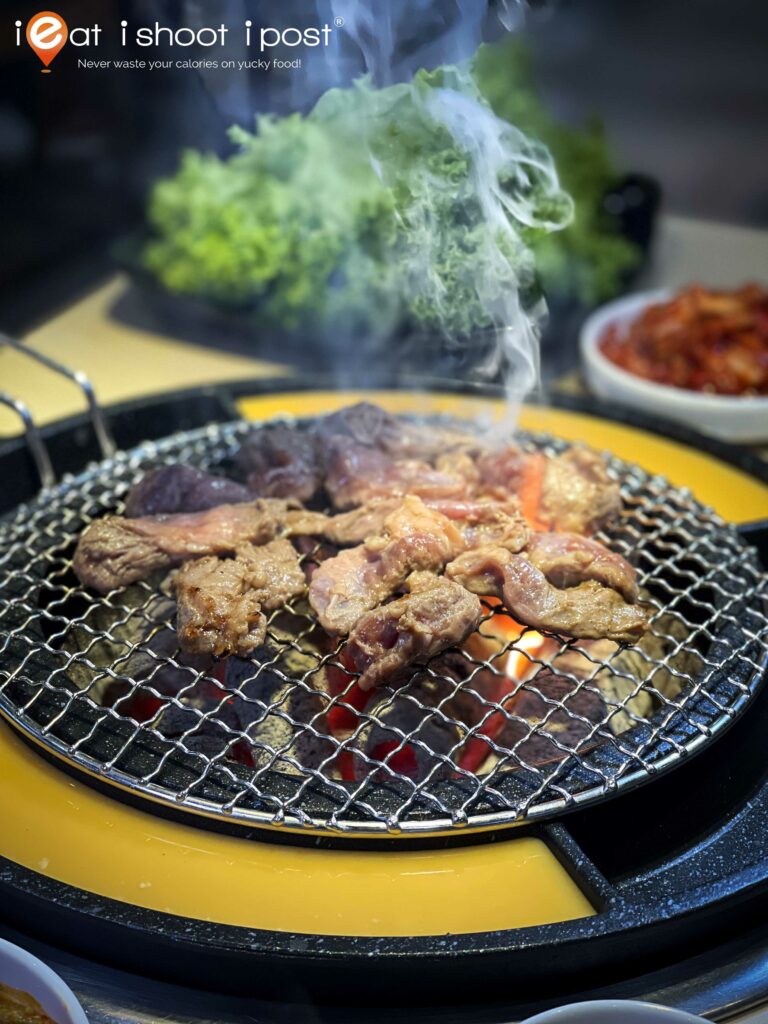 We must admit that we have walked passed Seorae Korean BBQ many times but never thought of patronizing it, thinking it must be one of those run-of-the-mill type joints. It wasn't until we were invited to review them that we had the opportunity to try their offerings! We were impressed by the lady boss who is so passionate about the quality of the meats that she would go to the extent of sourcing them from particular farms around the world!
Seorae is a franchise of Chef Chul Park and is named after the village where it originated in 2007. They are not so widespread in Korea itself as Chef Park is focused on personally tending to a few outlets to maintain consistency. Their specialty is a special cut of pork known as the galmaegisal (pork skirt) which was traditionally reserved for royalty. Since there is only about 250g of it per animal, it is considered a rare cut of pork. The meat is marinated and massaged by hand to turn it into an intensely flavourful and tender cut of pork!
Special ieatishootipost Set: Available until 30 April 2023
After tasting various cuts of meat at the restaurant, we have specially asked Seorae to create a special ieatishootipost set that features all our favorite cuts of meat! It is priced at an attractive $92++, which is a 22% discount from their ala carte prices. The offer is good until the end of April 2023.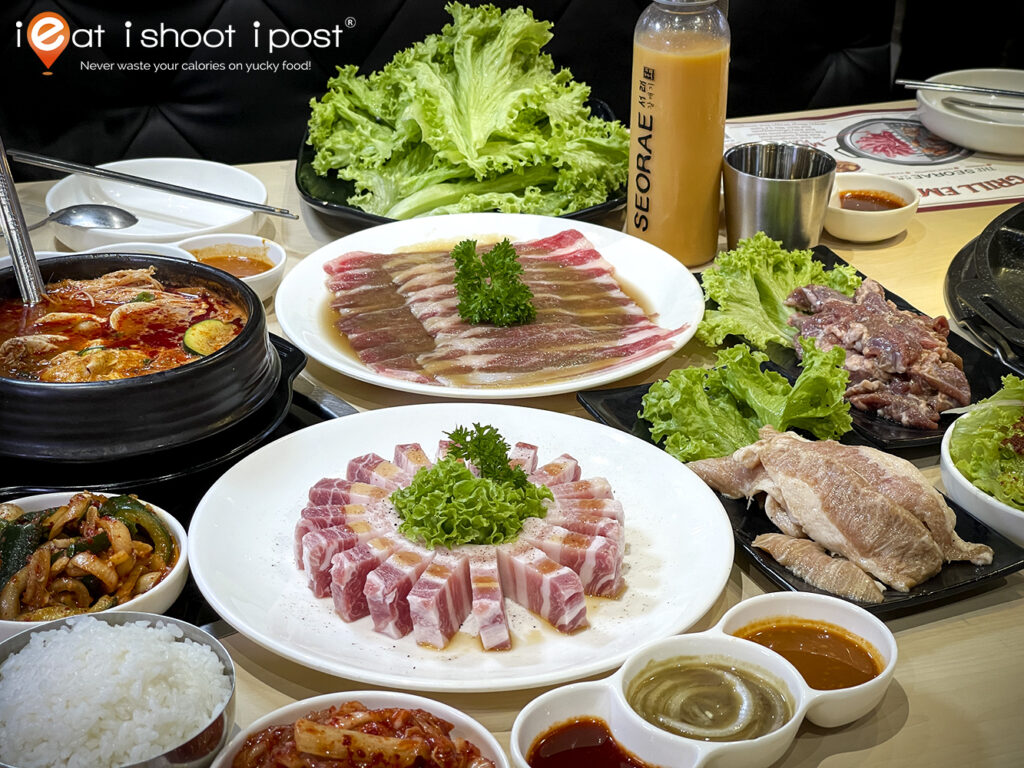 Here's what you are getting in the set:
170g of the prized Galmaegisal (Pork Skirt)
150g of Spanish Chestnut Hangjeongsal (Pork Jowl)
250g of Seorae Samgyeobsal Spanish Chestnut Black Pork (Pork Belly)
150g of Woosamgyeob (marinated Beef Plate)
Sundubu Jjigae (Spicy Soft Tofu Stew) with a side serving of egg and rice
That is 720g of meat, which is good for 2 – 4 pax, depending on how much meat you can eat. The banchan (side dishes) is free flow of course.
Let's drill down on the meats!
Galmaegisal – Pork Skirt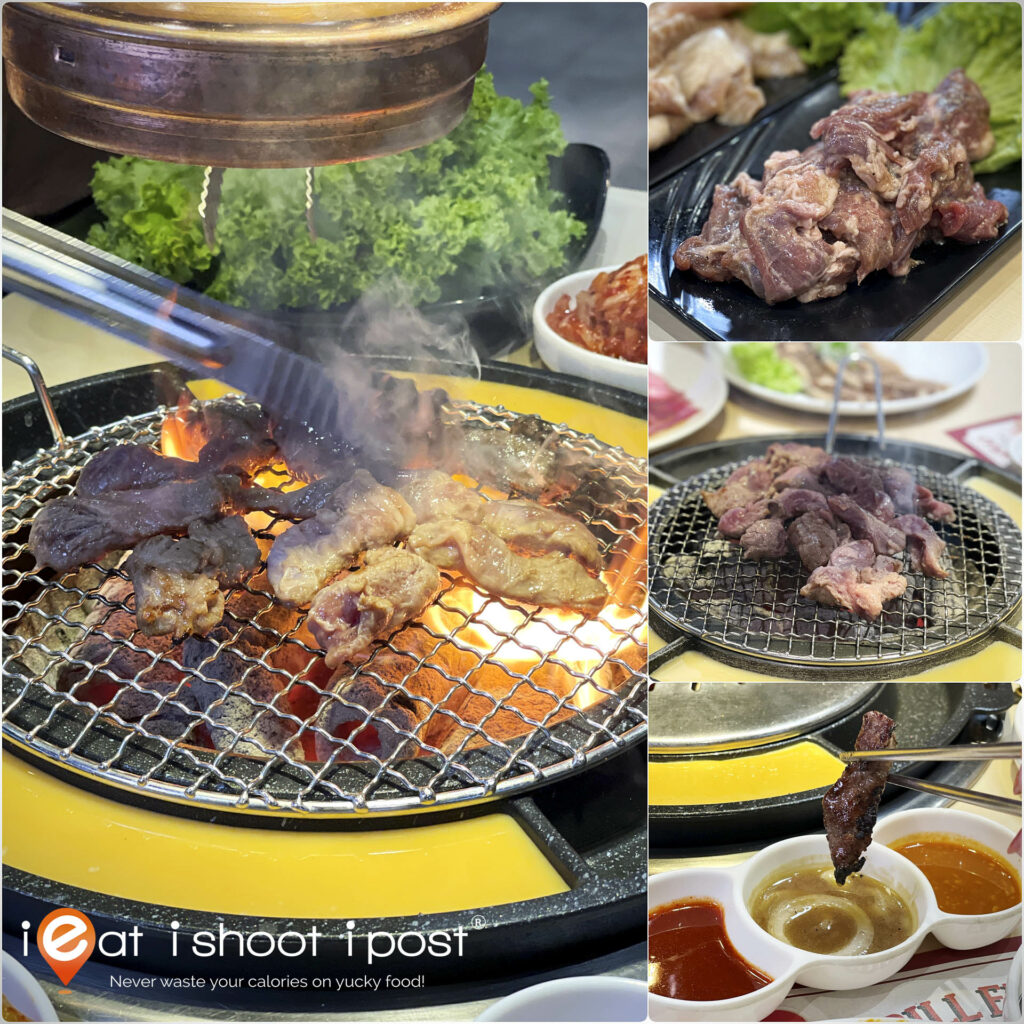 It's been said that Galmaegisal is reserved only for Korean Royalty back in the day. It is understandably so as there is only 250g of the precious flavourful pork skirt in a fully grown hog. It is a cut that is too small for retail and so it is usually just eaten by the butcher's family, ie the butcher's cut.
Walk into any Seorae restaurant and you'll find the poster below showcasing their specialty galmaegisal. The lady boss tells us that in order to make this rare cut of pork available, she had to commit to buying a whole container worth of pork skirt which equates to 20,000 tonnes of meat! That is why not there are not many other BBQ restaurants offering this cut!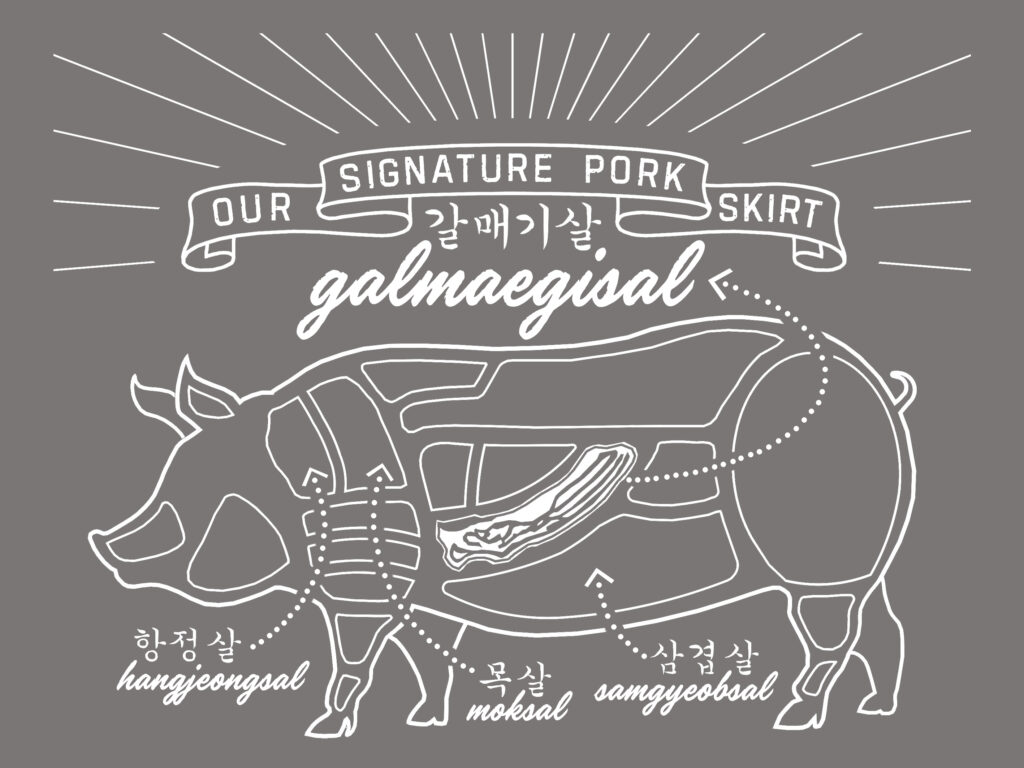 Getting hold of the meat is only the first part of the process. The meat has to be massaged by hand for half an hour with a secret marinade. The result is tasty morsels of pork which is so tender and flavourful that some might even mistake it for beef! This is a MUST-order item at the restaurant and will be the reason you'd want to return again!
Seorae Samgyeobsal – Pork Belly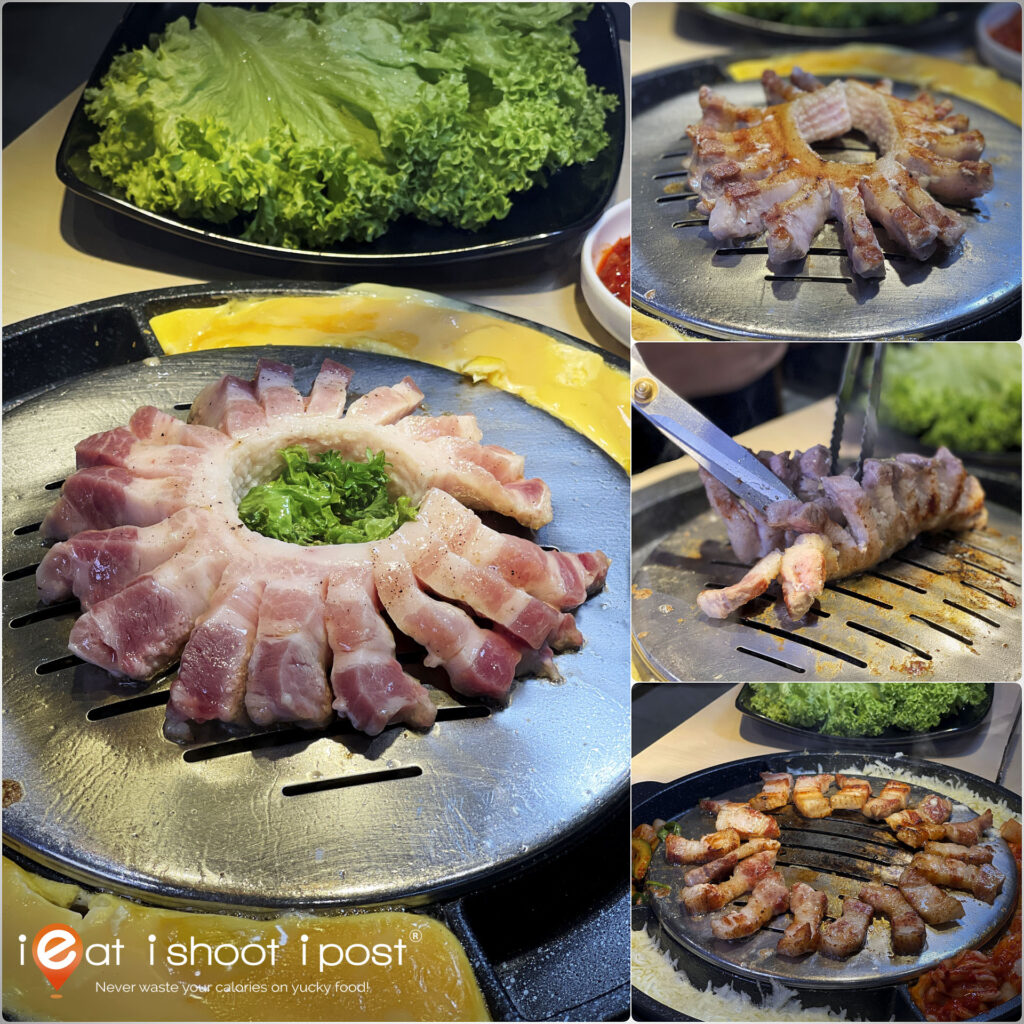 Seorae has an impressive way of presenting their pork belly. The way they slice the thick slab of pork belly makes it look like a beautiful necklace of tasty pork. They use chestnut pork from Spain which comes from duroc pigs which are specially fed with chestnuts grown in the region. The result is pork which is tender and has a lovely flavor and sweetness.
Hangjeongsal – Pork Jowl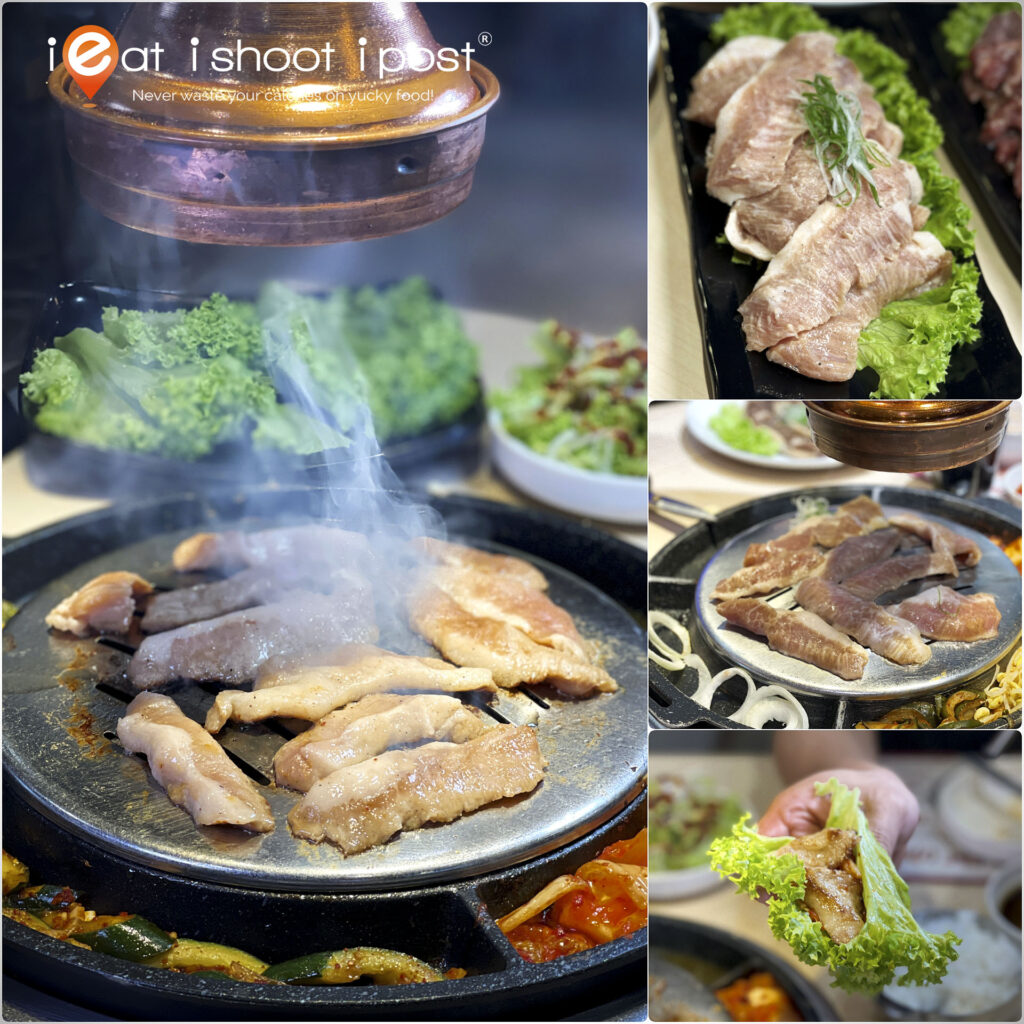 Hangjeongsal (Pork Jowl) is one of our favorite cuts of pork! Leslie especially likes to use it to make Charsiu and we also enjoy it as the Thai style khaw mu yang. It is found in the cheek of the pig and is usually very well-marbled but full of collagen. When you bite into it, the texture is bouncy and juicy at the same time!
The servers at Seorae would typically change your wire mesh grill for a metal plate after you've had your galmaegisal. We were told it's because some customers are concerned with flare-ups. So for the fattier meats, they would give you metal plates so that the fats drain to the side instead of directly onto the charcoal. However, if you are skilled at grilling and aren't afraid of a bit of fire, then we'd suggest requesting to keep the wire mesh grill for a smokier char on your Hangjeongsal. (We'll certainly be doing this the next time!) )
Woosamgyeob (Marinated Beef Short Plate)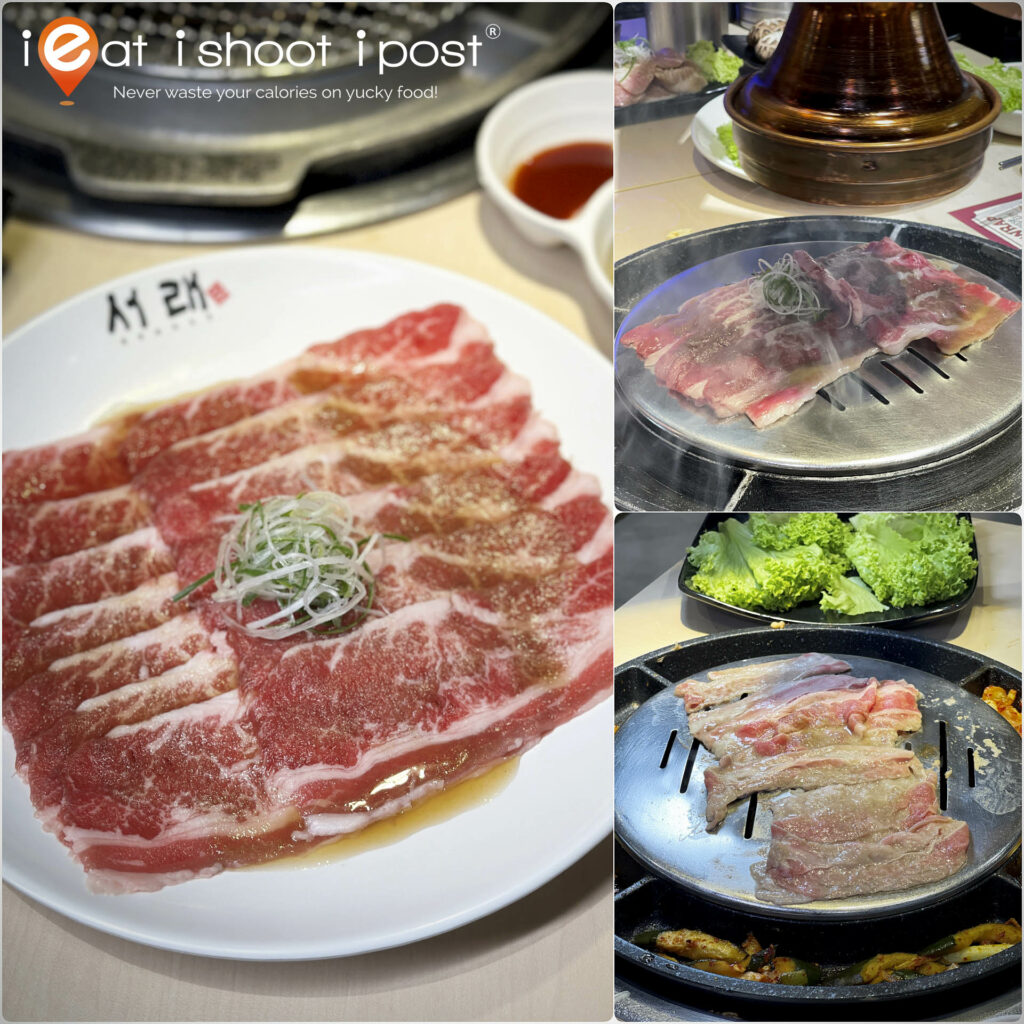 This cut of beef is to be eaten well charred, like bacon. It comes from the belly portion and is a tough cut of meat. By slicing it thin and marinating it, the meat becomes flavourful and tender. It is best to take this after the three pork courses as the dish is sweet and is a nice way to end the meal.
Sundubu Jjigae (Spicy Soft Tofu Stew)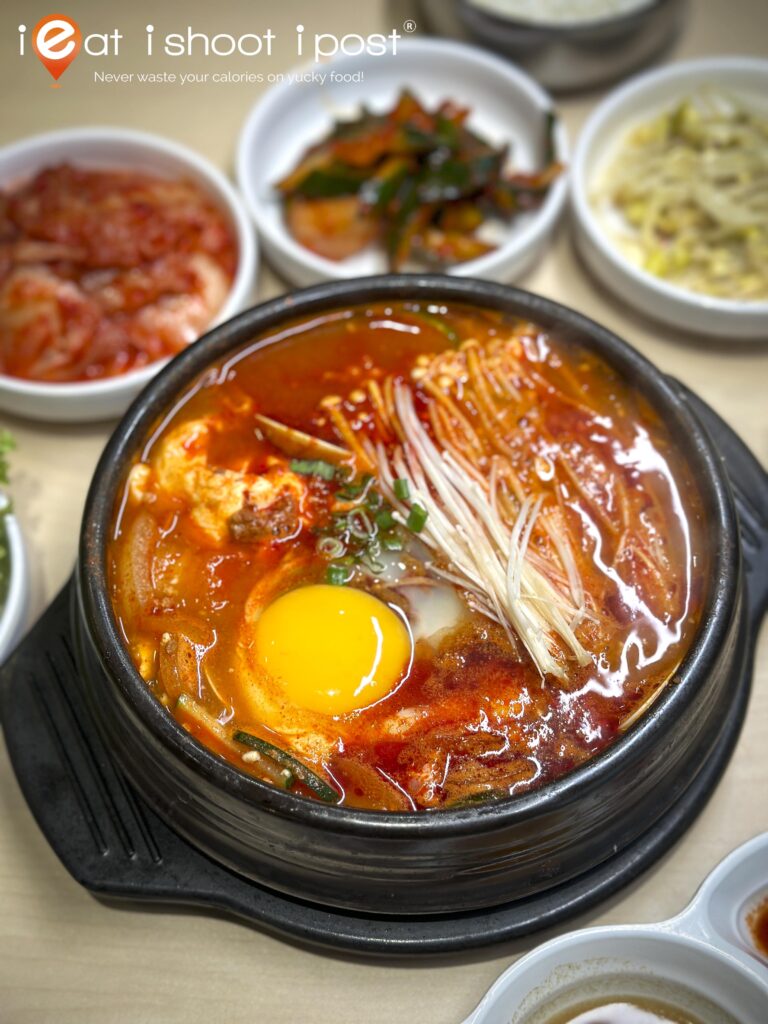 We really enjoyed their Sundubu Jigaee as the bean-paste soup has a good balance of umami and spiciness. A very nice accompaniment to the meats!
Banchan and Sides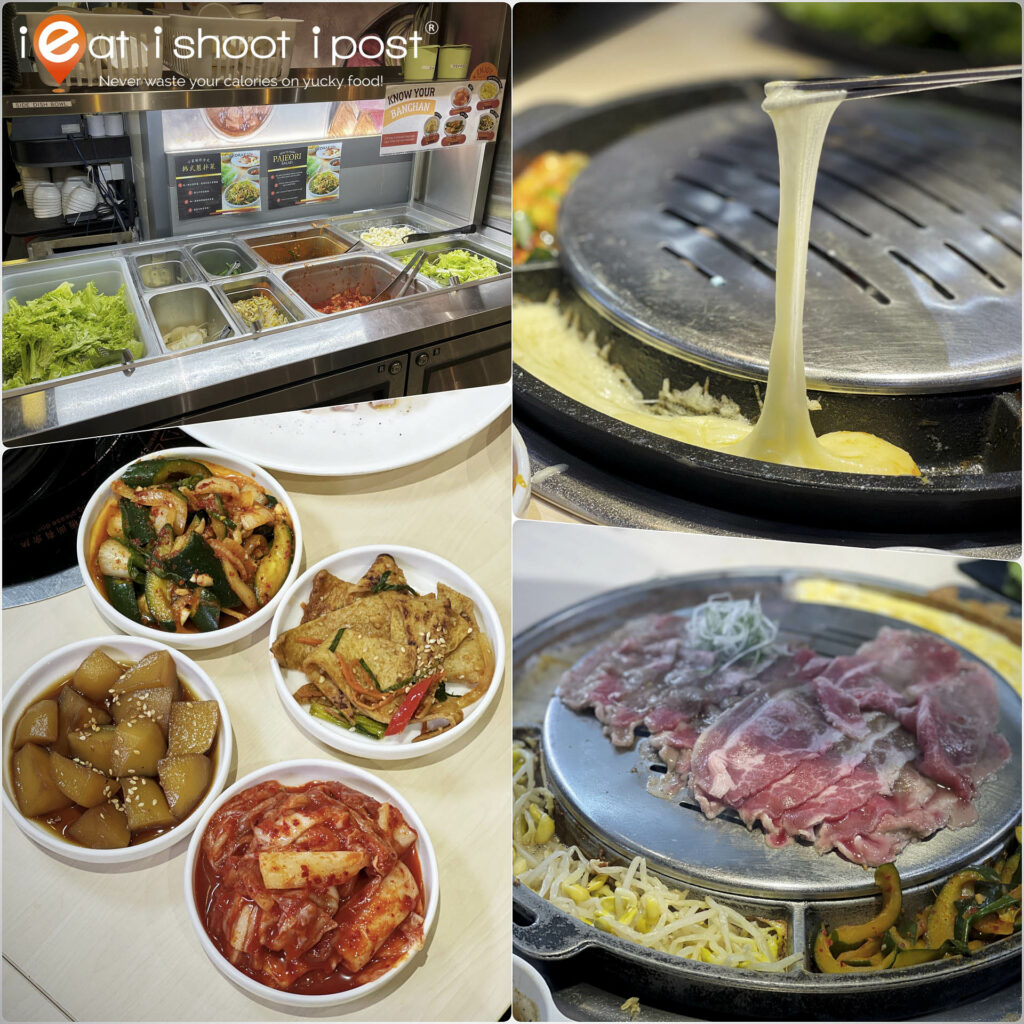 We do like their dipping sauces which are definitely their strong point. Their gochujang (sweet & spicy), ssamjang (spicy bean paste), and onion sauce are lovely and complement the meats very nicely. In general, the pork goes with ssamjang, the beef with the gochujang, and the galmaegisal goes with the onion sauce. But hey, you are free to do what you like!
We'll be very frank and just say that the banchan at Seorae is not the best we've had. While we do enjoy their kimchi, the other banchan were pretty humdrum. In case you have not tried it, do put some of the banchan onto the side of the hot plate. The heat turns it into something quite different! The other thing that is quite popular is to get a side order of cheese ($2++) so you twine some stretchy cheese over your grilled meats. Their pancakes are also inconsistent and dependent on who is cooking them, so we can't recommend them.
Refreshing Subaks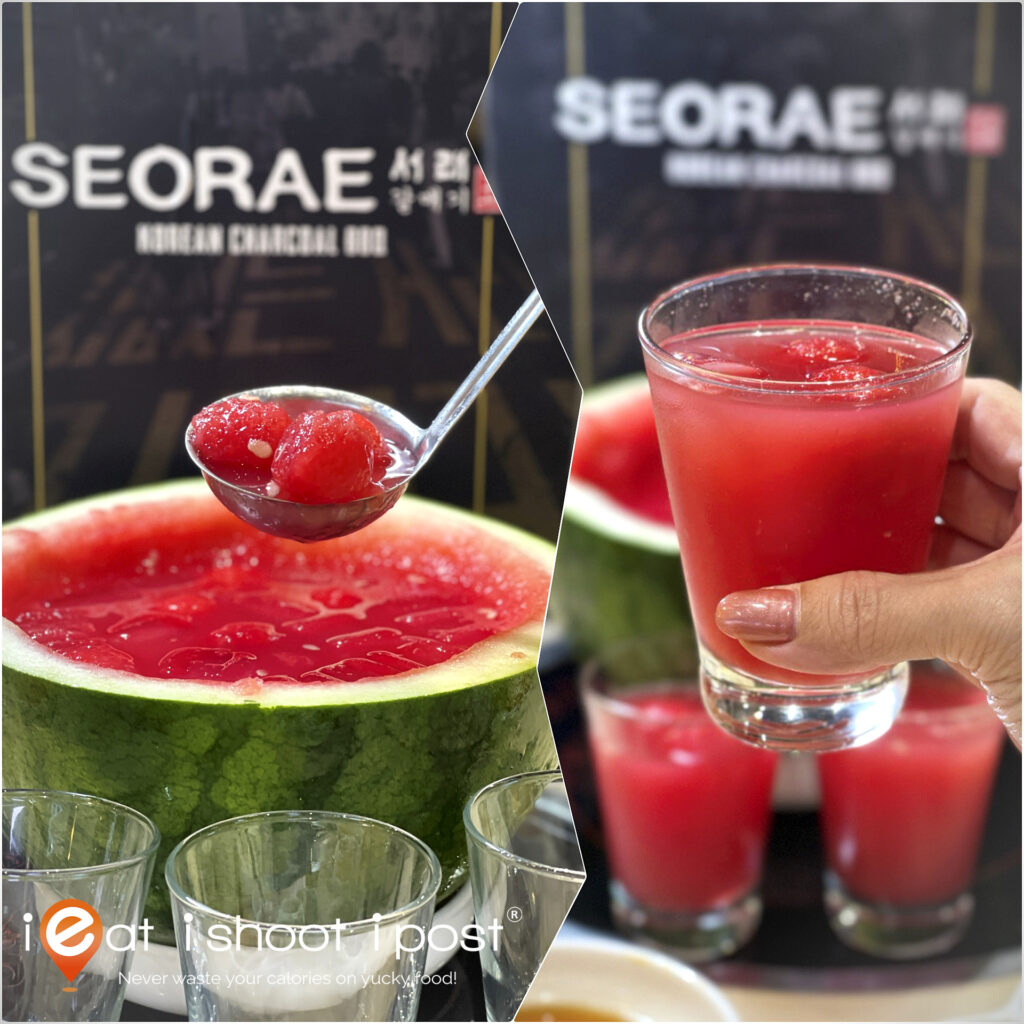 For something refreshing try their Subak (Watermelon punch). They have one version with soju in it (Cocktail version $25.90++) or you can opt for the mocktail version ($17.90++).
White Charcoal
BBQ enthusiasts can talk about charcoal till the cows get onto the grill. Real Japanese binchotan made from oak is really expensive, but they burn at very high heat and with clean smoke. Seorae doesn't use this type of binchotan (you can only expect it in those really high-end Japanese restaurants) but they have procured binchotan briquettes which have similar burning properties.
Seorae Korean Charcoal BBQ Outlets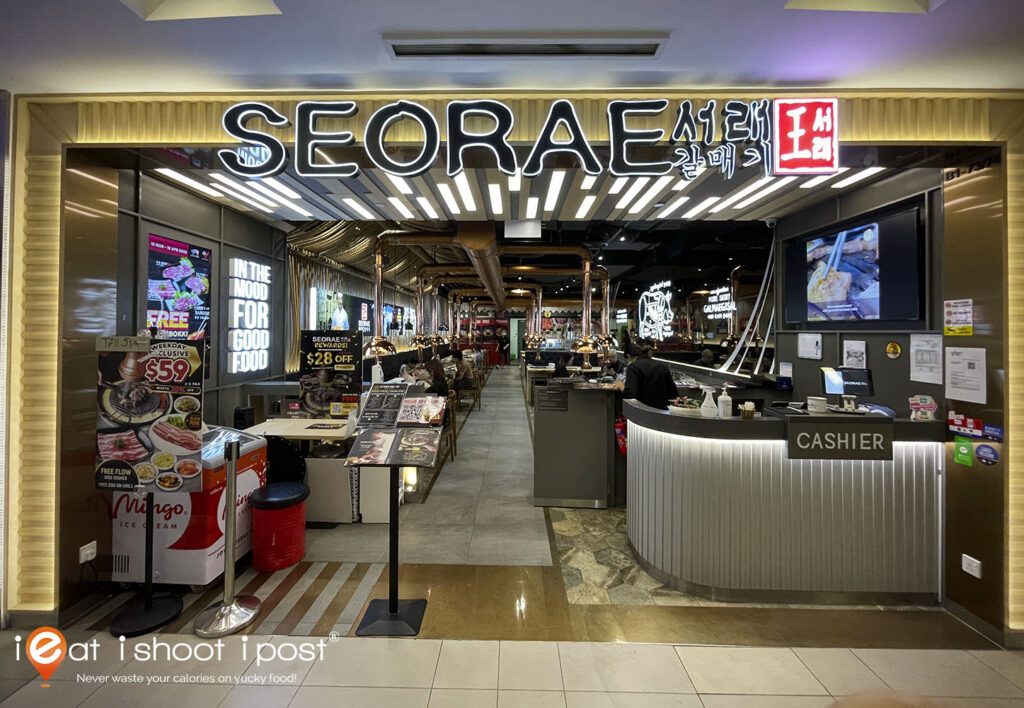 About Seorae Singapore
The first Seorae was opened in Dec 2015 at Plaza Singapura. They went on to open their second outlet at Jem in August 2017. Now, they have 5 outlets, conveniently located at major shopping malls across Singapore.
Compass One – #02-36, 1 Sengkang Square
Jem – #B1-10, 50 Jurong Gateway Road
Plaza Singapura – #02-01, 68 Orchard Road
Serangoon NEX – #B1-73/74, 21 Serangoon Central
Tampines Mall – #B1-02, 4 Tampines Central 5
Opening Hours: 11:30am to 10:00pm | Mon-Sun
Conclusion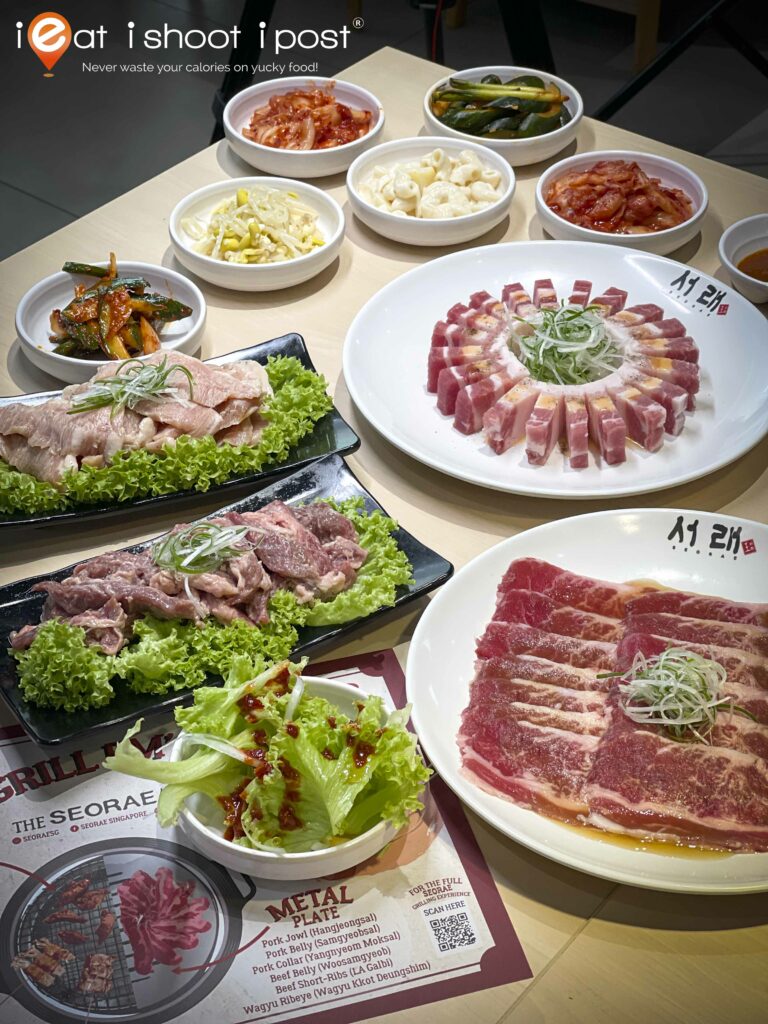 Seorae has hit the right formula of serving quality meats at reasonable prices and are conveniently located at the shopping malls. While we may rave about the meats, we think the banchans, though competent, could be better and we've had better Korean pancakes elsewhere. But you can probably tell that we really like this place because the meat is very good. Seorae is now our go-to place whenever we have a craving for some delicious marinated grilled meats!
Disclosure: This post is written in partnership with Seorae Singapore. Opinions expressed are that of our own!