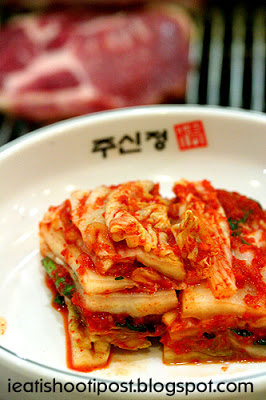 I have been wanting to visit Ju Shin Jung for the longest time since my Korean friends all highly recommend it. So I was elated when they opened a branch over at the old Tennis Centre along East Coast Road.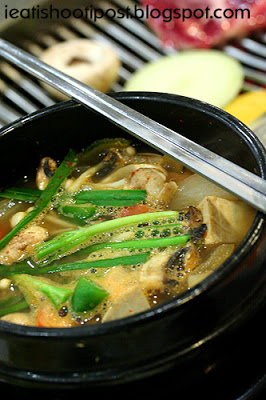 The first impression was just how massive the place was! It must have been at least 70m from the front of the restaurant to the back and it was packed and smoky. It was as if we were at a crowded hawker centre. We ordered some Kalbi (Marinated Beef ribs), pork collar and some side dishes and proceeded to nibble on the Kim Chi. The Bean Paste Soup was very nice and I thought it was a sign of good things to come.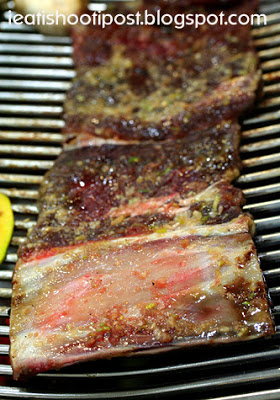 Unfortunately, the Kalbi (I have been waiting long long time to eat this!) turned out to be rather tough, although the marinade was very good. Bit dissappointed especially since this sliver of meat costs $35. (I guess the meat costs more to compensate for the free flow Kim Chi)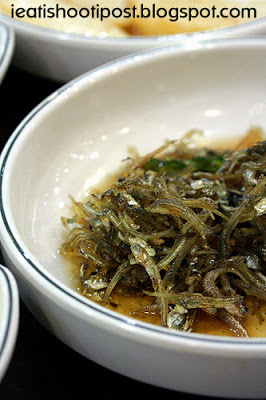 The Kim Chi on the other hand was excellent! I spent the evening nibbling on the ikan bilis, sweet mashed potatoes, fish cakes, marinated lettuce etc etc. This can potentially be very addictive!
Conclusion
Having just recently opened, this branch has several problems it still needs to iron out. The ventilation badly needs to be improved. The service was very slow that night and lots of tables remained uncleared after patrons have left. I had to get up to get my own rice as the waiters were all too busy. The meat dishes where somehow not the same standard as the original branch (I was told). But the Kim Chi and side dishes were excellent. Given the pedigree of the original branch, I expect that these problems should be sorted out soon.
6/10 (T3+V2+S0.5+E0.5) Marked down for service and poor ventilation