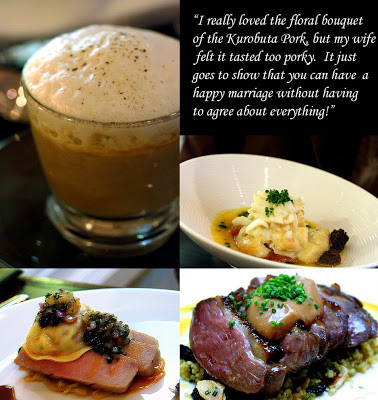 January is probably my favourite month. I get to celebrate my birthday (a day in which everyone tries to be extra nice to me) and my wedding anniversary as well. Our anniversary actually extends for 2 weeks in January. That's because we had 2 wedding ceremonies 2 weeks apart. You are probably wondering why?
It's a long story…… but like most long stories, it only takes a minute to tell. We had one wedding in Singapore and the other in Sydney. 2 sets of parents and 2 sets of friends, so it was more practical to have 2 weddings. BUT, though we had 2 weddings, we were only married once. The second was a affirmation of vows. Actually both were affirmation of vows, since we had our registration a few years earlier. Now that's a longer story…….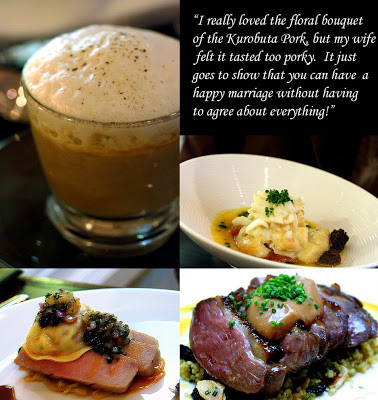 The Sage is one of those cosy little places where you get real personalized service. Kimberly (The Eurasian Lao Ban Niang and wife of chef Jusman) was as enthusiastic as I was in planning the anniversary menu!
Our degustation started with the Foie Gras, which is a specialty at Sage. The Pan Fried Duck Foie Gras was excellently complemented by the sweet and crunchy fig and walnut salad. However, duck liver just seem to lack the creaminess of goose liver. (Goose is less readily available then Duck in Singapore). The Lobster Bisque is not on the menu but was specially done for us because I told Kimberly that it was one of my wife's favourite dishes. It had enough of the charred crustacean flavour that I liked though my wife found it a tad salty.The cod with bacon infused potato gnocci was accompanied by a very tasty composition of tomatoes and lemon thyme sauce which I found zesty and well balanced.
Three courses down, now to the mains. I really loved the floral bouquet of the Kurobuta Pork, but my wife felt it tasted too porky. It just goes to show that you can have a happy marriage without having to agree about everything! The texture of the pork was excellent. It had a springy bite to it and the nutty, floral aroma was a real treat. Easily one of the most memorable pork dishes I ever had. I wonder how much of the taste and texture was the result of the marinade (if any) or if the pig had been fed a special diet just before it became pork? The other dish that I enjoyed was the Smoked Duck. The cumin scented couscous with sultanas and toasted almonds was an excellent complement to the applewood smoked duck. It would have been perfect if the duck was more tender. Dinner ended with a very nice lavender infused creme brulee.
Conclusion
Good food and personalized service. Although it was not perfect, there was enough creative streak in Chef Jusman's culinary skills to entice me back to explore the other items on the menu. Another thing I really liked is the big open window to the kitchen where you can see your meal being prepared. I saw one guy drop a whole lot of stuff from the top of the fridge and Chef Jusman just looked on coolly, said a few words and went right back working! He's got to be the coolest Chefs I have ever seen!
8/10 (T3+V2+S2+E1)