This stall is closed.
With liverpool and iwatch_ueat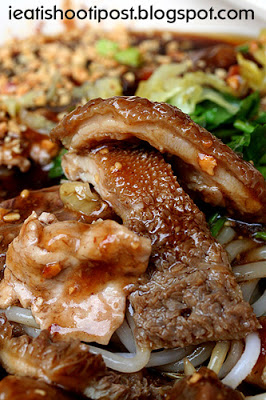 Hock Lam Street Beef Kway Teow: Traditional Teochew Recipe since 1911
My Beef Kway Teow list would be incomplete without the inclusion of this famous stall which has been around for almost a century. Hock Lam Street is famous not only for its traditional Teochew Beef Kway Teow recipe, lately it has also become well known for having the most agreeable looking Beef Kway Teow Stall vendor in Singapore (As far as I know).
When you venture into the stall, you are greeted by a young lady whom you think could be wearing a Sarong Kabaya. When starts speaking, you'd probably wonder why she's not wearing a Citibank uniform instead. The fact of the matter is this fourth generation Beef Kway Teow vendor just happens to be an Australian Degree Holder to gave up her $10K bank job to take over the family business! So you can actually buy a bowl of Beef Kway Teow and talk about the BULL market at the same time!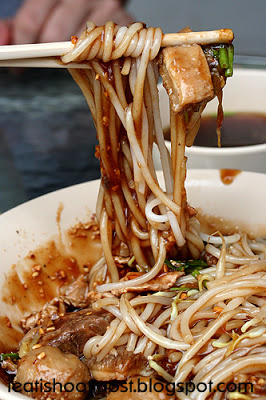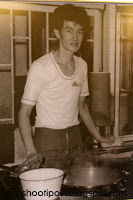 Tina is adament that the receipe be preserved in its original Teochew form, so it comes with salted vegetables and plenty of ground nuts and WITHOUT the familiar Chinchaluk (shrimp sauce). The sliced beef was nice and very tender. Tina tells us that all the beef is still sliced by hand and no tenderizer is used. The stewed beef and tripe were both very good. The beef balls were nice but they no longer make it themselves. I felt the sauce could be more Shiok, but Teochew food tends to emphasize more on the freshness of the ingredients, so Teochew sauces tend to be a little more bland when compared to the other dialect groups. 4/5

Conclusion
Definitely one of Singapore's heritage hawkers and one cannot discuss Beef Kway Teow without including this famous Zhao Pai (Signboard). I am glad that Tina is ensuring that future generations will still get to savor their age-old recipe.