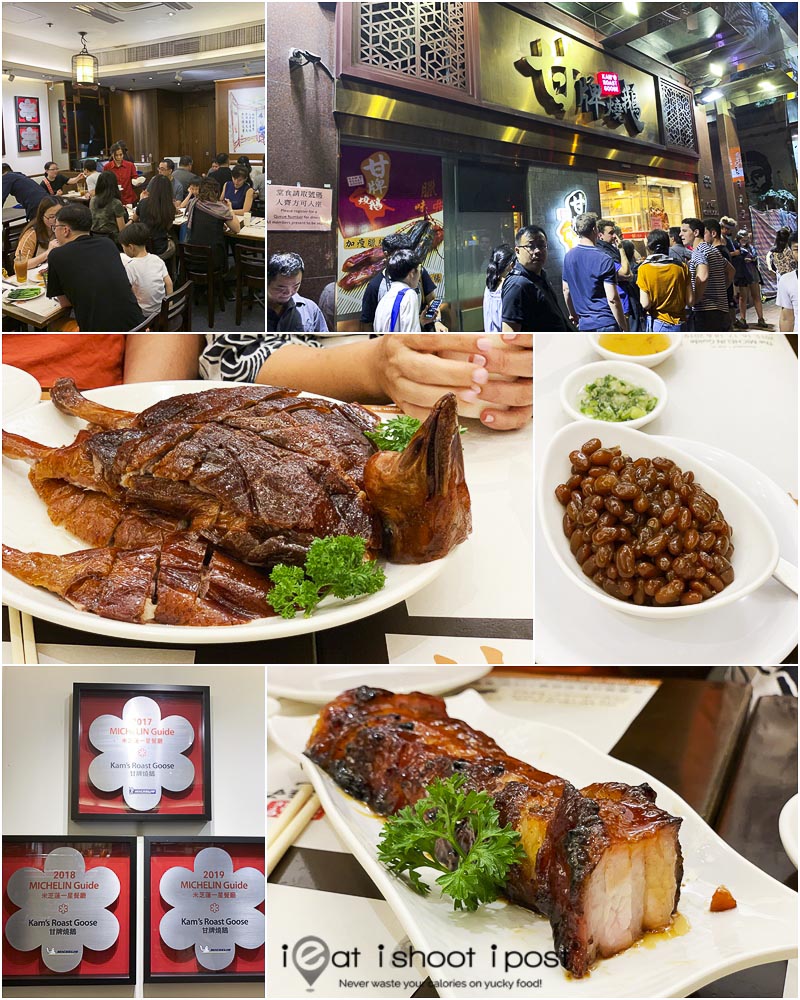 Made a stopover in Hong Kong on route to Chaoshan recently, so here are some new eateries to supplement the more extensive Hong Kong Food Trail which I did last year!
We managed to visit Kam Roast this time round and met up with Uncle Robert Chua and Hardy Kam who were responsible for bringing Kam's Roast to Singapore.  The question that I needed to answer was whether Kam's Roast in Singapore is as good as its Michelin Star parent in Hong Kong?  The comparison is unfair, since they serve roast goose in Hong Kong while in Singapore, they serve roast duck.  Uncle Robert tells me that they are still working hard at trying to import fresh goose into Singapore so we can only hope and pray it happens soon.  Between goose and duck, goose meat is definitely more flavourful and unctuous!
The next question is how is Kam's roast goose compared with the other famous roast goose joints in Hong Kong? This question is a bit more difficult to answer because there are different styles of roast goose and it really depends on what you are after. Hardy Kam tells me that his grandfather, who founded the famous Yung Kee, has always emphasized on a moist, tender and flavourful goose rather than on a crispy skin, so you might be surprised, as I was, that they pour the gravy all over the goose when it arrives at the table.  The meat was delicious and I especially loved to savour the cuts attached to the cavity where all the yummy seasoning is.  I think I must have finished at least 1/3 of the whole goose!  The other thing that Kam's Roast is famous for is the gravy which goes really well with the rice, so make sure you order some rice to savour with the gravy even if you are on a low carb diet!  4.5/5
Kam's Roast
 226 Hennessy Rd, Wan Chai
Map and details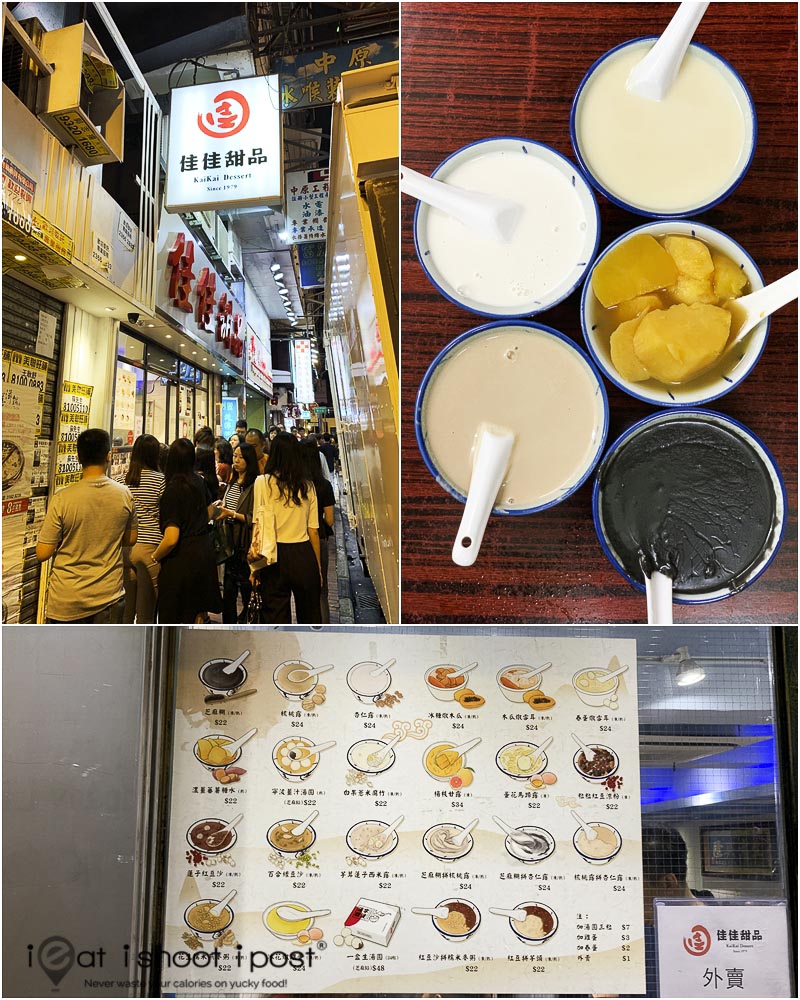 Hong Kongers love their late night desserts and this particular restaurant is so popular that there is a long queue outside even at midnight.  They serve the usual walnut and black sesame pastes, red and green bean soups. The outstanding one for me was the bean curd skin soup which was so smooth and satisfying! Nice way of ending a whole day of feasting!  4.25/5
Kai Kai Desserts
Jordan, Ning Po St, 29號號地下
Map and Details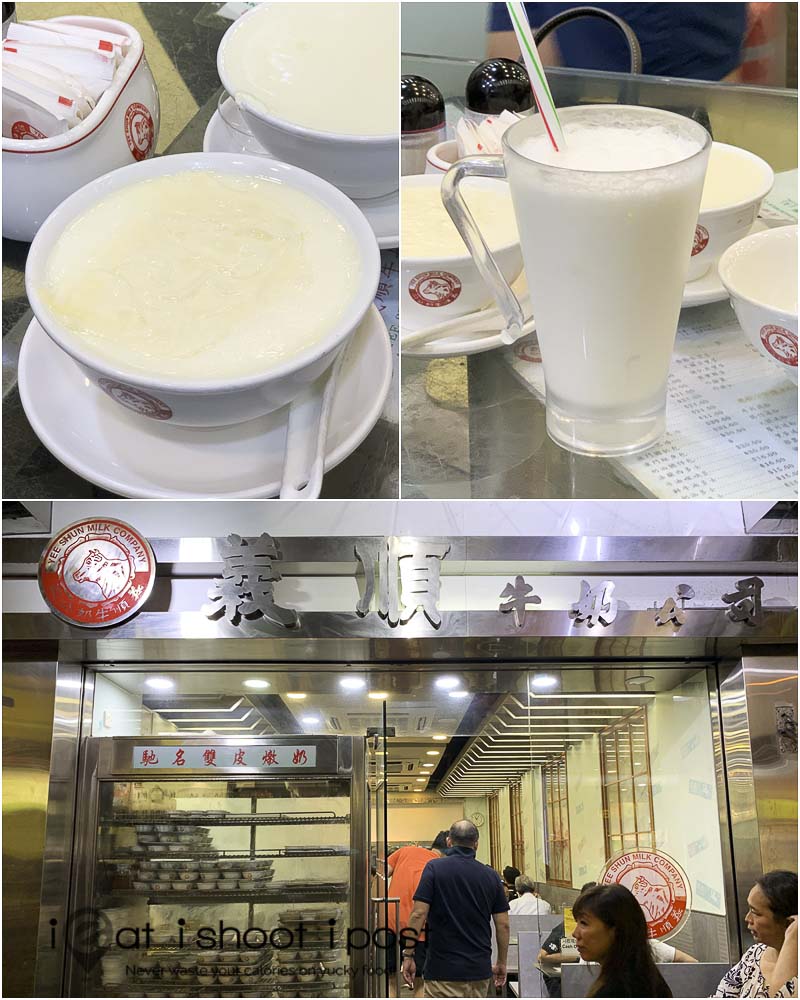 In case, one round of dessert is not enough, you can go for a 2nd round just a short walk away from Kai Kai.  Yee Shun specializes in milk pudding and it is done really well here.  The double skin milk pudding has a skin on top that tastes a little like cheese!  Worth a try if you like milk pudding!  4.25/5
Yee Shun Milk Company
513 Nathan Rd, Yau Ma Tei, Hong Kong
Map and details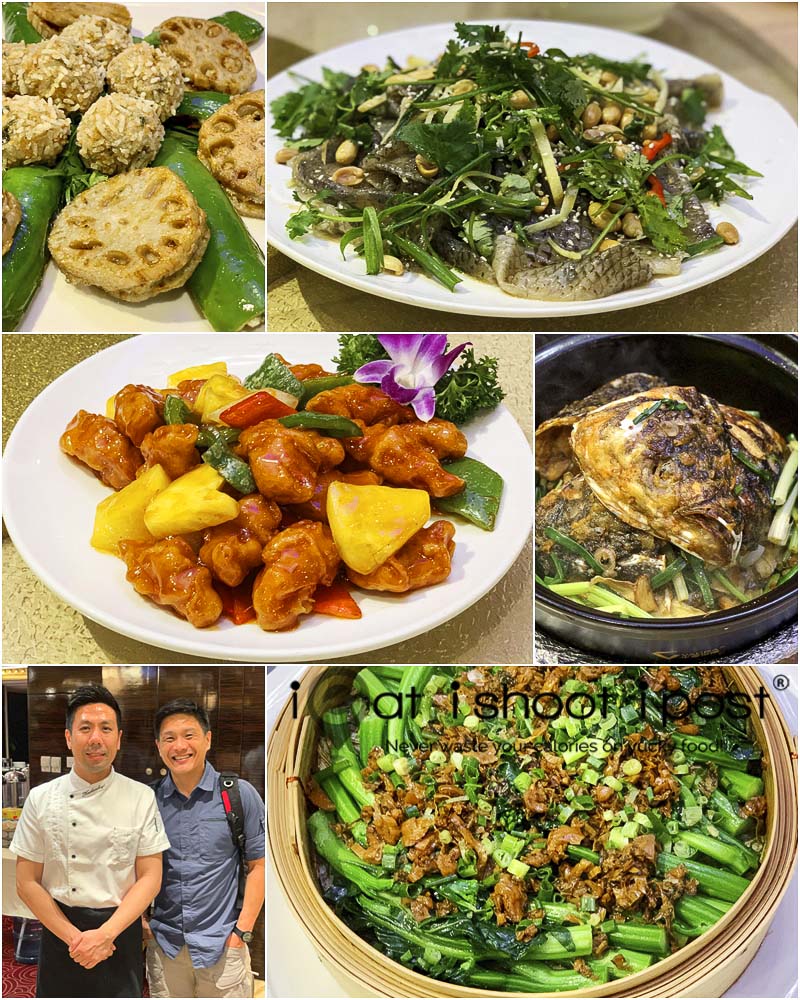 Had a paradigm shattering sweet and sour pork at Shun De Kung Seafood Restaurant.  This place is quite a bit of a hike from central HK, but if I were to pick one restaurant to go back to again, this would be the one.  Our first dish of fish skin with sesame oil dressing set the expectations for the rest of the meal.  I have had fish skin salad before, but this is the best rendition I have come across.  Chef really takes care to rid the skin or muddy and fishy odours and so we only enjoyed the crunchy texture of the skin.,  The fish head is also quite a revelation.  They don't use the whole head, but painstakingly dissect just the outer portion and the gelatinous parts of the head, then deep fry it and toss it in a ginger and shallot sauce.  The aforementioned sweet and sour pork is, and I don't use this word too often, awesome!  He uses fresh pork jowl which simply melts when you bite into it and the shell is super light and crunchy.  This is sweet and sour pork at the next level. Now, I have to get down to revise my sweet and sour pork recipe.  4.75/5
Shun De Kung Seafood Restaurant
2nd level Dorsett Kwun Tong Hotel
84 Hung To Road, Kwun Tong
39896625, 23881320
Map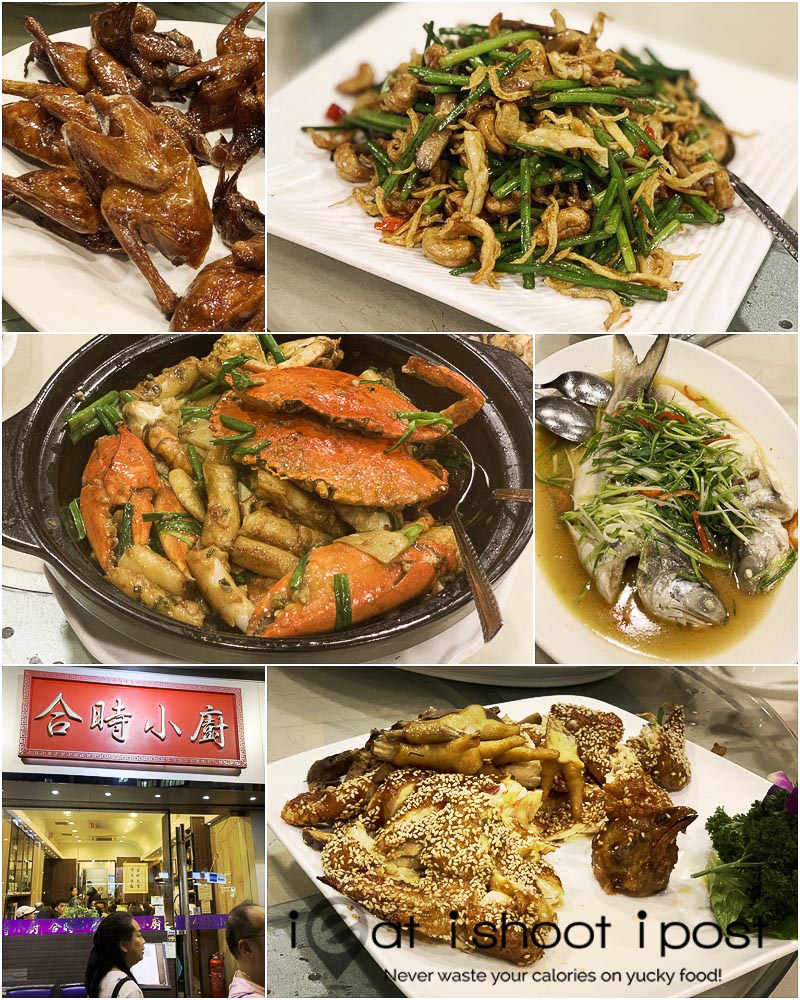 Hop Sze restaurant is another of those  Hong Kong "kitchens" where the chef owners really express themselves in their dishes.  This was the first time I have seen chee cheong fun used in a crab dish it actually works quite well.  The chee cheong fun was delicious after having absorbed absorbed the ginger, shallot and crab flavours. Their steamed threadfin served in a rich chicken broth was also very good and chef also showcased his own rendition of oxtail stew with toasted baguette which was surprisingly good.  It's not a classic Chinese dish, but simply something the chef enjoys eating. It's something I'd order it again, but that's probably just me! 4.25/5
Hop Sze Restaurant
G/F, Lai Wan Building, 39 Shau Kei Wan Road, Sai Wan Ho, Sai Wan Ho, Hong Kong
Map and details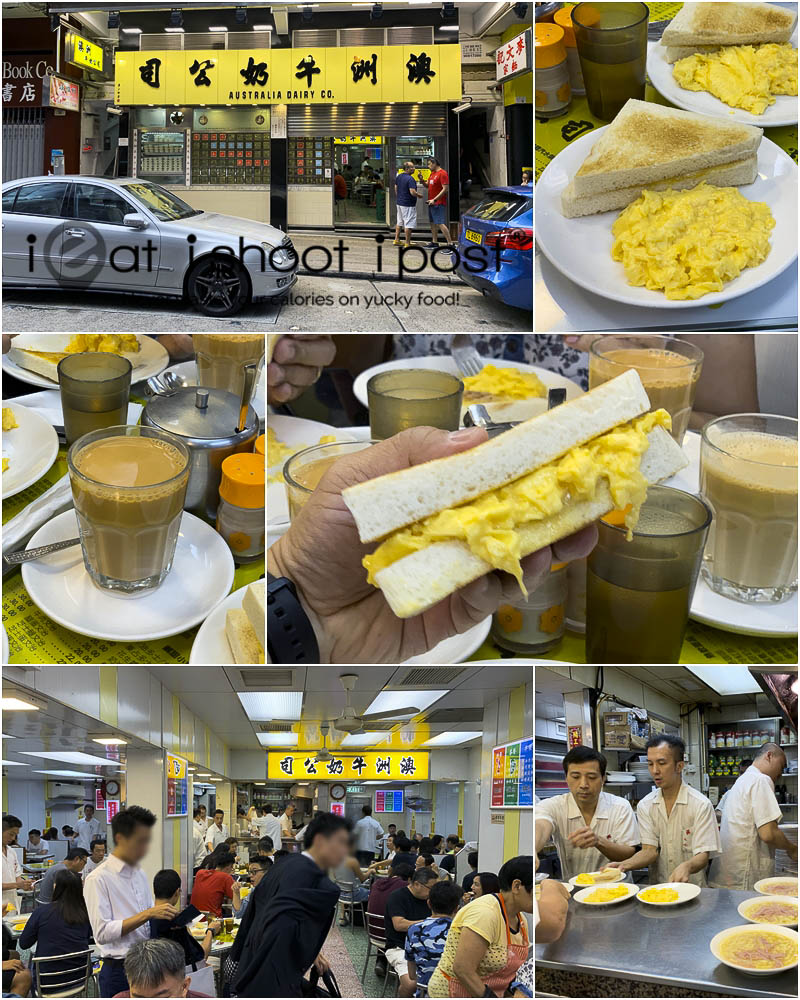 We didn't manage to experience the infamous service at Australia Dairy Company in our last trip, so this time round, our friend Terence made sure we got the full ADC experience.  To avoid the queues, we got there at 7am and managed to get a seat without having to queue. By the time we finished, (which was not very long) the queue has already starting forming outside.  I must admit that the scrambled eggs tasted better when you dine in rather than when you takeaway. It was good, but again I feel that it is not something I would queue up for. I didn't managed to get hassled and driven out fo the place, but I can imagine how it would be like as more and more customer pour into the restaurant. 4/5
Australia Dairy Company
47號 Parkes St, Jordan, Hong Kong
+852 2730 1356
Map and Details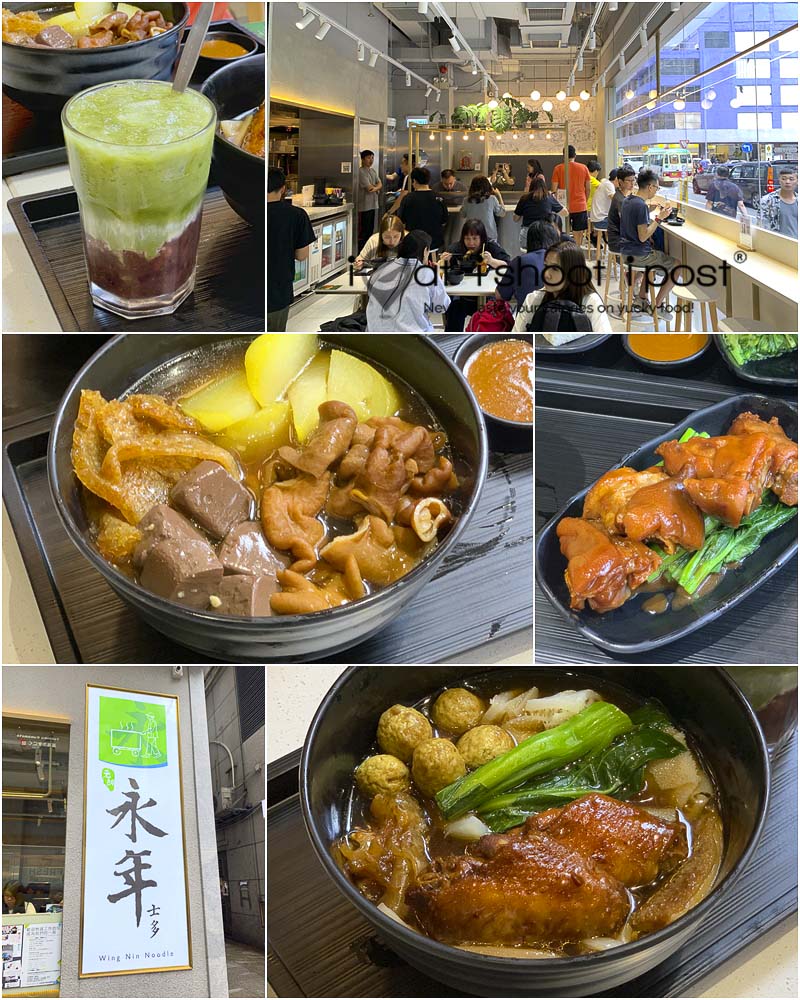 Cart noodles (车仔面) are a blast from Hong Kong's past and are so called because they were sold from pushcarts along the streets.  These stalls are uncommon nowadays but some of them, like Wing Nin have modernized and are now serving these old school noodles in spanking new eateries. This particular stall is famous and very popular amongst the locals and was still packed at 3pm in the afternoon.  Good to try, but not something that will need to go back to when I am in HK next time.  It is, however, highly recommeded Terence who grew up eating the noodles!
Wing Nin Noodle
Hong Kong, Causeway Bay, Jaffe Rd,
482號9號鋪 Cigna Tower, 地下7
Map and Details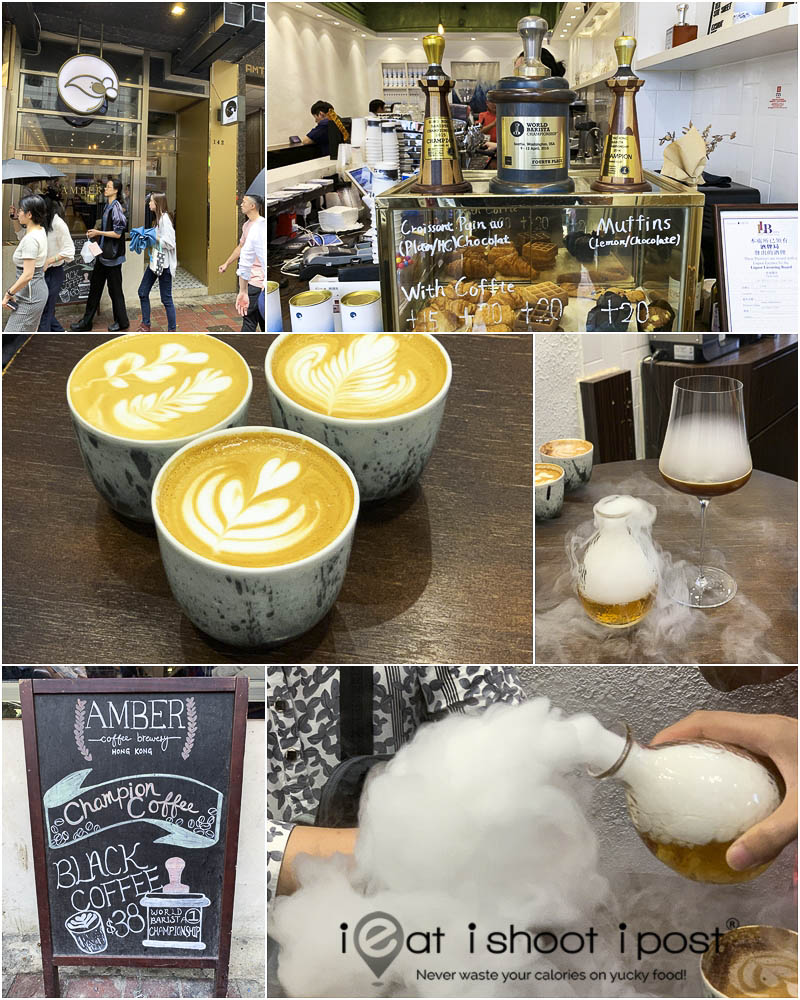 If you are a coffee connoiseur looking for a cafe in Hong Kong, then this is the place for you.  The owner has won awards in international barista competitions and is not just passionate in brewing a good cup of coffee but has also involved in the whole process of bring the beans from farm to table.  This is one of the few places where you can experience locally grown Yunnan coffee which is quite distinctive. He also does innovative coffee mocktails which involve fermentaion and other forms of food alchemy! Recommended by a local coffee expert as the best cafe in HK!  4.25/5
Amber Coffee Brewery
Hong Kong, Central, Des Voeux Rd Central,
140-142號G/F No.142 Full View Building
Map and details

Thanks for reading!  You can find more good eats in last year's  Hong Kong Food Trail