Hong Kong is a well known food paradise, but that doesn't mean that you can pop into any old shop and expect to eat something amazing!  Like any other country, you still need to do some research to find out where all the best eats are!  Fortunately for me, I have a local food guru who brought me to all his favourite places to eat in Hong Kong!  Not only that, he also brought us to places to buy dried goods and kitchen stuff!
In this post, I have listed down the places I visited over the course of 3 days so that you can construct your own food trail.  All the locations are conveniently listed in a map at the bottom of the post!
Sik bao bao!  (Eat till you drop!)
Central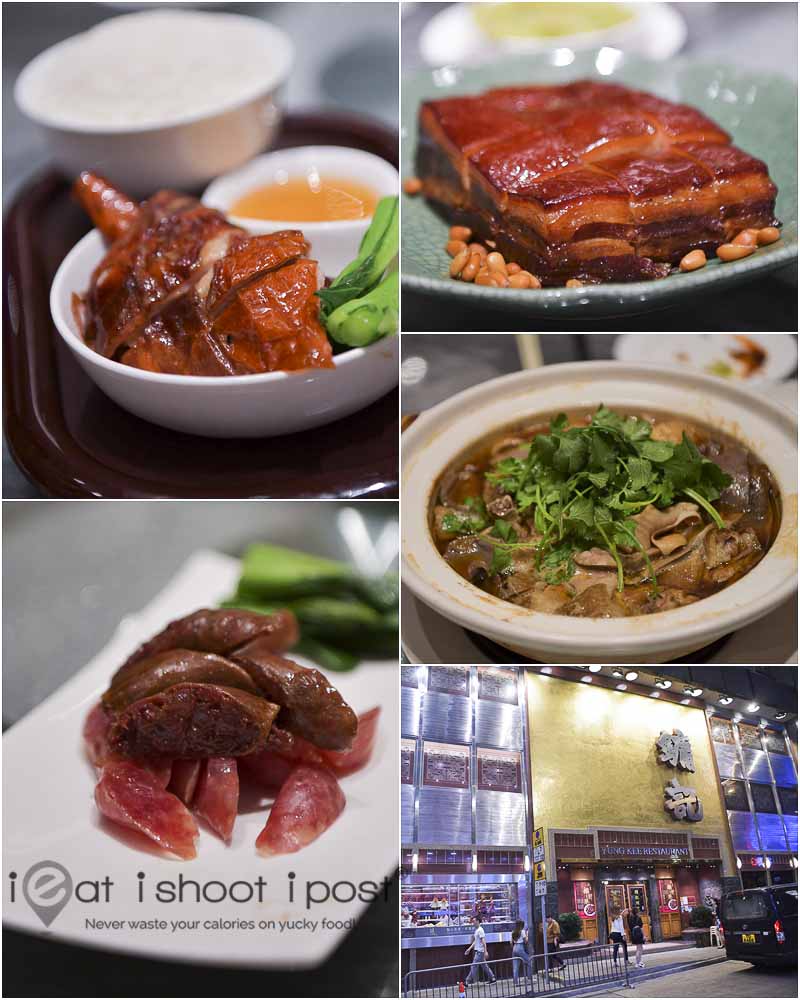 Yung Kee is arguably the most famous eatery in Hong Kong with a history stretching back to 1938.  It was the undisputed champion of the roast goose before almost closed in 2015 due to a family dispute. Since then, the popular opinion is that the roast goose isn't as good as it was before.  However, they are still very good for other dishes like their lup cheong and goose liver sausage.  We had these with their fried glutinous rice which was stir fried in a wok for over 35mins and it was really good.  But the star dish was the braised goose which came with all the innards.  This is a special dish which you need to order one day in advance.  If you enjoy goose liver and intestines then this is the ultimate dish to eat with a bowl of rice.  I am not so big on innards, but it was an interesting experience.  I am drawn to other dishes like the smoked pork belly which had melting layers of fat infused with wood smoke. Contrary to what I was told about the roast goose, I actually found it very good.  My local friends also agreed that it was much better than when they last tried it, although it was no longer considered the best in Hong Kong.
Yung Kee Restaurant
32-40號 Wellington St, Central, Hong Kong
+852 2522 1624
MAP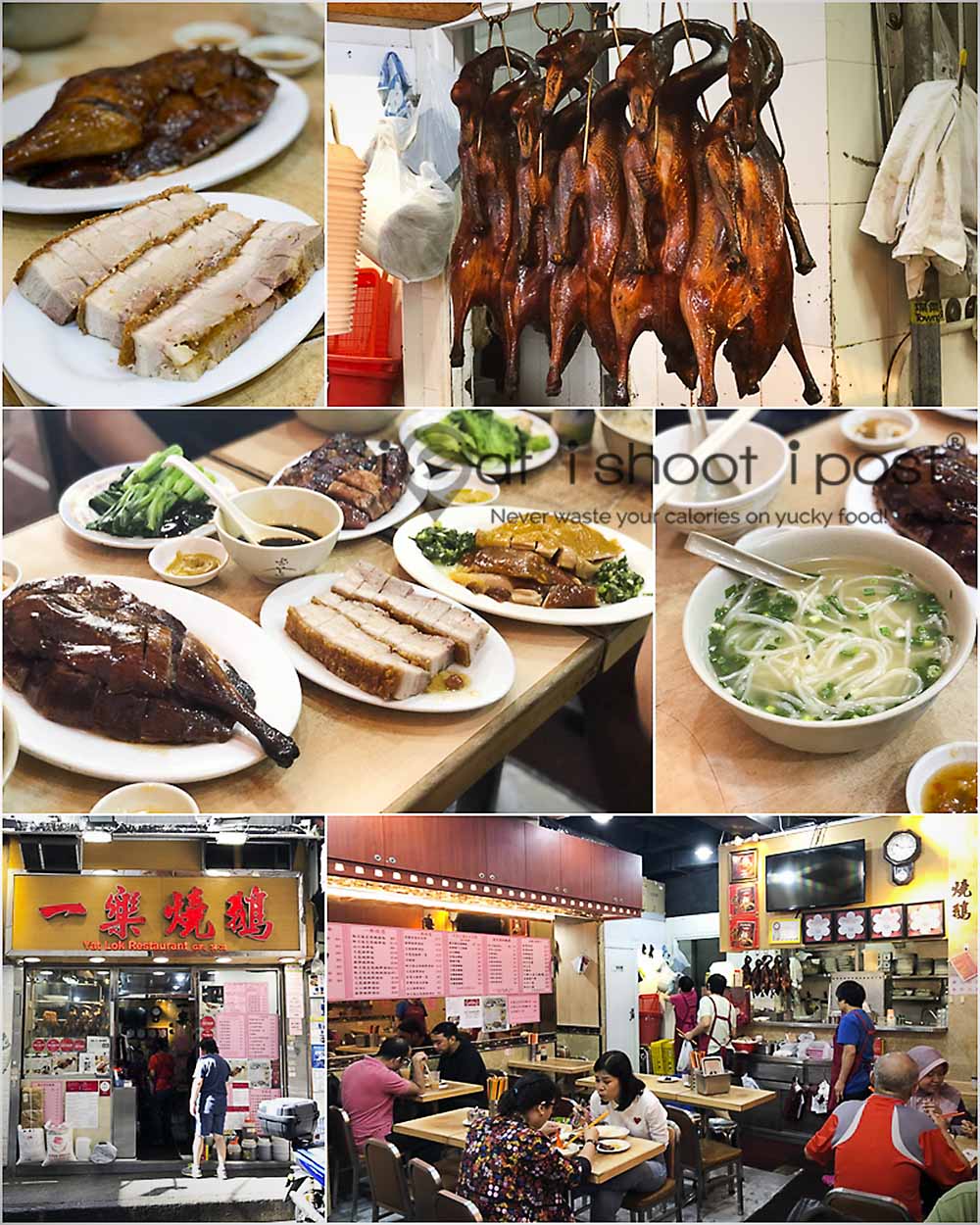 For the best roast goose we headed for a small family owned eatery called Yat Lok, just a stone's throw away from Yung Kee.  The skin is crisp like the burnt sugar atop the creme brûlée and when you sink your teeth into its crisp shell, the juices burst out to overwhelm the palate with its unctuous goodness!  The meat is tender and flavourful without being gamey. They roast their geese for 15 mins longer than other stalls to render the excess fats so it isn't as jialat as the geese from other stalls.  Their sio bak and charsiu are also very good, but not as outstanding as the goose.  They have a history stretching back to 1957, but still remains as a small family owned business with no other branches.
Yat Lok Restaurant
Hong Kong, Central, Stanley St, 34-38號, Conwell House, HK 香港島 中環 士丹利街34-38號 金禾大廈地鋪
+852 2524 3882
MAP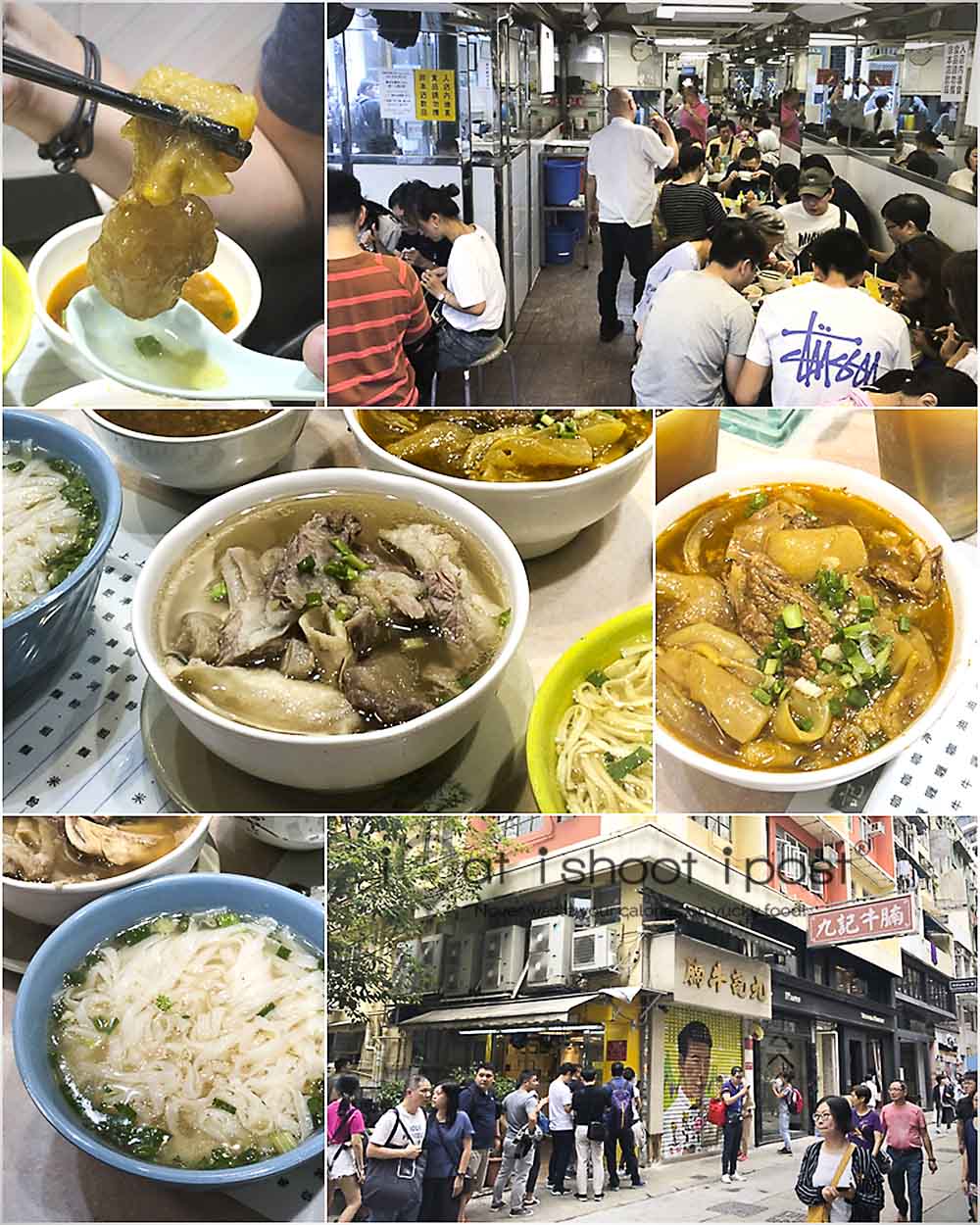 The ngau lum at Kau Kee really lived up to its reputation!  They only open at 12.30pm, but by then the queue was already 100m long!   They are using local beef which has a really good flavour and the soup has a natural sweetness that can only be achieved by boiling the beef bones for long periods of time.  I preferred the clear soup over the curry as I like to be able to savour the natural flavour of the brisket.  The tendons are also braised till they are slippery soft!  But I bet the question on your mind is whether it is really worth the 100m queue?  In short, yes, most definitely.
Kau Kee
21 Gough St, Central, Hong Kong
+852 2850 5967
MAP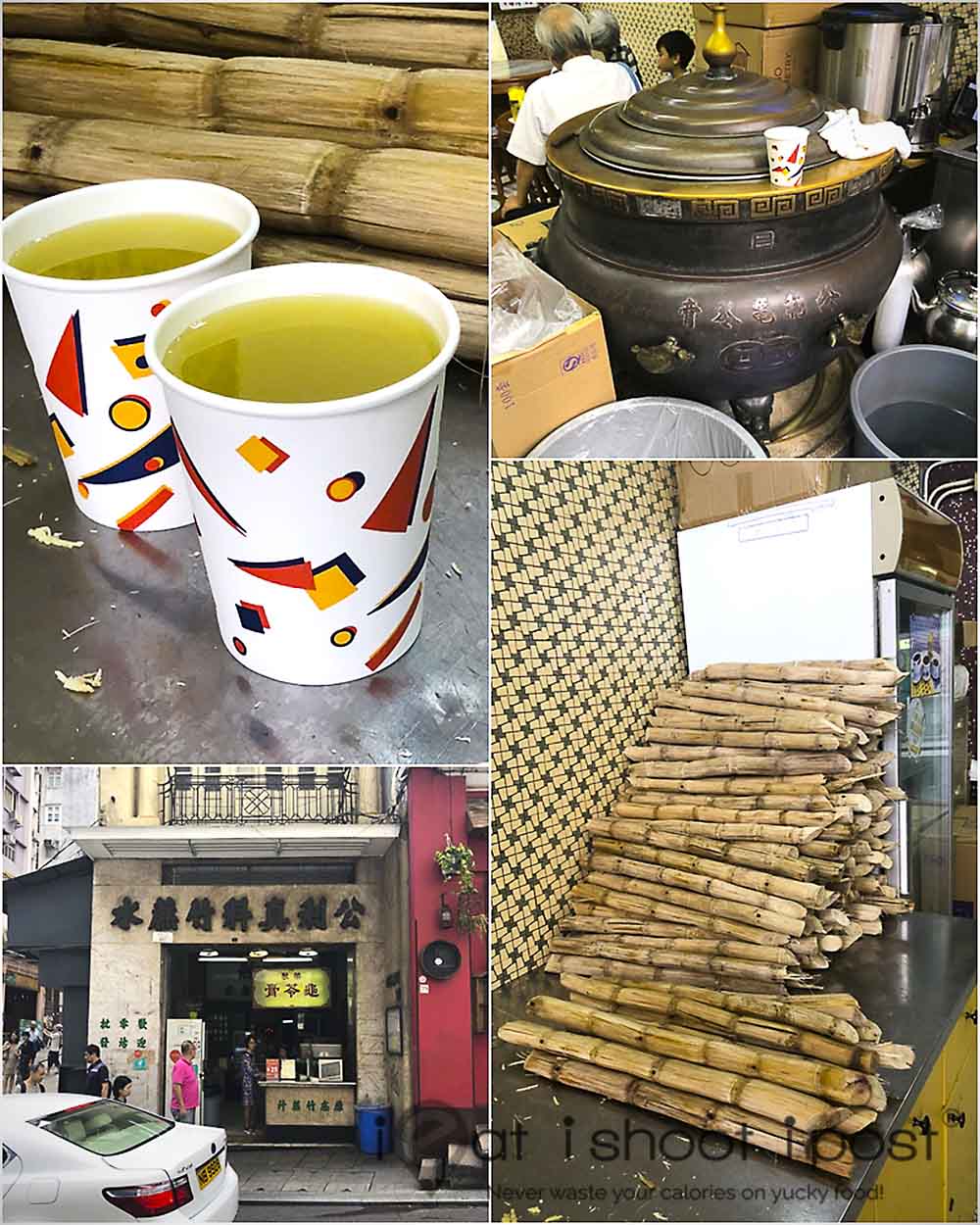 After your hearty meal at Kau Kee, do head over to this sugarcane drink shop to cool yourself down.  The sugarcane juice tastes different from what we have here in Singapore because they steam the sugarcane before extracting the juice!
Kung Lee Sugar Cane Drink
60 Hollywood Rd, Central, Hong Kong
+852 2544 3571
MAP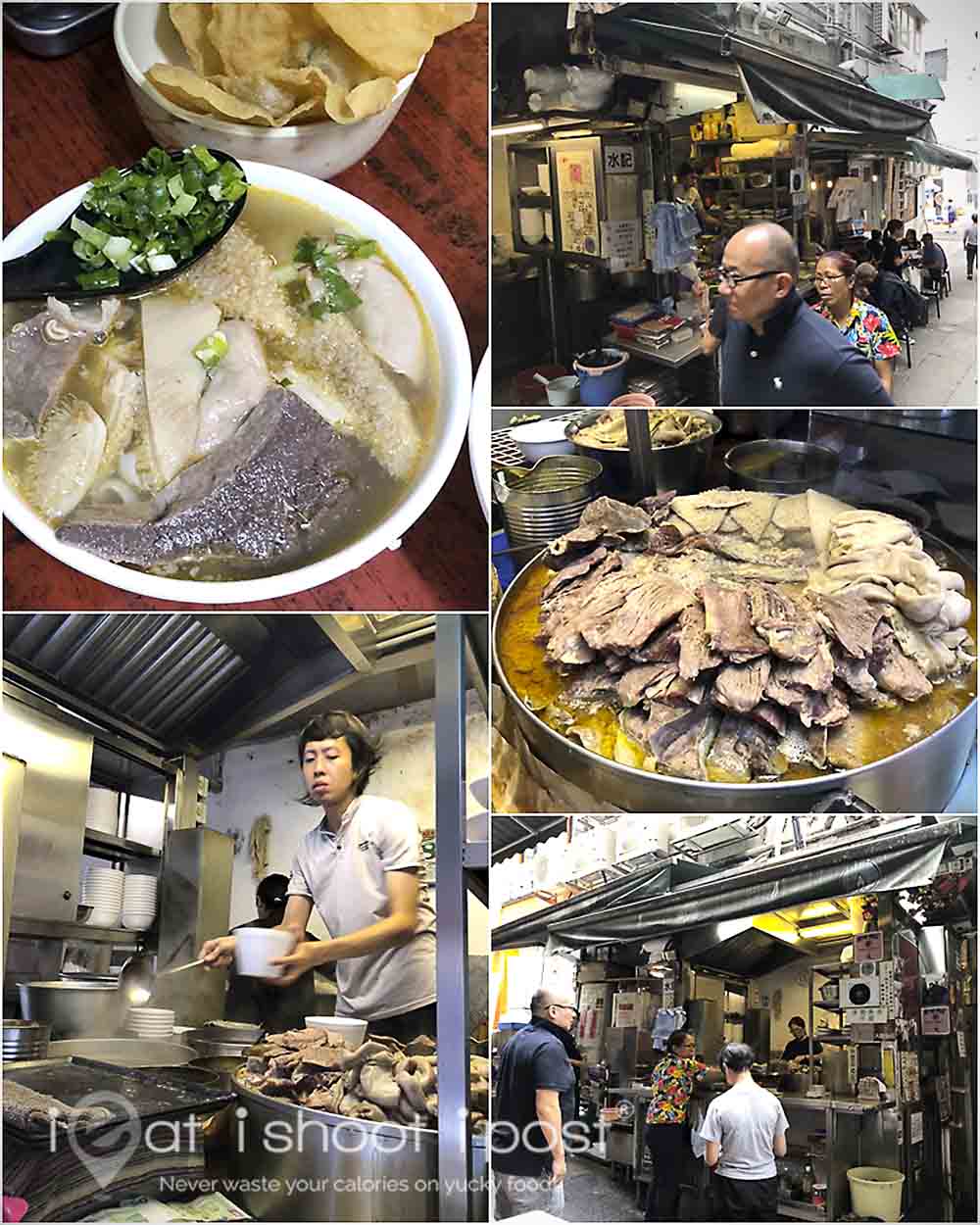 Sui Kee is an old school dai pai dong which has been around for 90 years.  Their specialty is braised beef innards served  with smooth and silky hor fun.  It is currently being run by 4th generation owners.  I don't personally like liver but everything else in the bowl was an adventure of different textures!  $36/bowl.  Worth a try if you enjoy kway chap!
Sui Kee
2 Gutzlaff St, Central, Hong Kong
+852 2541 9769
MAP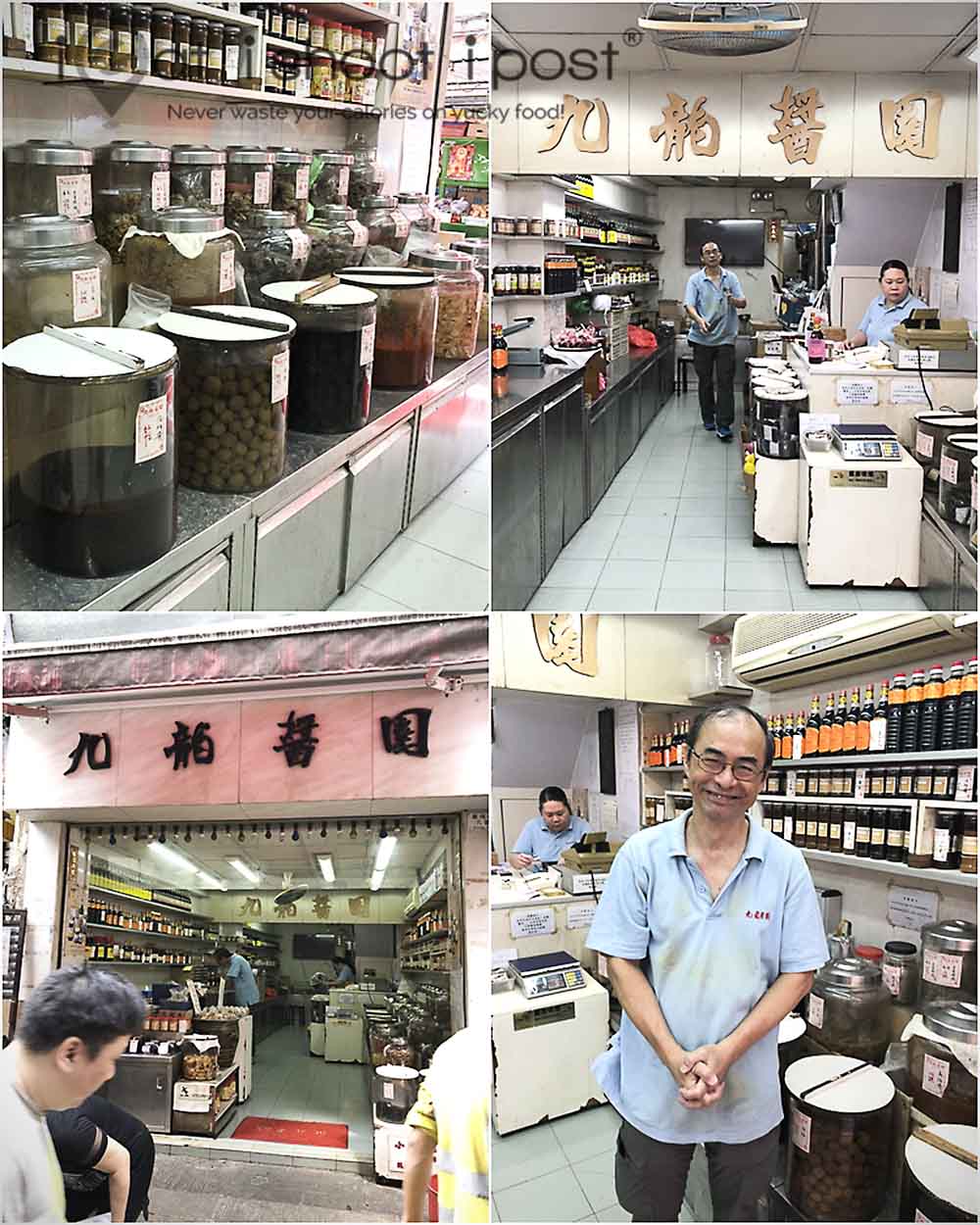 This 101 year old establishment still makes soy sauce the traditional way in clay vats that are fermented outdoors for 9 mths.  They do have modern vats which makes soy sauce for the mass market, but if it is the real deal you want, you will need to buy it direct from them at their shop in Central.  Here is where you can find other condiments like oyster sauce, fermented prawn pastes and sesame oil.  These come from specially curated sauce makers and are worth checking out. The salesman at the store speaks very good English which is helpful since I can't converse in Cantonese!
Kowloon Soy Co. Ltd.
9 Graham St, Central, Hong Kong
+852 2544 3697
MAP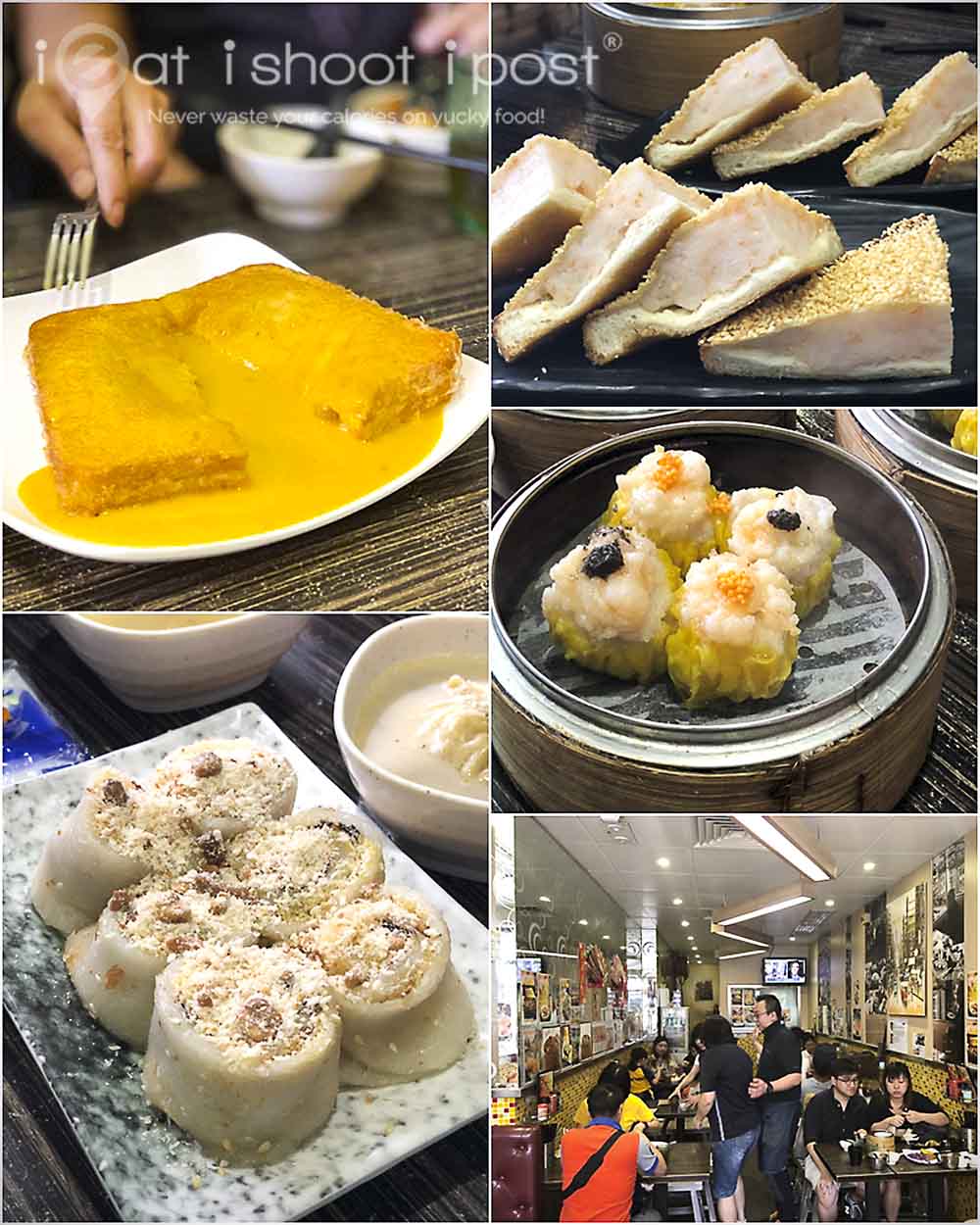 This small family eatery serves both dim sum and cha chaan teng style food.  The dim sum is very good overall and I particularly liked their steamed pork ribs and prawn paste toast.  The har gau and siew mai were big and hearty, but could have been more juicy.   What is worth the trip is their salted egg toast which is filled with lava like salted egg sauce which gives you the pimple popping satisfaction when you cut into it! (It tastes really good too!)
Chau Kee
Tung Lee Mansion, 地下 H1 號 舖, 1C-1K Water St, Sai Ying Pun, Hong Kong
MAP
Wan Chai District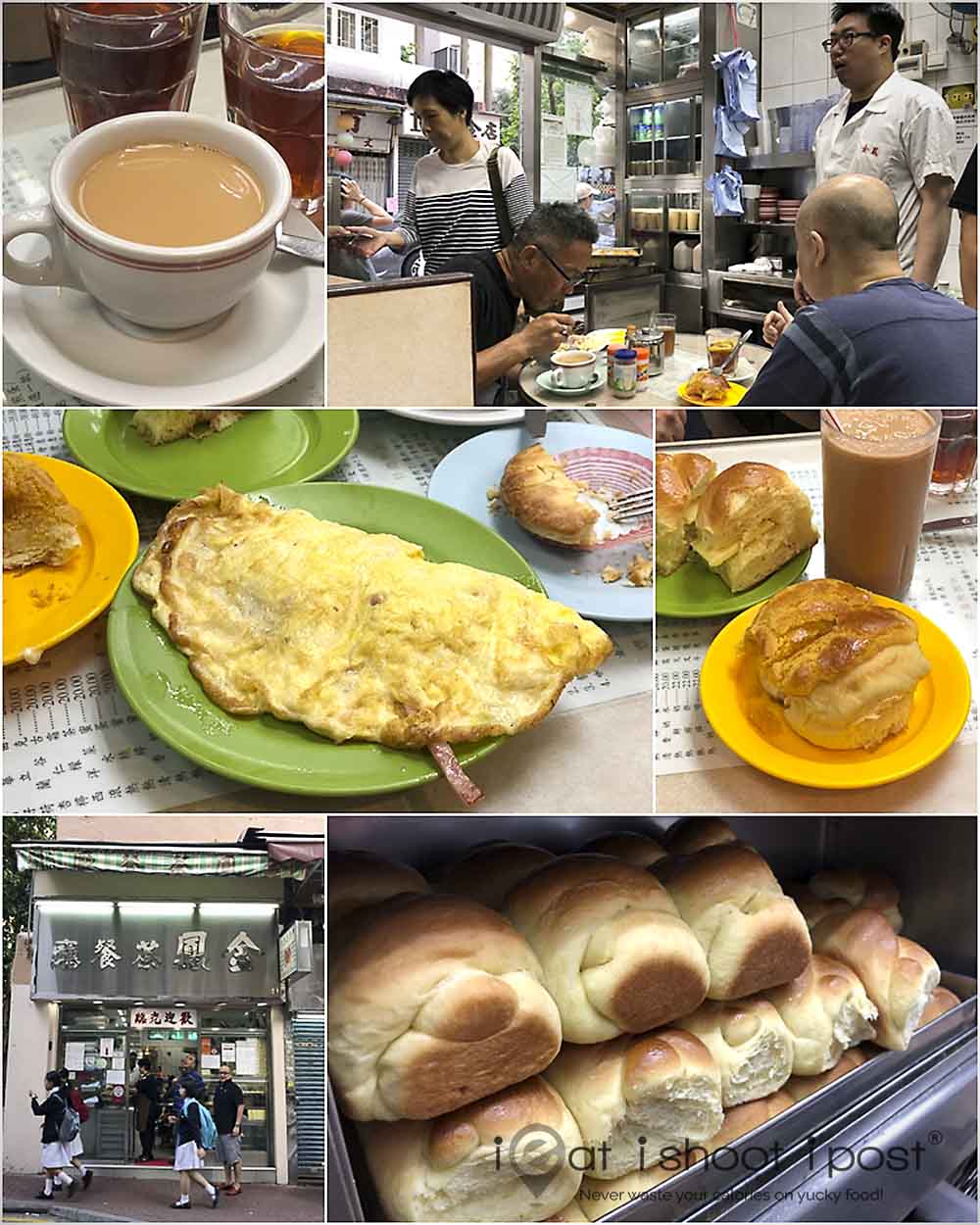 This is the kind of old school cafe that I really love.  They serve excellent polo buns and you have to try the ham omelette which is fried on a beat up old cast iron pan that really infuses the eggs with wok hei! Their cold milk tea is also a must try!  This char chaan teng has been around for over six decades and has served some of the most famous personalities on the island!  Put it as your first stop for breakfast before you start exploring the wet market around Wan Chai because the queue starts to form later in the day!
Kam Fung Cafe
41 Spring Garden Ln, Wan Chai, Hong Kong
+852 2572 0526
MAP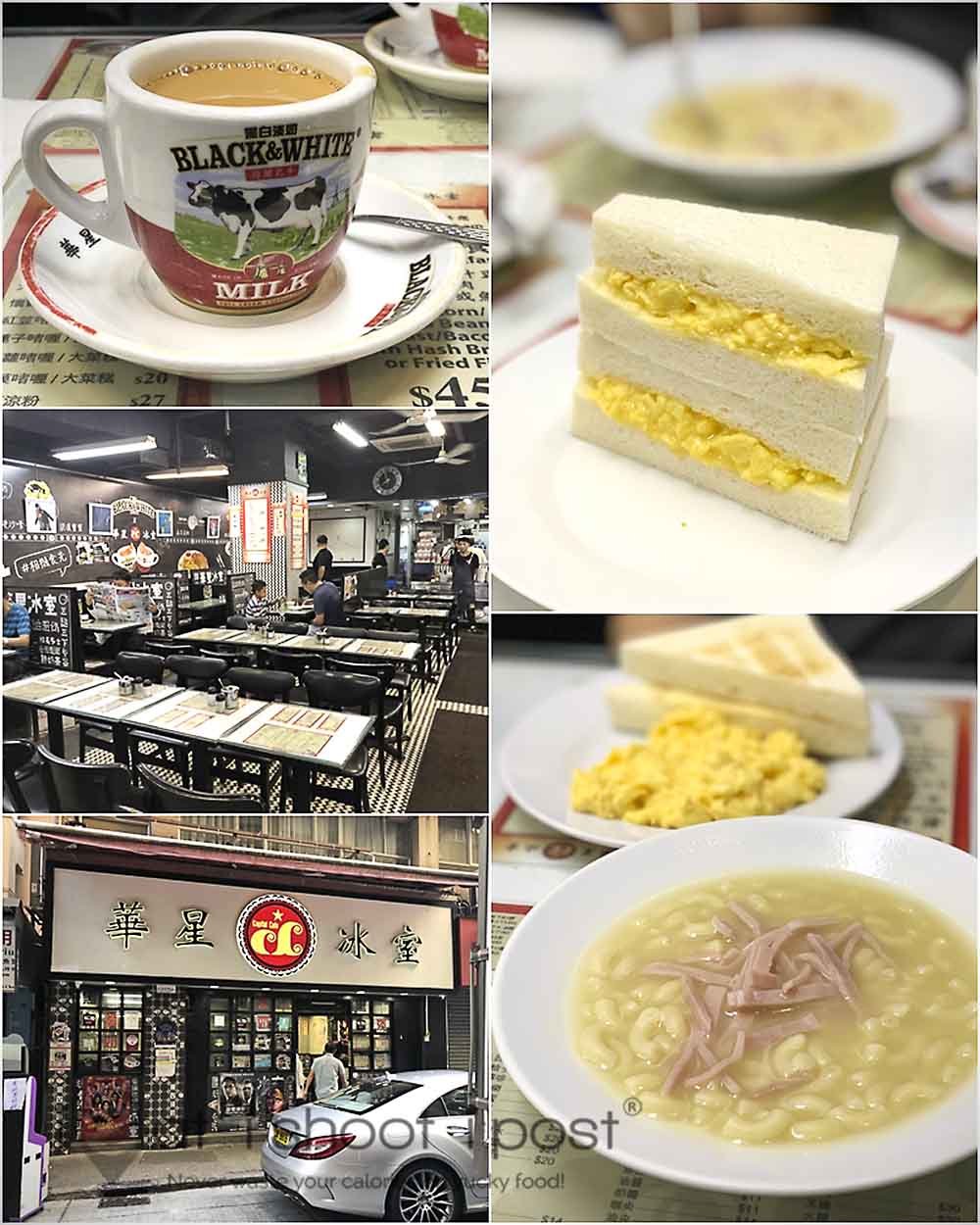 Chrisly cafe is a good alternative to Australia Dairy Company (see below) if you don't want to have to endure the 100m queue. I was told that the owner opened it with some of the chefs from Australia Dairy Co. I do feel the eggs over at Australia Dairy are slightly more fragrant but the difference is really not worth the queue. (and the abuse) They also have macaroni and ham here just like at Australia Dairy Co.  To me it really just tastes like Campbell's chicken noodle soup.  My guess is that Hong Kongers love it because that is what they grew up eating!
Chrisly Cafe 華星冰室
Kwong Sang Hong Building, 6 Heard St, Wan Chai, Hong Kong
+852 2666 7766
MAP
Branches in other areas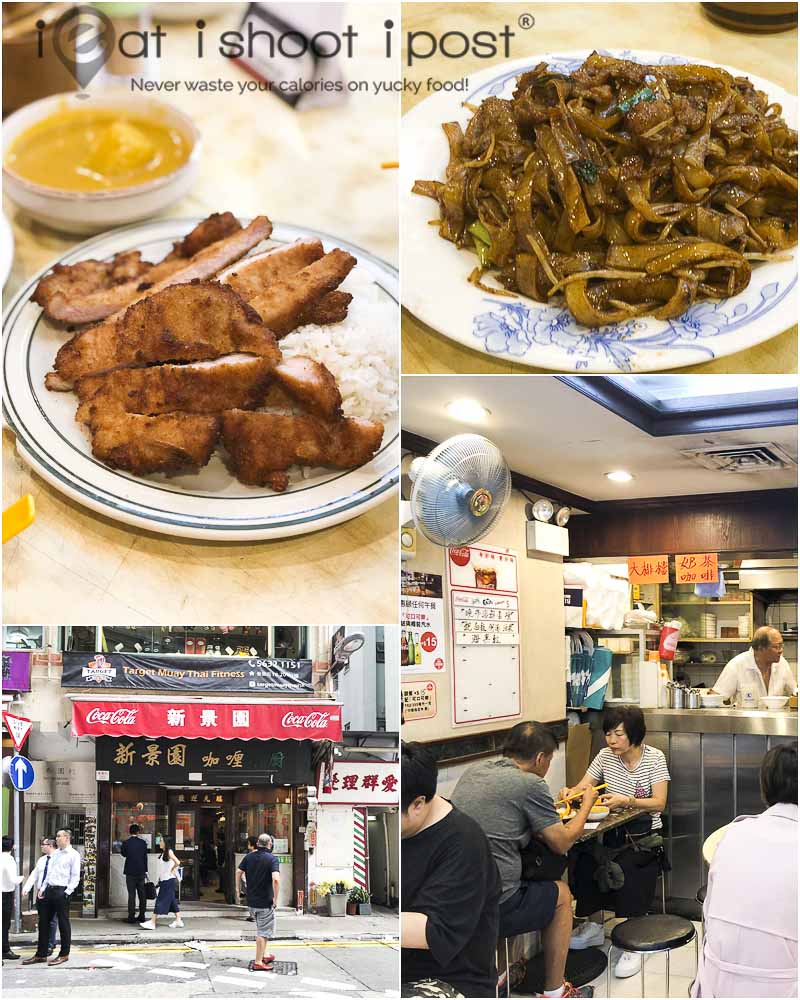 While exploring the market area of Wai Chai, you might want to drop into this shop which sells the Hong Kong version of curry rice. It's quite similar to the Japanese katsu kare.  You get two generous pieces of pork chops atop a plate of rice and a bowl of curry for $88. The curry is quite mild. It's nice, but it did not really hit the spot for me.  Their pork chops though are thick and juicy and well marinated.  Their other specialty is the beef kway teow which I would not recommend.  Although it came with the requisite wok hei, the kway teow was stiff and wasn't fried properly as some were still stuck together.
Sun King Yuen Curry Restaurant
G/F, 20 Spring Garden Ln, Wan Chai, Hong Kong
+852 2574 9172
 MAP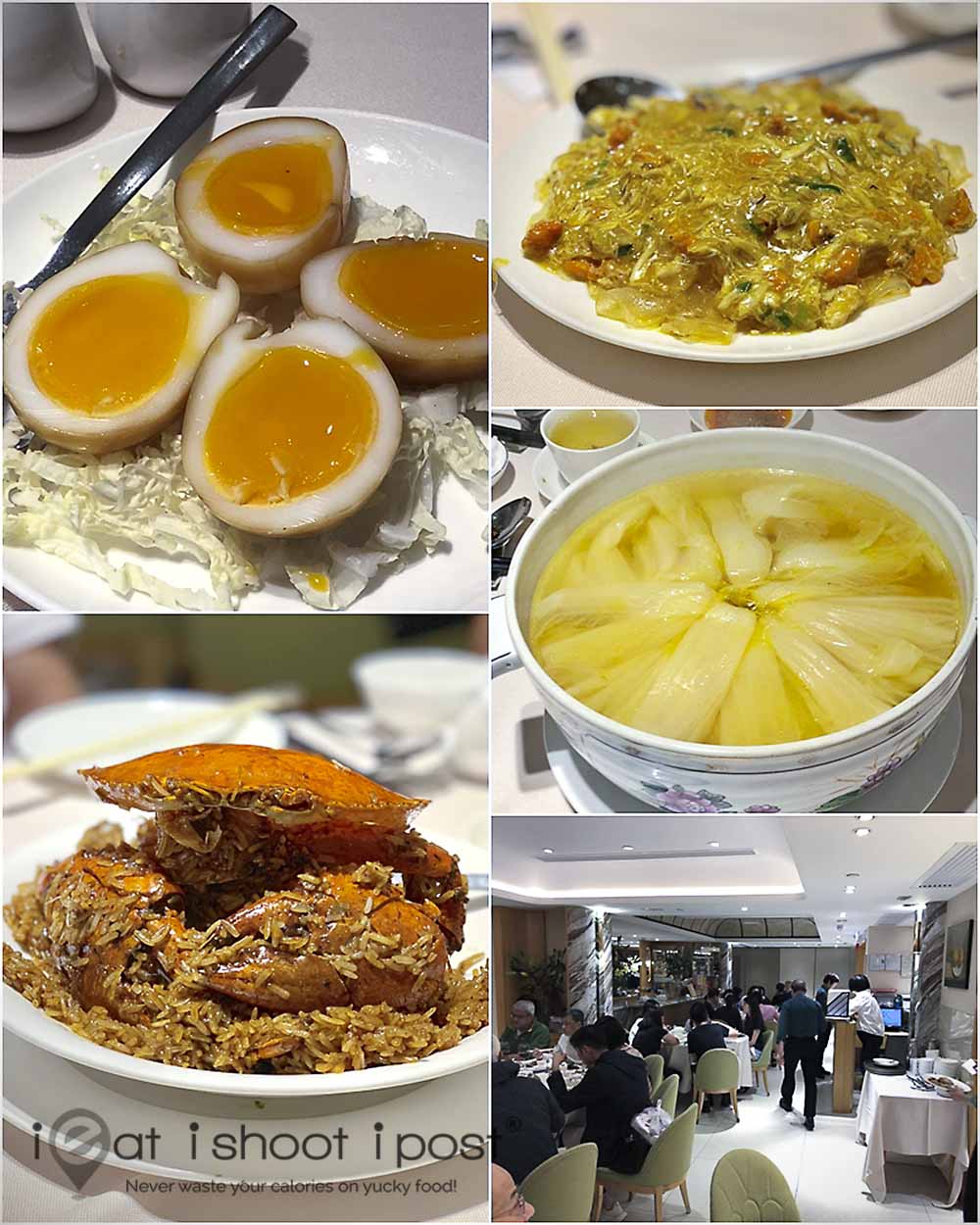 We had one of our best meals at Liu Yuan Pavilion. Their hairy crab roe fried with bean jelly is superb. (not cheap but very good!)  We also had an excellent soup made with the whole tennis ball sized piece of Jing hua ham hock!  The soup was delicious and after we finished the soup, we got to eat a lot of ham!  Their shen jian bao and crab glutinous rice were also very good. Definitely worth a return visit.
Liu Yuan Pavilion
The Broadway 3F, 54-62, Lockhart Rd, Wan Chai, Hong Kong
+852 2804 2000
MAP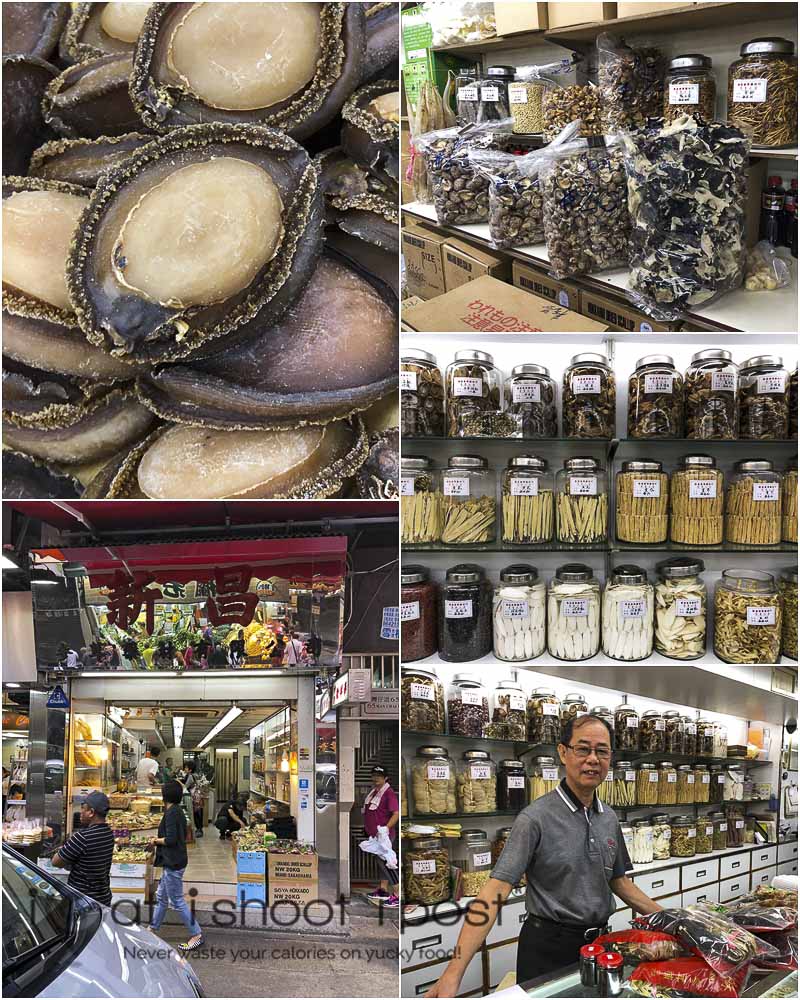 Our guide brought us to his favourite dried goods shop that sells quality dried abalone, scallops, mushrooms and all manner of herbs.  We are assured of their quality and honest prices.  I bought some dried tangerine peels which were 20 years old!  It's going to be great for my next batch of red bean soup!
Sun Cheong Ginseng and Medicine
Wan Chai, 香港灣仔灣仔道67號
MAP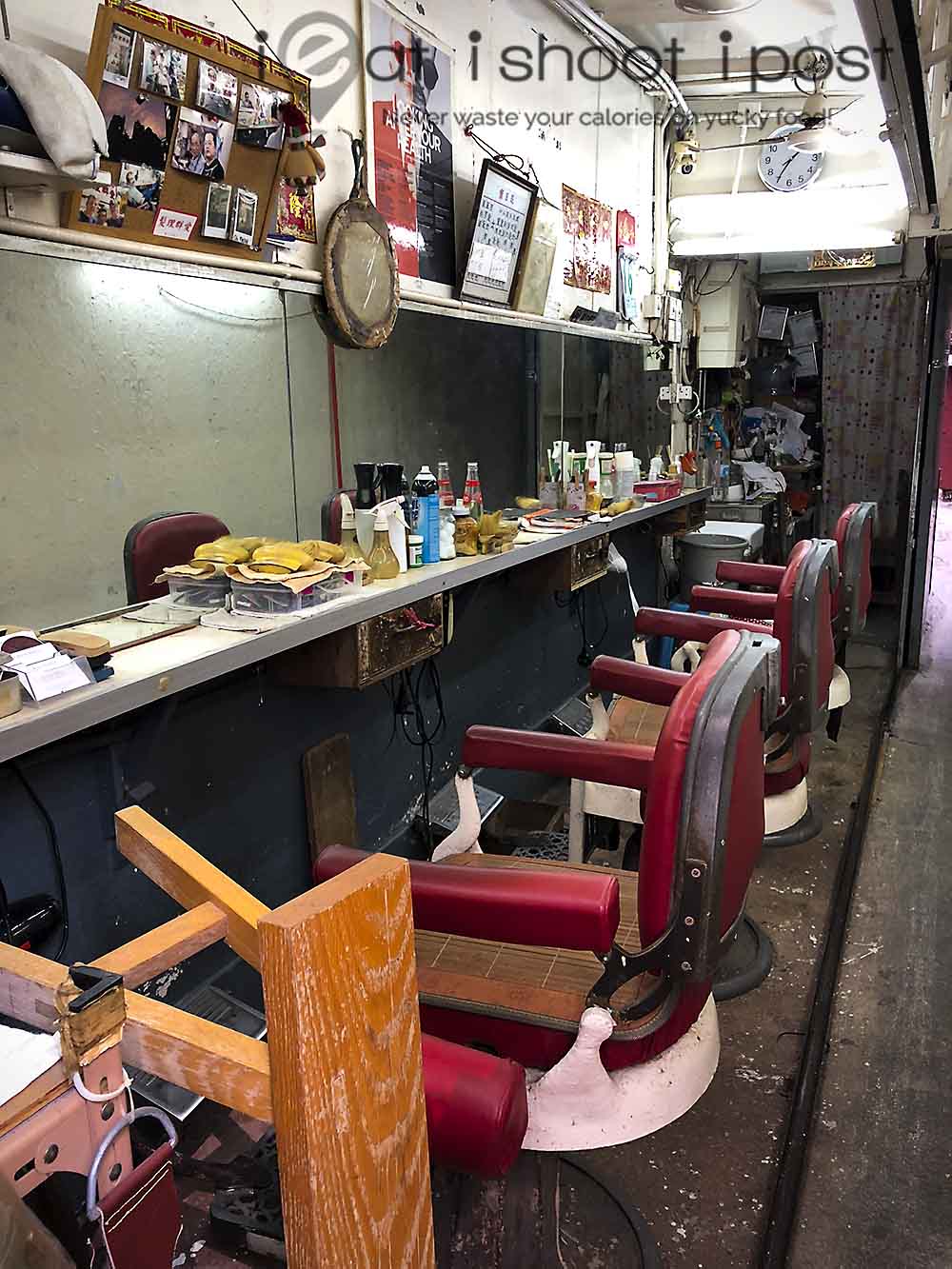 We were supposed to get a haircut at this really old barber shop but the barber called in sick on the day we visited! It has operated out of the side of an alley between two buildings since 1962 and is supposed to provide "classic haircuts for modern gents"!  It is quite near Kam Fung Cafe and worth a visit and a haircut if you need one.
愛群理髮 Oi Kwan Barber Shop
Side of Door, 20 Spring Garden Ln, Wan Chai, Hong Kong
+852 2573 3508
MAP
Sheung Wan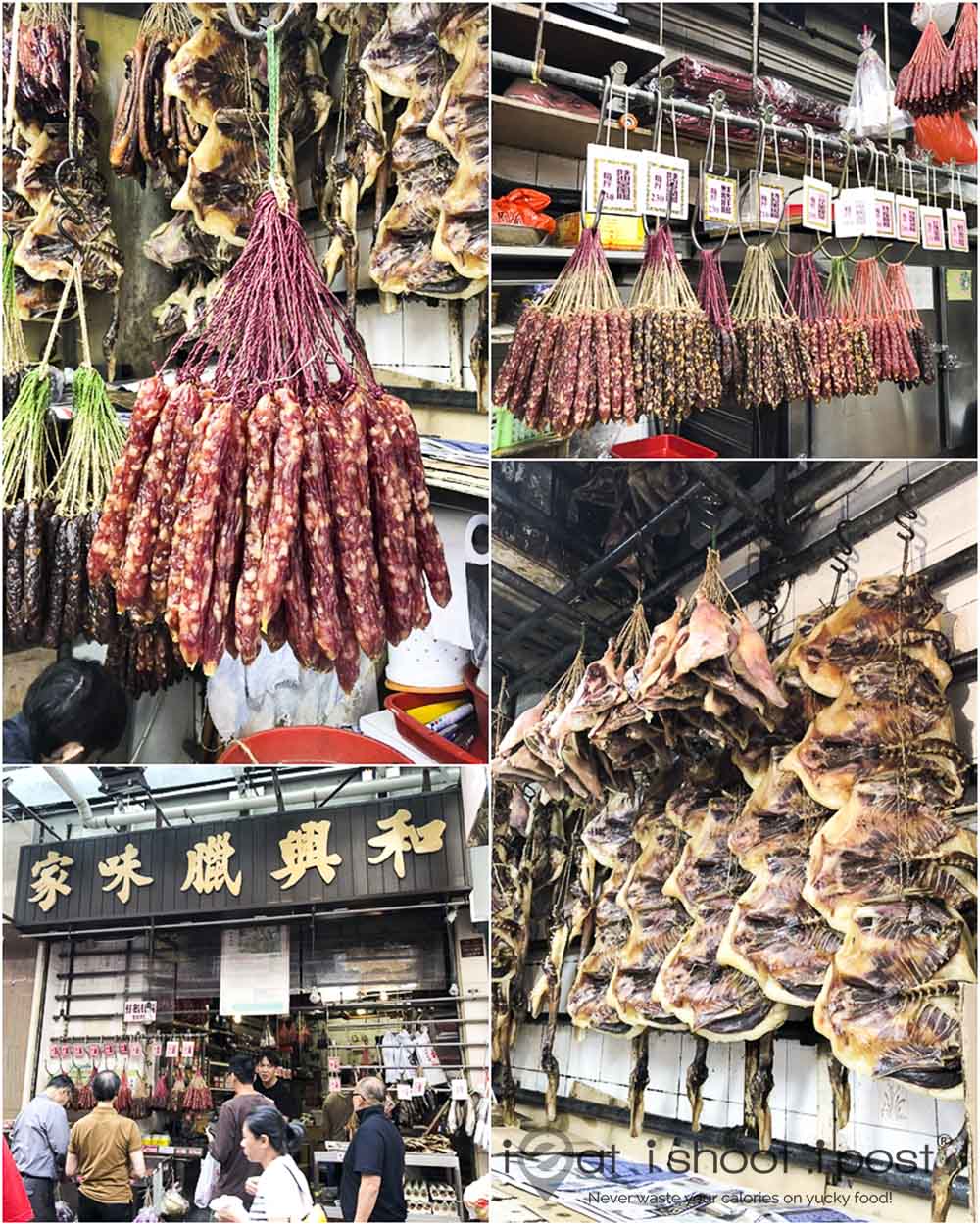 The go to place for most people for goose liver lup cheong is Yung Kee, but our guide brought us to this old shop which is cheaper but just as good!  They sell all sorts of preserved meat as well as century eggs with melty centres!
Wo Hing Preserved Meat Co.
Welland Building, Queen's Road Central, Sheung Wan, Hong Kong
+852 2544 0008
MAP
Happy Valley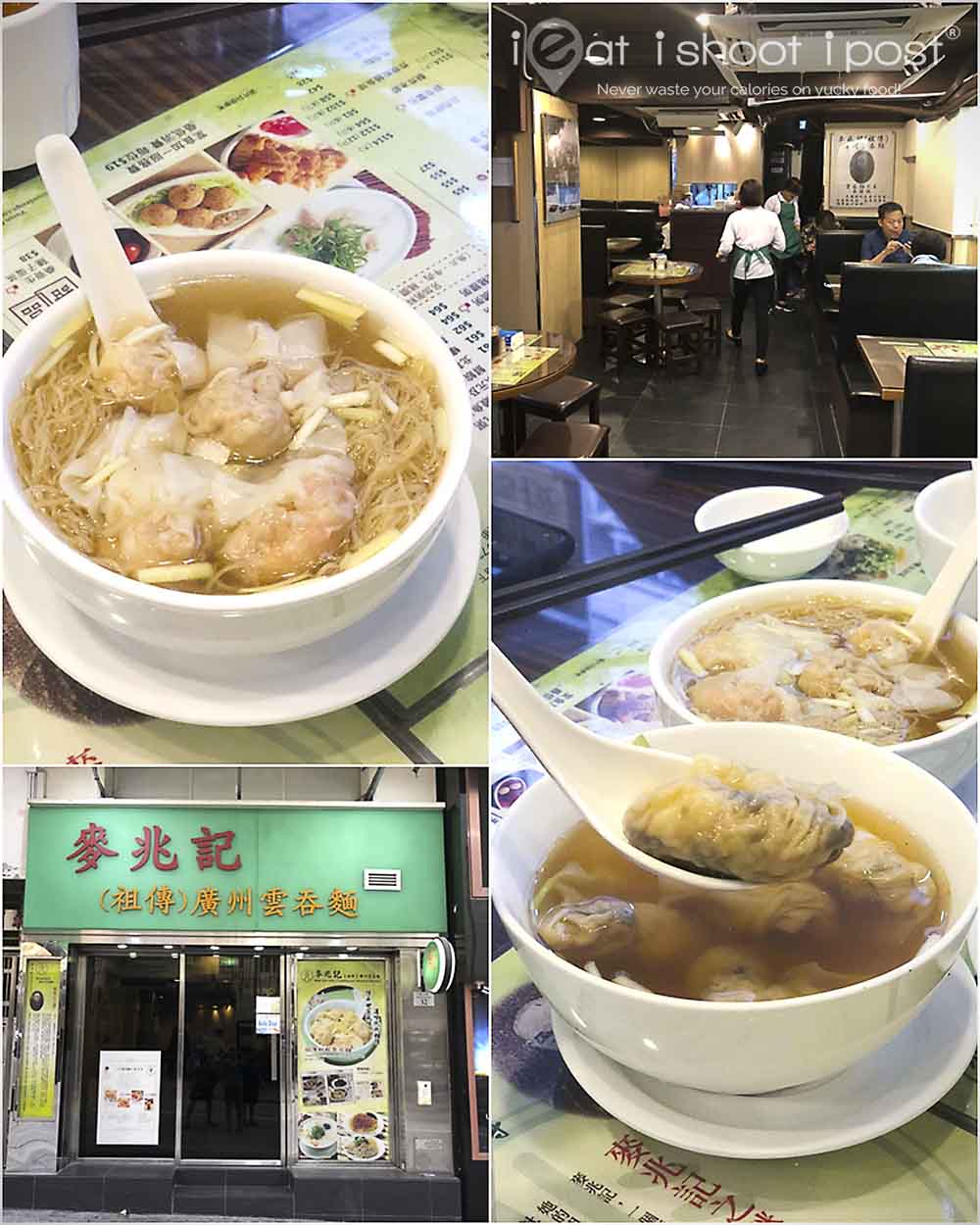 Mak's noodles has long been considered the best wanton mee (or at least, the most famous) in Hong Kong.  But of late, my local friends have told me that the standards have dropped.  They have instead been going to this stall is opened by one of the daughters of the original Mak Noodle.  It was a good bowl of noodles but it didn't quite blow me away.  The soup is very tasty and doesn't have a strong "kee" flavour and the noodles very QQ.  The wantons and sui gao are very good but as I said, it didn't really make me feel that it was something I couldn't get here in Singapore.
Mak Siu Kee Traditional Wonton Noodle
32 King Kwong St, Happy Valley, Hong Kong
+852 2893 2308
MAP
Northpoint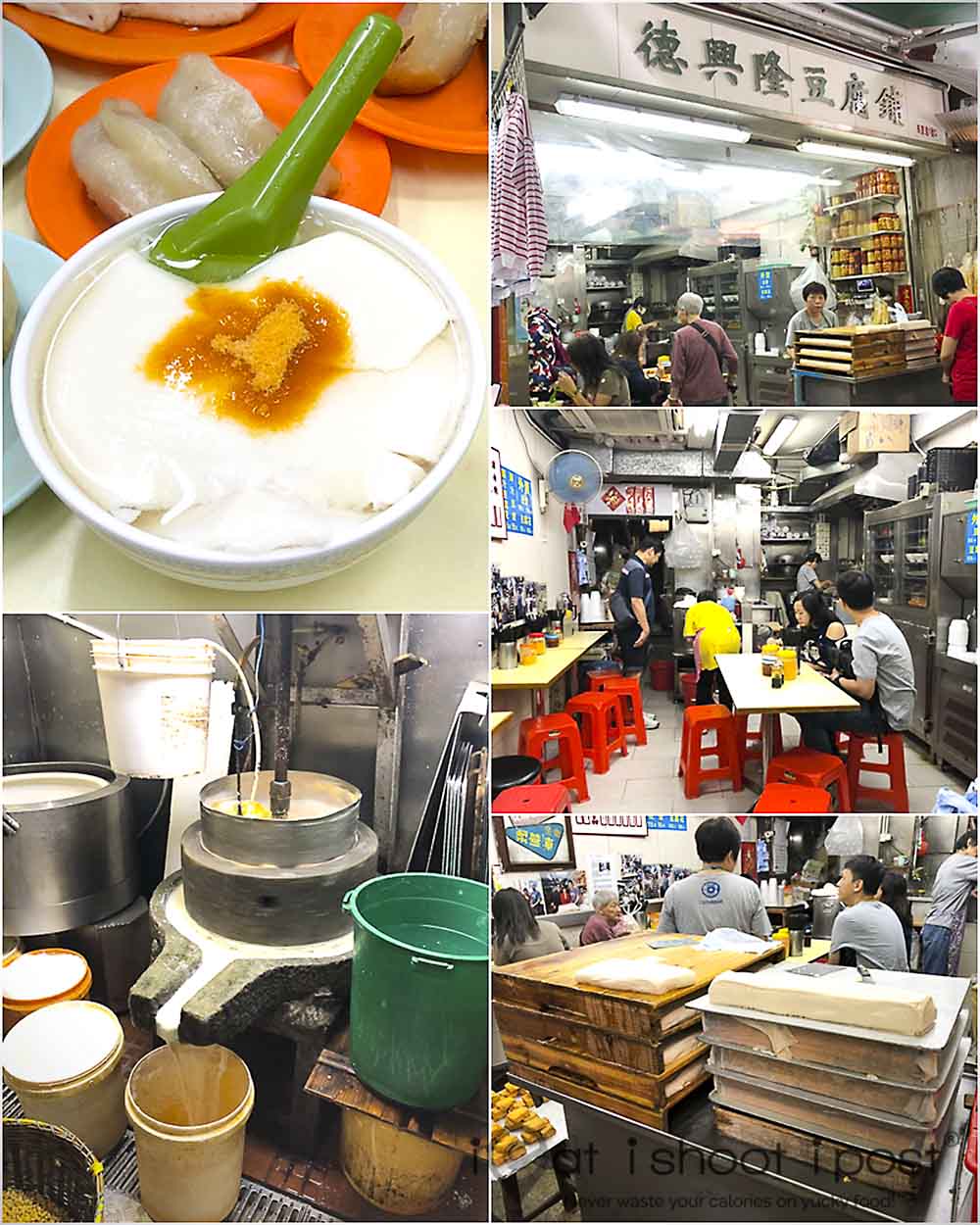 If you love tau huay and everything made with tofu, then you have to make a trip to this little shop in North Point where they are still milling their beans with a stone mortar!  The shop sells tau huay, tau kua, stuffed bean curd, fried tofu etc.  The tau huay was very good but not something that would make you go "wow! so this is what real tau huay tastes like!"  But it is good to experience traditional tofu made on the premises.
Tak Hing Lung
1 Marble Rd, North Point, Hong Kong
+852 2563 8815
MAP
Kowloon
Mongkok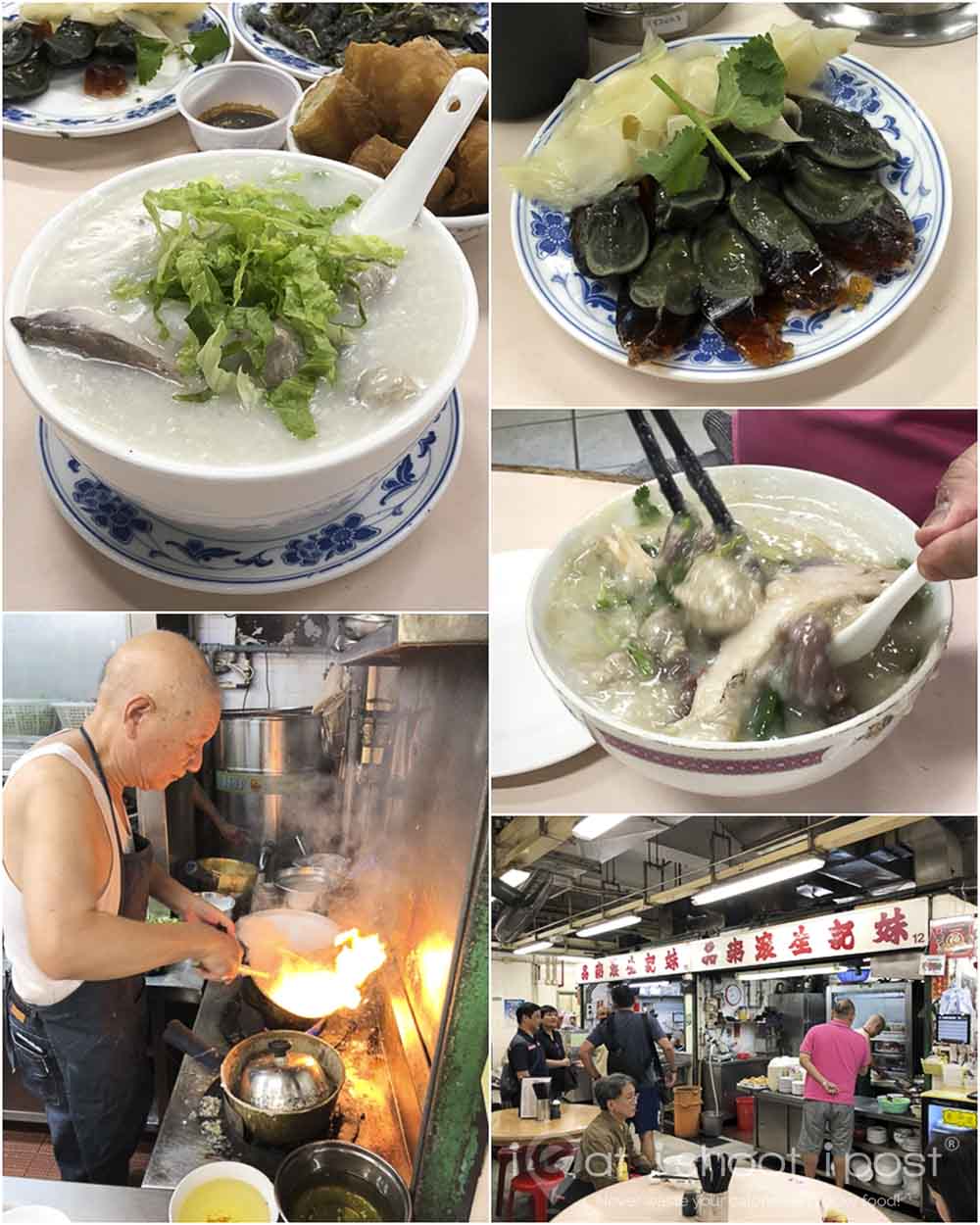 I had wanted to visit the original Mui Kee stall ever since I tasted their congee in Singapore.  What makes their congee different to our local version is that the rice is marinated with century eggs before being cooked and bean curd skin is added at the end to give it a silky texture.  When you place an order, the fish belly is flambeed in an old copper pot to infuse it with a delectable smokey aroma and then added to the congee!   Make sure you order their century eggs and cold fish skin which are very good too! The sifu there has been cooking the porridge since their opening in 1979!
Mui Kee Congee
Fa Yuen Street Municipal Services Building, 123A Fa Yuen St, Mong Kok, Hong Kong
MAP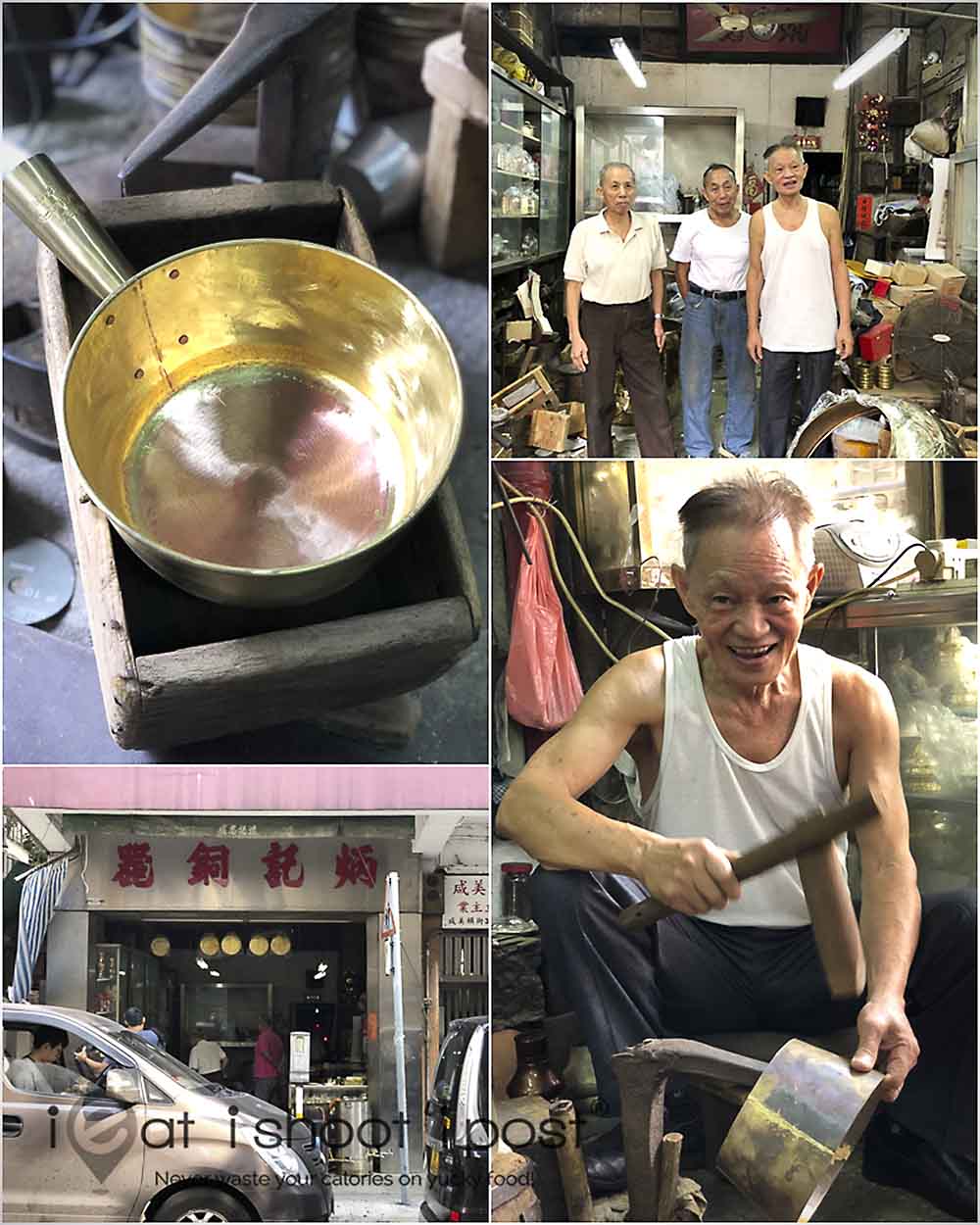 This is the last copper-smith in Hong Kong where you can still buy the handmade copper pots that Mui Kee uses to make their porridge! I have one at home which I use to infuse my dishes with wok hei and it works really well even on my household hob.   Copper conducts heat very well so the pots get really hot and when you add some fish and a dash of oil, it bursts into flames and gives your dish that smokey aroma!  The copper pots are HK$800 each and you have to order ahead of time as they only make one per day!
炳記銅器 (Coppersmith)
Hong Kong, Mong Kok, 咸美頓街1號
+852 2384 4838
MAP
Prince Edward
Our very first stop when we arrived in Hong Kong in the evening was this restaurant in Kowloon near Prince Edward station which is frequented by lots of renown head chefs who go there for supper after their dinner service. The crispy fried bee hoon there is excellent and something that I have never come across before.  The crispy beehoon looks as if it is covered with an extra layer of batter and fried till it is crispy as keropok!   Other dishes like their deep fried pigeon and salt baked chicken are also very good. One thing about Hong Kong is their access to ingredients which we can't find in Singapore which make their dishes quite different.  Good for a late supper as they open till 1am!
Ju Xing Home 聚興家
Hong Kong, Prince Edward, 旺角砵蘭街418號地下
+852 2392 9283
MAP
Just across from Ju Xing is yet another late night restaurant called Go Go.  Their signature dish is their sweet and sour pork served under a bucket of ice cubes! Because of the cold, the crust is rendered extra crisp while the pork is still warm inside! We also tried their braised goose intestines which is very good.  The braised pomelo skin is quite unique.  The pomelo rind have to be soaked, steamed and squeezed three times before they are braised to get that unique spongy texture.  It is the kind of traditional dishes that not many are doing nowadays because of the amount of work involved.  Not something I would order again but it was good to experience it.
Gao Gao Restaurant 高高酒家
64號 Lai Chi Kok Rd, Prince Edward, Hong Kong
+852 2333 8325
MAP
Kowloon City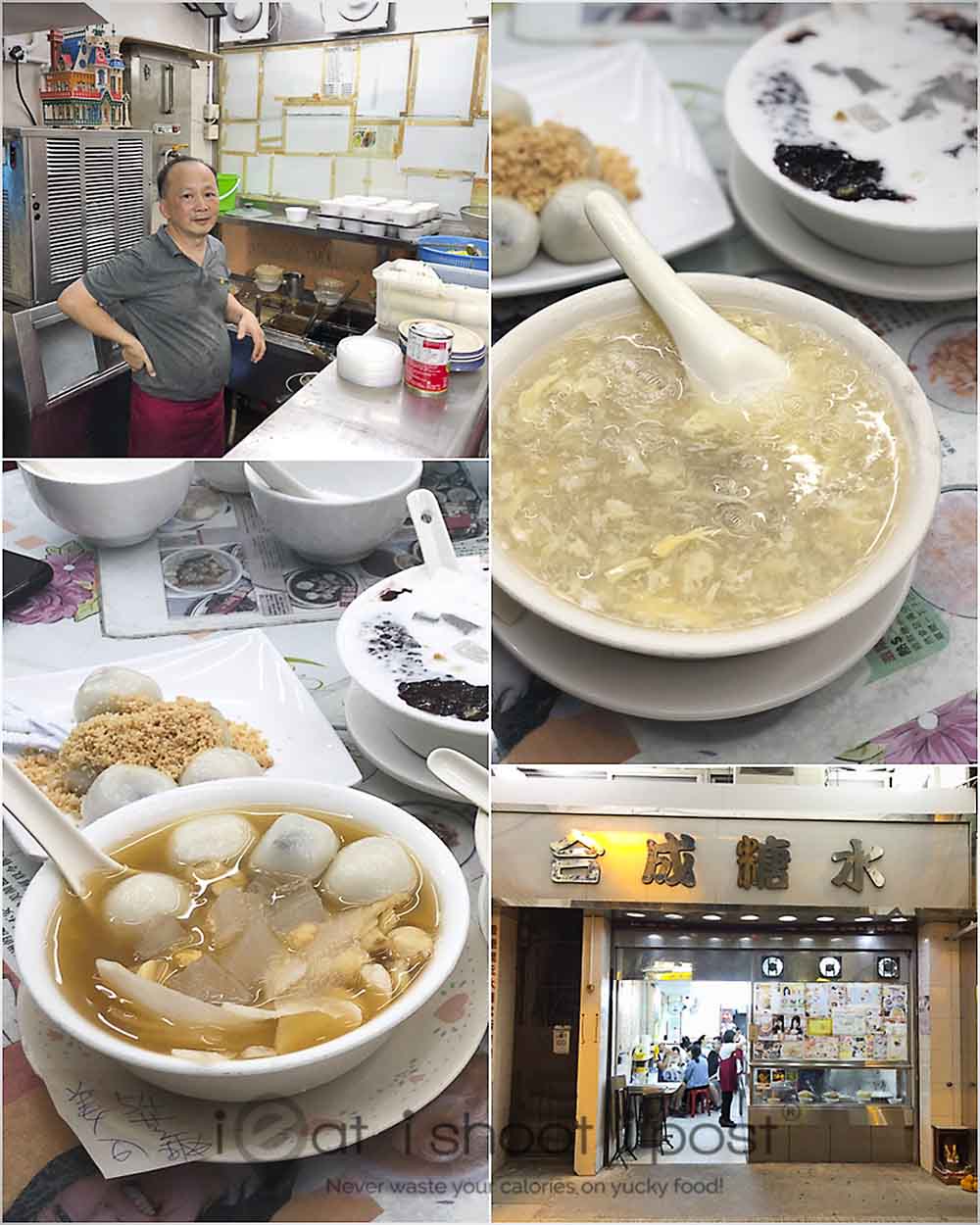 We capped off our supper with some old school sweet soups at this eatery which opens till 1 am.   They serve traditional Teochew style soups, so expect to find mung beans, lotus seens and glutinous rice balls served in warm soups.
Chiu Chow Hop Shing Dessert  合成糖水
Hong Kong, Kowloon City, Lung Kong Rd,
九龍城龍崗道9號地下
+852 2383 3026
MAP
Yau Ma Tei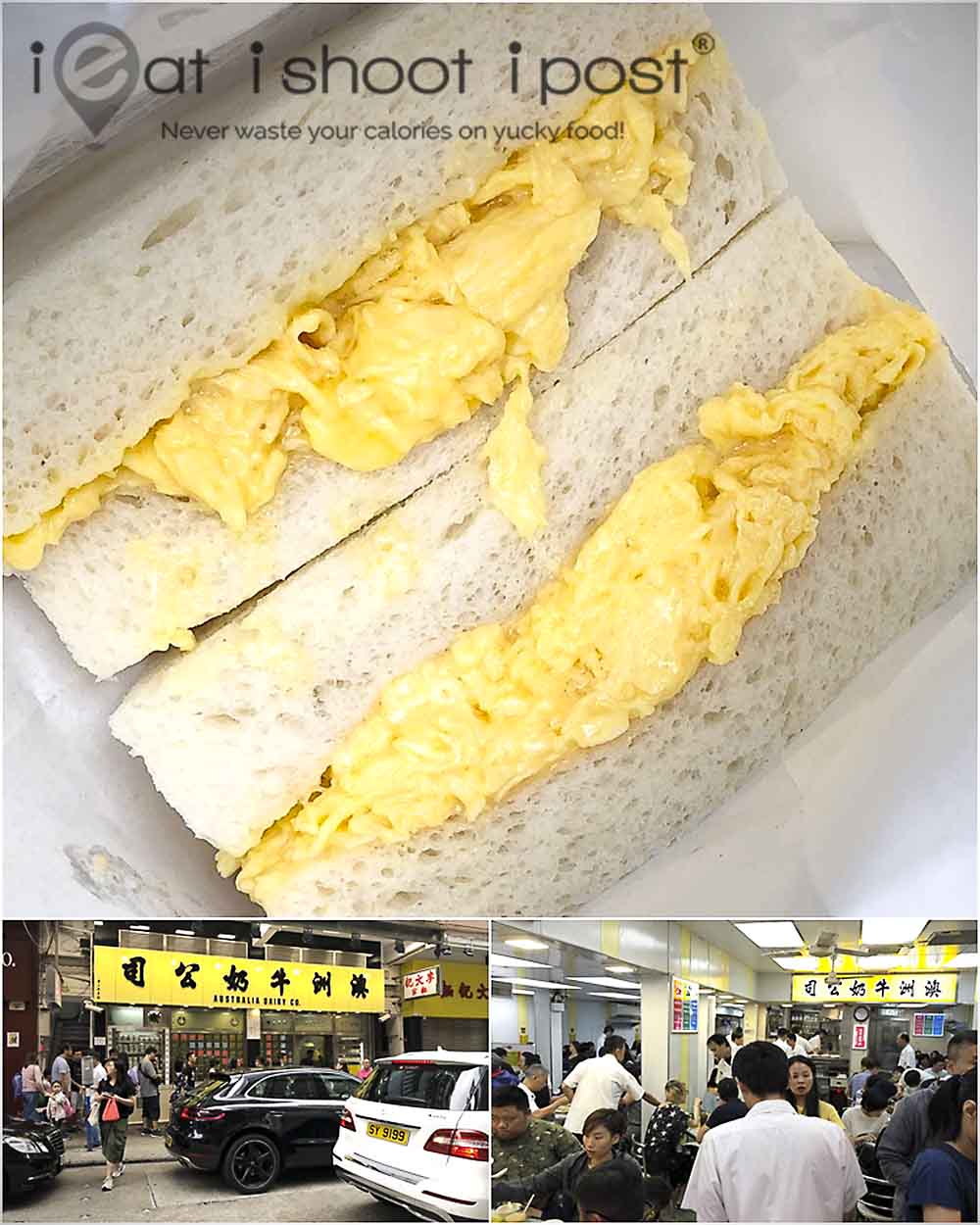 Austrlian Dairy Company is not what you think it is.  It's neither Australian, nor is it a dairy company. It is a traditional cha chaan teng which serves scrambled egg sandwiches and macaroni.  I skipped the 100m queue by ordering the scrambled egg sandwich to takeaway. I was told that the secret to the scrambled eggs is that they use eggs from 3 different countries to make it.  The scrambled eggs were good but I am really not sure if it is worth queuing up for. I was told that their efficient and rude service is part of the entire experience that makes it memorable.  Their turnaround time is around 10 mins, so you are expected to sit, order, eat and get out of the restaurant!
Australia Dairy Company
47號 Parkes St, Jordan, Hong Kong
+852 2730 1356
MAP 
If you are looking for kitchenware, then Shanghai street in Yau Ma Tei is the place to go.  I bought a really nice cast iron wok from this particular shop.  Unlike the typical cast iron wok, this one is polished on the inside so it makes the seasoning process much easier!  The handles are also insulated.  Very nice wok indeed and my family are enjoying the wok hei!
Chan Chi Kee Cutlery Co.
316-318 Shanghai St, Yau Ma Tei, Hong Kong
MAP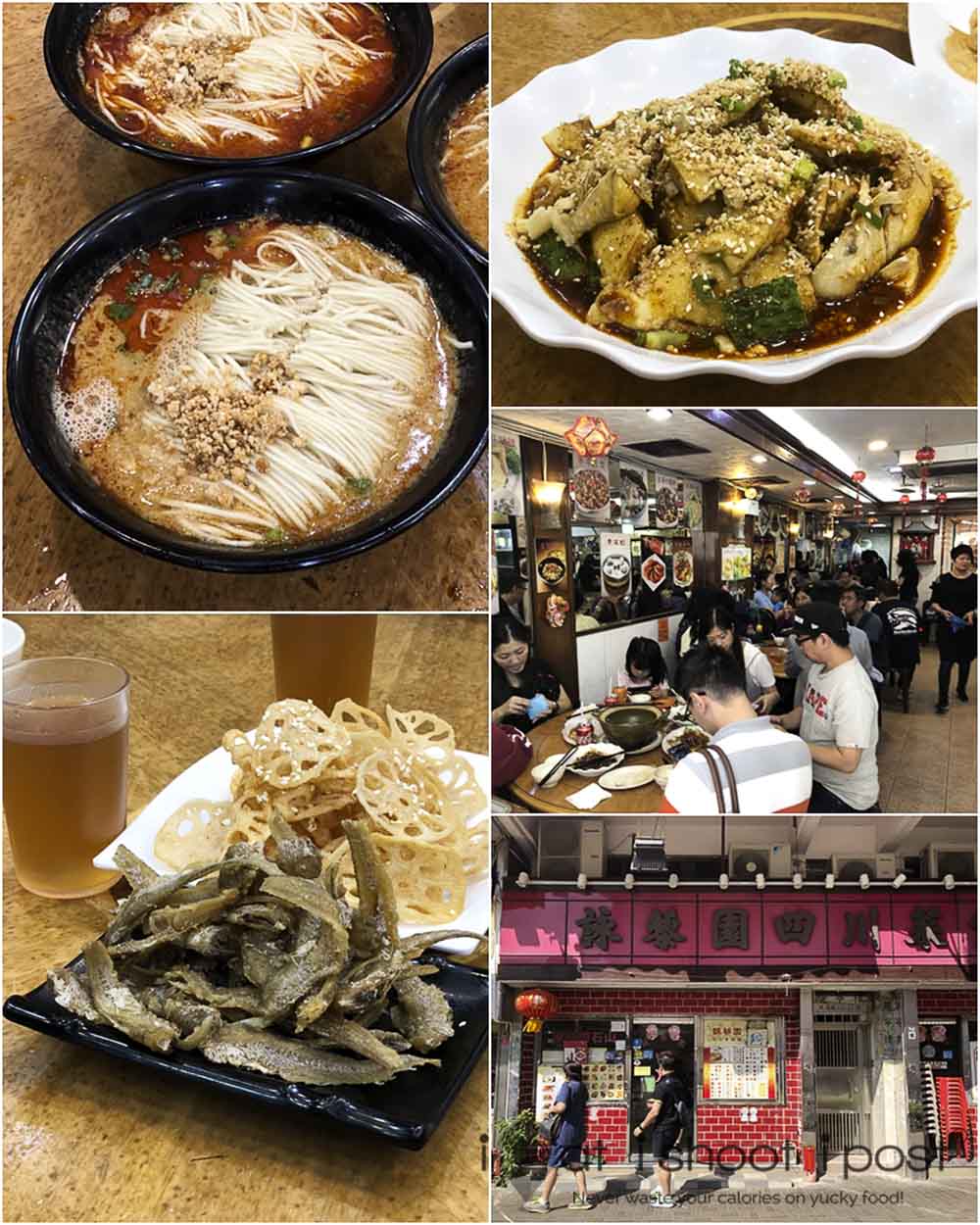 This family run Sichuan eatery is a little off the beaten track but they have been around for over 70 years (now 3rd generation) and are well known to the locals for their Sichuan food.  They have a starter of fried fish which is very good and their dan dan mian and "saliva" chicken are delicious!  (make sure you leave some of the gravy from the chicken to add to the noodles!) It might not be the kind of food you'd associate with Hong Kong, but if you are visiting Wong Tai Sin temple, it is a good place to pop by for something with a bit of kick!
Wing Lai Yuen
15 Fung Tak Rd, Chuk Un, Hong Kong
+852 2726 3818
MAP
Conclusion
Well, that's all the places we covered over three days!  Hope you will find the food trail useful when you plan your own Hong Kong food trip!  Below is the map of all the places we visited:
Acknowledgement
Our guide, Terence Chan, was the man responsible for bringing Mui Kee to Singapore!  He is passionate about Hong Kong heritage food and sees its expansion overseas as a means of preserving its heritage!