The restaurant has relocated. The address has been updated.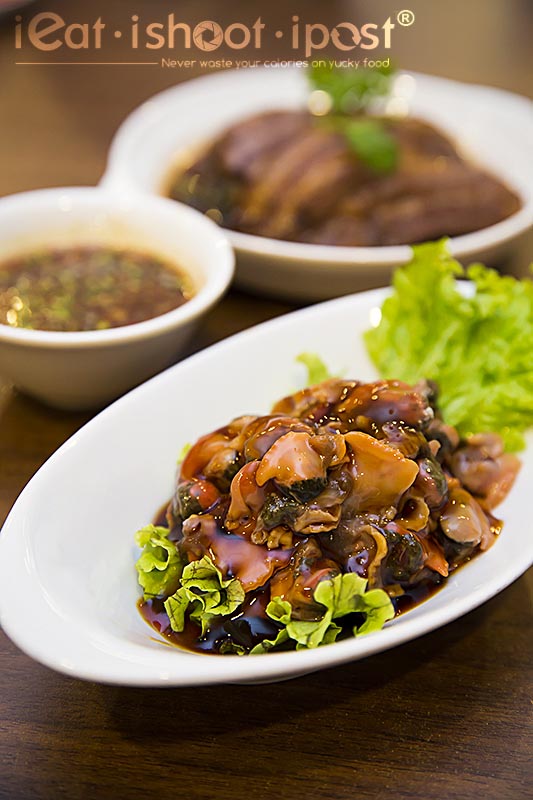 Growing up as a Teochew boy meant hot piping porridge on weekends when mom would fry up simple, salty dishes such as lup cheong (chinese sausage) omelette and heat up some canned favorites like luncheon meat, fried dace and stewed peanuts. When she had a bit more time to visit the market, she would buy some fish, steam it and serve it with tau cheo (fermented bean sauce).
That is why I consider Teochew porridge the perfect comfort food. A piping hot bowl of this watery rice gruel is the perfect medium for washing down a varied array of salty dishes. It is best enjoyed using a porcelain bowl which keeps the porridge warm and at the same time allow you to gauge the temperature of the porridge. If it is too hot to pick up with your hands, then it is too hot to put in your mouth. Once the bowl can rest comfortably in the palm of you hand, it would have attain the perfect Goldilockian temperature. The use of chopsticks is imperative too, as it allows you to pick up just enough fried dace to coat your mouth with intense salty, umami flavour, preparing the palate for the mouthful of hot watery porridge which you should slurp directly from the bowl using the chopsticks as a shovel to push the rice grains into your mouth.
As you can see, the enjoyment of Teochew Porridge lies in this age old, time tested combination of watery porridge with salty dishes. Which is why I am always struck with simmering incredulity whenever kakis insist on ordering rice when they sit down to eat Teochew Porridge!
It's Teochew PORRIDGE nah…..! PORRIDGE!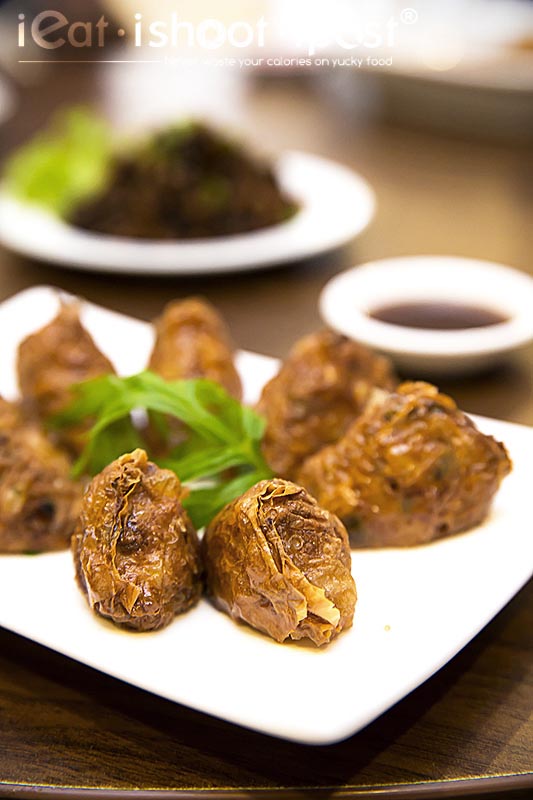 But the Teochews don't have the monopoly on watery rice porridge. The Taiwanese also enjoy this way of slurping rice gruel. There are of course, differences between Teochew and Taiwanese porridge. The most obvious difference is the addition of sweet potatoes in the Taiwanese porridge. There are also some dishes which are classically associated with Taiwanese porridge like Sanbeiji 三杯鸡 (lit three cups chicken). Other dishes such as braised pork are similar in concept but distinctly different in flavour.
Here in Singapore, you are not going to find pure Taiwanese or Teochew porridge. They are usually modified to include some dishes which have become so popular locally that they can be considered Singaporean style dishes.
Our first dish of fresh (raw) cockles is a case in point. Cockles are a local delicacy and most Singaporean's first contact with the cockle is probably as part of a plate of Chngee Hum Kway Teow. (lit fresh cockles rice noodles – nowadays it is more commonly known as Char Kway Teow) I must admit that I am not a big cockle fan. When I was a kid, I wouldn't touch it. The fact that it is usually half cooked and bloody really turned me off. The strong metallic, iodine flavour of the mollusk is so strong and unique that you either like it or hate it or learn to like it through repeated tasting. I fall into the last category.
Having said that, if you are looking for an excuse to like this bloody mollusk then the fresh cockles at Goldleaf is that perfect excuse. (it's not actually blood, but myoglobin, an iron rich protein which also colours the juice you get from a medium rare steak) For someone who has been adverse to cockles, I am surprised to find flavour of the dish quite agreeable. Actually I might just like it. Firstly, the raw cockles are super fresh and has hardly any off smell. The texture is springy without being chewy and pops delightfully in your mouth it has that oyster like briny, iodine taste which cockle lovers go for. The hot and sour chilli sauce is very well balanced and complements it perfectly. Surprisingly good for a non-cockle person like me, surely good for cockle connoisseurs! 4.25/5
The other dish that I was pleasantly surprised with was the Hae Zhor. They were very nicely done. It turns out that the extra savoury flavour comes from their insistence of using fresh red tail Sua Lor (middle prawn) which the owners personally buy from the wet market. They use these excellent locally caught prawns for their volcano tofu, both of which are very good. The filling is light and spongy and the dried bean curd wrap has a distinct soy flavour which is excellent. 4.5/5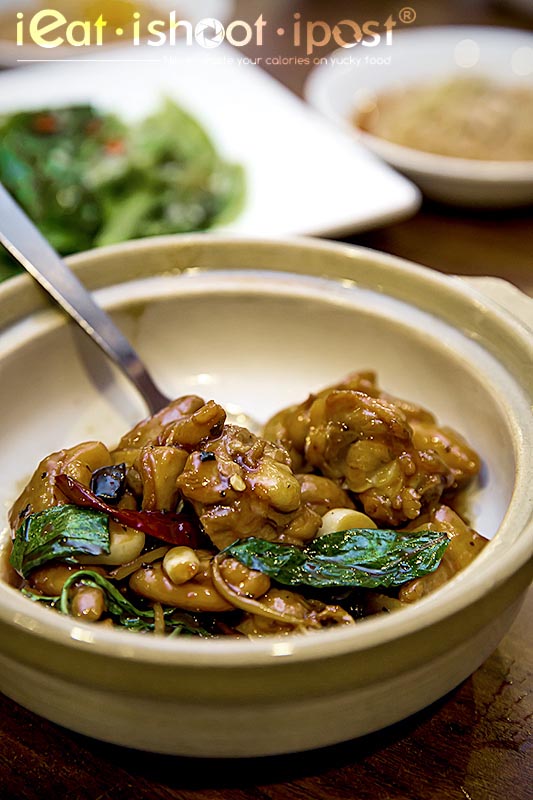 One of the classic dishes for Taiwanese porridge is San Bei Ji (三杯鸡 – 3 Cup Chicken), so called because the sauce is made from one cup each of soy sauce, wine and sesame oil. I have never eaten this in Taiwan, so I am not sure what it is supposed to taste like. However, the version here is quite good. The chicken is not overcooked and retains a good bouncy texture. They use a good quality wine so the sweet bouquet is quite distinct. 4.25/5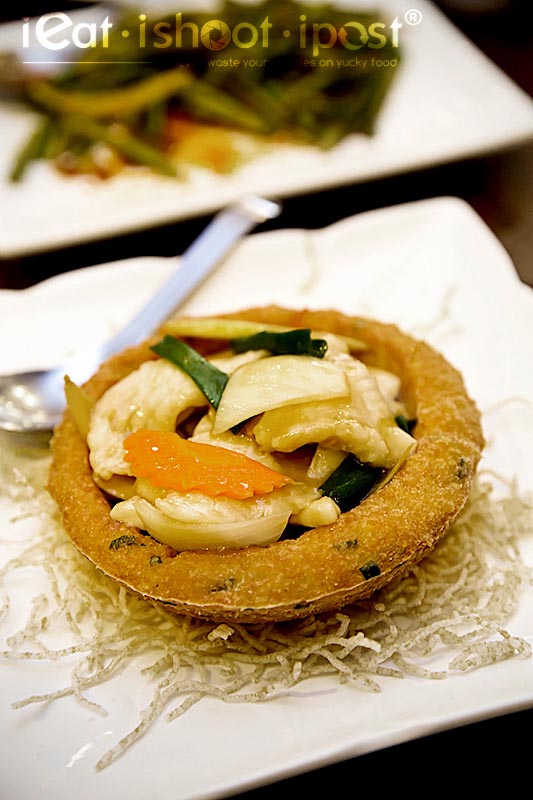 I quite like the Volcano tofu because of they use Sua Lor prawns to make the tofu, so it has a good crustacean flavour. This is essentially silken tofu that is mashed up with ingredients like prawns and chopped green onions added and then deep fried. This is the first time I have seen the tofu in the shape of a bowl instead of the usual bars. You can choose from a few different toppings. The sliced fish was very nice and had a good wok hei flavour. This is a dish I would definitely order again. 4.25/5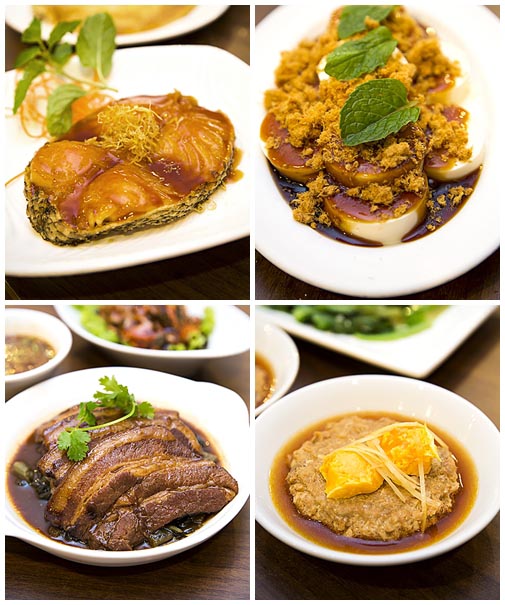 Just a quick word about the other dishes which I thought were pretty average. The braised pork was nothing to rave about. I felt the mei chye was not fragrant enough and the braising sauce lacked oommph. 3.5/5 The minced pork with egg yolk was good but not exceptional. The minced pork was ground a tad too finely and the flavour of the meat didn't hit that crescendo which will entice you to eat more rice. 3.5/5 The sauce for the cold tofu was not balanced and the soy fragrance was overpowering, too salty and not sweet enough. 3/5. The quality of the cod fish was actually very good, but I felt that it was cut a little too thin and so the ratio of the crust to the meat was too high. This caused it to become a little overcooked and a tad dry. It would have been excellent if it was steamed. However, the sauce was very good and it is still a dish which I might order again. 3.75/5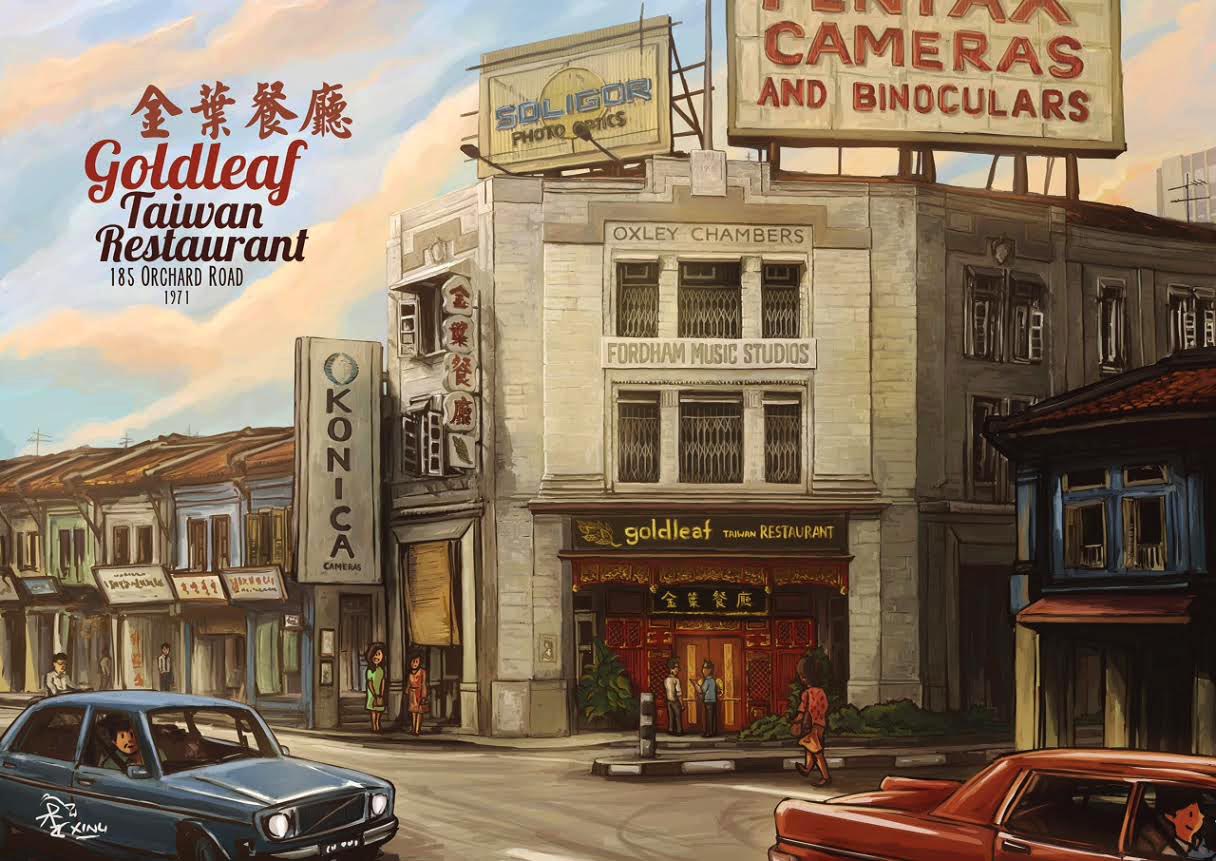 Conclusion
I was surprised to learn that this restaurant has been around since the 70's. Long time patrons of the restaurant would no doubt feel the sense of nostalgia when they recall their old location along Orchard Road! (Anyone here?) They do have a few good dishes and I like the fact that they still bother to buy some of their produce from the wet market. All in all, a decent, comfortable place for a hot bowl of porridge.