This restaurant is closed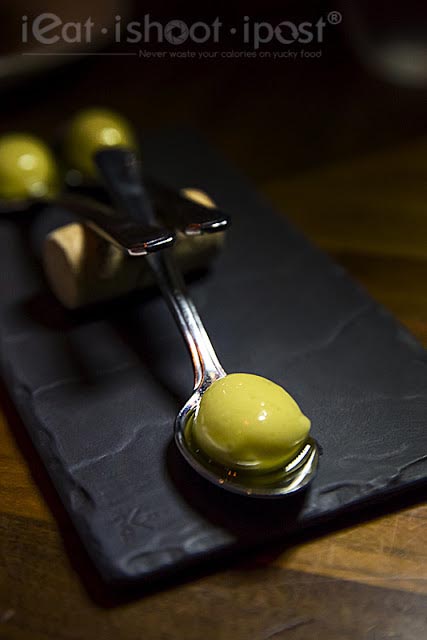 I never had the chance of eating at El Bulli. Never even come close. It's too bad because it would have been on my bucket list if they were still in operation. I am sure I am not alone. After all, only 8000 people get to dine at El Bulli every year from the more than 2 million requests! So I guess I can console myself that I am in good company.
The closest I can get to eating at El Bulli in Singapore is at Catalunya. Well, it's closer, but still far away, like the distance between Woodlands and KL vs Pasir Ris and KL. Still, it's better than nothing.
How did this fortuitous situation come about, I hear you ask? Well, I shall tell you.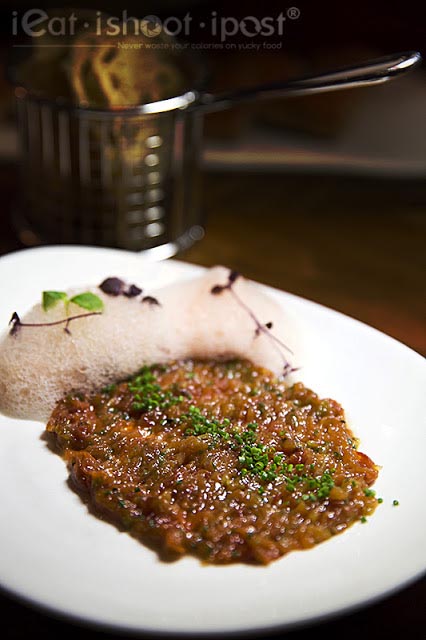 It so happened that the boss of Catalunya was planning on opening a new restaurant and just so happened to be in Spain when he met one of the chefs of El Bulli. It was there that he found out that El Bulli was going to be closing its doors. So he invited the chef to come over to Singapore to helm a Catalan style restaurant where he could still do some of the recipes that were made famous by El Bulli. So in case you are wondering what the food at El Bulli was like, here are three dishes that used to be served there.
The first is probably the most well known — spherical olives. When Ferran Adria popularized the concept of spherification, it was all the rage. Basically, a liquid containing sodium alginate is dropped into bath of calcium cholride/carbonate solution. The two chemicals interact to form a thin membrane. With this technique, you can basically make an egg yolk with any flavoured liquid.
The spherical olives are basically olive concentrate made to look like an olive but when you put it in your mouth, it bursts like a whole egg yolk. Since then chefs have used the technique to make things like lychee caviar. As with all things, it used to have that "Wow" factor, but now that it is so common, it is still fun, but feels a little dated. Still nice though. 4.25/5
I have always felt that the essential thing about molecular gastronomy is to create a dish where there is a disconnect between the texture and taste for certain foods. This causes a paradigm shift in one's thinking and thus creates surprise and delight. So in the first example, it is an olive dish that looks like and olive, tastes like and olive but has the texture of egg yolk. The second dish is also based on the same principle. A dish that looks like beef tartar but tastes like tomato or conversely a tomato that has the texture of raw beef. Anyway you look at it, the Catalunya tartar is another dish that is designed to conjure up a degree of "un-expectation.". By various treatments, the chefs at Catalunya managed to change the texture of the tomato to be a like a toothy, smooth, sticky beef tartar while intensifying the tomato flavour. 4.25/5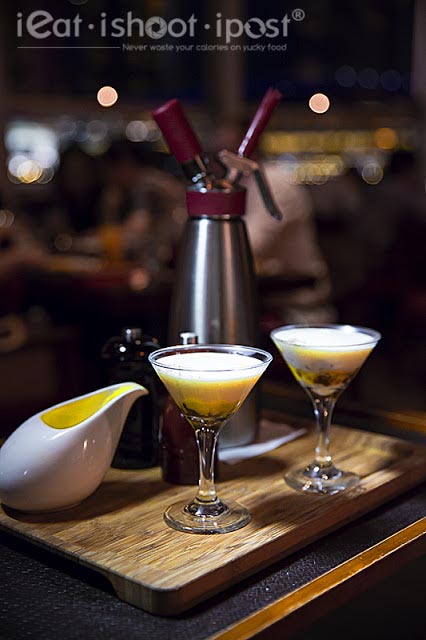 Another El Bulli dish that is available is "The Other Spanish Tortilla" where the basic ingredients of a classic Spanish Tortilla viz, potato, eggs, onions are presented in a martini glass. Again, the chefs have changed the texture of a classic tortilla, making it more like a mousse which still tastes like a classic tortilla. It is very tasty as you would expect of the classic combination of caramelised onions, potato and eggs but I felt this one was more like eating mashed potatoes and onions. However, it is quite intriguing to see the dish (?glass) being constructed at your table. 4/5
Catalunya has a range of very interesting cocktails which goes very well with the tapas. The one which I was really impressed with was the Blue Cheese and Sherry cocktail. The initial thought of drinking something with bluecheese in it was repugnant but surprisingly it worked very well! The flavour is exactly like having a bit of port or sherry after a bite of Stilton from the cheese platter. In order to create this drink the mixologist at Catalunya had to create his own blue cheese syrup which is then mixed with sherry. This one you must try! 4.5/5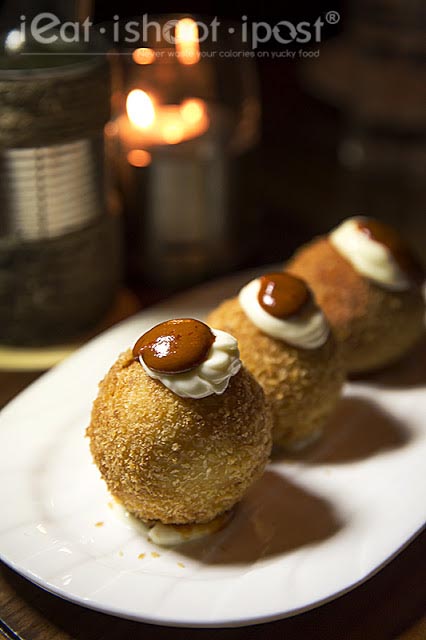 Aside from the El Bulli inspired dishes, Catalunya also serves classic Spanish dishes. I was told that the dishes that they serve are not just Spanish but specifically from the region of Catalan where El Bulli was also located. One classic dish from the region are the Bombas which I am sure you are all familar with. These are essentially potato croquettes that have a minced beef filling in the centre. I love all types of potato croquettes and I like these, but I just don't find them exceptional enough to pay a premium for them. 4/5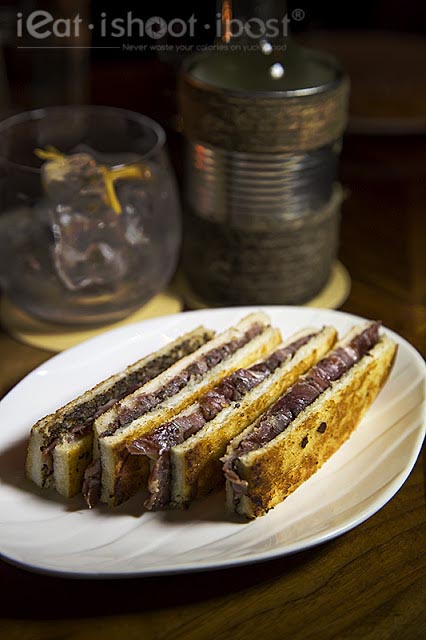 What would you imagine the ultimate ham and cheese sandwich to look like? How about crustless slices of buttered bread, nicely toasted on the outside with Jamon Iberico, mozzarella cheese and black truffles on the inside? As any Singaporean would say, "Got truffles and jamon, win oredi (already) loh!". I would have liked a little more cheese so that I can really chew on it, but aside from that, this is one addictive little bite.The next time I get my hands on some Jamon and black truffles, I am going to so make this at home! 4.25/5.
Why is it called bikini? Well, there are two theories. The first is that the sandwich is usually cut in half and the isosceles triangle looks like the bottom part of a bikini. The 2nd theory is probably more likely. It is said that there is a famous concert hall in Les Corts called Bikini and the bars around the area started selling their Catalan version of the French Croque Monsieur and thus the sandwich got its name!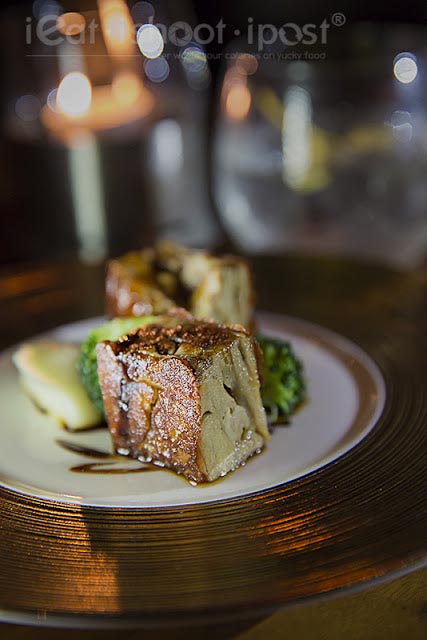 When you visit Catalunya, you will no doubt hear the shattering of plates on the floor whenever a whole suckling pig is presented to the restaurant customer. In case, your party is too small to order a whole pig, (or unless you can finish one whole piglet yourself), then the alternative is to order a small plate of Suckling Pig tapa. This dish consists of the meat of the suckling pig, shaped into a cube and wrapped with the crackling. They tell me that it is expensive because of the extra work in fashioning the cubes. The flavour was good, but the skin was a bit damp and lost its crunch. I think a better way to experience the suckling pig is by going for their weekend brunch where suckling pig is part of the buffet spread. That way, you can eat as much or as little as you want. I don't think this small dish is worth paying for. 3.75/5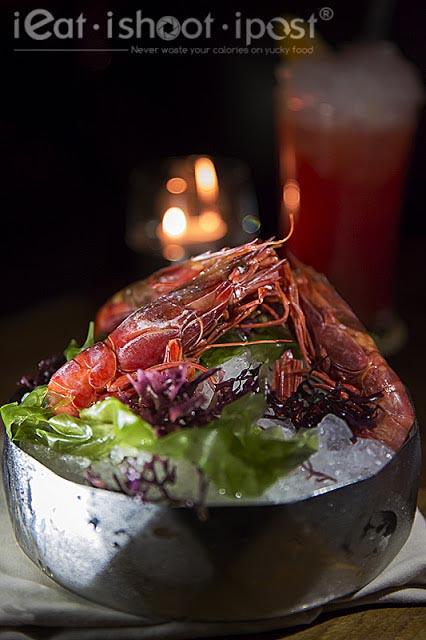 Another "Win oredi, lor!" ingredient is the carabinero or scarlet prawn. If you have been reading this blog, you would know that I absolutely love these tasty crustaceans! Sucking on the briny heads is one of those gastronomic moments which is right up there with foie gras, truffles and matsuzaka wagyu. I have tried carabineros in prawn mee soup, hokkien mee, pan fried with garlic and basil. It has always been good. This is the first time I am trying them just plain steamed and cooled on ice. Carabineros are yummy. I should just buy some and steam them at home! 4.5/5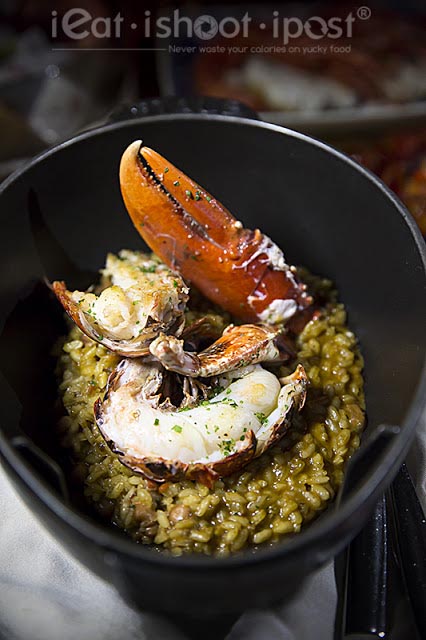 Paella is not on their dinner menu as it takes too long to cook. But they offer lobster rice instead which is more like a lobster risotto. The dish was well executed, with the rice having that grainy, toothy texture and creamy starchy sauce. However, the crustacean flavour just did not reach a crescendo for me. 4/5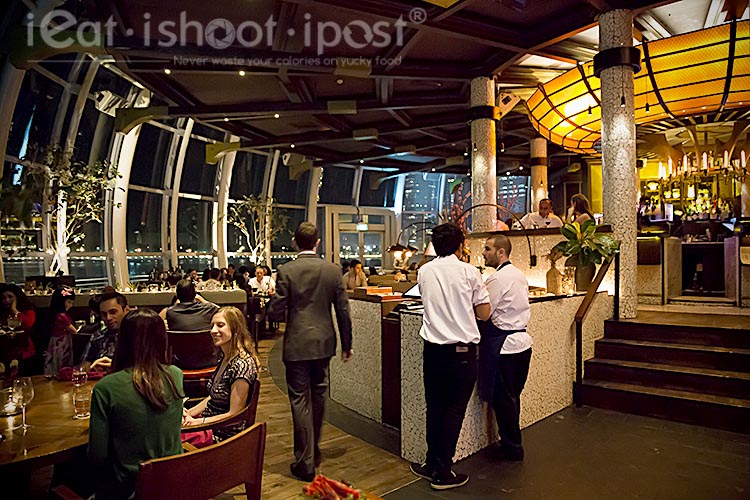 Conclusion
With the association with El Bulli and being located on the water at Marina Bay, I had expected Catalunya to be a fine dining establishment. It turned out to be a more casual affair where one can enjoy tapas in a boisterous environment with the occasional crashing of plates. The food is very good overall but because of the link with El Bulli, it might fall short of the initial high expectations. The cocktails are very interesting and having a few of those with some tapas is a nice way to chill out with a group of friends.
This was a media invited review