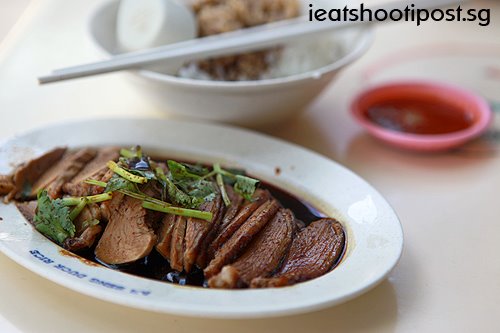 My dad used to braise duck when I was a kid. He still does it now occasionally. There are few things that my dad does cook and one of them is braised duck. Unfortunately, I never learnt how to braise duck from him. My cooking skills all come from mom. Maybe its time I asked him to teach me the age old Teochew tradition that has been handed down the Swatow Tay line for generations!

Anyway, as you already know, Braised Duck comes in two different styles. The Teochew style has a braising sauce which has the consistency of water while the Hokkien style sauce is thick and gooey. Being a Teochew, I guess I am obligated to say that I prefer the Teochew version. But you know, gooey loh does taste better with rice….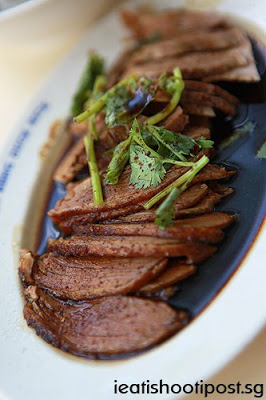 If you are after a nice Teochew version of Braised Duck, then this is certainly one stall that is quite popular. It is just next to the Bakery which that sells the luncheonmeat buns which I blogged about earlier and I think they are probably the same family. The braising sauce is nice and the duck is tender. Lots of people rave about it. I thought it was good enough to be included in this blog, but difficult to rave about. 4/5
Conclusion
Another place to go if you have the craving for braised duck.
Check out the other places to eat at Serangoon Way Food Centre!
Read about other places for Braised Duck.
Did you realise I have a tag specifically for Teochew stalls?