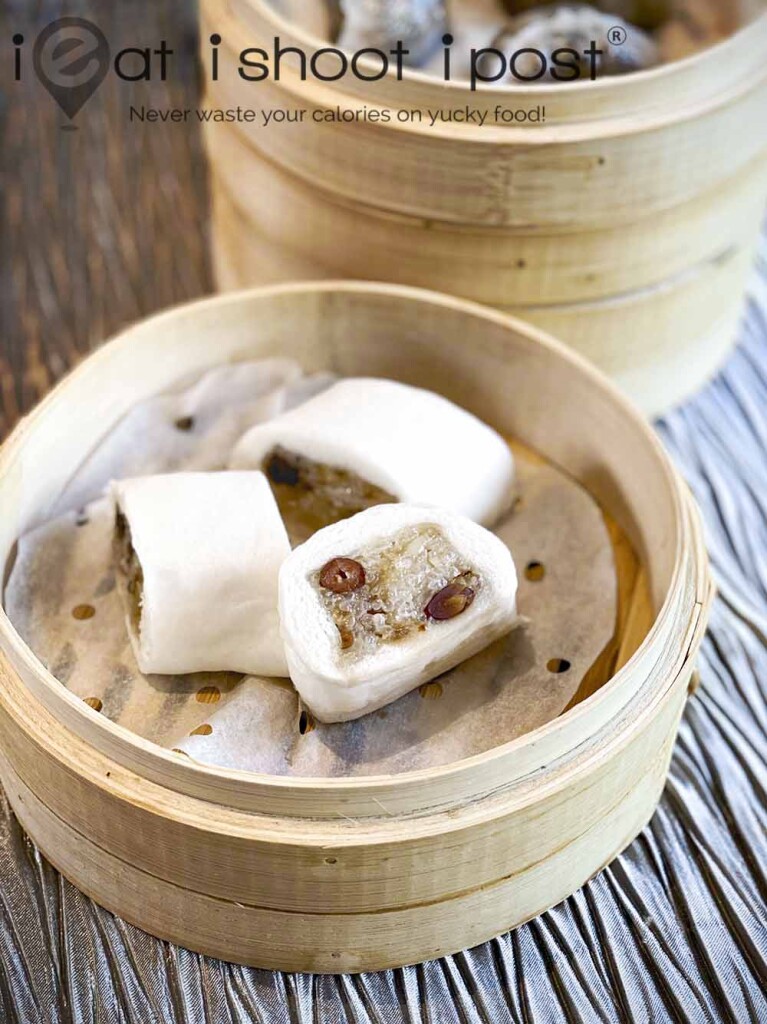 Paradise Teochew has opened a new branch at Takashimaya S.C, Ngee Ann City and we went down to check out some of their opening specials. For lunch, they are offering 20 Dim Sum dishes $3.80++ and 10 classic Teochew dishes for dinner for $20++ until 25 July 2021 for Citi Card and Paradise Gourmet Rewards members. Good news is these specials are also available at their Scotts Square branch that has recently reopened.
This is our first time tasting the dishes at Paradise Teochew and we were pleasantly surprised at the quality of dim sum. They have a few typically Teochew dim sum items like the crystal dumpling which was very nicely done, but the real surprise were the glutinous rice buns which looked rather innocuous but turned out to be quite addictive!
The dim sum chef tells me that this is a very old school dish which is not so common nowadays as it takes quite a bit of effort to make even though the ingredients are really simple. As you chew on the glutinous rice, there is a very pleasant savoury sweetness that develops in the mouth and the contrast between the chewy glutinous rice and pillowy bun is very enjoyable!
Classic Teochew Dishes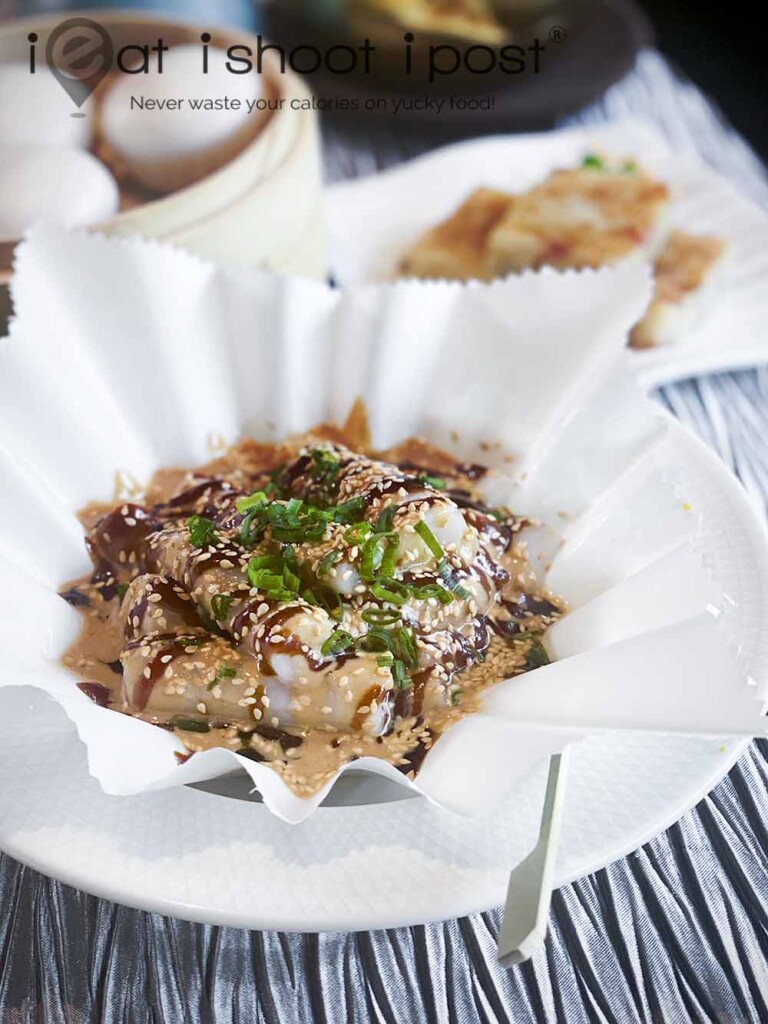 Another dim sum to highlight is their sesame sauce chee cheong fun. What makes their version different is that they rolled it really tight, so the texture is more QQ than usual. Their sesame sauce is also very nutty and delicious!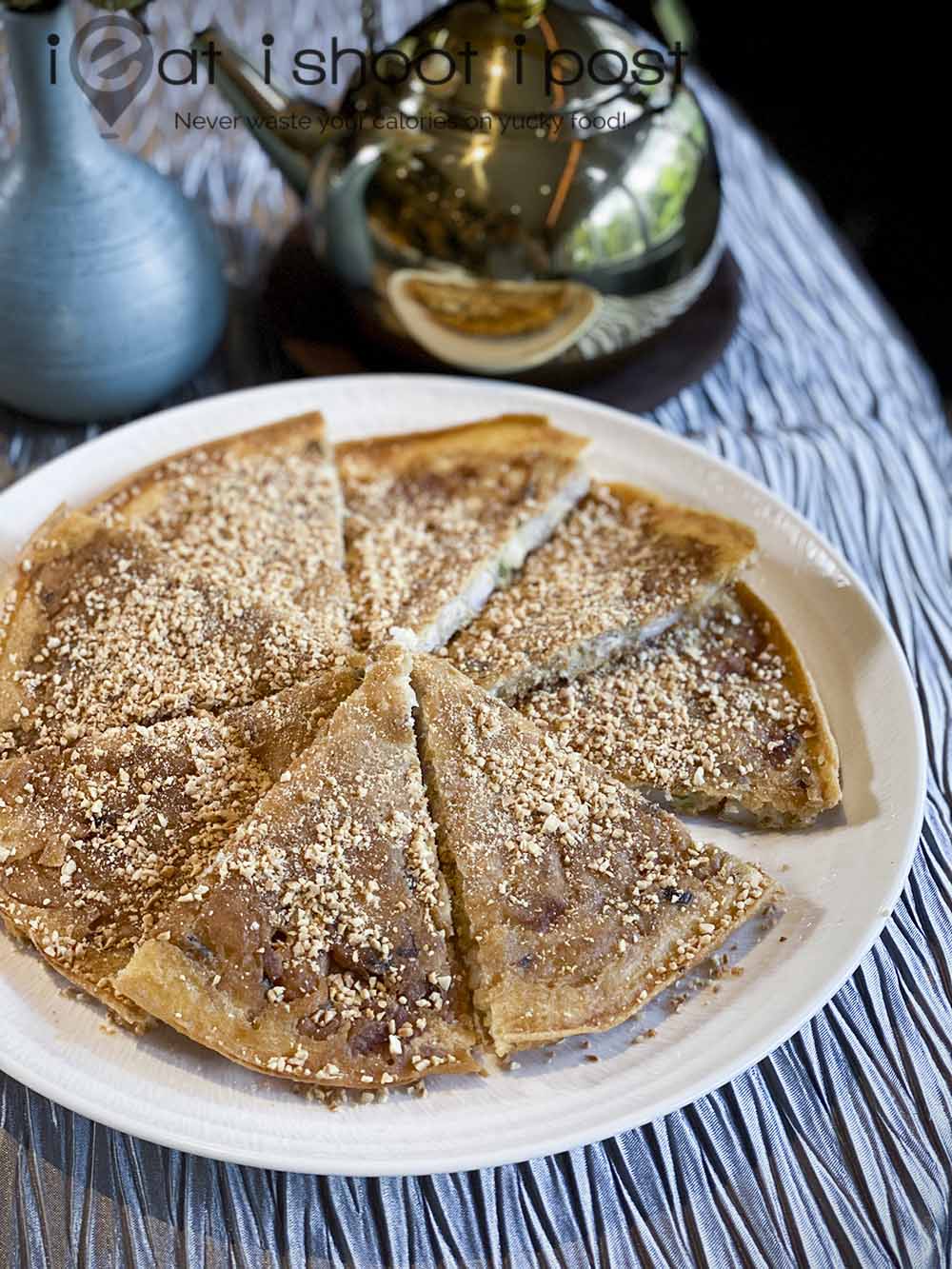 With the ala carte dishes, the one dish which really stood out for me was the seafood yam fritters. This is basically a seafood pancake which is filled with yam and prawns and fried till the crust is crispy and then topped with chopped peanuts. It really looked like a ban jian kueh at first but I was immediately hooked after the first bite. I ended up eating at least four slices! Its just one of those things that I really enjoy!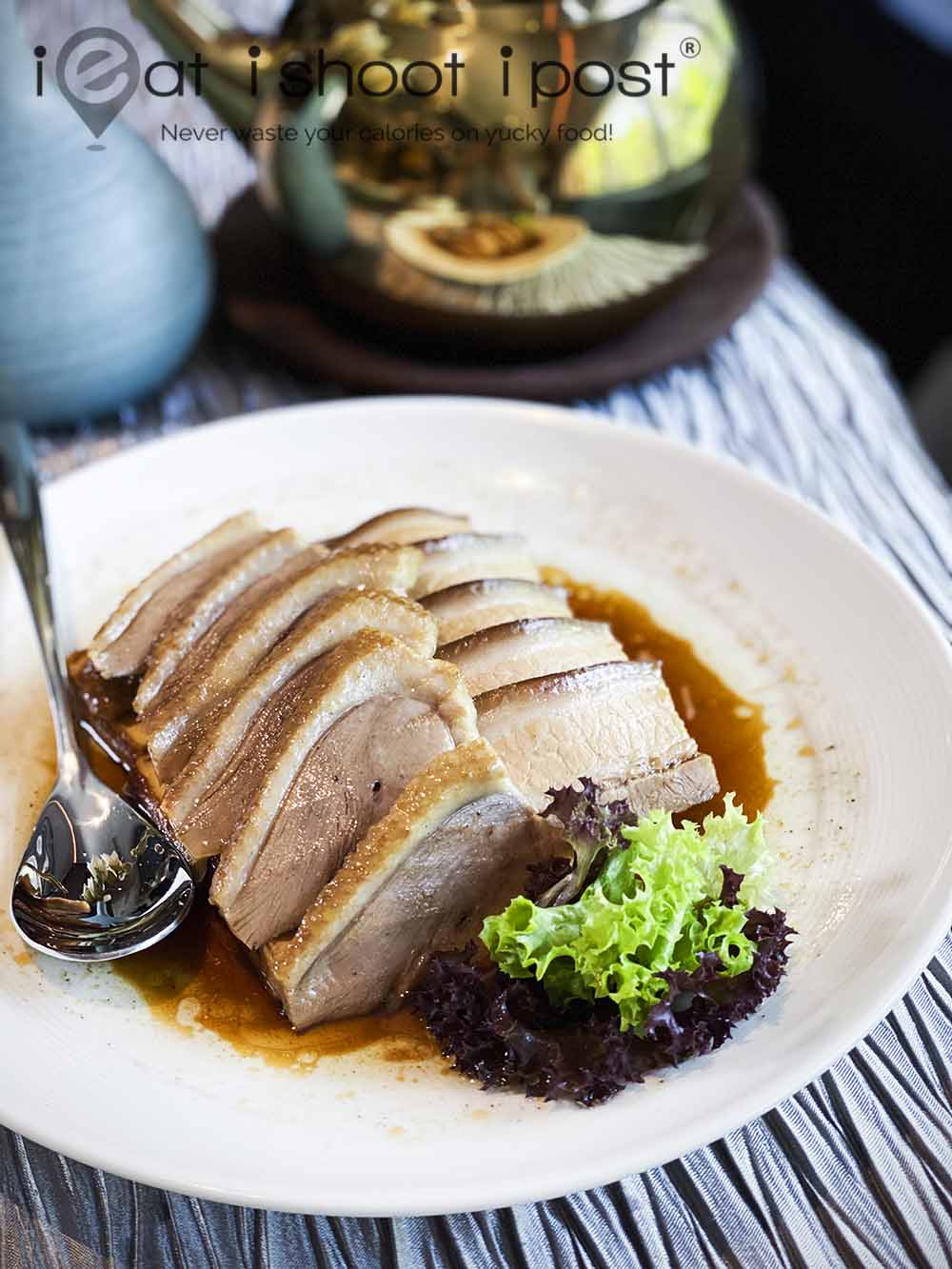 Their braised duck and pork belly are also very good. The braising sauce has got a very strong cinnamon and five spice flavour which is quite unique. Overall, the dish is well presented and feels a little more refined than the ones being served at Teochew porridge places.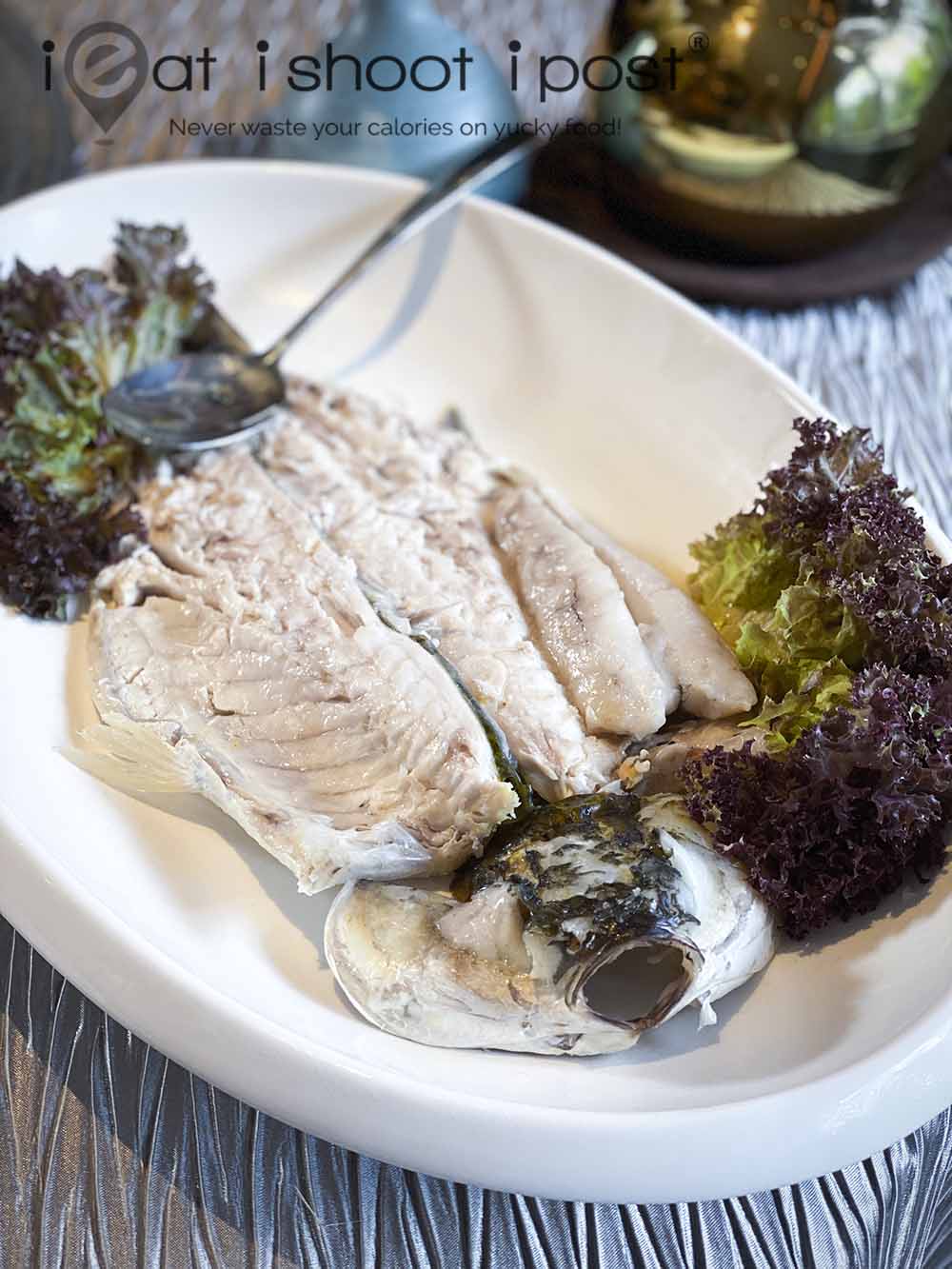 I am quite ashamed to say that I have always had an aversion to mullet. Any self respecting Teochew Ah Hia is supposed to like, nay, adore this particular fish, especially for its roe and yellow oil beneath the skin. However, I never did develop a taste for it. Served cold and served with fermented soy beans, Lisa really liked it and I am sure it will appeal the the older generation of Teochews!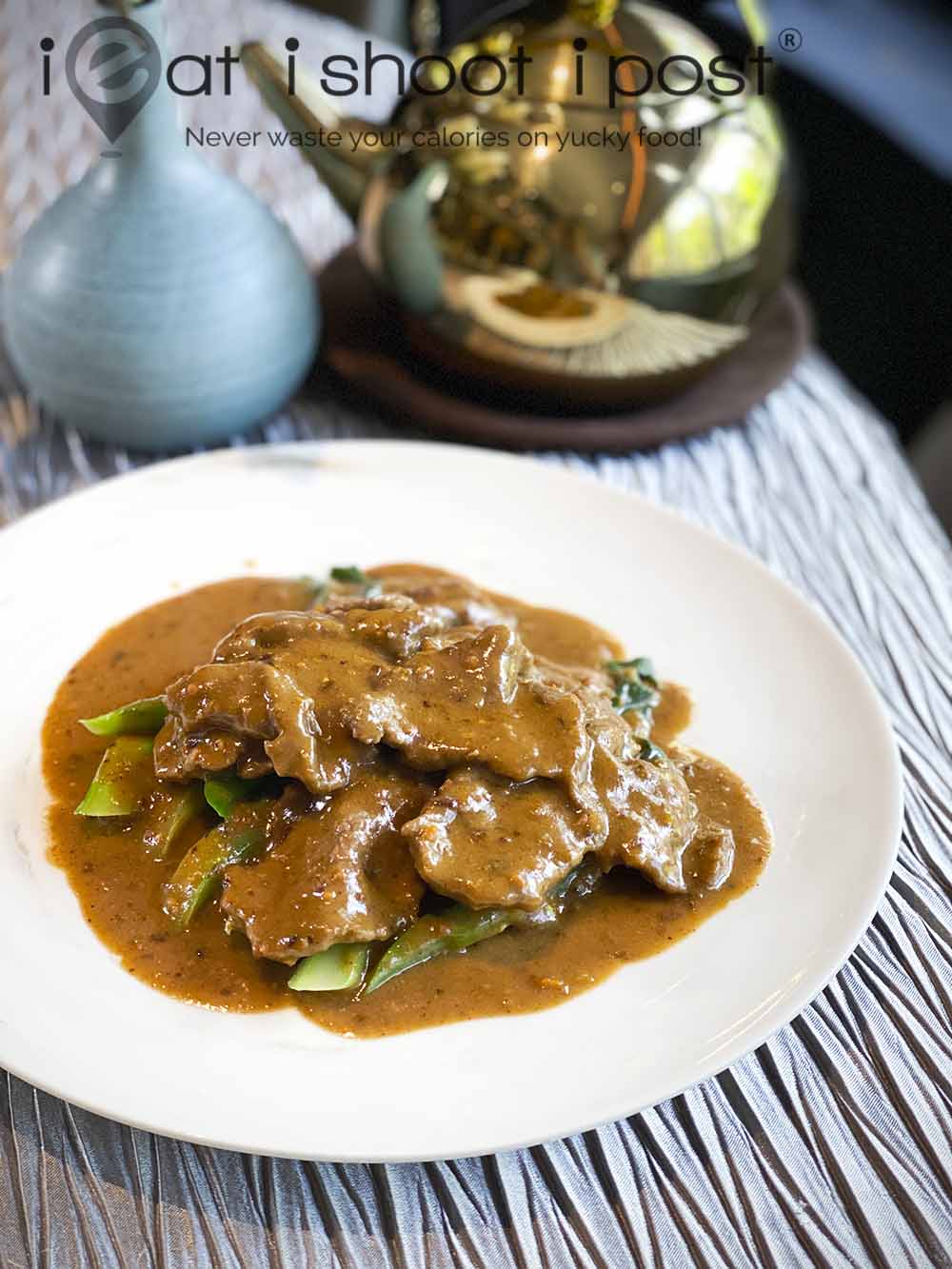 Satay beef is a Hong Kong dish which undoubtedly has a South East Asian influence. The beef is slippery and tender which is typical of Chinese style cooking where it has been marinated with baking soda. The satay sauce is quite different from our local version and has a distinctly Hong Kong feel to it.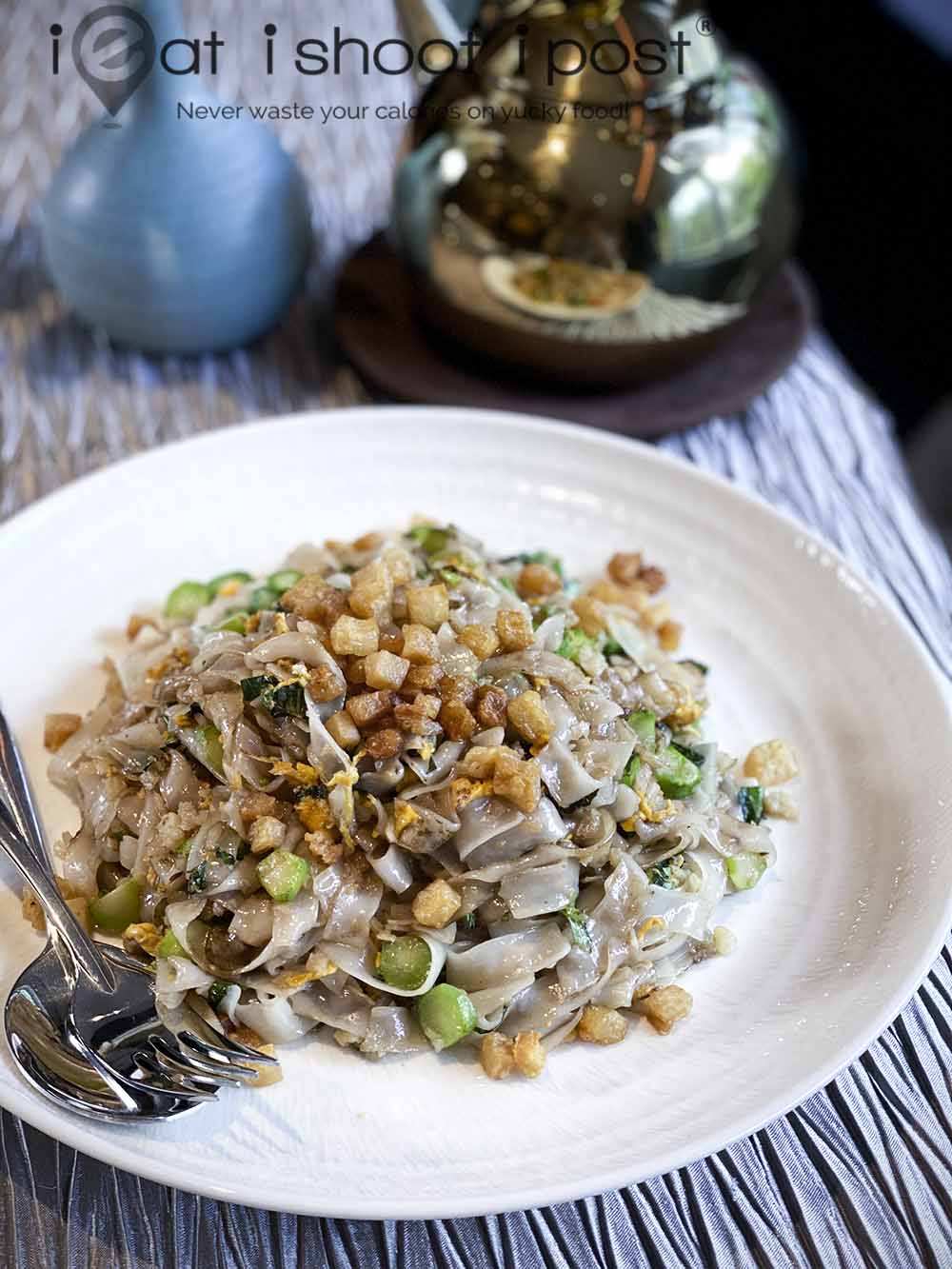 The chye poh kway teow is done very nicely and as you dig into the kway teow, the inviting scent of wok hei fills the air. It would have really scored top marks if the pork lard were a little more crisp and flavourful.
Dining Area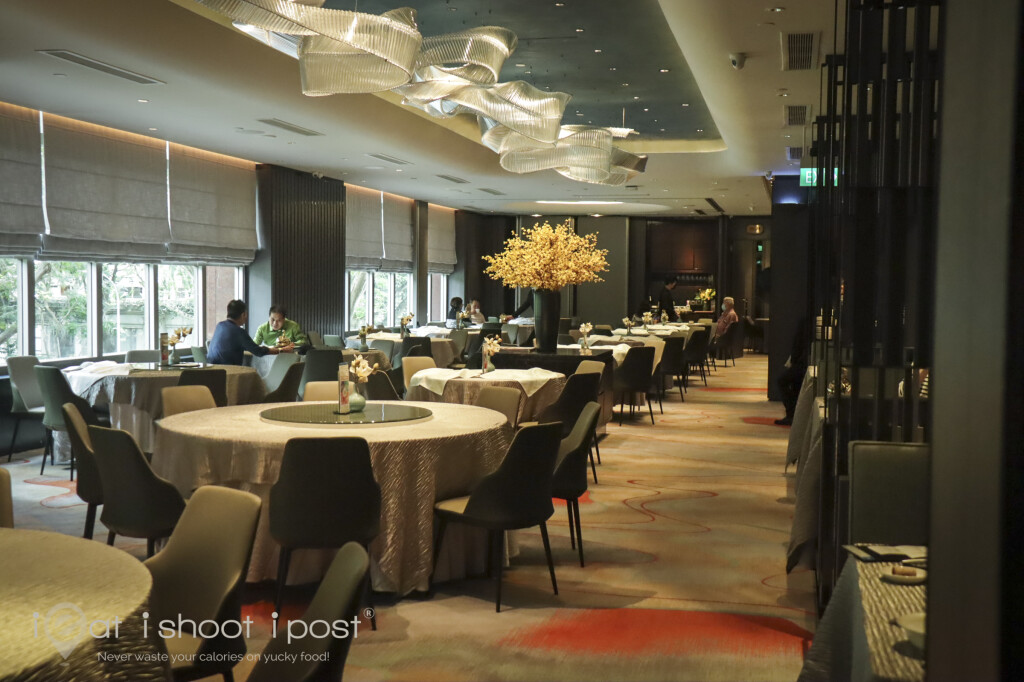 The best part about the dining area is the row of windows lining the restaurant that allow natural light in and provide a nice view of the fully grown trees outside. It's a 146 seater with both cozy booth and large dining table seating.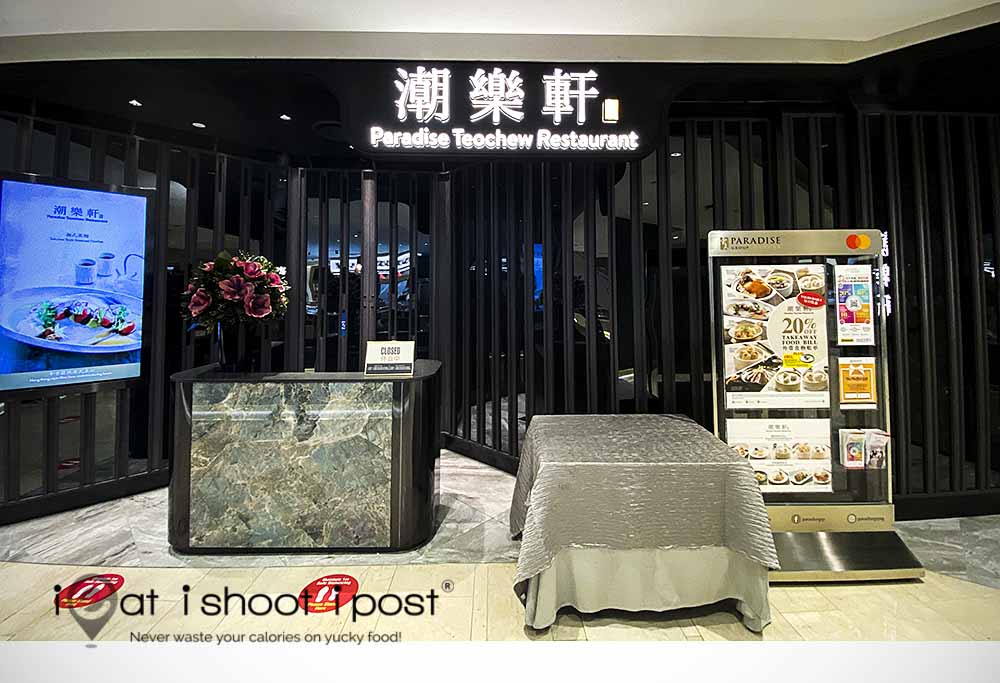 Conclusion
Overall, Paradise Teochew at Ngee Ann City is a very comfortable restaurant where you can enjoy Teochew and Cantonese style dim sums and get some of your classic Teochew dishes like Chye Poh Kway Teow, Teochew braised meats and Cold Steamed Mullet!
Paradise Teochew at Takashimaya
391A Orchard Rd, Takashimaya #03-10 (below Kinokuniya), Singapore 238873
Operating hours:
Mon to Fri 11am – 3pm (last order at 2.30pm), 6pm – 10.30pm (last order at 10pm)
Sat, Sun & PH 10am – 3.30pm (last order at 3pm), 6pm – 10.30pm (last order at 10pm)
Telephone: +65 6805 8994
Paradise Teochew at Scotts Square
6 Scotts Road, Scotts Square #03-04, Singapore 228209
Operating hours:
Mon to Fri 11.30am – 3pm (last order at 2.30pm), 6pm – 10.30pm (last order at 10pm)
Sat, Sun & PH 10.30am – 3.30pm (last order at 3pm), 6pm – 10.30pm (last order at 10pm)
Telephone: +65 6538 0644
Disclosure: this post is written in partnership with Paradise Teochew.