This restaurant is closed!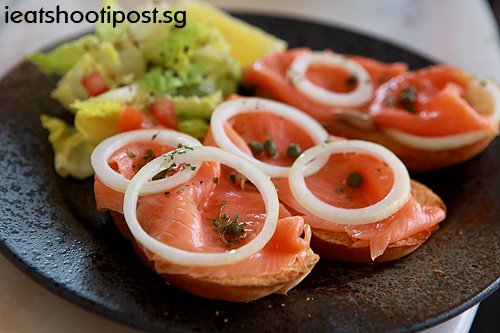 Smoked Salmon on Baguette $5.90
Just imagine that you are in Europe and you sat down at a Chinese restaurant to eat. After the meal you managed to find out that the Chef was Ang Moh (European), would you be surprised? I would. I can't speak for Europe, but at least in Australia, all the Asian food there are cooked by Asians. Somehow you will never imagine an Ang Moh frying your Hor Fun. Not that I doubt they can. I am sure there are some Wok Wielding Ang Moh Chinese Chef just as there are some butt kicking Ang Moh exponents of Kung Fu. But somehow, as far as I can remember, I don't think I have ever seen one before. Now, if you are a Westerner who is trying to make it big in the Singapore food scene, then one surefire way to attract media attention is to open up a Char Kway Teow stall at one of our Hawker Centres and demonstrate some wok hei skills.

However, the converse is quite acceptable in Singapore. You quite often see Asian Chefs cooking European cuisine. This is expecially so in hawker centres. It used to be that a lot of Singaporean Chefs leave the hotel scene to start up their businesses in Hawker Centres serving Western Foods. But now we are seeing a new development.
Now the job of cooking Western dishes are being outsourced to Chinese Chefs from the mainland. Now, I have nothing against this. But I ask this question: Can someone who has never eaten a plate of pasta cooked in a proper restaurant ever be able to cook a good pasta dish?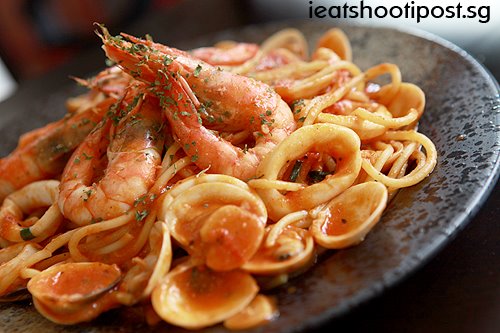 Seafood Pasta $10.90
Well, the answer seems to be, yes they can.
At least it seems to be for this stall in the newly refurbished coffeeshop along East Coast Road where our favourite Geylang Lor 29 uncle is frying his Hokkien Mee.
I spoke with the two men from China who have basically come to Singapore, been trained to cook pasta and basically left to run the stall. I asked the cook point blank if he had ever eaten pasta anywhere else and the answer was an emphatic no. That being the case, it is hard to imagine that he could have come up with the several pasta dishes which were surprisingly good even compared to those pastas being served up in the more fancy cafes.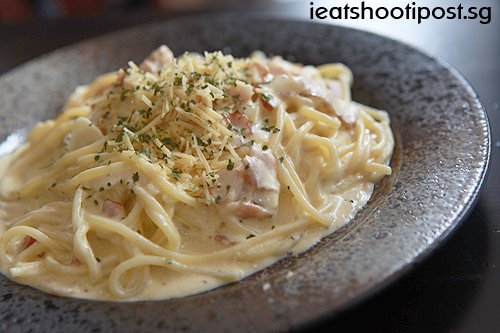 Spaghetti Carbonara $7.90 (note the grated parmesan)
So what does that mean? Does it mean that cooking depends more on a person's sense of taste and ability rather than experience? Or does it mean that pasta dishes can simply be put together with a few requisite sauces that have been prepared beforehand? I think probably the latter is true.
If you need to have a cheap and quick pasta fix, then you can certainly visit this stall. There have been a proliferation of hawker pasta places recently but this one certainly does stand out in terms of quality and value. The Seafood pasta dish was very good as was the carbonara. Better than average but of course they cannot compare with those served at Italian restaurants which cost maybe two to three times the price. 4/5
Conclusion
Good place for a quick pasta fix. Highly recommended by our makankaki Holydrummer no less. The only problem I have is having to overcome my temptation to order the Hokkien Mee from Geylang Lor 29 Hokkien Mee! If I order both, then it really is pastas from the East and West!