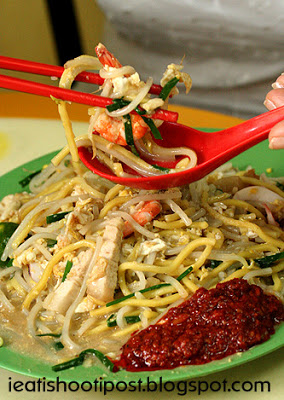 Found another yummy Hokkien Mee in the East! I find that it's getting harder to pick a real "King" of Hokkien Mee because they all have slightly different characteristics and each has its own merits. For instance, I enjoy the thin beehoon type because it gives more bite to the hokkien mee and is usually dryer, whereas the thick beehoon type is wetter and is more slurpy. I like them both. There are also the real starchy gooey type vs the watery type. The gooey ones tastes real good but you get full really quick whereas the watery type is lighter and you can enjoy more. This one is the wet watery type with thick Beehoon. The really good thing about this Hokkien Mee is the (I am almost afraid to say it) Pork Lard! My first mouthful had a piece of crunchy, savoury pork lard in it and I was sold immediately! (Why do yummy stuff have to be bad for you!) The noodles here are limp and soft and the sauce is pale and its got bits of egg in it, so it's not the most attractive HKM in town. The taste is good, but made exceptional by the lard.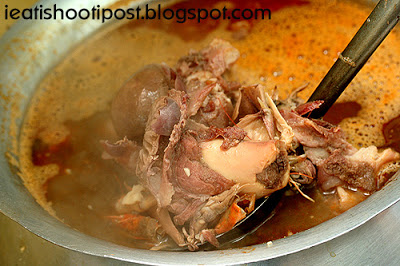 The owner took over the stall from his Dad who had been around since 1949. I was not impressed with the wok set up. It was a smallish wok sitting on a simple iron from with a burner underneath. When they fry the noodles, it was more like making pasta rather than real frying ie, they simply swirl the noodles around and add the stock. So it did lack the "wok hei" flavour. However, this was made up by the flavour of the stock. The stallowner proudly showed off the ingredients in the stock which has got 3 layered pork, pork leg bones, dried squid, ikan bilis and of course prawns and appears pretty potent. He claims there is no MSG, but he does add rock sugar to sweeten the stock.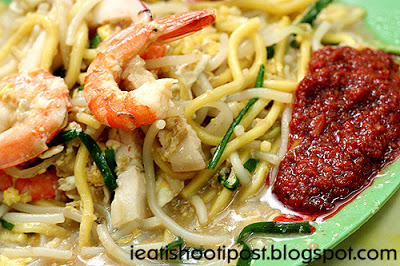 Conclusion
A pretty satisfying plate of Hokkien Mee! 4.25/5 Great for those who love their Pork Lard. Now my only problem is that there are so many Hokkien Mees around the area that I don't know which one to go when I have the craving! Here's my list: Kim's at Joo Chiat Lor 21 Geylang Hokkien Mee (Opp Al Forno) Hokkien Mee at Geylang Lor 9 (At the Beef Hor Fun Place) Nam Sing at Old Airport Road Food Centre Serangoon Fried Hokkien Mee at Bedok Kim's (Original) along Still Road Kim's Brother along Upper Changi Road Guess it depends on what type of HKM you are craving for that day!