This stall is closed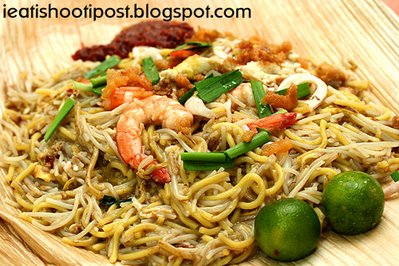 Rejoice! Rejoice! Those who still remember eating Hokkien Mee wrapped in the traditional Opeh (Areca) Leaf will rejoice when they see the picture above! You know the adage "The brain is the biggest sex organ?" Well it turns out the brain is also the biggest taste organ as well. Somehow, when you see the Opeh Leaf, your brain immediately tells you that the taste of the Hokkien Mee is bound to be great! The uncle tells me that he doesn't think the leaf imparts any taste to the Hokkien Mee, but Hokkien Mee Afficianados would disagree.
By the way, have you ever wondered where the leaf comes from? The humble Opeh leaf comes from the inner sheath of the bark of the Betel Nut tree and was used extensively during the Post War years to wrap foods like Hokkien Mee and Chee Cheong Fun. We now have to import these leaves from Malaysia and they are not cheap. They cost about 30 cents per sheet, which is why they only give you a small piece on the plate in most places. Here, if you buy the $4 or $5 portions, you can Tar Pau (doggy bag) the Hokkien Mee in the Opeh leaf.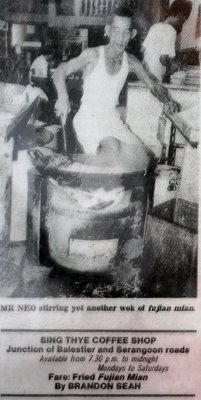 Not only does this stall have the traditional Opeh leaf, the receipe for the Hokkien Mee hails from the stallowner's father who had been frying Hokkien Mee (sitting down over a charcoal stove, I might add) over at the Sing Thye Coffee Shop at the Junction of of Balestier and Serangoon Roads. He was frying from the post war years until 1989 when he died. Fortunately his son Francis took over the family business so we can still taste this 60 year old receipe.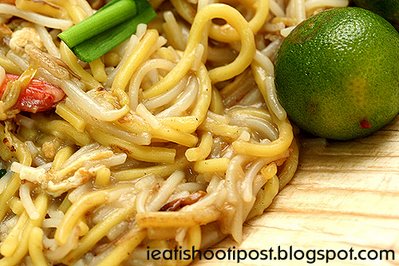 I was absolutely bowled over by the taste of the Hokkien Mee! It is Shiokadelicious! I wonder why no one really talks about this one at the forum. The Hokkien Mee is the wet type but not overly gooey. The noodles are soft but not overly soggy. The taste is really savoury and a little on the sweeter side. The sambal chilli is not too hot and also a little sweet. I really am hard pressed to decide on how much the Opeh Leaf actually enhanced the taste. All I can say is that this place is my current Hokkien Mee Haunt. 4.5/5
PS: Since not many people talk about this stall, please don't have high expectations ok? Maybe I was just really hungry that night. Go try with an open mind and share your comments with us!