This stall has closed!
Being 100% pure bred Swatow Teochews, Mom wasn't impressed with last weeks Taiwanese Porridge. So being the filial son that I am, ahem, I brought her to this well known Teochew Muay (porridge) place in Joo Chiat. With a 60 year history behind this shop, I am confident to score some points and retain my place as favourite son (among 3 brothers of which I am the eldest – already ahead on points from the start. ; ))
First up, what could be more Teochew then cold crabs? The Teochews live by the river, so the cuisine features fresh, fresh seafoods. Any self respecting Teochew Ah Hia would frown upon putting peppar, chilli, curry, butter onto your crabs! What, and destroy all that marvellous roe?
So why pay someone else to buy the crab and steam it for you? Can't you do it yourself? Well, unless you are an expert, no, not so easy. The crabs are handpicked by the resident Teochew Ah Hia, Ah Chwee, who ensures that each and everyone is full of roe and the meat packs the shell of the crab, we say this sort of crab is toi (solid) not pah (hollow). And if you ever bought crabs yourself, you will know what I mean.
The meat was sweet and solid, the roe creamy. $10 per crab 4/5 Mom loved the crab, but I must admit, that my Teochewness has been watered down, so I actually still prefer mine with black peppar.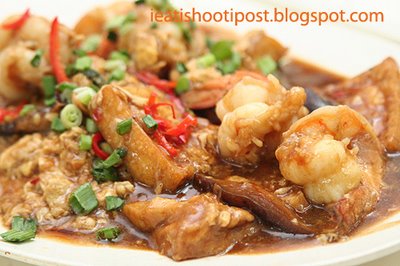 Phwa, this one you got to try! Their prawns with tofu is fantastic. You can see a plate of this on almost every table. The secret, I am told is in the stock which is never decanted. Everyday, fresh pork bones, veges, spices etc is added to existing the existing stock and slowly boiled. We are talking 60 year stock! The prawns are super fresh and large, we'll have none of those soft, mushy, poor excuses for a prawn, we are Teochews, thankyou. $10 4/5 Must try this.
Just close your eyes, don't think about the cholesterol and sink your teeth into the braised Ter Kar (leg of pork), then let the tasty, creamy lipoid bolus coat the inside of your mouth with its flavour and slowly slide down your throat. Then, while your whole mouth is full of its savoury goodness, wash down with hot watery porridge and repeat. This Low (Hokkien: Lor ie braised in soy sauce) is definitely one of the best around, and the flesh and skin of the pork simply falls off the bone.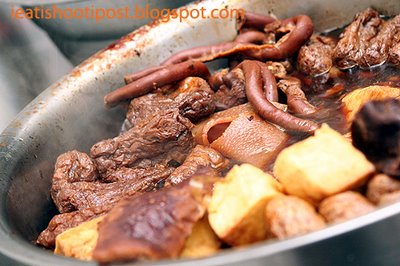 Again, the secret of a good Low is that you have to have all the stuff in a big pot, and everyday just add fresh ingredients. That way you preserve the lineage of the Low. Again, this one has a 60 year history, you get to partake of not only this chef's kang hoo (skills) but that of his father as well! Shiok shiok $5 per plate 4.5/5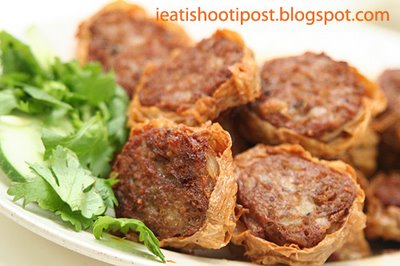 I will continue to rave. The Heh Chor (Prawn rolls) are fantastic. Real crispy on the outside and a nice generous filling on the inside, mixed with the Gik You (Plum Sauce), Pow! Instant Gratification! $10 4.5/5 You just have to order this when you are there.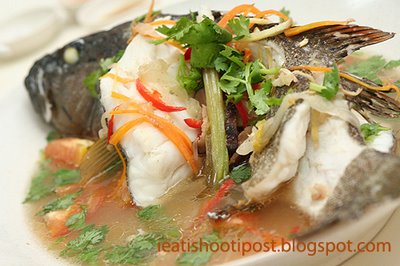 Though this fish was not swimming around when we ordered it, but it was real fresh. The fish are, again, bought fresh everyday. Fresh fish should only be steamed with the subtlest of seasonings. Bit of ginger, chilli, soy sauce and typically to the teochew style of steaming fish, sour plums. This brings out the flavour of the fish. Might be a bit bland for those used to eating deep fried fish with chilli sauce, but that is the cuisine of people living far from the river, where the fish isn't as fresh and they need to mask the fishy odour. $35 for a big fish 4/5 Great if you like to taste the fish rather then the sauce.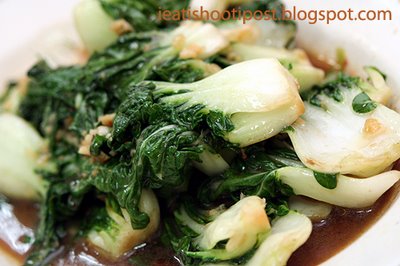 I still can't figure out how they make the sauce for the Siao Pai Chai so flavoursome, when Ah Chwee insists they don't use any lard in the cooking. Its got that nice wok hei, tasty, savoury, "can't get enough of me", flavour that would convert any staunch carnivores. $7 4/5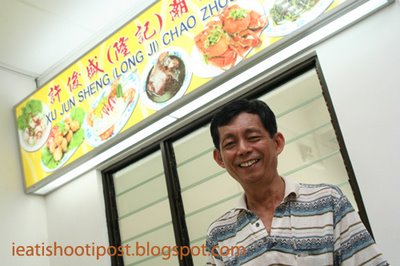 Trust this Teochew Ah Hia to ensure that you only get the freshest and best ingredients in the food. It is good but not cheap, you have to be willing to pay for good stuff, but it is not overly expensive, you really pay for what you get.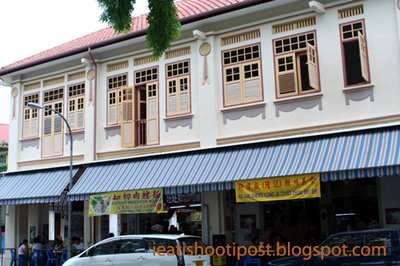 The original shop used to be located diagonally opposite their new shop which now has a comfortable air conditioned section. If you go during peak hours, ordering your food can be quite an adventure. You basically barge your way to get the attention of Ah Chwee and just quickly order what you want. He's got an elephant's memory, so be rest assured all your food will arrive later as per your order.
Conclusion
Currently my favourite Teochew Porridge place. Not the cheapest, but very affordable if you don't order the big fish and crabs. You can get quite a good feed if you go for lor bak, steamed mince meat, chai poh omelette, heh chor and tofu prawns. Big public car park in front of the shop and comfortable eating environment (there are 2 sections, make sure you head to back)
8.5/10 (T3.75+V2.75+S1+E1) If you are not used to Teochew food, don't go for the steam fish or cold crabs, because you would probably find it bland.