Peramakan has relocated. They are now at Keppel Club.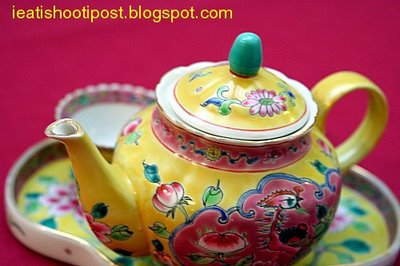 This restaurant is the rave of my fellow makankakis at the makansutra forum. So if everyone says it is good then it must be good, right? So die-die-I-must try and man those guys are right!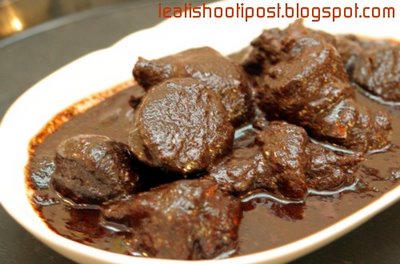 We start with the most recognizable of Peranakan food the Ayam Buah Keluak. Every wonder if they ever use this Buah Keluak Nut for anything else? I thought at first that this nut has been created only for this one dish. But thanks to makanguru eslim, I found out that they actually use it to make Nasi Rawon as well!
Anyway, did you know that the nut is poisonous and that it has to be thouroughly washed and boiled and buried in volcanic ash with bananana leaves for 40 days before it is rendered safe for consumption. Are we talking fugu here?
I have eaten many attempts at Ayam Buah Keluak over the years and never really acquired the taste for it, that is until now. This is the best Ayam Buah Keluak and I have seen the light! In this version, the nut is first extracted from its shell and mashed up, some of it is packed back into the shell and some mixed into the gravy. The result is a gravy full of nutty flavour to die for. 4.5/5 Resistence is futile.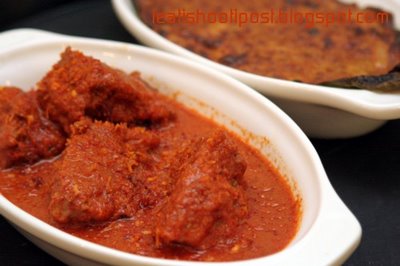 When they said the beef rendang was good, I didn't expect it to be this good. They use shin beef and cook it over a charcoal fire for many hours. The result is a piece of meat which still retains its shape but which you can cut with your fork and melts in your mouth almost like a firm custard. This is the best textured stewed beef I have ever had. Good enough for me to still think about it now. The gravy is not your typical beef rendang gravy and also not spicy. Spice lovers may be dissappointed with the sauce, but you will not regret eating the beef. 4.5/5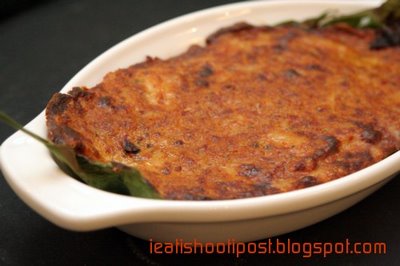 The seafood otah was good, but I found it a tad dry. Lots of mixed seafood buried in a fibrous (lemon grass) paste. 3.5/5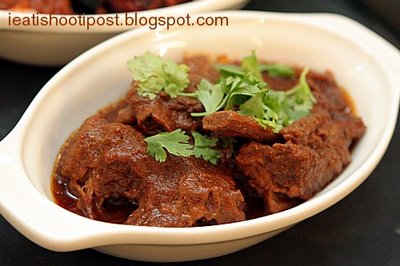 The owners really take pride in their food such that they only use the best of ingredients. They only use prime ribs and soft bone to make the Braised Pork Ribs and it is stewed until so tender that you can eat all the soft bones. Yum. The sauce is nice and I think they use a bit of Tau Chior in it to give it that salty kick. 3.75/5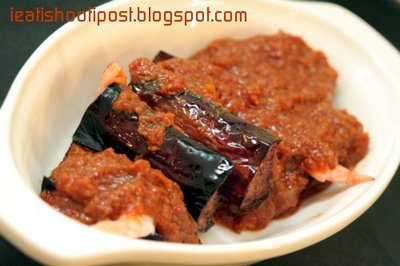 As good as Sambal Terong gets. The Brinjal is freshly deepfried and piping hot on the inside. Again don't let the redness of the gravy fool you. It is spicy but not searing hot. Nice. 4/5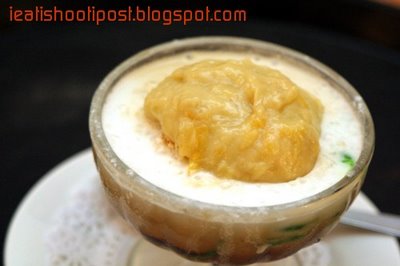 Don't forget to try the desserts here. The Durian Chendol is exquisite. They make their own Chendol (the green wormy stuff) and use only freshly squeezed coconut. Make sure you store up your calorie allowance before eating here! This is literally to DIE for. 4.5/5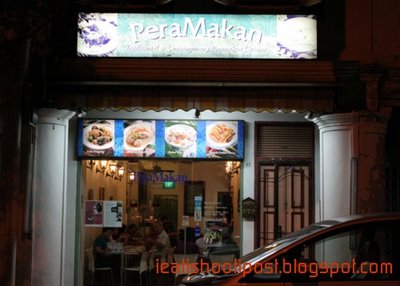 Conclusion
The makan forummers have done it again. Great recommendation. You need to try this at least once in your lifetime before you can say you know how Peranakan food should taste like. The prices are reasonable for the quality of the ingredients. Each meat dish is about $12-$15.
9/10 (T3.75+V2.5+S2+E0.75) Parking a little difficult and the place is small. You will need to park over at the Joo Chiat Complex and take a short walk.