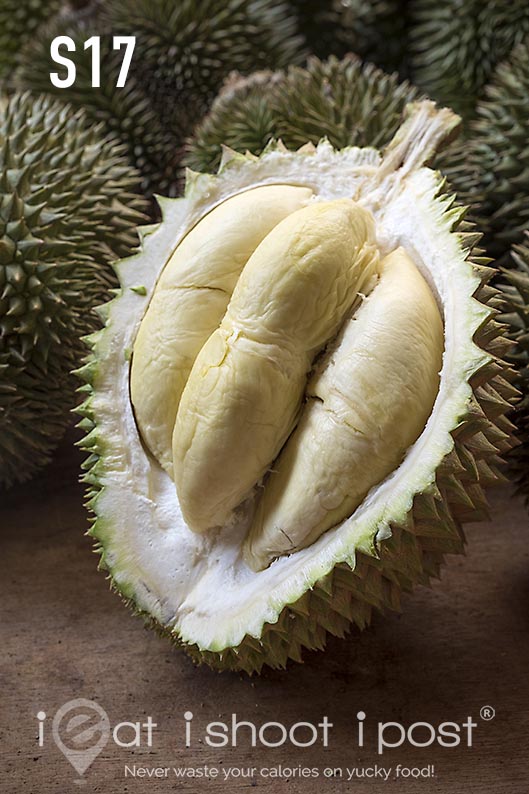 I started writing about durians back in 2008.  At the time, I was motivated by the quest for durian knowledge precipitated by the emergence of so many different durian cultivars which was unheard of when I was a kid.  Everyone knew of Mao Shan Wang and D24  but there was scant information about these cultivars and others at the time.
So I embarked on my durian journey to seek enlightenment. Along the way, we started having durian degustations to give others the opportunity to experience the different durian cultivars.  It is good to see that Singaporeans love of the thorny fruit is alive and well.  There are, however, a few interesting trends.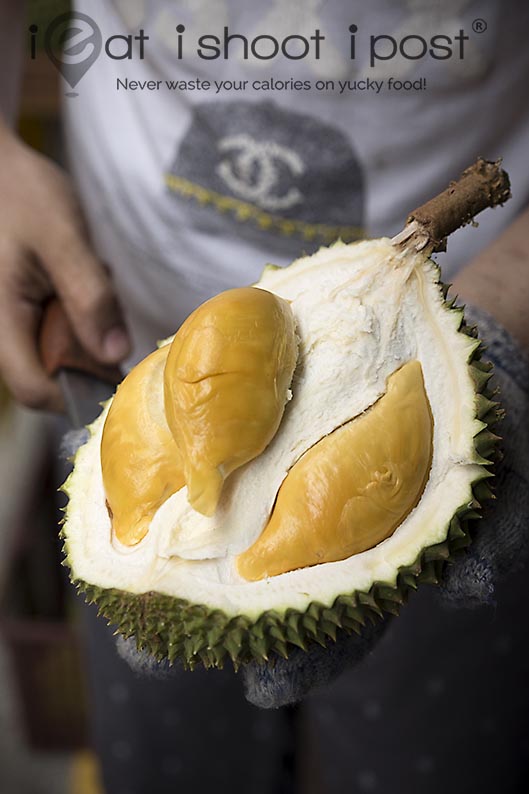 One of these trends is that more people nowadays are going for specific cultivars unlike in the past where you either bought a 3 for 10 durian or a $5/kg durian.   Durian sellers also tell me that Singaporeans nowadays prefer to spend their money on quality rather than quantity.  So, instead of spending $X on lots of durians, they prefer to spend the same amount on fewer but better quality ones.  I have also noticed more and more people using plastic gloves and other utensils to partake of the fruit.  This is certainly something that was unheard of in the past.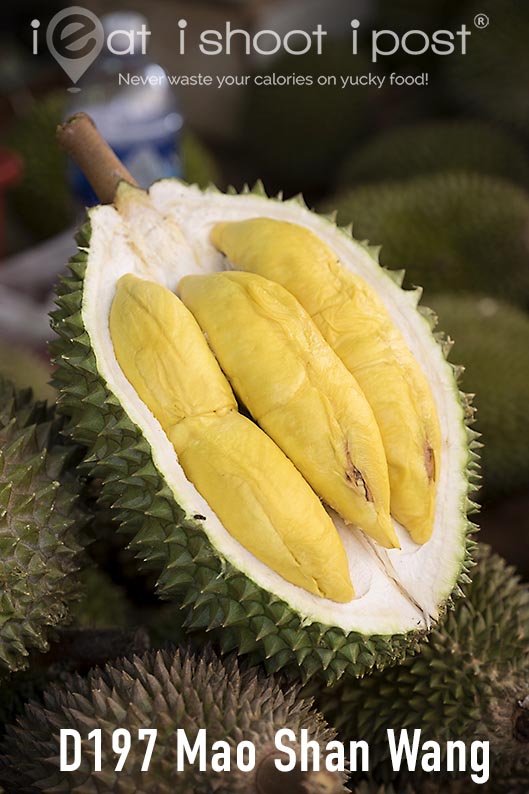 One of the developing trends which I am very happy with is the emergence of more durian sellers who wish to conduct their businesses with honesty and integrity.  The durian trade is quite different from any other fruits.  Due to its relatively short shelf life, (durians have to be eaten on the day they drop) and high cost, durians sellers in the past have developed a reputation akin to that of a used car salesman who would try to sell you a lemon at Mao Shan Wang prices.  As a kid, I heard stories of durian sellers switching the durians after you have selected them such that the fruits you brought home were less than ideal.  Nowadays, they try to sell you an off season "Mao Shan Wang" at $25/kg which usually turns out to be a cultivar from Thailand called the Chanee.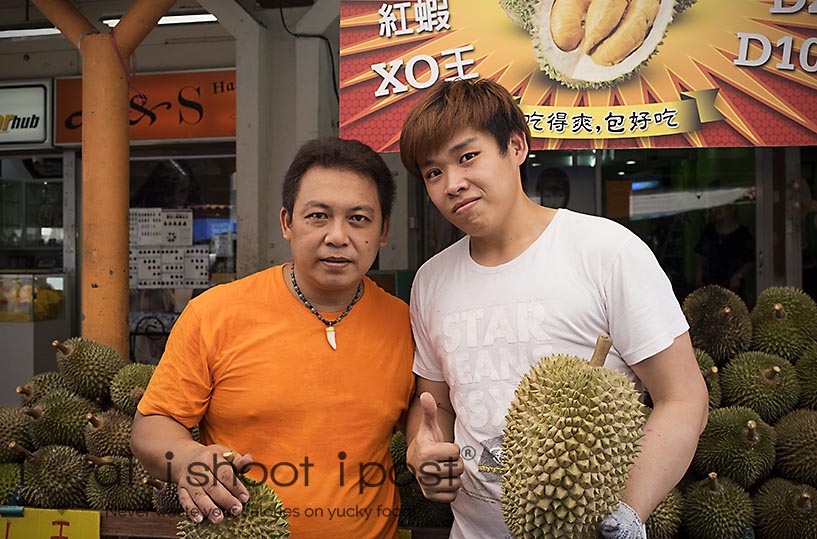 Over the years I have made it my mission to give recognition to those durian sellers who take the difficult path of running an ethical durian business.  I am glad to see that these durian sellers have prospered over the years.  They are not without their critics, but by and large they will try their best to deal ethically.
I am glad that the new generation of durian sellers like Melvin has adopted this business ethic and I hope this will pave the way for a more ethical durian industry in Singapore.
I spent a few hours at his makeshift stall in Bukit Batok one afternoon and interviewed a few of the customers who all attest to their fair prices and honest practice.  I also observed that they were the busiest of the few durian stalls that are scattered around that neighbourhood centre.  To me, these were signs that what Melvin was telling me about their business practice is likely to be legit.
The young durianprenuer also tells me that they have invested in a plantation in Bekok which is a 30min drive north of Yong Peng in Johor which produces a special cultivar called the S17.  According to him, this is a variant of the D17 but the flesh is thicker and more creamy.  I was told that the S17 is considered one of the three best cultivars from the Youg Peng region and won 2nd place in their yearly durian competition 2 years ago.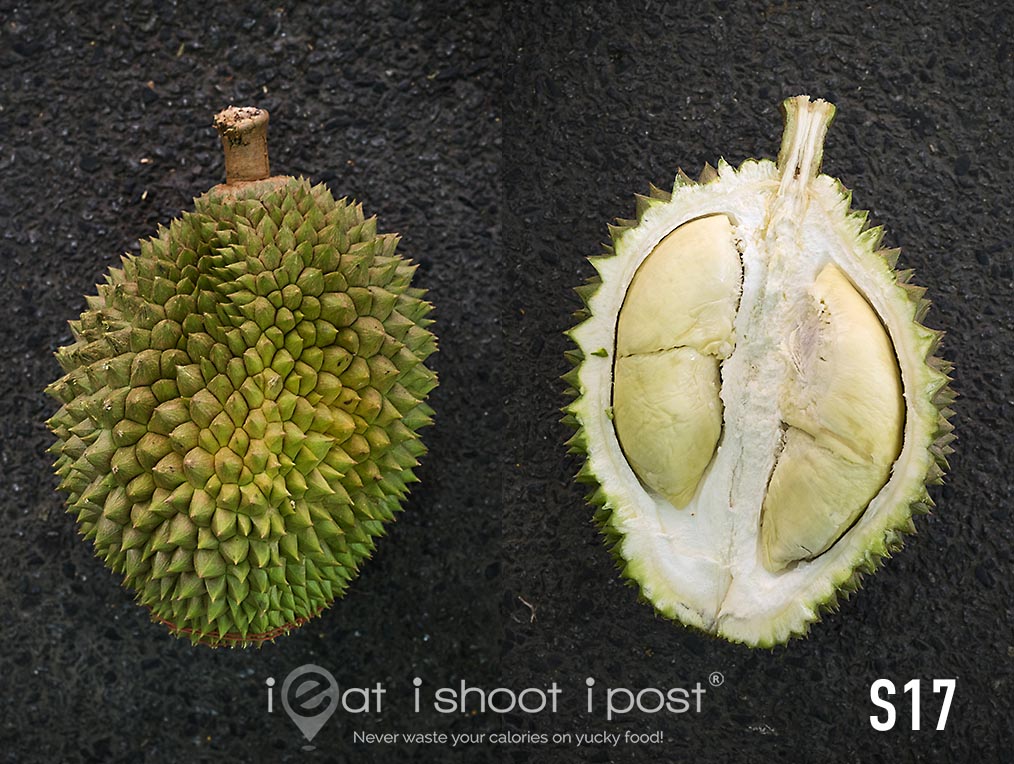 The flesh of the S17 is light greenish yellow and the flesh is thick and creamy.  The flavour is quite mild and really reminded me of the kind of kampung durians which I used to eat as a child except the flesh is thicker and more substantial.  I think it is a good durian for those who are looking for something mild but like the thick and creamy flesh of D24.
Conclusion
Good to see young durianpreneurs who are adopting ethical business tactics.   The Durian Tree has a wide variety of durians which they sell at a reasonable price.  I am told that they will soon be introducing their durian online website (mid July) where you can buy durians online and get it delivered to your home!  It will be interesting to see how that will work out!