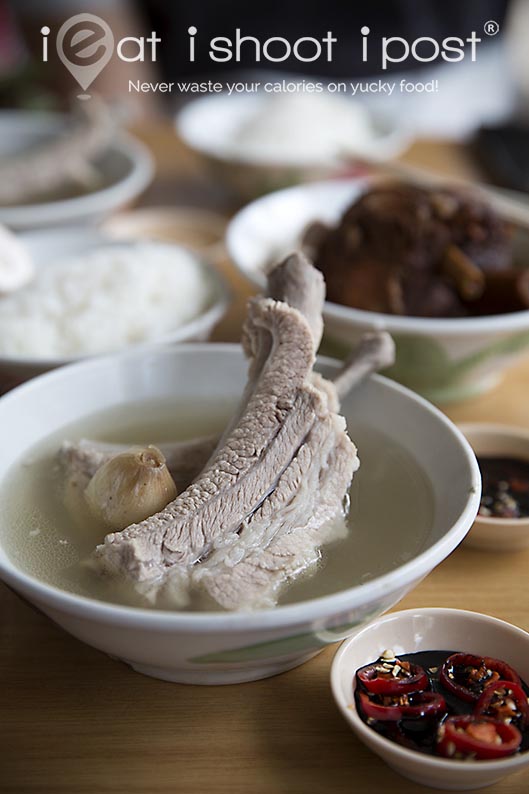 My interest in the history of hawker food started back in 2007 when I wrote about Ya Hua Bak Kut Teh.  This blog was still in its infancy then but after almost a year of eating at all the famous hawker stalls, I began to realise just how unique our hawker food really is.  I had grown up assuming that since our forefathers came from China, that local food such as Bak Kut Teh, Hokkien Mee, Char Kway Teow etc were just foods that were exported from their homeland.  It is true that most of our local dishes have their roots in China, India and South East Asia but they have evolved over the years to become unique to our little red dot.   At the time, there was scant information about the history and origins of our hawker food.  Most of the information resides in the minds of our pioneers and so I made it my mission to record these stories down.
Over the years, as I speak to more hawkers, I continue to add missing pieces of the jigsaw to the hawker story.  Today, I am adding another two pieces to the Bak Kut Teh story to explain how the dish came to be served with You Tiao and how a dish that is traditionally served for breakfast came to be enjoyed for supper.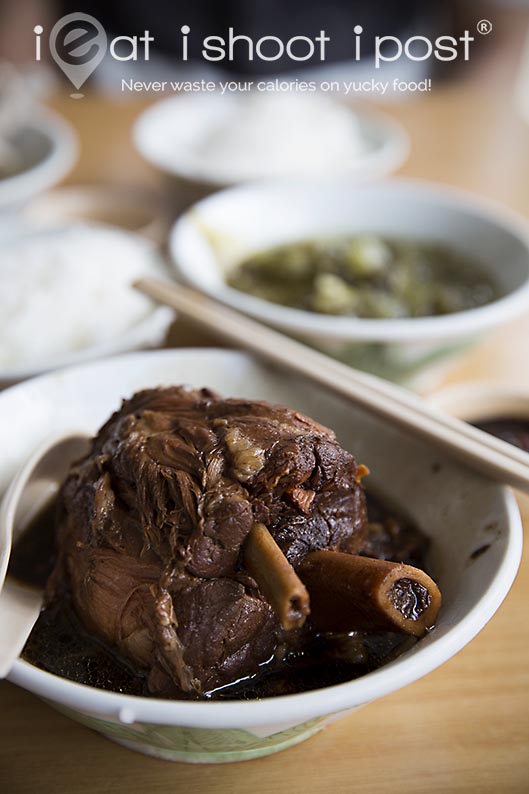 This story was related to me by Mr Sim Choon Lian of Lau Ah Tee Bak Kut Teh.  Mr Sim started his Bak Kut Teh stall in 1964 in an area where the Teochews called Wang Keh Sua Kah.  This is the area along River Valley road where the National Theatre used to be.  Mr Sim was the fourth disciple of Mr Ng Mui Song who is widely acknowledged as the person who popularized the current Teochew peppery Bak Kut Teh.  Mr Ng's son, Ng Ah Sio went on to open the eponymous Bak Kut Teh stall at Rangoon Road which was subsequently sold to the Jumbo group.
Mr Sim recalled how, while he was still working at Mr Ng's stall, that there was one particular gentleman who would buy You Tiao from a stall nearby and then sat down to order a bowl of Bak Kut Teh and started dipping the You Tiao in the soup.  This was not something that was done in those days and it infuriated Mr Ng who would usually gave the man a tongue lashing.  But the practice soon caught on and Bak Kut Teh stalls started selling You Tiao to cash in on the practice.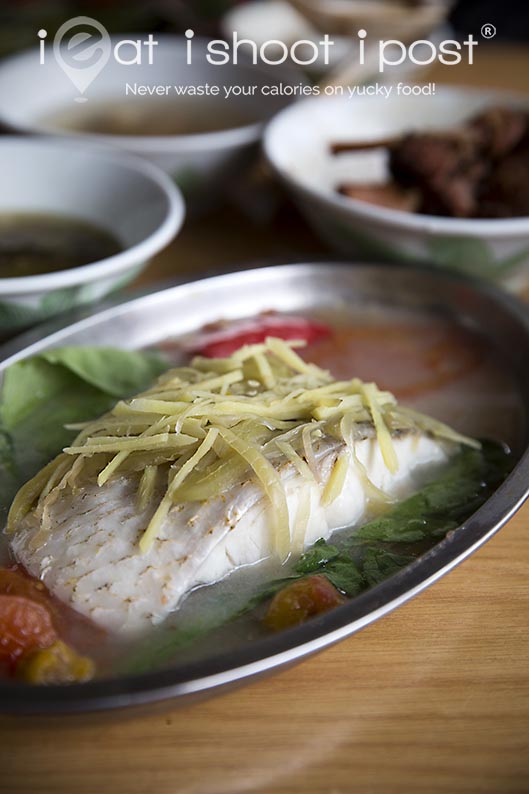 In 1964, when Mr Sim opened his own stall, he decided that the only way he was going to be able to attract new customers and not clash with the business of his ex-boss was to sell Bak Kut Teh at night.  In those days, Bak Kut Teh was only eaten for breakfast and his friends thought he was crazy.  But it proved to be a smart decision and soon his stall started attracting its own followers and that was how  Singaporeans started to enjoy Bak Kut Teh for supper! Nowadays, you can find a place to enjoy a bowl of piping hot peppery soup at any time of the day!
The Bak Kut Teh here is the classic Teochew style soup which is made with just garlic and white pepper.  It was good but I could do with a little more peppery punch.  Mr Sim only uses fresh Indonesian pork and the cuts of pork ribs are lovely as you can see from the photos.  The meat was a bit on the chewy side which is what the older generation of Singaporeans prefer.  I would have liked mine just a little more tender. 4/5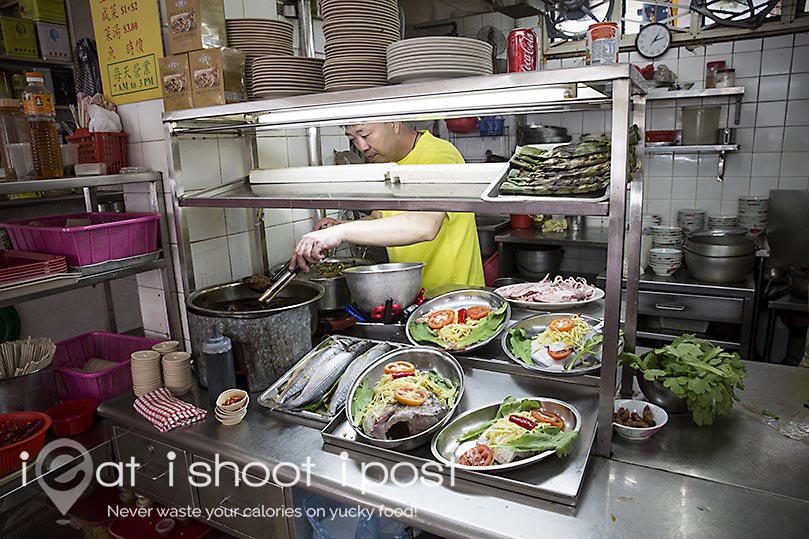 Lau Ah Tee is one of the those Teochew Bak Kut Teh places where you can order steamed fish to eat with your Bak Kut Teh.  I ordered the threadfin that day which was super fresh and the steaming sauce was very well balanced and delicious.  Very typically Teochew which I really enjoyed.  4.5/5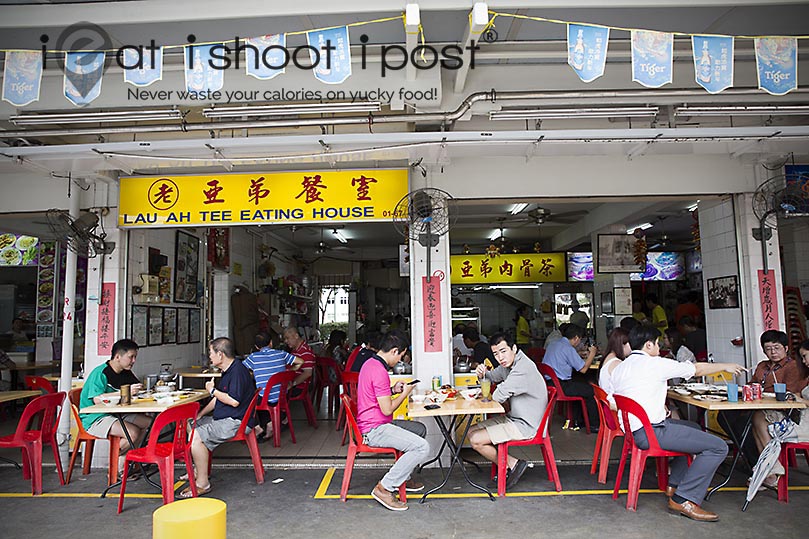 Conclusion
Another good place to enjoy old school Bak Kut Teh.  Mr Sim has been selling Bak Kut Teh since 1964 and can be considered one of the 2nd generation pioneers of the dish.  I like the place for its quiet, retro, neighbourhood feel with its rustic kettles steaming away in every corner and for the delicious steamed fish!