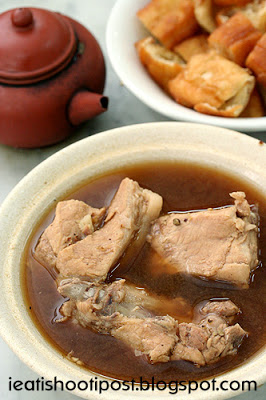 Just what is it about Bak Kut Teh that is so special that politicians spurn potential embarrassment just to get a taste of it at this stall? I mean really. If you are a well known politician, why would you risk getting your name smeared by being thrown out of a restaurant? You would think that after this Bak Kut Teh stall turned down Mr Donald Tsang's request for a bowl of Bak Kut Teh that as a politician you would thread carefully. But no. Along comes Mr Thaksin Shinawatra whose money may buy lots of other stuff but not a seat here. Well let me qualify that. He did get a seat because unlike Mr Donald Tsang, he came during the opening hours, but he made the mistake of arguing with the owner over a bowl of innards and apparently got himself kicked out of the restaurant!* OK, two famous politicians down…. next!
So just what is it about Bak Kut Teh that reduces big name politicians to mere mortals? Or is it that this Bak Kut Teh is so elusive that when these big guys are recommending food places to each other, it becomes a sort of a "dare" to come eat here and live to tell about it? Or do they really believe, as is reported in "talking cock"* that people who kena tekan (got whacked) come can eat the Ter Kah (Braised Pig Trotter) because of its mysterious restorative powers? Poor Mr Thaksin not only did not get his cure but got tekan some more.
Anyway, I can't understand why he would come here for Ter Kah because the ones I had in Thailand are so much better. The Ter Kah here was not as soft as I expected it to be. It could be that this was a new batch and did not spend enough time in the braising sauce. 3.75/5
The Bak Kut Teh soup was an peppery blast typical of Teochew style Bak Kut Teh. Robust and spicy, it is guaranteed to clear your sinuses. (If it doesn't, please see your Doctor!) The garlic and pepper residue at the bottom of each bowl is evidence of how long the stuff has been boiled. Unfortunately, I did not manage to order the prime ribs that day and we ended up having off cuts, so the meat was a bit dry. I think the prime ribs would have been better. 4.25/5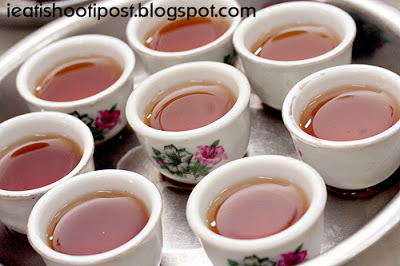 Eating Bak Kut Teh without tea would be blasphemy wouldn't it? There is a good reason that it is called Bak Kut Teh, it is literally Pork Bone Tea after all. It is believed that the tea's astringent properties neutralizes the fats/cholesterol that comes from the pork fat and bone marrow.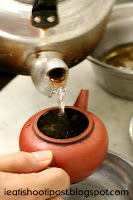 Drinking tea is one of those things that the older people do that I have started to appreciate. You know you are getting older when you start enjoying the stuff that your grandparents used to enjoy when you were a kid. You know, things like drinking herbal stuff and chinese tea along with horrors of horrors, Rosewood furniture! (No I am still not old enough to appreciate Rosewood furniture yet!)
Conclusion
Yes the Bak Kut Teh soup was very enjoyable but I am still left wondering if it is really worth risking one's reputation for it?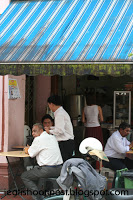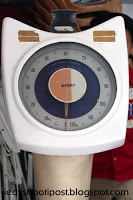 Couldn't resist taking a picture of this old Avery scale which was so prevalent when I was growing up! A real Gen X antique!
*Stuff reported in Talking Cock shouldn't be taken too seriously