With Amagada and the kids
When I was a kid, there were only Curry Buns, Coconut Buns and Tau Sar Buns. It was back in the days when I used to stand at the Kaik Ai (Grocery Store) waiting for the lady to slice the skin off the Lohti (Bread Loaf) and cut it into slices. They would purposely NOT slice through, so that you have to still peel off the slice when you want to eat it. The reason they gave was because they don't want to cut the relationship with the customers. Practically, I think it was easier to pack the bread when it is not sliced through.
Then in the late 70s bakeries started to appear, offering hot dog, curry chicken, charsiew buns and square loaves cut with automatic bread slicers. Soon there were bakeries all over Singapore offering similar buns.
Everyone was happily making hot dog buns until 7 years ago, Breadtalk took Singapore by storm by introducing their pork floss buns and a host of other new and exciting creations. Suddenly, all the other bakeries awoke from their slumber and everyone started to be more creative with their buns. More creative being putting pork floss on everything!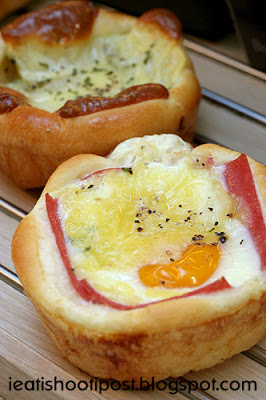 Pot of Potato (back), Pot of Eggs (front)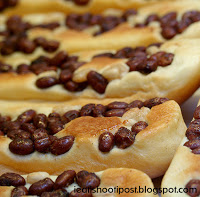 So now that everyone is catching up with Breadtalk, they have again raised the bar by creating 150 new breads and cakes under their Breadtalk Silver banner.
Breadtalk Silver is not just another Breaktalk with new flavours. It is a new, limited edition Breadtalk which will have only a few branches in strategic parts of Singapore to cater to the well heeled and trendy crowd.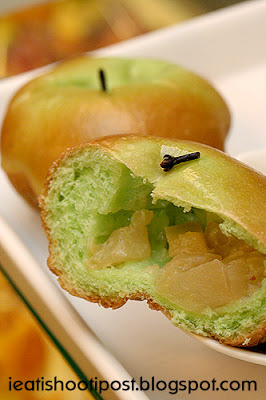 Fuji Pear $1.80
I was overwhelmed by the creativity of the new range of breads that the French, Japanese and Taiwanese chefs have come up with. By using exotic ingredients that one would hardly find in a typical Singaporean household and marrying them with breads that you would expect to find in a European bakery, they have managed to create a wonderland of breads that would please almost anyone.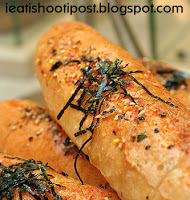 I especially liked the "Pan Mantaigo" (pic right) which is a crusty french bread with japanese fish roe. The "Mr Hokkaido" (above right) is Hokkaido beans (Azuki beans) on a soft bun. They also had a "French Style" Naan bread with cheese and Edamame beans which was creatively called "Naan Da Yo?" The Fuji Pear (above) is a combination of a custard specially imported from Spain with Japanese Pear. I think you are starting to get the picture right?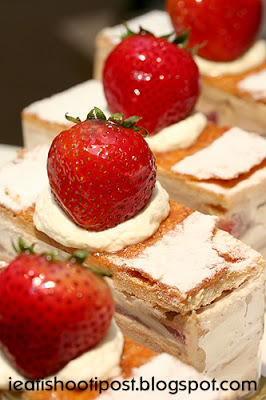 Strawberry Crisps $6.20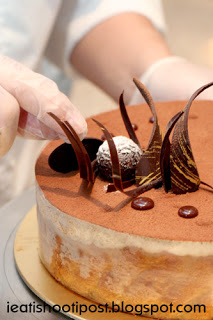 Besides the Breads, they also make a whole range of exclusive cakes. Again, there are so many new and pretty cakes that you just stand there not knowing which one to try. I tried a few including the one touted to be their most exclusive cake, the Katrina Tiramisu (pic right). At $108 per cake, they only make 5 a day and each slice costs $9.80. They boast that they use only the finest imported ingredients like Italian Mascapone cheese. Quite honestly, I think it is a good Tiramisu but find it difficult to justify paying $9.80 for it.
The Strawberry Crisps (above) has slivers of strawberries and cream sandwiched between layers of crisp pastry. They tell me that they use specially imported Japanese Strawberries as they are more consistent in size and colour. Very pretty to look at but tastewise I found that the crispy pastry was not as light and crisp as they should be.
Conclusion
The variety and creativity is overwhelming. You really feel that they have brought the competition to the next level. Tastewise, I really did not find something that I could rave about. But with so many different and tempting varieties, it is just a place that you'd go back a couple of times in order to try out the all other creations!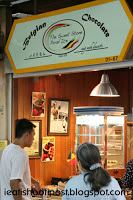 Disclosure: This review was done at the invitation of Breadtalk and the breads and cakes were provided free of charge.