The Hainanese were pioneers of our bakery culture and we all grew up with traditional bakes like curry, coconut and kaya buns as well as butter cakes, rum balls, custard puffs, chicken pies and the like.  Nowadays we are spoilt for choice when it comes to cakes and breads. But, the good old confectionary still holds a special spot in our hearts.  So, when Hainan Story told us that they have just opened a new Hainanese Bakery, we wasted no time to head down to Hillion Mall to see what its all about. Remember our first video about the Hainan Story? It's now known as The Hainan Story, Introduction and the bakery occupies a small annexe at one end of the eatery.
Bread dough made the old school way
On the surface, the bakery looks like just another shop selling soft buns. But there is more than meets the eye.  The chief baker here hails from a small town in Malaysia where he had honed his baking skills at an old school bakery.  So, the buns here are made the traditional way, without any preservatives or bread improvers as used in many commercial bakeries. We were told that they had spent over a year of R&D and taste testing all the other traditional Hainanese bakery breads before settling with this particular soft bun recipe. They use the "Tang Zhong" method where the flour and water is cooked first to form a paste before the other ingredients, ie flour, milk, yeast, etc are added. It's a recipe I (Leslie) would sometimes use to make bread at home. Buns made with the Tang Zhong method has a great texture and remains soft longer.
For a bit of novelty, the breads are baked in little tins just like how traditional loaves are typically made. The tins are really cute and helps to keep the bottom of the buns super soft and tender.  Unfortunately, you can't bring the tins home and we felt the baking paper was a little untidy.  We are told that they are in the process of making standard baking tin liners, so they will certainly look nicer in the future.
Classic and Mini Buns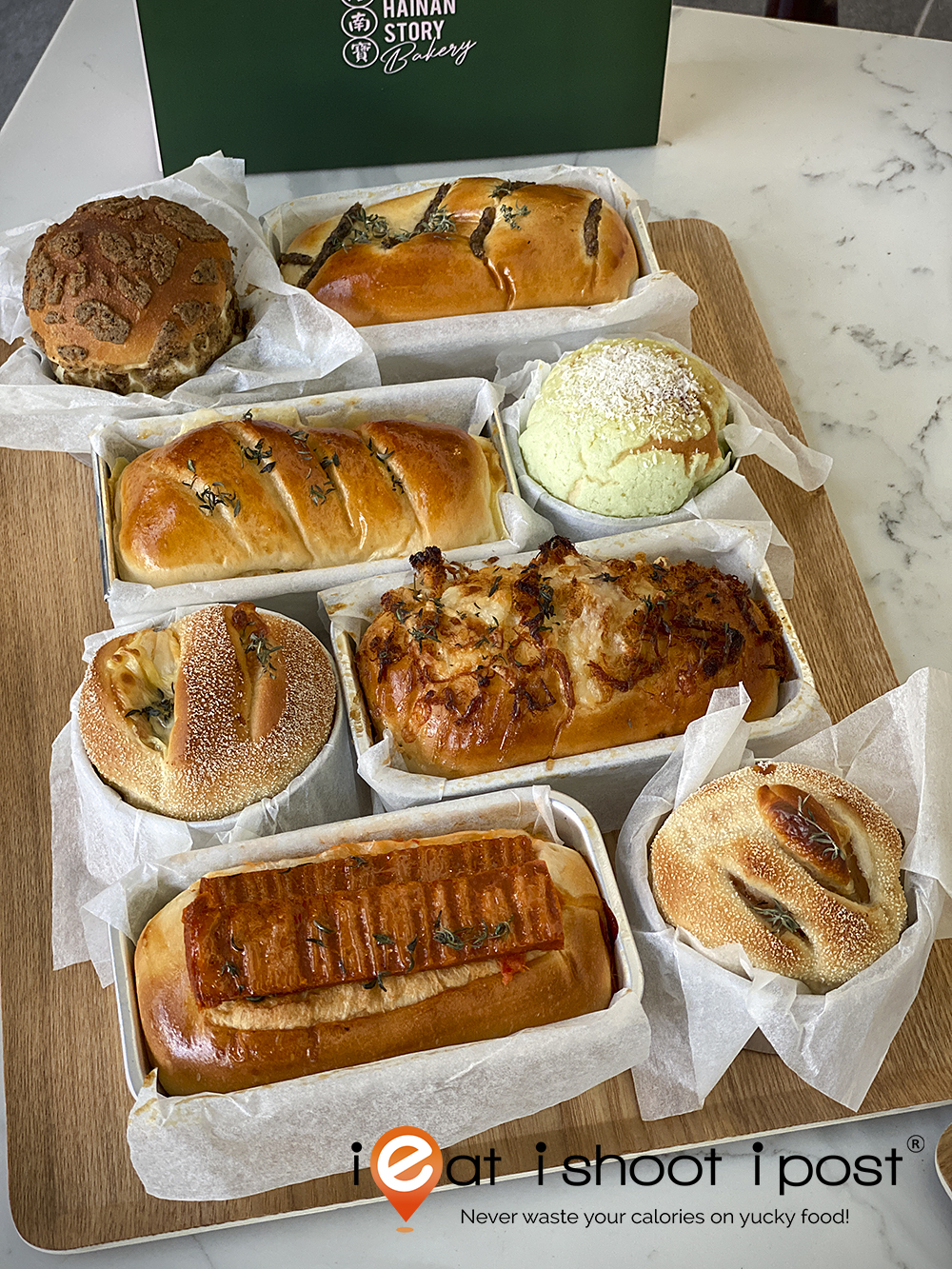 Did the Hainanese invent curry and coconut buns?  The history is a little sketchy.  We do know that the Hainanese are well known for their chicken curry and there were many Hainanese bakeries in the old days, so it wouldn't be too much of a stretch to postulate that the first curry bun was made by some Hainanese baker in the past.
Their classic buns are slightly bigger and more substantial than the usual soft buns that is ubiquitous in the heartlands. They have flavours like Polo Chicken Curry ($3.80), Bacon & Cheese ($2.80), Uncle Otah ($2.80) and Bak Kwa Pork Floss Bun ($3.80).
Their mini buns ($1.90 each) are baked in little round tins which can can be devoured in 3 or 4 bites. It's good when you want to taste more flavours! We particularly like their Ondeh Ondeh Coconut Pandan Crispy Crust Bun that has that familiar traditional coconut bun filling (which is quite difficult to find these days) and enhanced with a pandan-flavoured crust at the top.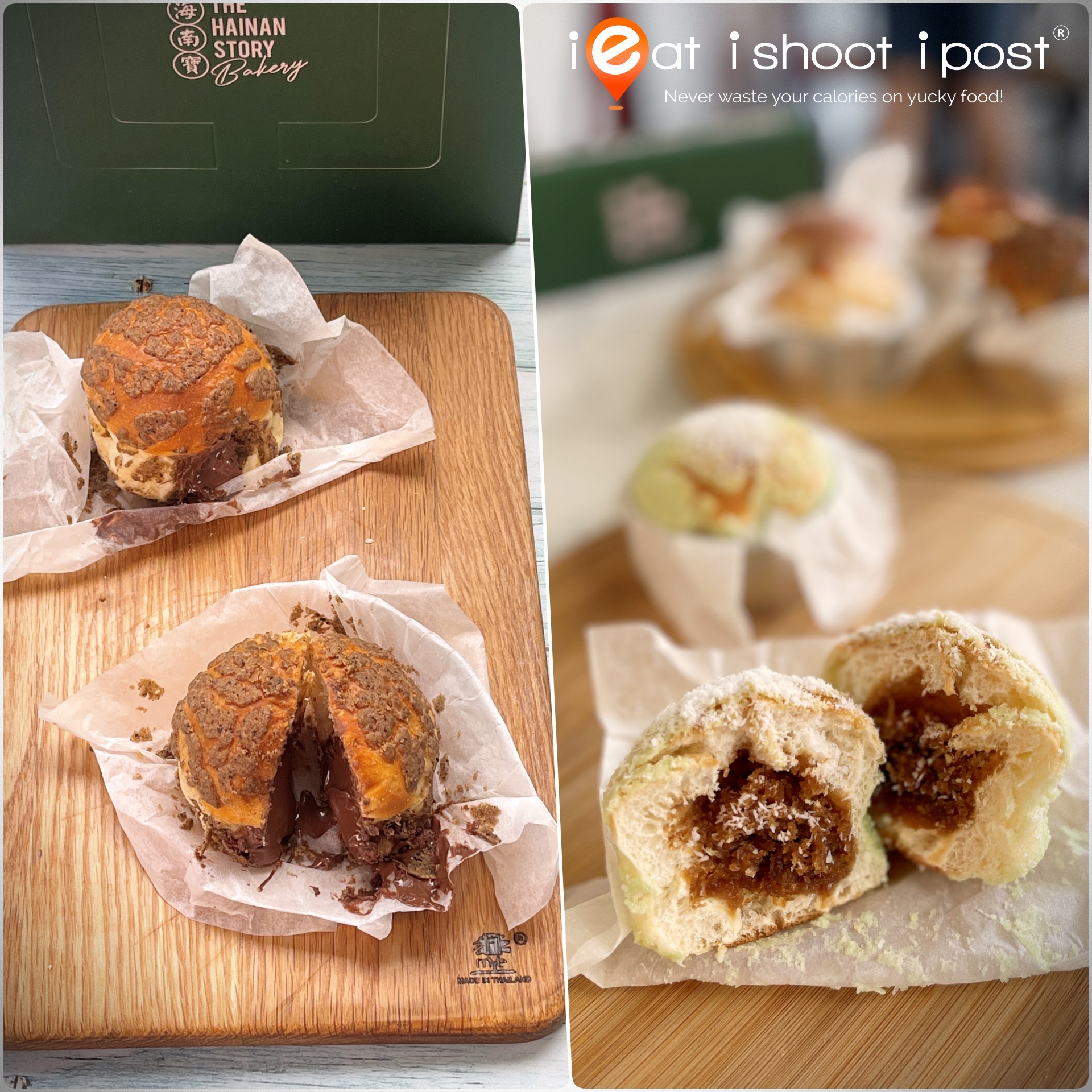 Another flavour we'd recommend is their Hainanese Kopi Nutella Crispy Crust bun. The coffee flavour may not be as distinct but the creamy, flowy Nutella filling is lovely with the soft bun!
The Orh Nee and Pork Floss mini bun was a surprise combination that somehow worked! It's a must-try if you like orh nee.
Curry, Curry, Curry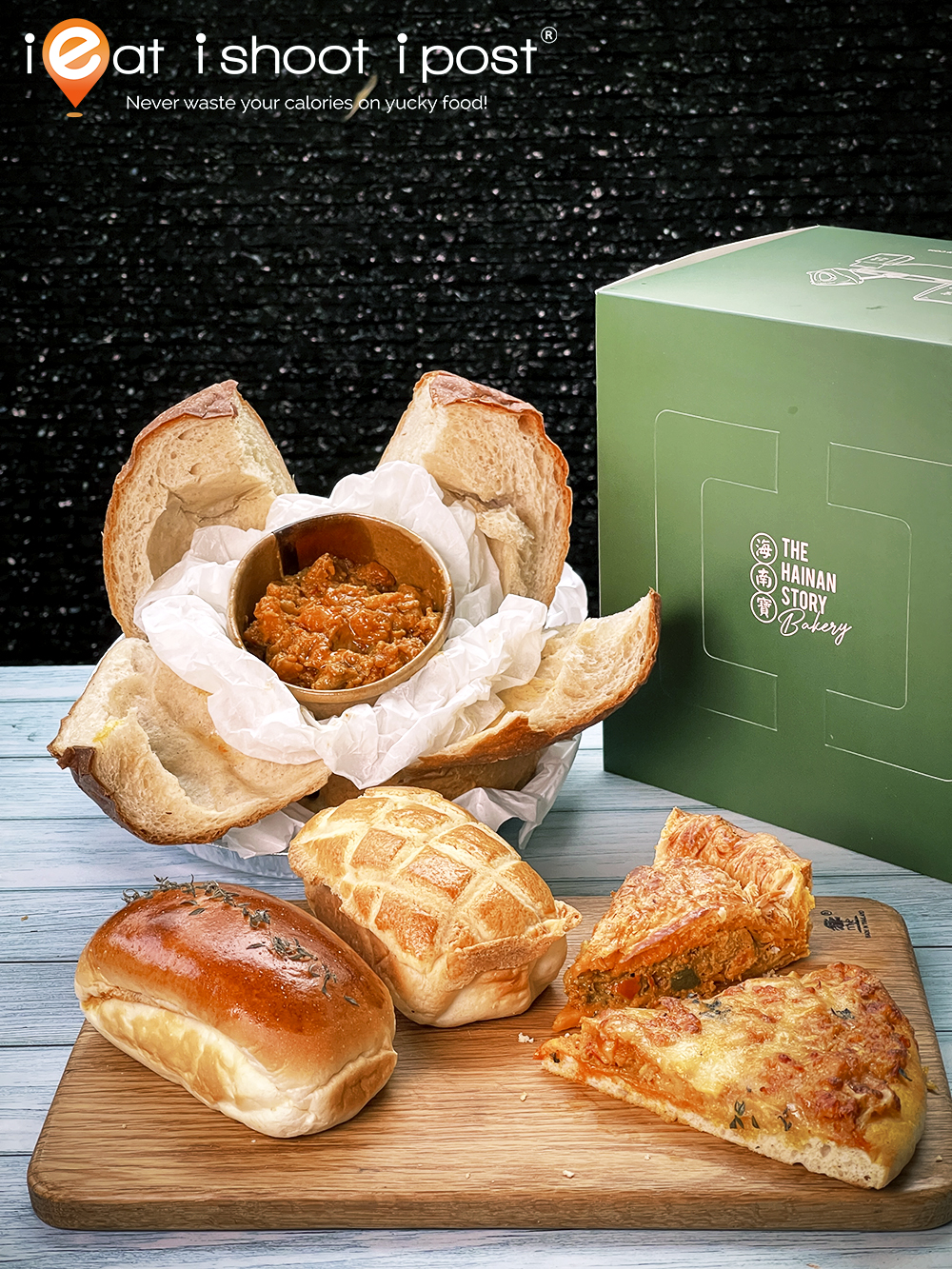 Fans of Hainan Story's Hainanese Chicken Curry will be glad to know that they can now have it five different ways at the bakery! It is firstly available as a Classic Curry Chicken bun ($2.80) and as a Classic Curry Chicken Polo Bun ($3.80). Lisa particularly likes the polo bun version that has that sweet cookie dough topping. Needless to say, the chicken curry filling is really good as it is made from fresh ingredients and is very "lemak" (milky coconut flavour) with chunks of chicken meat, not just potatoes.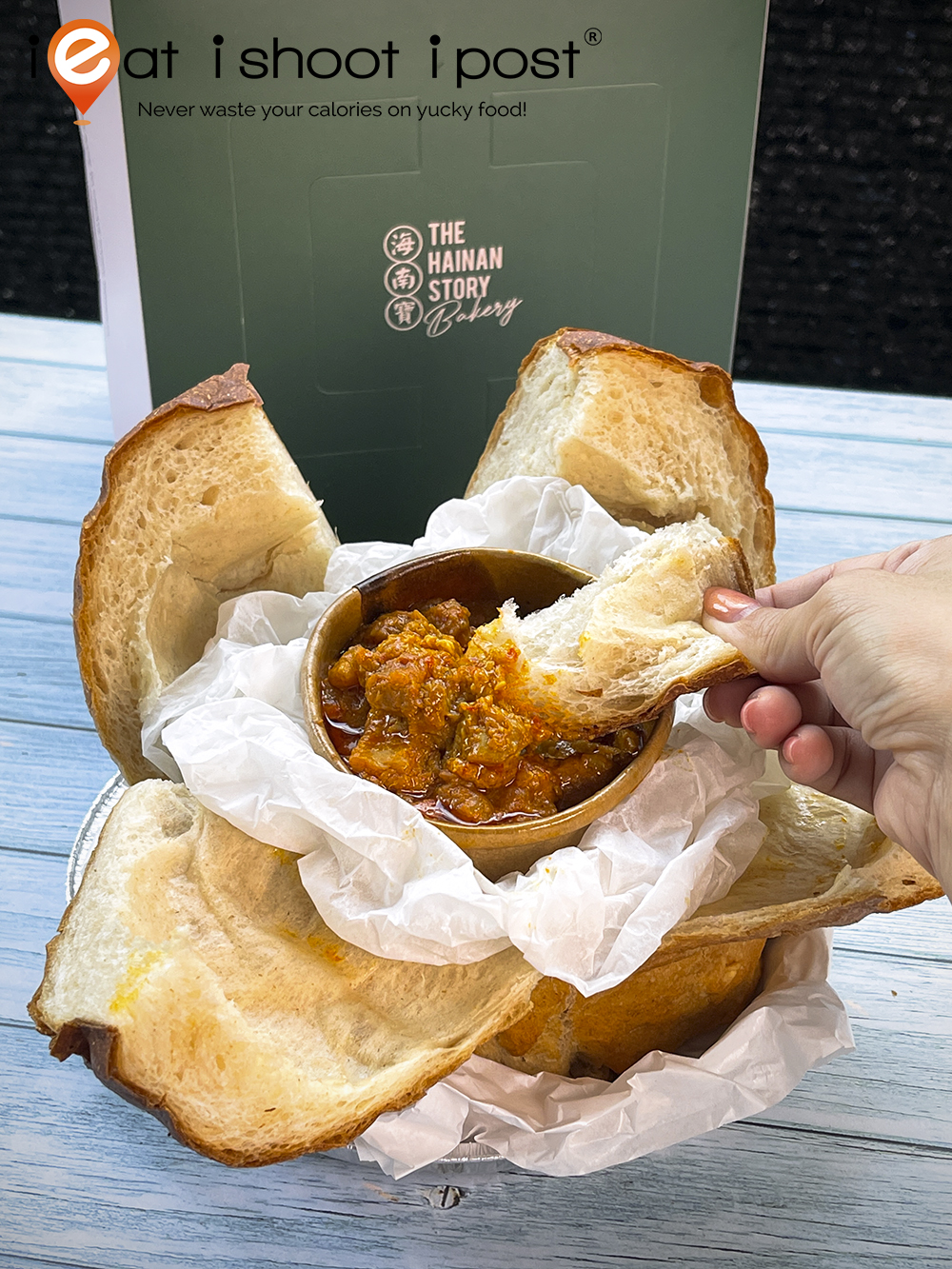 Their Hainanese Curry Chicken Sourdough Bread Bomb ($19.80) is not really a traditional Hainanese Bakery offering but it's another way for them to showcase their curry chicken.  The curry is encased in a sourdough bread that is crusty on the outside, yet soft on the inside. Be sure to follow re-heat instructions when eating this at home.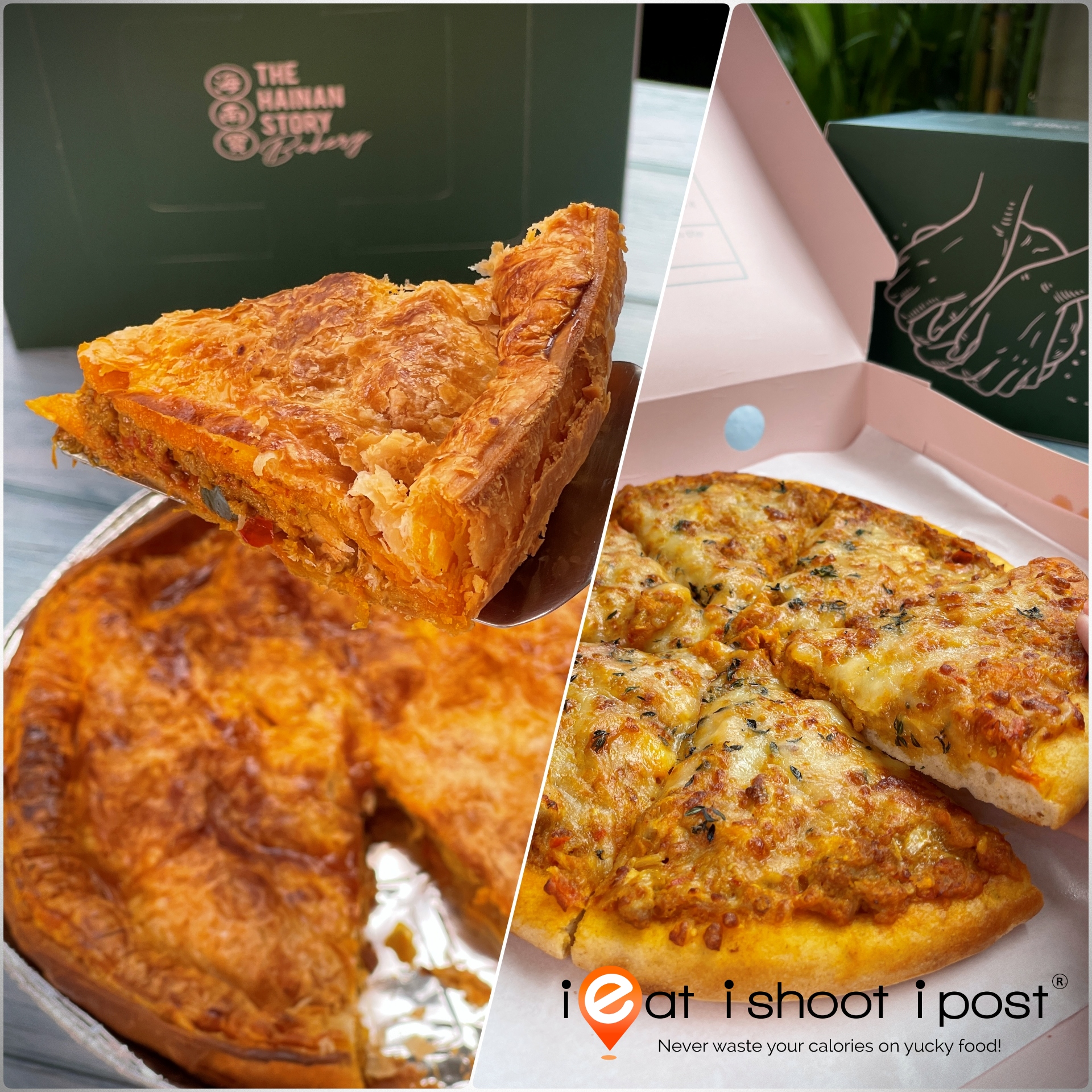 The Buttered Crust Hainanese Mega Curry Chicken Pie ($24.80) was something they decided to offer on the menu after receiving strong demand during the last Christmas season when they first introduced it. While the puff pastry and chicken curry filling are good, we're not so sure about the short-crust pastry base which was a little soggy.
The Hainanese Curry Chicken Sourdough Pizza ($24.80) certainly helped to complete their "curry bread" series.  We weren't particularly impressed with the pizzas.  The crust is a little heavy and chewy.  This one needs more work.
Mini Swiss Rolls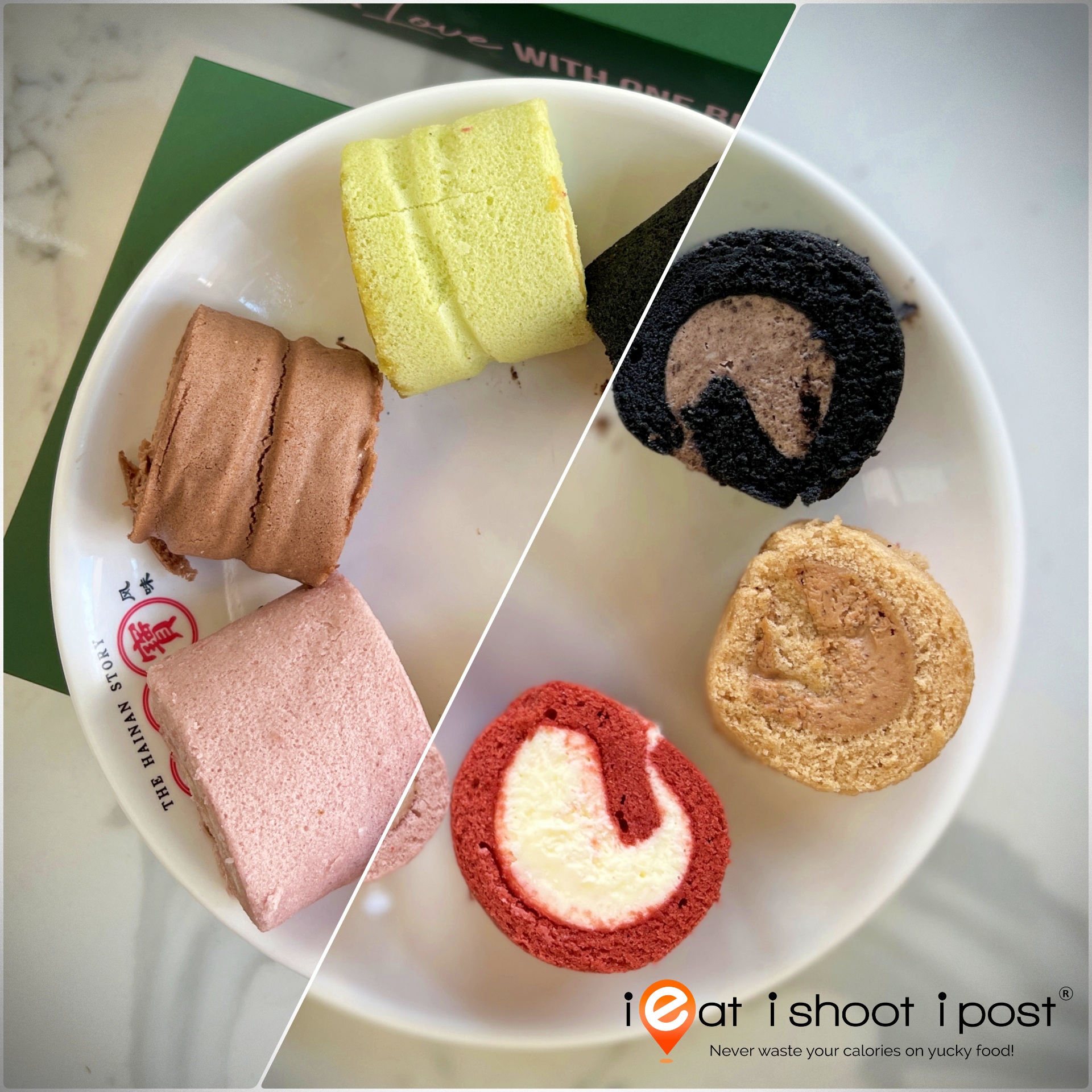 If you are tired of queueing for their popular swiss rolls at The Hainan Story, Chapter One at Hotel Boss, try coming here for their Mini Swiss Rolls ($2.50 each). Why mini you asked? Well, they hope that you will fall "in love with one bite" of their mini swiss roll. I suppose it is possible to have the rolls in one bite but why do that when you can extend your enjoyment with more bites!
Note that the flavours offered here a little different from The Hainan Story, Chapter One.  They have four new flavours here; Red Velvet, Ondeh Ondeh, Teh Su Su and Oreo.  They also carry two familiar flavours – Belgium Chocolate and Orh Nee where you get savoury notes from the fried shallots.
Conclusion
The Hainan Story Bakery is not your traditional Hainanese bakery but a modern take of it. We like how they have kept the traditional way of making breads without preservatives and enhanced items like the curry and coconut buns.
With the bakery situated next to the cafe, they are happy to heat up your buns, pie, pizza or curry bomb if you choose to consume at the cafe. A cup of kopi and some hot buns certainly makes for a nice afternoon tea break.
At this point, the concept is just starting up and they will be adding other items to their menu in time.  So, we can look forward to traditional favourites like cream horns, custard cream puffs, chicken pies and butter cream cakes in the future!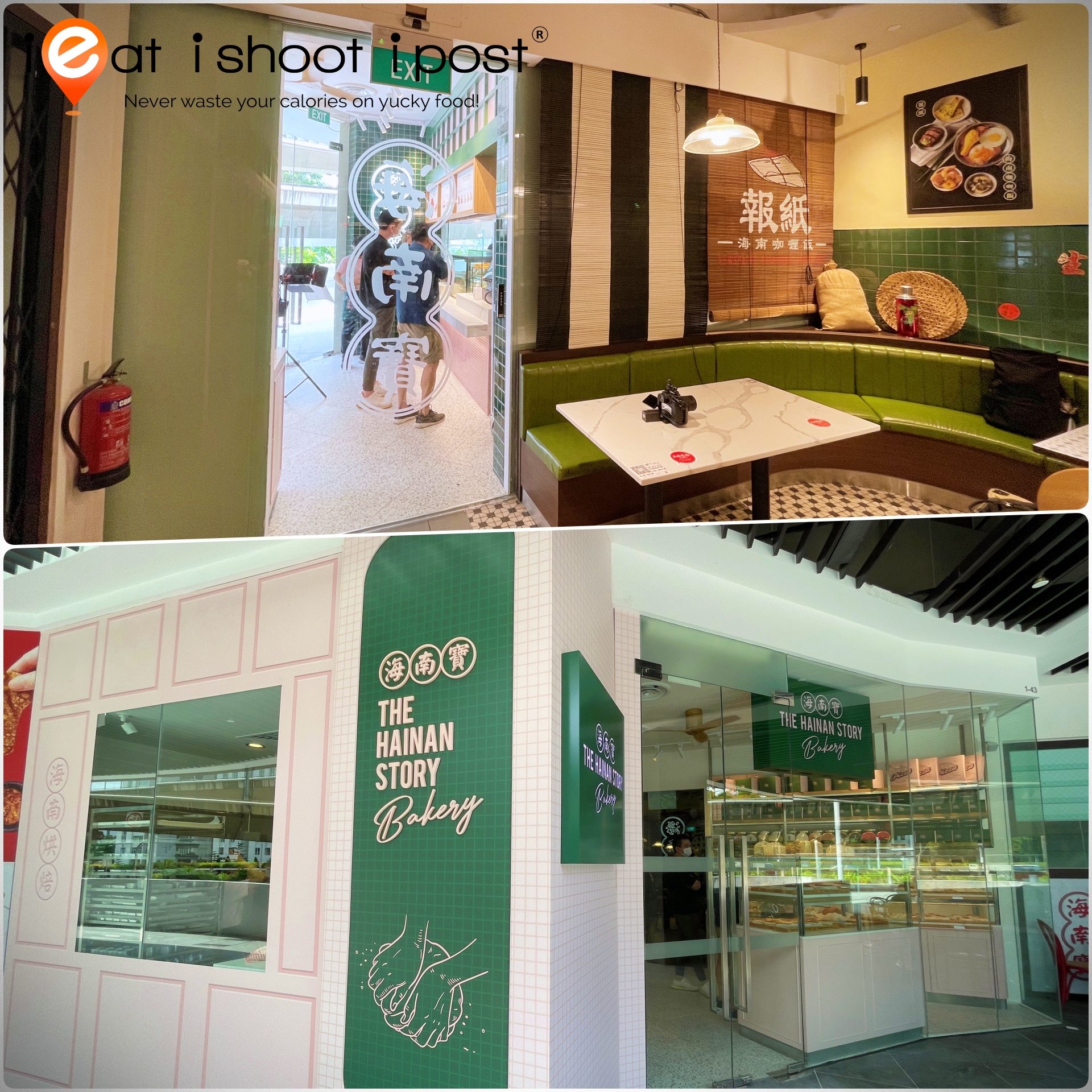 Sep 2022 update:
Hainan Story Chapter Two: JEWEL Changi Airport B2
Items from the Hainan Bakery is now (since Aug 2022) available at the latest Hainan Story Chapter Two at Jewel Changi Airport. They've added new bun flavours, cream horns and cakes to their offering, including local flavoured chocolate pralines like Milo Dino and Hainanese Kopi O.
Also read about The Hainan Story, Chapter One.
Disclosure: this post is written in partnership with The Hainan Story