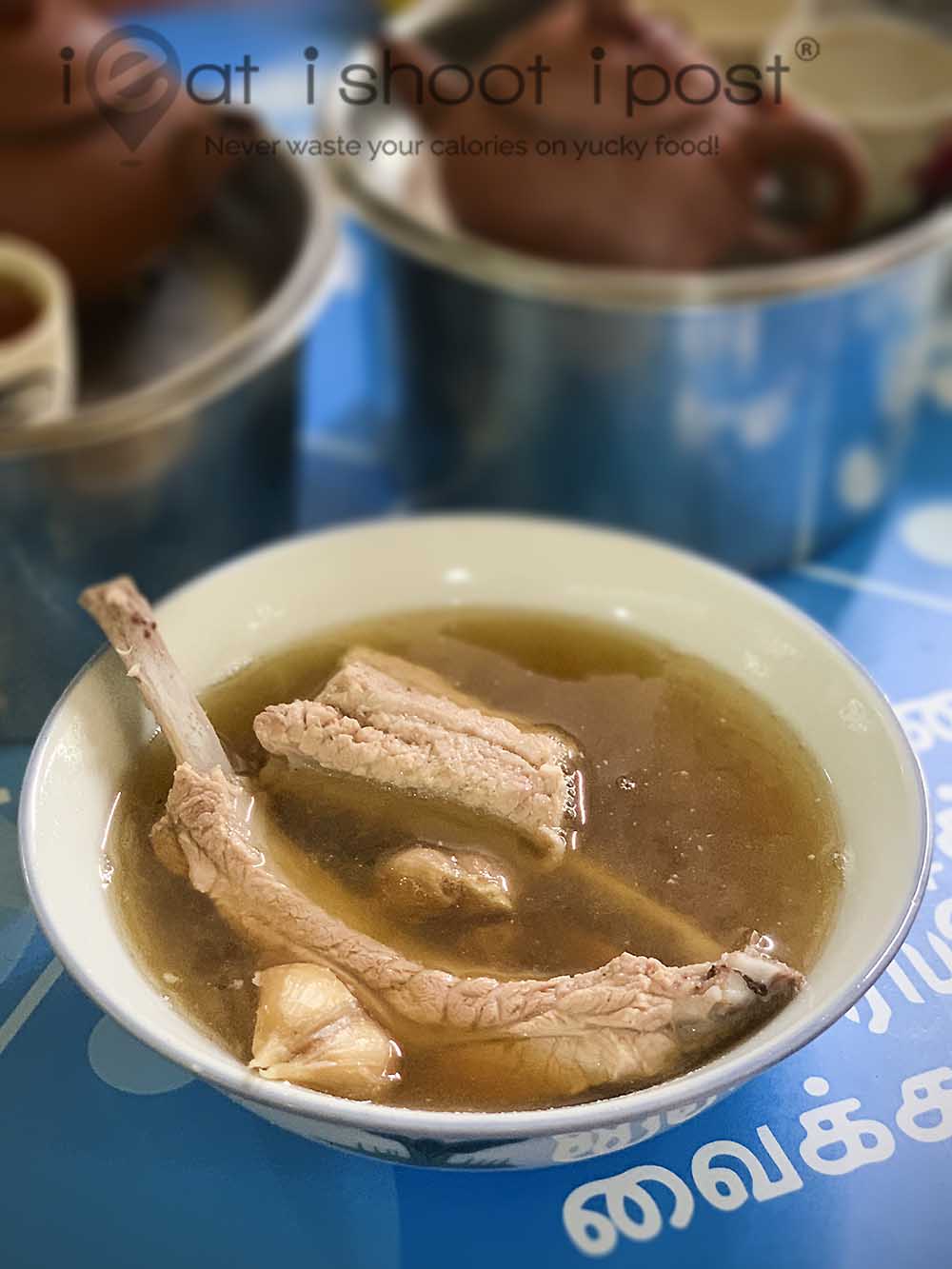 I hope you have already pledge your support for the nomination of Hawker Culture in Singapore for UNESCO's Representative List of Intangible Cultural Heritage. If not, you can do so at https://www.oursgheritage.sg/.  
The word "culture" can be defined as "the ideas, customs, and social behaviour of a particular people or society"  If you are still wondering if our hawker culture is indeed so unique  that it should be recognized by UNESCO, then come with me to Yuhua hawker centre and then to Pek Sin Choon tea merchants to explore the relationship between pork bone soup and gongfu tea.
I have already written quite a bit about the origins of bak kut teh — how the coolies at Clarke Quay would have a bowl of pork rib soup followed by some tea to wash it down before starting the day. The relationship between the pork rib soup and the tea quickly evolved to the ritual of performing the "gong fu" tea ceremony before the start of the meal.  It is this gong fu tea ceremony that makes our bak kut teh culture unique.  Our neighbours in Malaysia also have their own pork bone soup and tea culture, but theirs is slightly different as they serve their tea in a large porcelein pot. I am not saying that one is better than the other, just that we do have a bak kut teh culture that has  evolved over the years to become distinctly Singaporean.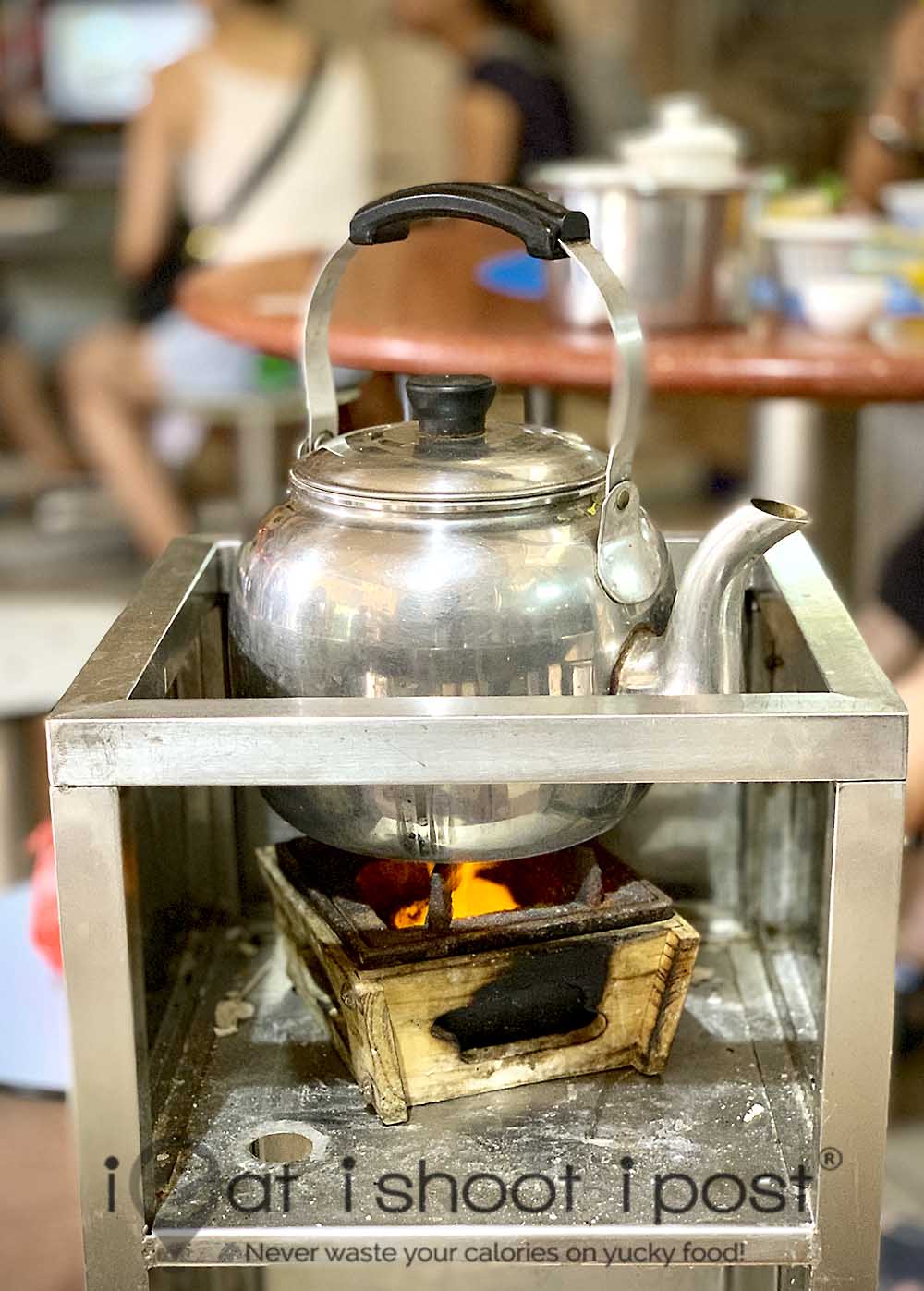 One of the marks of an old school bak kut teh is the tea trolley that accompanies the meal. These trolleys used to hold a small LPG tank that helps to keep a kettle of water hot for brewing the tea.   However a few years back, there was a ban on the use of the small gas tank in public places and so the more serious bak kut teh sellers had to think of other ways to provide hot water for their guests.  Others have abandoned the tea altogether which is a shame as the tea ceremony had been such an integral part of bak kut teh.
Our bak kut teh culture is also facing other challenges.  The younger generation of Singaporeans have eschewed the tradtional Chinese tea and are instead ordering other types of drinks like lime juice to go with bak kut teh! If this trend is not reversed, we will soon lose the TEH in the Bak Kut Teh!

We visited Hua Xing bak kut teh at Yuhua Hawker Centre on a typical Sunday morning to experience bak kut teh culture.   This stall has been around since 1984 and  is currently run by 2nd generation hawker,  Mr Phua Suan Yeow. It's one of the few hawker centres where you can still see groups of friends who meet regularly for a bowl of bak kut teh and a pot of tea!
Bak kut teh is different from other hawker dishes in that it is a dish with a ritual.  In the old days, men would gather around a pot of tea and bak kut teh in the morning in order to discuss their plans for the day.  There were no telephones then, so the only way to share information was to meet up regularly.  Missing a meeting might mean losing out on some valuable lobang! (opportunity)
Vestiges of this practice can still be seen today at Yuhua hawker centre.  However instead of daily meetups, many men (and women) meet up on a weekly basis.  At Yuhua hawker centre, I met a group of friends who started off as strangers sharing a table while eating bak kut teh. That incidental meeting soon became a weekly affair which has now been going on for years!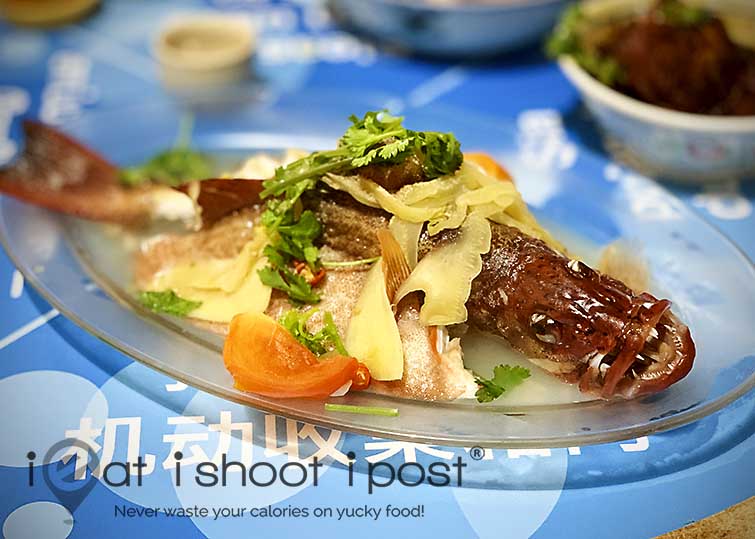 I hope you can see that the story of bak kut teh is just one of the many interesting snippets of our rich hawker culture! Do pledge your support for Singapore's UNESCO bid for Hawker Culture and vote now at https://www.oursgheritage.sg