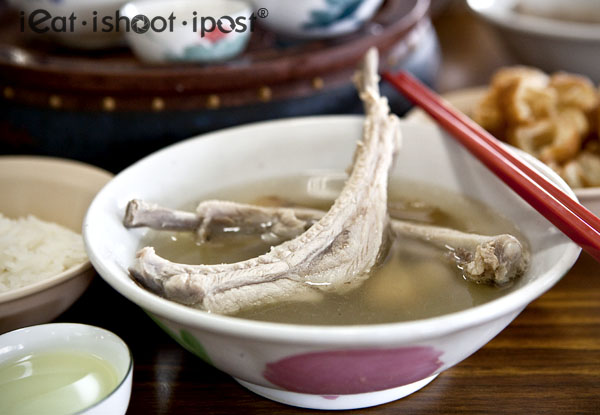 Bak Kut Teh – Pork Bone Soup with Tea
Let's make it very clear that Singapore did not invent pork bone soup. The idea of boiling pork bones in soup must have been around since pigs were first domesticated in China more than 5000 years ago. What Singapore did invent was Bak Kut Teh which is when Pork Bone (Bak Kut) Soup is eaten together with a pot of Kung Fu Tea (Teh). As I have already documented in my previous posts, Bak Kut Teh was born around the Clarke Quay area as a tonic for coolies who needed an energy boost in the mornings for their back breaking work of carrying sacks of rice off the sampans into the godowns.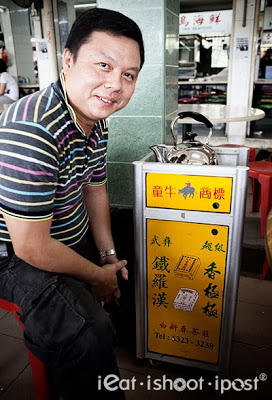 Tea trolleys sponsored by Peh Sin Choon
Another piece of the Bak Kut Teh puzzle was added when I met up with Tea Merchant, Kenry Peh recently. I was told that Kenry's grandfather migrated to Singapore in the 1920's and even at that time, Bak Kut Teh was already being served by the Teochew's around Char Jung Tao (Clarke Quay) area and the Hokkiens around Hokkien street. So at least we can trace Bak Kut Teh back to as early as the 1920's. His grandfather founded Peh Sin Choon, an established Tea Merchant who is one of the main suppliers of tea to the Bak Kut Teh stalls in Singapore. You might have spotted some of their trolleys with yellow ads at your favourite Bak Kut Teh stall.
In the early days, they used to brew cheap tea in a large kettle and serve it together with Bak Kut Teh. Later on, the Teochew style of brewing Gung Fu tea was introduced and since then more and more people took to drinking tea with their soup. So gradually, this dish, which was originally imported from China as pork bone soup, became known as Pork Bone and Tea or Bak Kut Teh.
As to the debate of whether Bak Kut Teh was invented Singapore or Malaysia, well, let's reason it out this way. We have evidence that by the 1920's, the practice of eating Pork Rib Soup with Tea was already quite established in Singapore, as attested by our tea merchant. We also know that Clarke Quay was established by the British in the second half of the 19th Century. So I think we can narrow the invention of Bak Kut Teh to the period between 1860 to 1920. We also know that Pork Klang which was known as Port Sweetenham in the colonial days was only established in 1901. So by virtue of this, it would seem more reasonable that Bak Kut Teh would have been eaten in Clarke Quay way before it was eaten in Pork Klang, don't you think?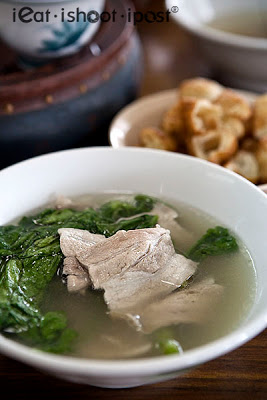 "Natural Pork" Belly Soup
The Bak Kut Teh at Rong Chen is pretty much the same as when I blogged them the last time. I have always felt that the pork ribs were a little too tough but the soup is very good. The real beauty of Rong Chen Bak Kut Teh is the fact that they don't use soy sauce to flavour the soup, so you taste more of the "Yuan Wei" ie original flavour of the pork. In fact, according to the rosy cheeked owner (this man welds a ball of Heineken wrappers the size of a baseball), he was the first one to introduce the white Bak Kut Teh more than 30 years ago and since then, many other stalls have introduced the lighter coloured soup. 4.25/5
To produce this type of soup, the most important ingredient is, quite rightly, the pork. Unfortunately, you are not going to be able to enjoy the Bak Kut Teh of 30 years ago for the simple fact that we used to have our own pig farms in Punggol. I still remember that in my childhood days, we used to leave our leftovers along the corridor of our HDB flat and someone would come and collect the swill to feed the pigs. Therein lies the secret of great pork! Yep, pork tastes even better when they eat what we eat instead of the standard feed that pigs eat nowadays. And since the practice of collecting swill has been outlawed due to health reasons, we can only imagine what eating "real" pork was like.
The pork that is used by Rong Chen comes from Indonesia which is regarded by most people to be the best fresh pork we can get our hands on here. Many people consider Malaysian pork to be even better, but because the authorities in Malaysia has not declared themselves Nipah virus free, there is still a standing ban on Malaysian Pork. Pork from Australia is good except for the fact that there are still some farms in Australia that do not practice castration, so some of the Aussie pork might taste too "piggy".
Lately, Rong Chen has introduced "Natural Pork" belly soup. "Natural Pork" comes from the US and it is "natural" in the sense that the pigs are raised on a farm in the traditional manner and fed natural feed such that the pig only gets to slaughter size in 7 months rather than 3 months when they are given special fortified feeds. So this pork should taste more like the pork in the good old days. I can't really tell you if there is a big difference since there was no Indonesian pork belly to compare with. However, knowing that the pig was grown "naturally" does give you a sense that it should taste better. 4/5
Conclusion
Of all the different hawker dishes that I write about, Bak Kut Teh must be one of the most interesting. There is little historical information about this dish online except for a Wikipedia article which claims that Bak Kut Teh originated from Port Klang. However, I find it difficult to believe, given that Clarke Quay was already a well established international port by the time Pork Klang was founded. This history is also attested to by our Tea Merchants who played a significant role in Bak Kut Teh history. Are there any historians who can shed more light on this?