The original owner has sold this place and now runs White House Teochew Porridge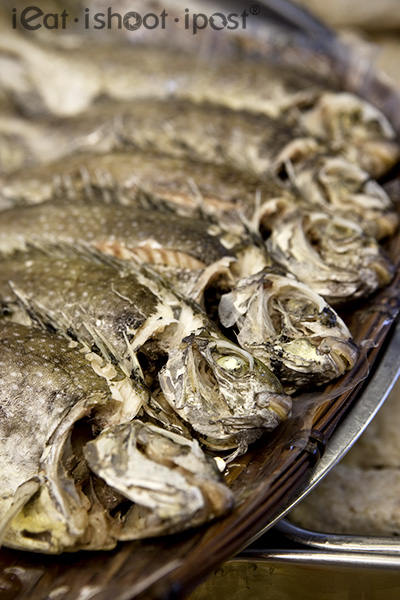 Peh Dou Her (Steamed Rabbit Fish)
I wonder how many families actually still cook Teochew porridge at home? When I was a kid, a typical weekend lunch might consist of watery porridge, fried luncheon meat, steamed fish, lup cheong and chye poh omelette. It's really very simple, peasant food and I never really thought much about it, preferring to have something like a hamburger instead.
But as I get older, the things that you are exposed to as a kid do come back to you. I guess that is why a lot of Gen Xers are now re-introducing the type of food they used to enjoy as a kid to a new generation of Singaporeans. I am hoping that some enterprising individual would open a chain of Teochew Muay restaurants that serves up good, traditional Teochew Muay in a nice and comfortable environment. There are of course some stalls claiming to serve Teochew Muay, but often, they are more like a buffet of Singapore favourites. What we want is a modern place serving really good traditional Teochew dishes and not make it into another stall selling "Economical Rice".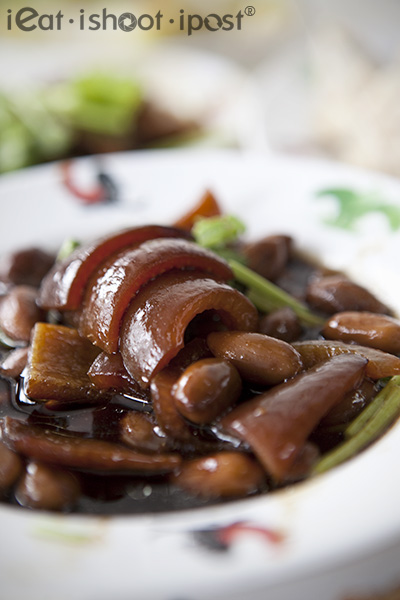 Braised Pig Skin and groundnuts
I just discovered a place near my house that sells pretty good Teochew Muay and since then I have gone back there for my Teochew Muay fix a couple of times. I like this place because the flavours are bold and not watered down. You need bold flavours because the beauty of Teochew Muay is to put something full of salty umami into your mouth and then wash it down with a mouthful of hot "Ahm" (porridge water). Ahh… it does wonders especially on a rainy day.
One of the cornerstones of Teochew Muay is braised porcine anatomy with other miscellaneous items which all depends on a good braising sauce. The braising sauce here is powerfully good. It is the watery Teochew style sauce and it is dark and caramelly sweet. Fans of pig head would be very happy to find crunchy pig ears and other delightful facial bits that let's you enjoy the braising sauce with different textures. The duck here is also very good, but it is only available at night. 4.25/5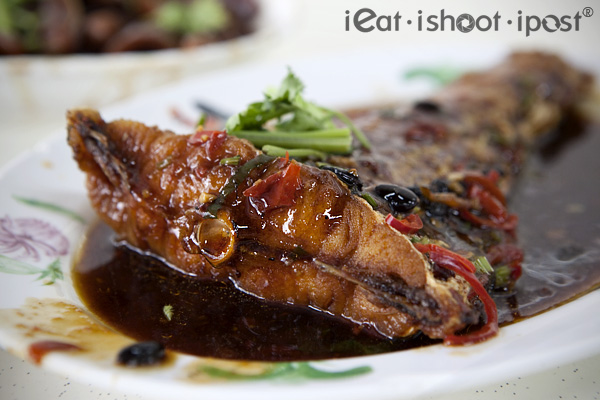 Fried leatherjacket with blackbean sauce
They only sell steamed fish in the evenings but throughout the day, they have a leatherjacket dish which I would order every time I go there. The blackbean and chilli sauce is packed with porridge swallowing umami and the fish is very tasty without being fishy. If you are lucky enough to get there when it comes out fresh from the kitchen, it would be even better. I sometimes get it when it has been lying on the tray for a while and the meat is a bit dry. 4.25/5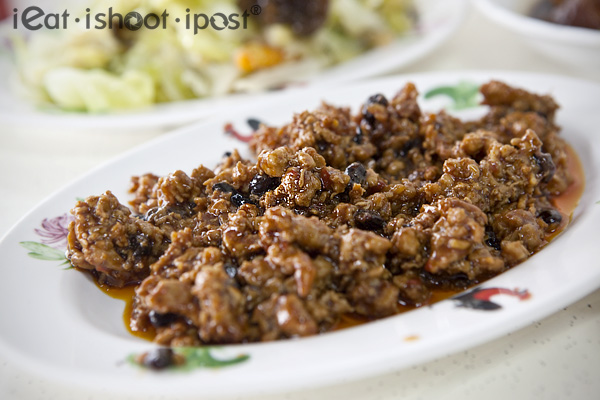 Minced pork with chilli black bean sauce
Another of my "must order" dish is the minced pork. I like the fact that their minced pork is coarse ground so that it isn't overly mushy and has some bite. The sauce again is packed with salty umami goodness demanding a good swig of porridge to wash it down. My only complaint is that it is a tad oily. But then again, I have never seen a healthy version of this dish. 4.5/5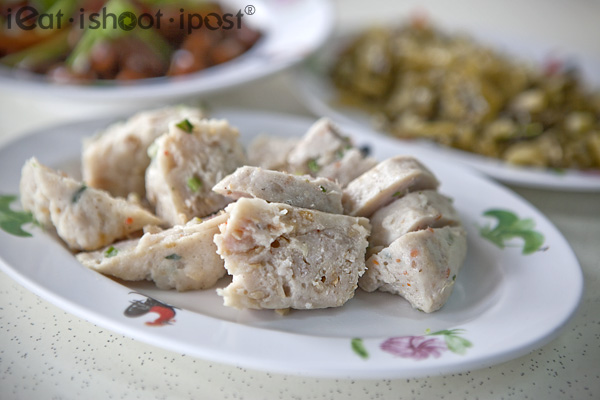 Fish Cakes
The fish cakes here are homemade and are less soft than a lot of other places. Its a good dish to go with the vinegar chilli sauce that they provide. Not really a must order dish, but good accompaniment if you have enough people on the table. 4/5
Conclusion
This is my current favourite place to have a quick bowl of porridge, filling the space left by Teochew Muay after they closed. You probably would end up spending $6 to $8 per head if you order a few dishes with porridge. Most of the dishes are quite good so you will be able to quell that craving for Teochew Muay. Evening parking can be quite a challenge but it is quite easy to find a spot during lunch.