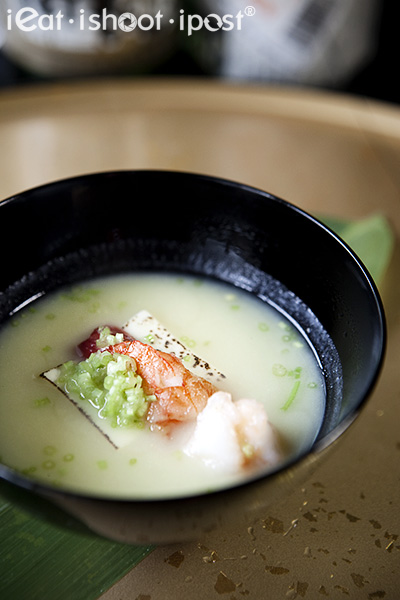 Shiro-Miso soup with prawn and tofu served in a special 70 year old lacquer bowl specially shipped from Japan for this occasion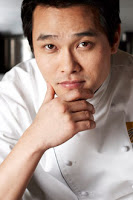 It's the 15th Anniversary of the World Gourmet Summit and every year it just seems to get better and better. This year's Summit brings in a bumper crop of top chefs from all round the world with a special focus on Korean Chefs. Now, all you fans of Korean drama out there, just feast your eyes on Korea's no. 1 celebrity Chef, Edward Kwon. Doesn't he look more like a TV star trying to play the role of a Chef rather than a real Chef? Anyway, this guy can cook! Word has it that he once commanded US$3500 per head dinners at the only 7 star hotel in the world, the Burj Al Arab Hotel. Well, I haven't tasted his food yet, but I got the chance to present him with my book, "The End of Char Kway Teow" as a resource for hawker food as he will be taking his camera crew around Singapore to film at all the best hawker food in town. Hmmmm….. ladies, if you were bringing Chef Kwon around, where will you go?
There are many other great chefs in town for the next two weeks and tickets are selling fast, so if you haven't checked out the WGS schedule yet, here it is: WGS Events
Since my focus is currently on Japanese cuisine, I took the opportunity to meet up with Masterchef Shinichiro Takagi from the famed Zeniya restaurant in Kanazawa. Chef Takagi specializes in Kaga cuisine, which hails from the Ishikawa prefecture on the western coast of Honshu. Chef Takagi is a travelling ambassador for Kaga cuisine and has often been called to showcase Japanese food by the Japanese Ambassador in New York! Gee I can just imagine him strutting up the red carpet in Iron Chef…. Hmmm if memory serves me well…….
Anyway, Chef Takagi is here to cook up some Kaga cuisine at Inagiku and I had a chance to get a taste of his Shokoudo Bentou lunch set ($125++). The Shokoudo Bentou is a square Bento box named after a Shinto Buddhist monk called Shookadoo (I kid you not) Shoojoo who was known for his calligraphy and tea ceremony. He used to keep his calligraphy tools in a square box which was designed to look like the Chinese character for a field (田). The Shokoudo Bentou was later popularized by the famed Kichou restaurant in Kyoto where Chef Takagi honed his culinary skills.
Lunch started with a starter, followed by a very nice white miso soup which,quite unlike a lot of other miso soups, had the consistency of a cream soup. Chef makes three types of dashi for his meals and the one he uses for the soup is a very light flavoured one because he wanted to taste of the miso to be the main star. This soup was a nice starter with the umami packed miso contrasting the sweet Kuruma prawn. 4.25/5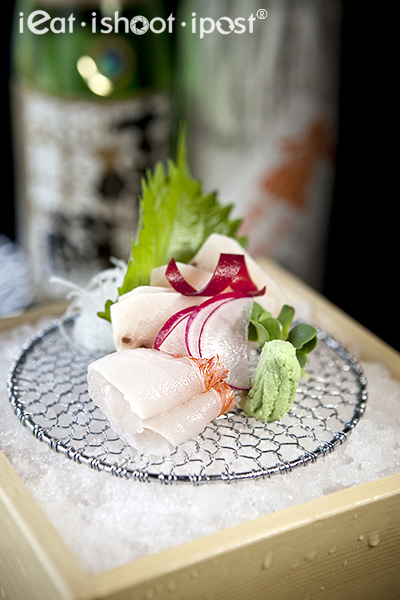 Otsukuri course of Kinmedai (Alfonsino) and Kajiki (Swordfish)
You might be wondering why the sashimi course is known as Otsukuri? Well, it turns out that people in different parts of Japan use different terms to refer to raw fish. Sashimi is used by the Eastern Japanese whilest the people living in the West call it Otsukuri. If you sit down for a Kaiseiki meal, the raw fish course would usually be known as the Otsukuri course.
Inagiku is one of those top end Japanese restaurants who have made the decision to source all their seafood from alternative sources as part of their efforts to reassure their customers who might be concerned about radiation in Japanese seafood products. I was very pleasantly surprised that the Australian Kinmedai (Alfonsino) was as good as the ones I have tasted from Tsukiji. The Kajiki (Marlin) which was similarly sourced from Australia was also excellent. 4.5/5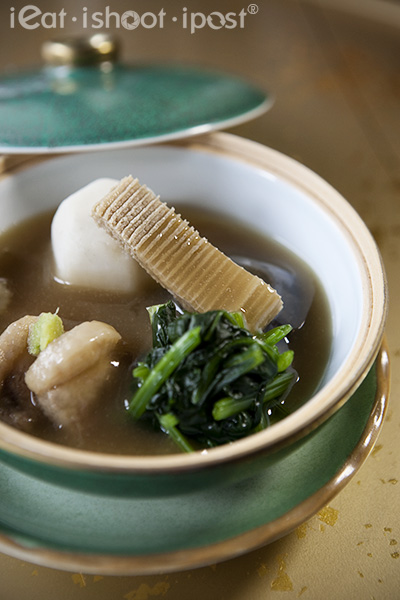 Simmered Duck with baby yam, spinach and wheat gluten
If you ever get to go to Kanazawa to dine at Chef Takagi's restaurant, you would be able to feast on local dishes that are made with the local produce. One of the signature dishes of Chef Takagi is this very unusual dish of braised duck with yam. Now as you know, one seldom gets to order duck in a Japanese restaurant and I don't remember ordering yam either. This dish actually sounds a lot like something my Teochew grandma might serve up. The reason that duck is served at Zeniya is because they can actually catch wild ducks in Kanazawa, so the Japanese actually travel to Kanazawa to eat duck. 4.25/5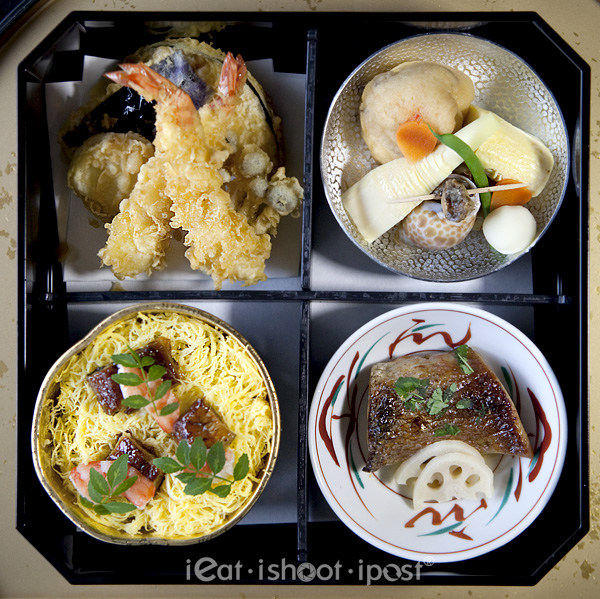 Shokadou Bento
Although this is called a Bentou lunch set, it really is like a 9 course Kaiseke set since the Bentou is merely four different courses served together in a square Bento. The item that impressed me most was the grilled Nodoguro (Gnomefish). This is the first time I am tasting this fish and it left me wishing I could get my hashi (chopsticks) on the rest of the fish. The texture of the meat was smooth and silky and it was very fragrant without being fishy. It tasted like a cross between a Gindara and a Sea Bass. Chef Takagi tells me that this fish defines Kaga cuisine, so much so that he had to make special arrangements for the fish to be marinated and packed back home before being airflown here. This dish is actually part of the dinner Kaiseiki course, but he was kind enough to prepare it for lunch for me. It's one of the best fish I have tasted. 4.75/5
Chef Takagi's culinary style is fiercely traditional. He doesn't like the use of heavy seasonings and prefers to showcase the natural flavours of the produce. The good thing is that he actually speaks great English and so I managed to learn quite a lot about his dishes. He joked that he is the only Japanese Kaiseiki Chef he knows who can actually speaks English! He is rather tall, he must be at least 190cm, which is why I had to sithim down for the photo!
Conclusion
If you love Japanese food, this is a great chance for you to experience some Kaga style Kaiseiki with special items like the Nodoguro which have been specially flown in from Kanazawa for the World Gourmet Summit. Chef Takagi will be serving lunch bentou sets ($125++) and dinner Kaiseiki courses ($250++ and $350++ with special sake pairing) at Inagiku until 30 Apr.
This was a media review