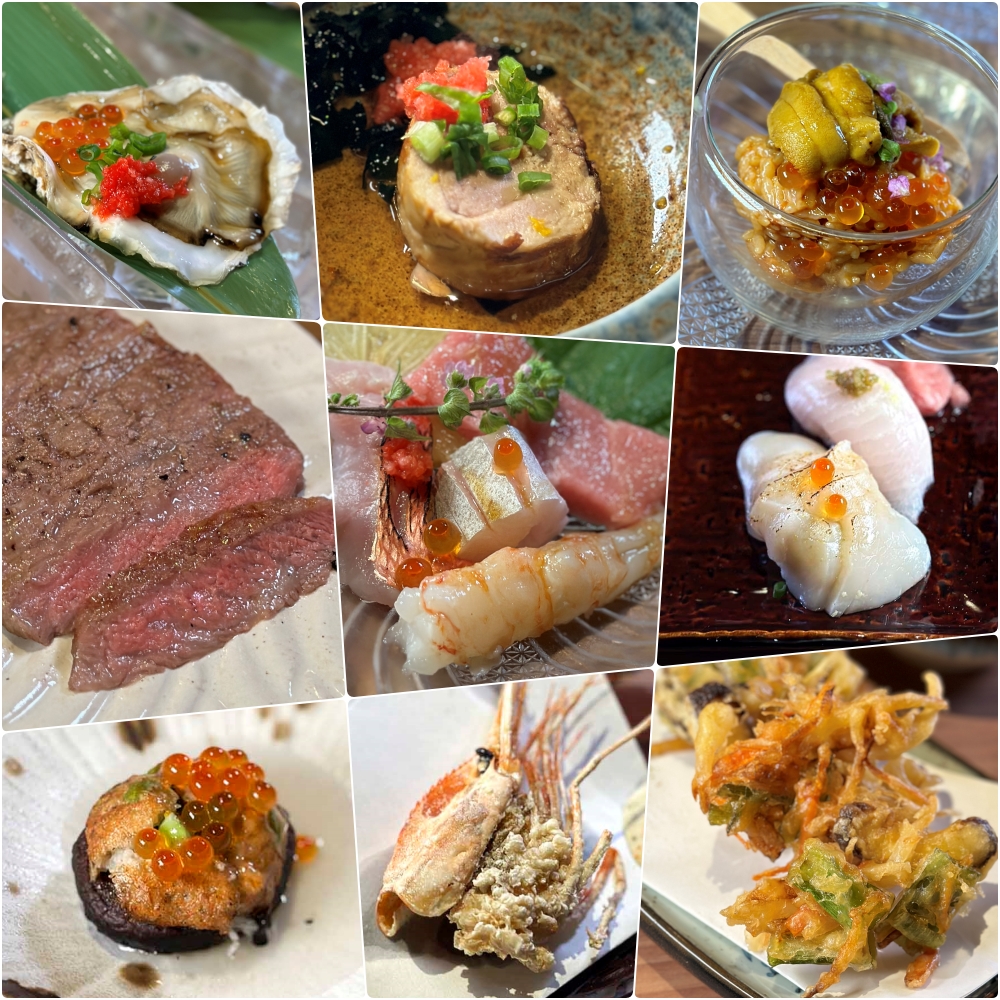 Everyone wants to do Omakase!
Omakase seems to be the catchphrase nowadays. Everyone seems to want to get onto the bandwagon! Yet, the concept is not quite what it is supposed to be. In Japan, you go into a restaurant, tell the Chef "Omakase", then sit back and enjoy dishes made with whatever fresh produce the chef got from the market in the morning. In Singapore, when you order "Omakase" you are presented with a set menu. It used to be called "degustation" but somewhere in the last few years, we have somehow swapped the French word for Japanese.

Whatever the case may be, I personally like this form of dining because I get to taste a number of different dishes in one seating. However, if you have been to enough Japanese "omakase" meals, you realize that there really isn't anything new under the sun. The highlight of the meal would usually be uni, wagyu and otoro and in between, you can expect sashimi, tempura, soup, some grilled items, and perhaps chawanmushi. It used to be quite novel when I first started to write about Japanese food years ago, but nowadays, I think everyone is quite familiar with the pattern.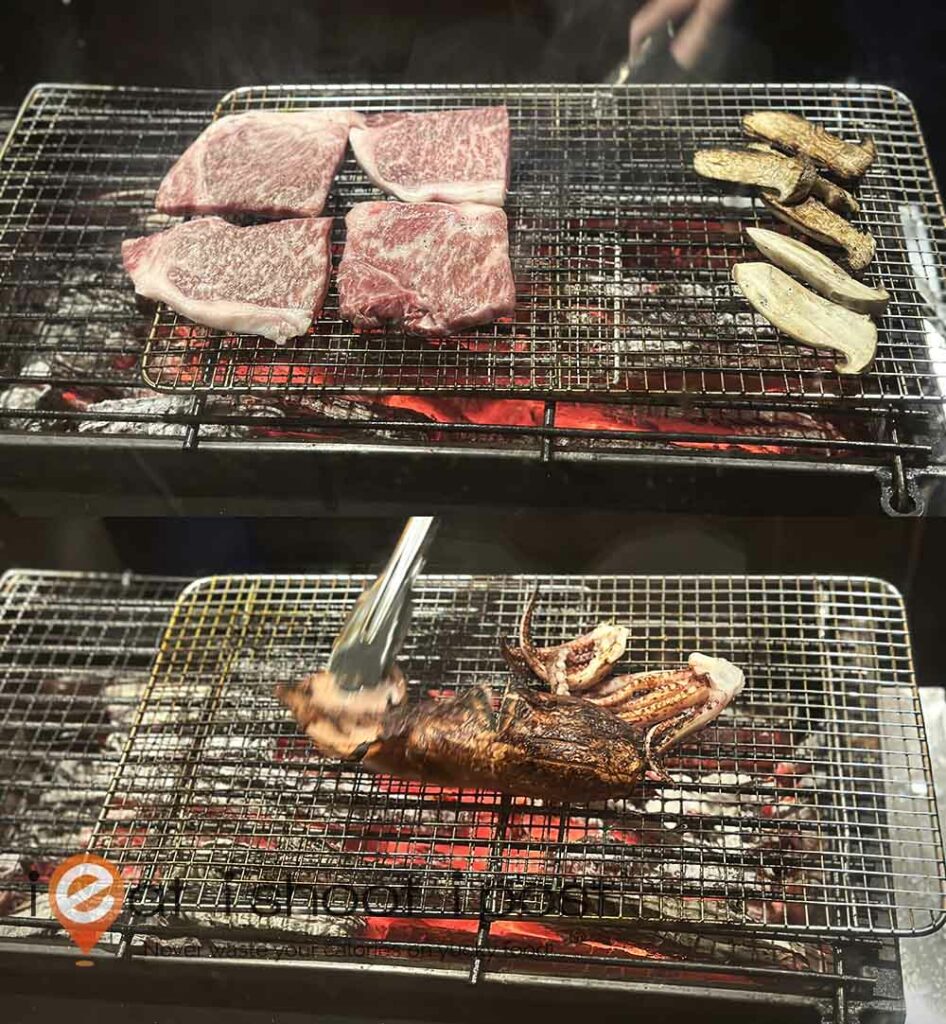 Reasonable Priced Omakase
With high-end Omakase now costing $450 or more at some establishments, the key is to find somewhere that you can enjoy good produce that is competently put together at a more affordable price. What I am willing to compromise on are the Hinoki wood counter, kimono-clad waitresses, and an authentic Japanese chef. For a more affordable price, I would even compromise slightly on the quality. I don't really need A5 wagyu from Kobe, and the wasabi doesn't need to be freshly grated. The fish has to be air-flown from Japan, of course, but it doesn't have to be the top-grade Maguro from oma. What I am not willing to compromise on is the taste of the final product.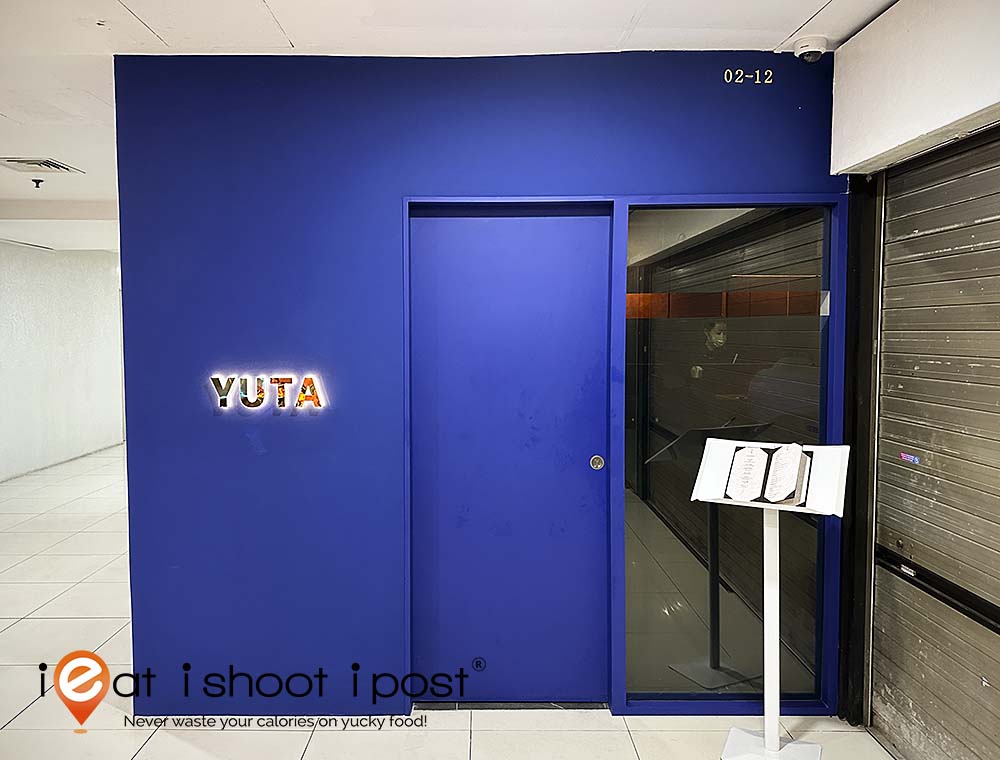 Hole-in-the-Wall Eateries
If you feel as I do, then you might just like to check out this little hole-in-the-wall, Japanese Omakase at Orchard Plaza. There are lots of these "mysterious" little eateries in the old shopping mall, where you might only get a peek in through a letter box slot in the wall. Yuta literally sticks "out of the blue" along the drab and musky corridors as you travel up the escalator from the main entrance to the 2nd floor.
The joint is opened by two rather enthusiastic young ladies who love to eat. (You can't tell it from their slender figures). They provide hospitable service in their polo T's and jeans while their head chef, Jet mans the narrow kitchen behind the 8-person counter. What got me rather excited was their charcoal grill station which takes center stage at the counter. Peering into the grill, I spotted glowing binchotan which was a really good sign! It might not be authentic Japanese binchotan (it's from Vietnam) but at $90/kg, it still costs more than most of the stuff you are cooking!
We had a very nice omakase meal there. Chef Jet has been cooking Japanese food for over two decades and is familiar with our local preferences. Most importantly, for our $115 omakase, we had Japanese Wagyu, fresh (not frozen) Japanese Hotate, and a lovely Uni don where the rice was swimming in uni. Like typical Singaporeans, we went home happy, feeling that we spent an evening eating very nice food at a very good price! (compared to those much-lauded $400++ ones)
Breakdown of Omakase Set ($115 for 10 courses)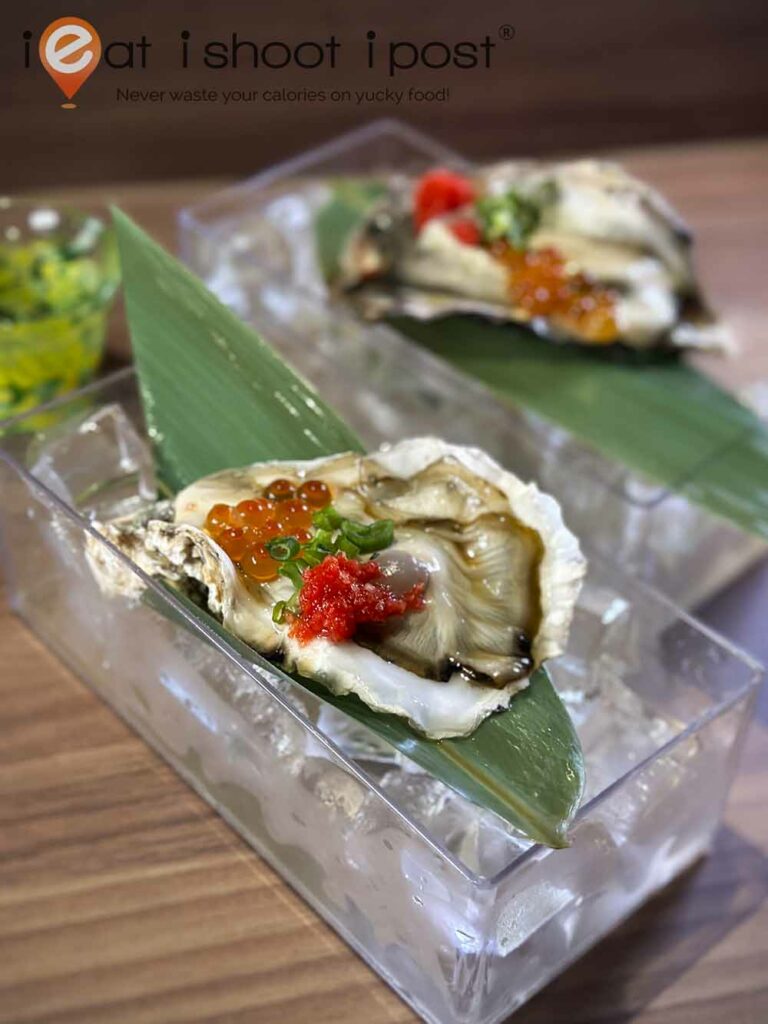 The first course of Japanese Oyster with ponzu sauce, ikura, momiji oroshi and scallions is quite a popular dish so no surprises here. I did feel though that the plastic container containing the bed ice doesn't look at all elegant. 4.25/5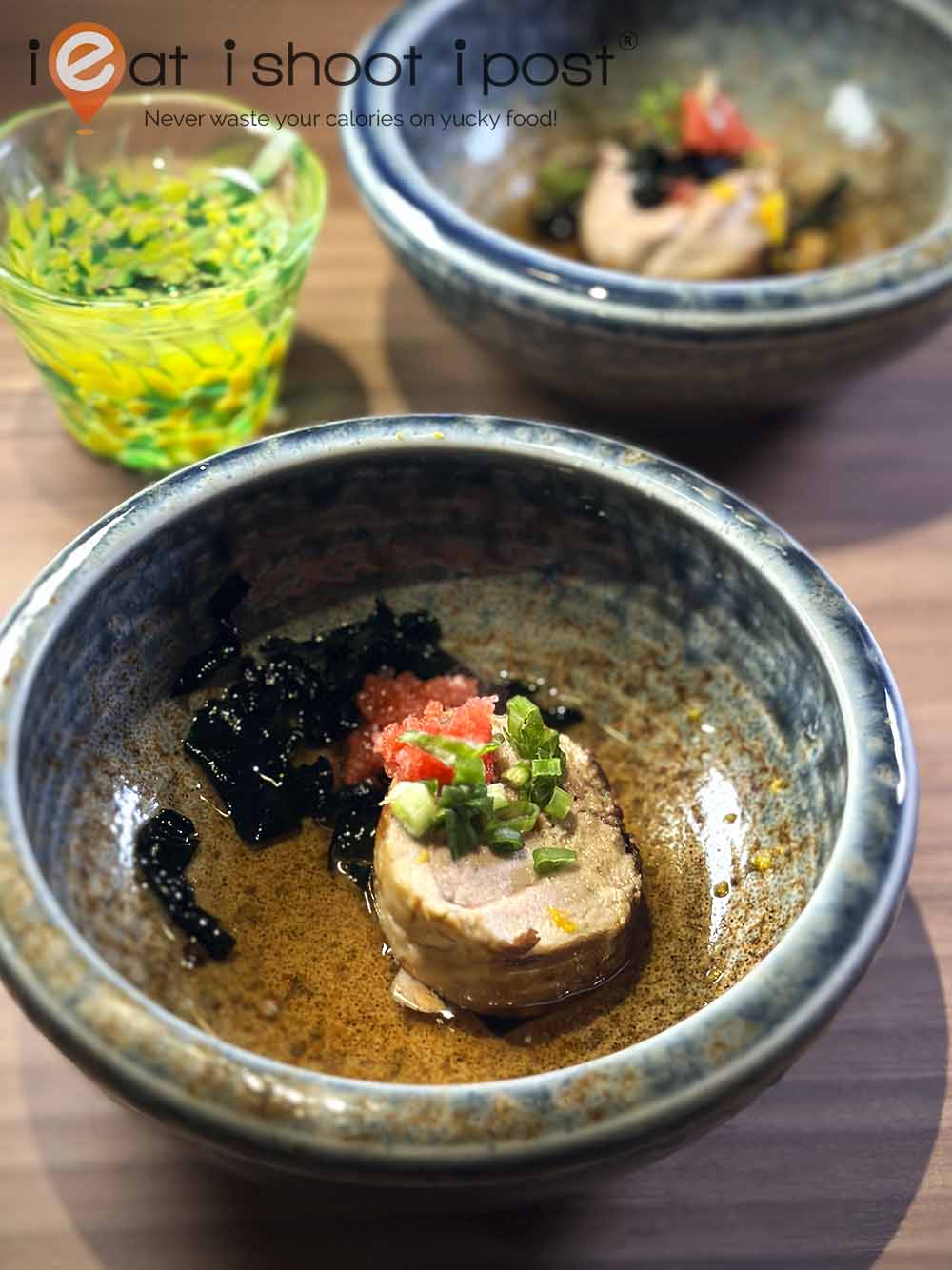 The 2nd dish of monkfish liver which was given a kiss of charcoal smoke was very nice. The liver was creamy and went well with the ponzu sauce. 4/5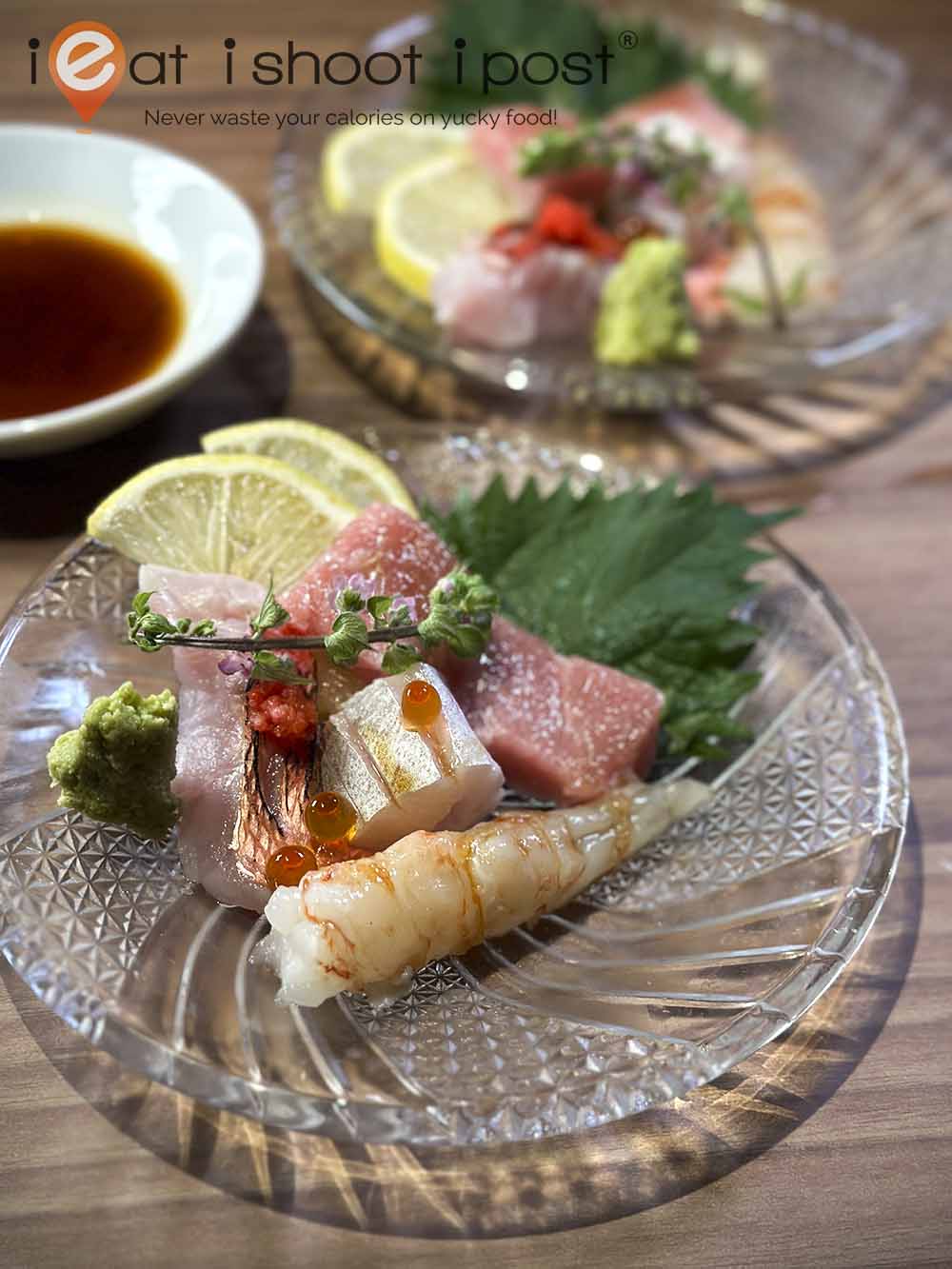 Even though Yuta is not positioned as a sushi restaurant, and so they don't have their fish on display at the counter, their sashimi is very good and well presented. 4.25/5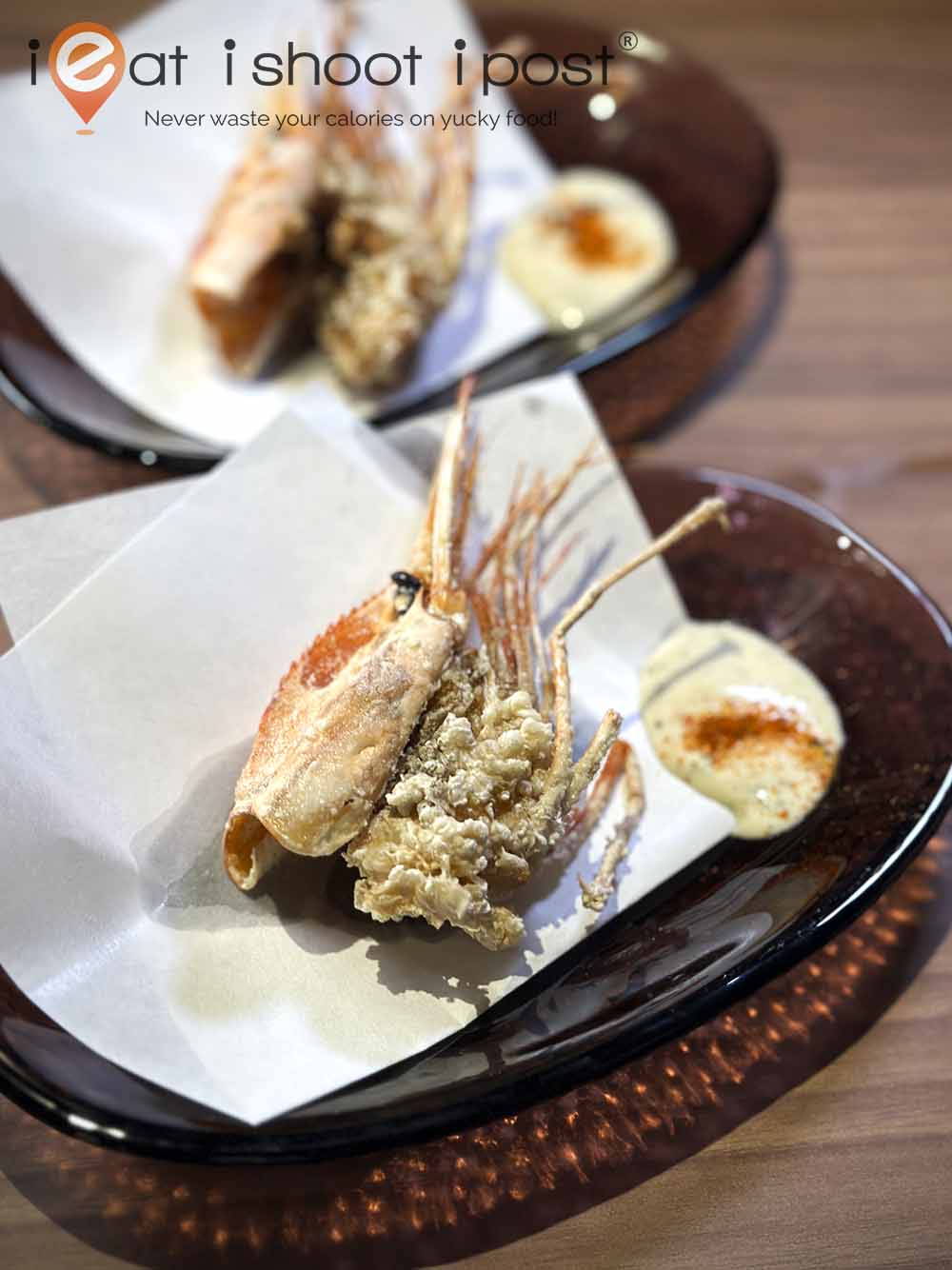 One of the best things about having Botan ebi sashimi is the crispy legs and head of the prawn which is served after the sashimi!
One of the most attractive item at Yuta is their A5 Wagyu. If you order ala carte, a 150g slice of striploin grilled over binchotan is $38 which is quite a good deal as this would easily cost $70 at the high end places. For the Omakase, we got a 75g portion which is still quite generous. Having said that, the Wagyu steak would have been even better if the exterior was more charred. 4/5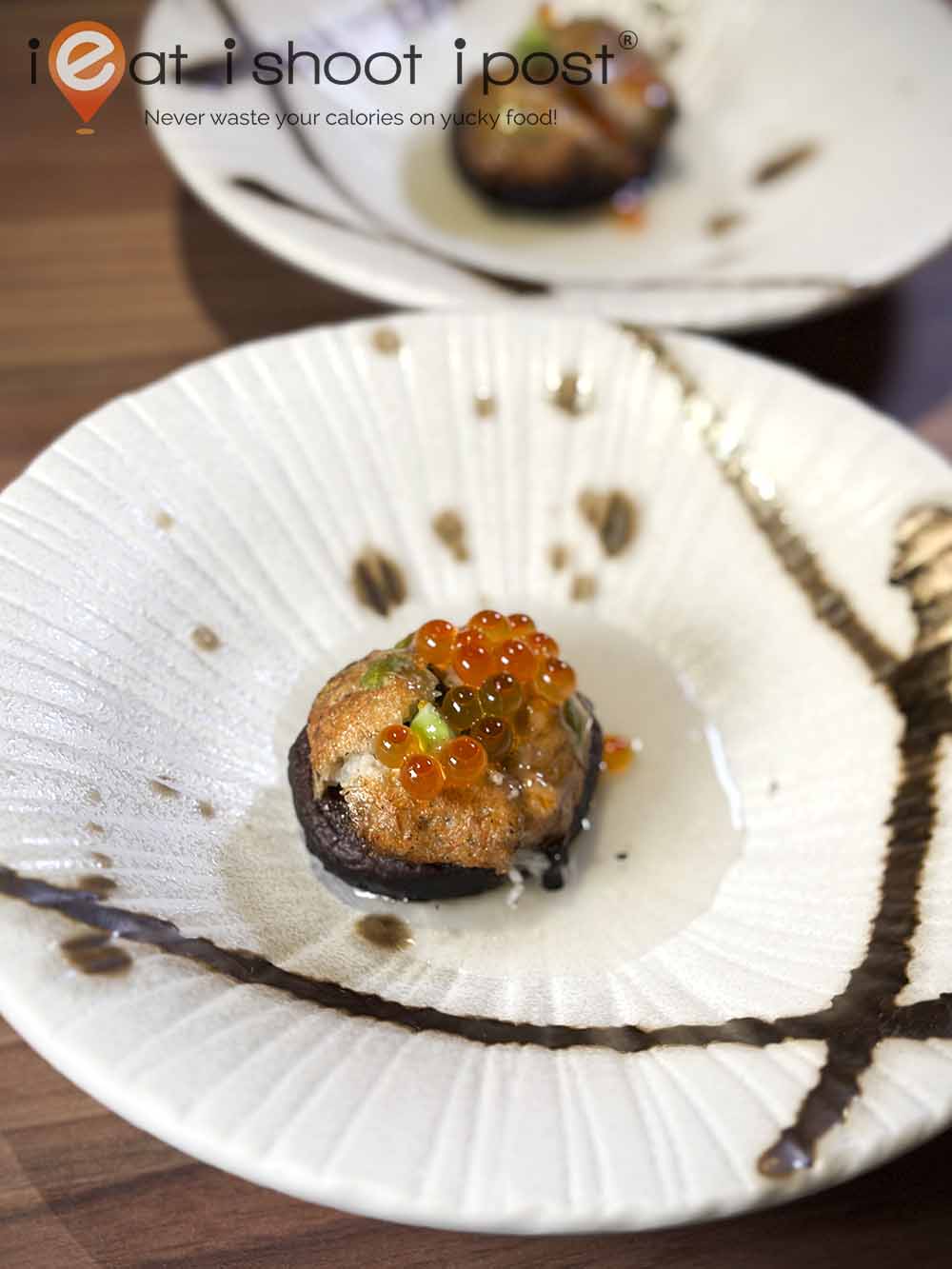 For the seasonal tempura dish, we got a shitake mushroom that is stuffed with fish and prawn paste with edamame. The mushroom is first deep fried, then grilled over binchotan and topped with ikura. Very nice, though I would have still liked to have some ebi tempura. 4/5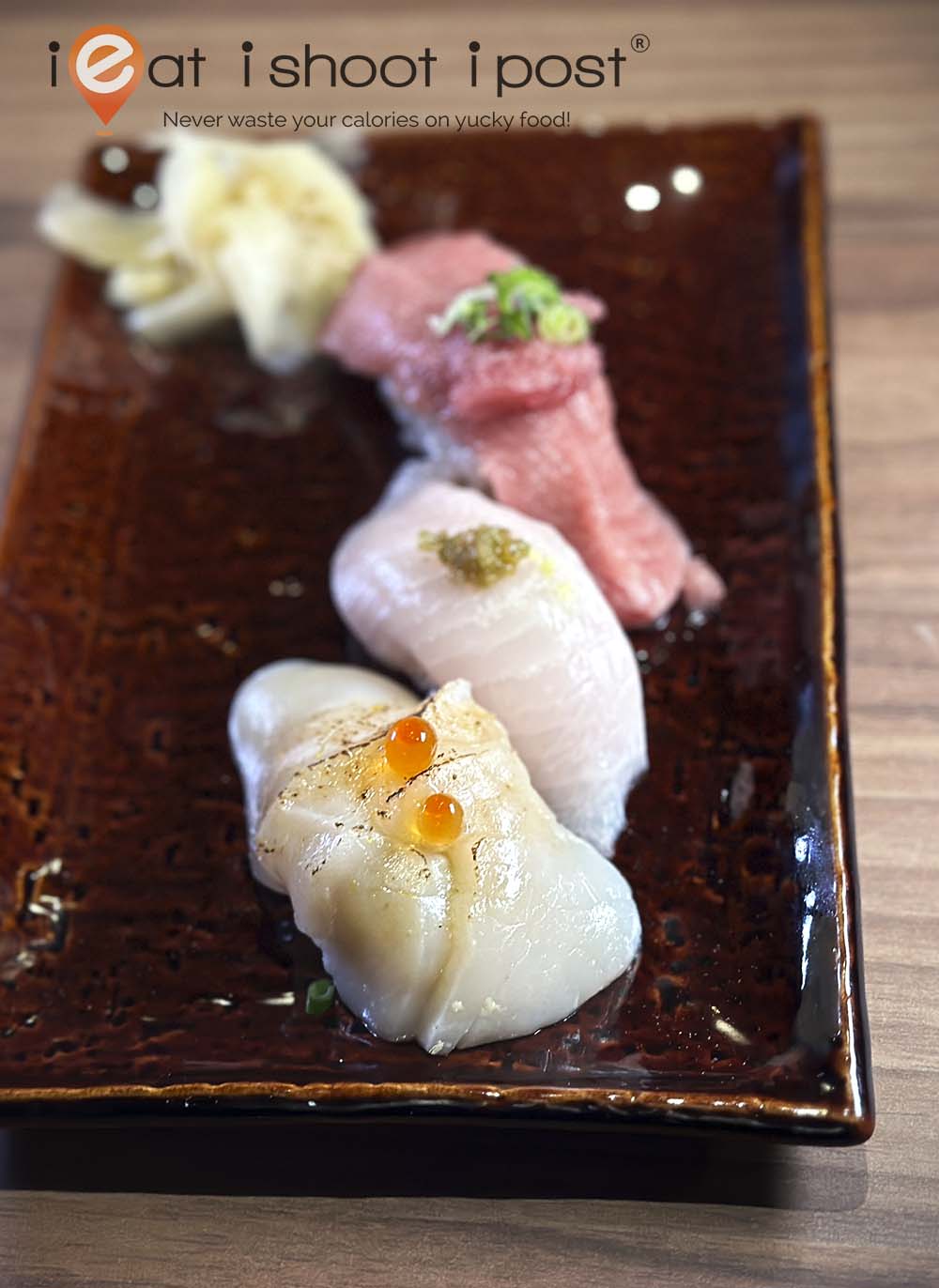 The three-piece sushi was nicely presented. We had a lovely hotate that is lightly grilled, Kanpachi and chutoro. The sushi rice, which was made with Hokkaido nanatsuboshi rice was done very nicely. 4.25/5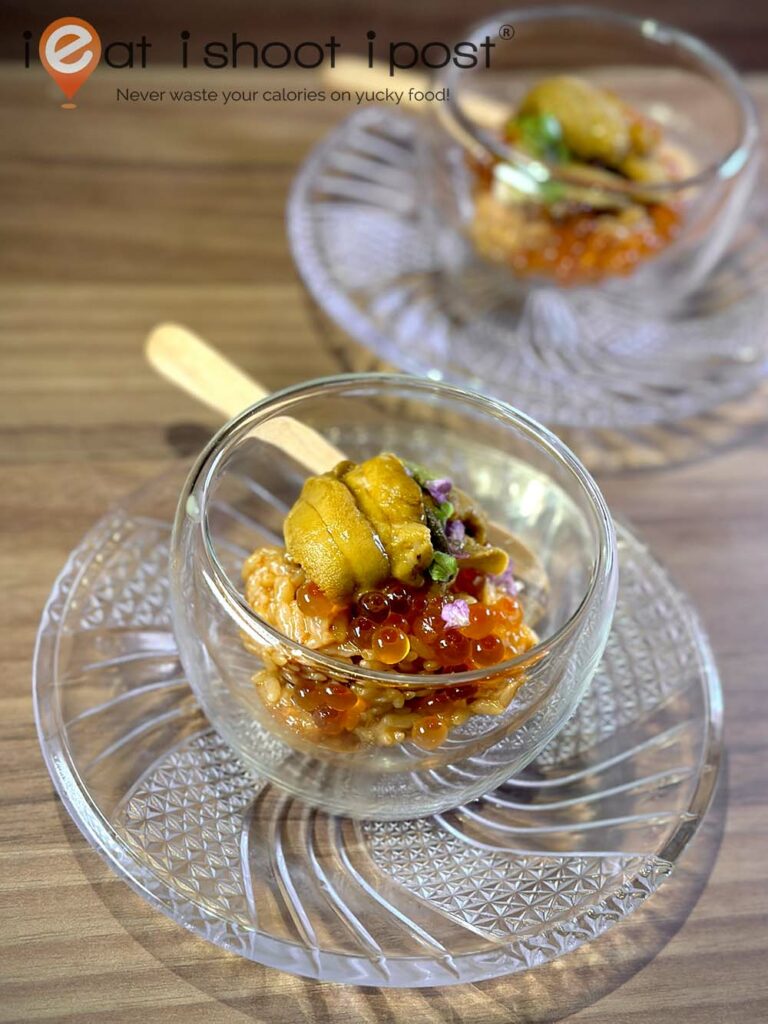 The Uni don is without a doubt, the highlight of the meal, and the one reason to revisit the restaurant again. Chef uses two types of Uni for the dish; one that he mixes in with the rice with a bit of egg yolk, and one which he uses to top the rice together with ikura and hojiso It was creamy, sweet and super satisfying! 4.5/5
After, the uni don, we finished the meal with seaweed soup and some Japanese fruits.
Conclusion
An excellent place to consider if you like Japanese Omakase but don't want to break the bank for it. $115 is still not cheap but you get very good quality ingredients that are done nicely. The place is small and laid back and the hostesses/owners Valerie and Karen are very hospitable. It can get very noisy as there is no soundproofing, so it is not the best place for a quiet, romantic dinner.
Ieatishootipost Special
Mention this post and get an extra surprise dish!
Postscript
We made a 2nd visit after they converted to a full Omakase Menu ie no more ala carte dishes. The Omakase Menu consists of 10 different courses which changes fortnightly. Some favourites like the grilled wagyu, sashimi, sushi, and uni rice will remain on the menu while the others change according the availability of fresh ingredients.

Below are a few new dishes: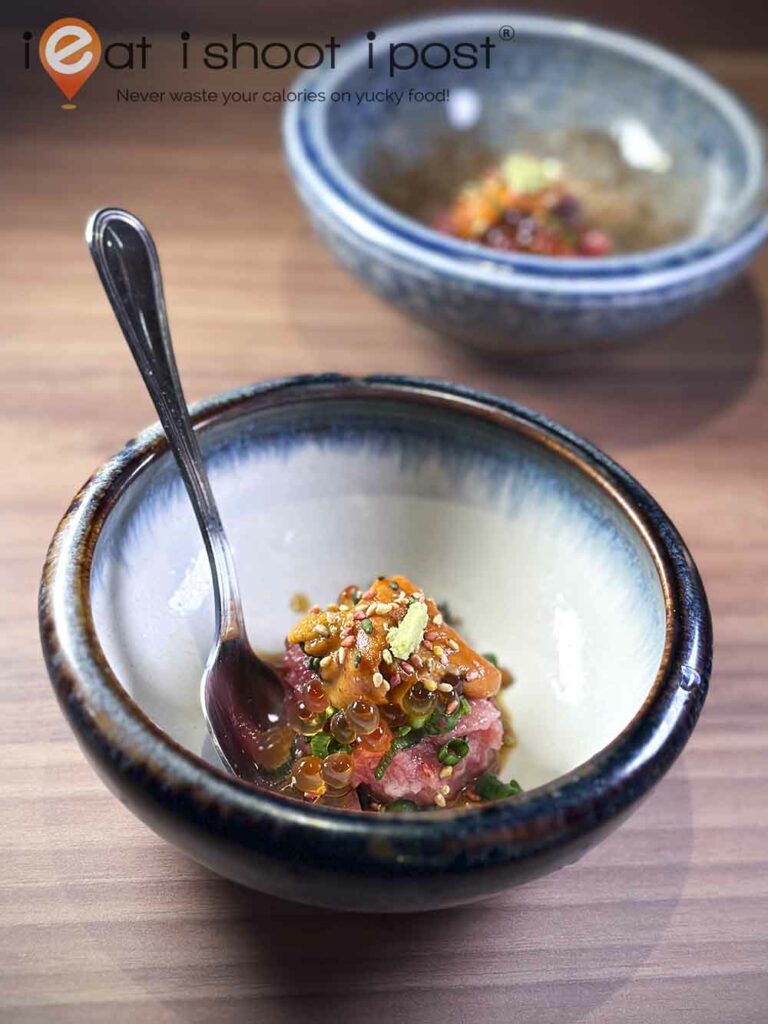 Chef named this dish "NTUC" which stands for Negi Toro (tuna neck), Uni and Caviar (ikura). It's one of those dishes that you can never fault as long as the ingredients are fresh! 4.5/5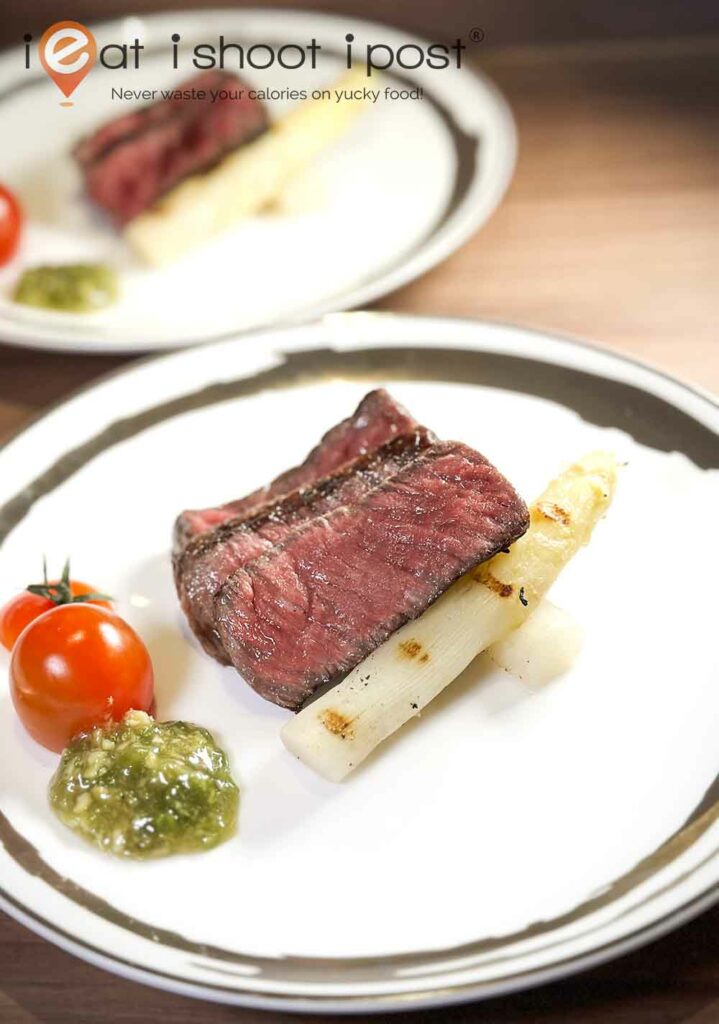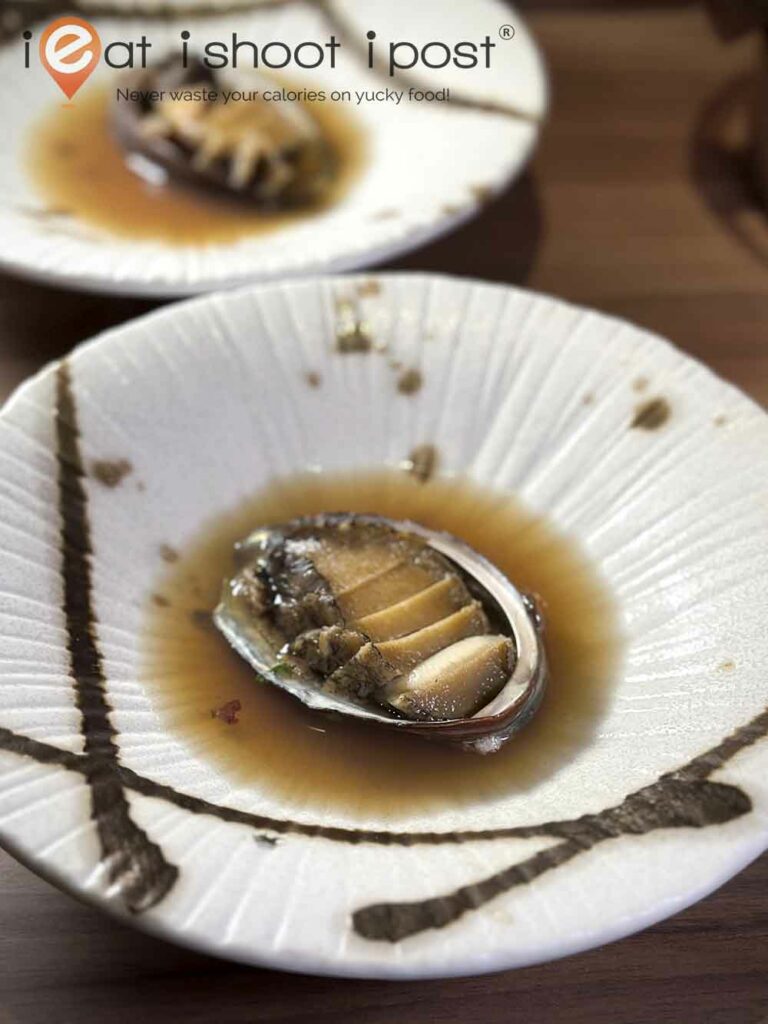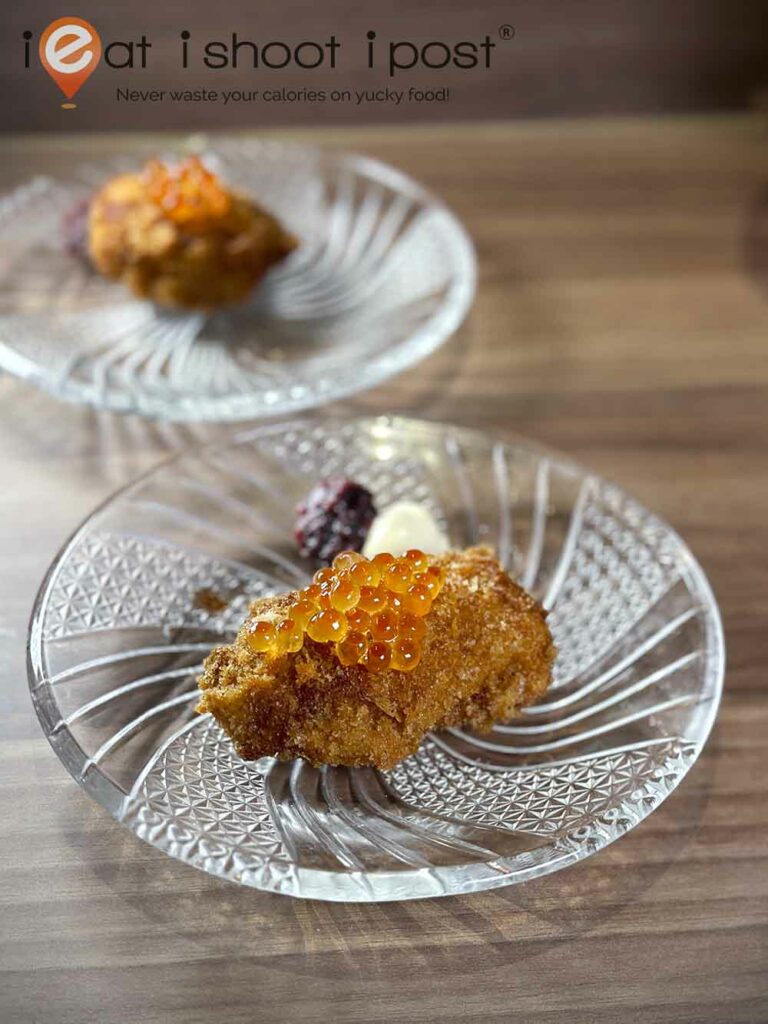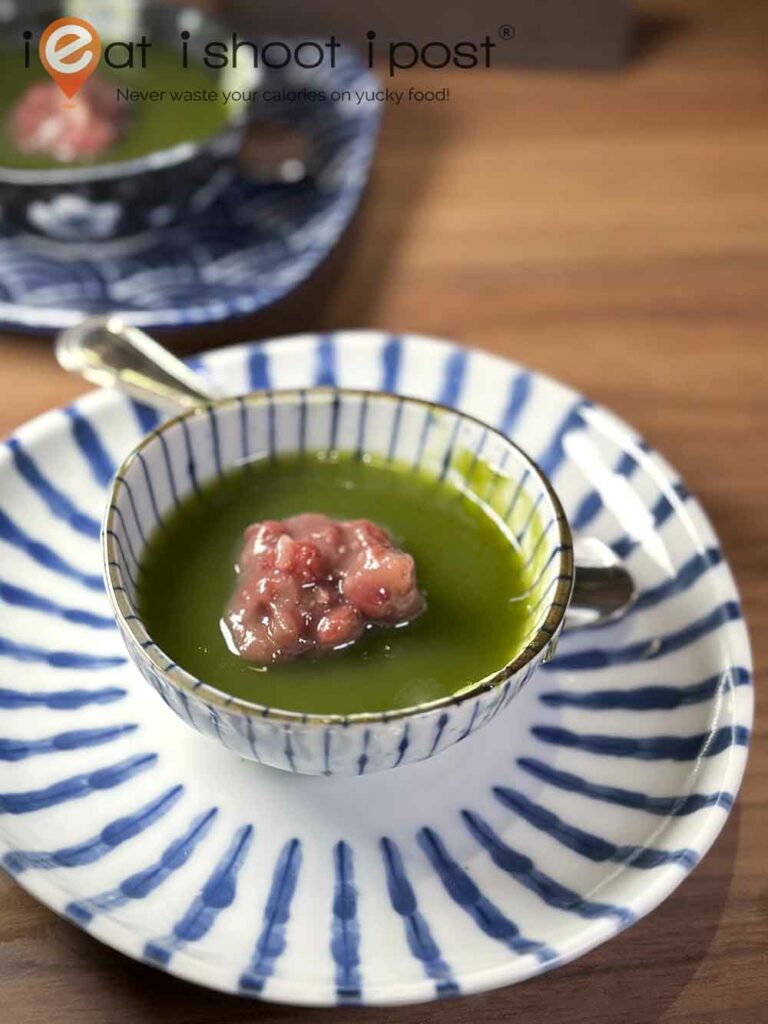 Conclusion
It is good to see how they have made improvements to the menu since our last visit!
Disclosure
This is a media invite. That means the meal was hosted with no obligations to write a review unless we feel the place is genuinely worth recommending.