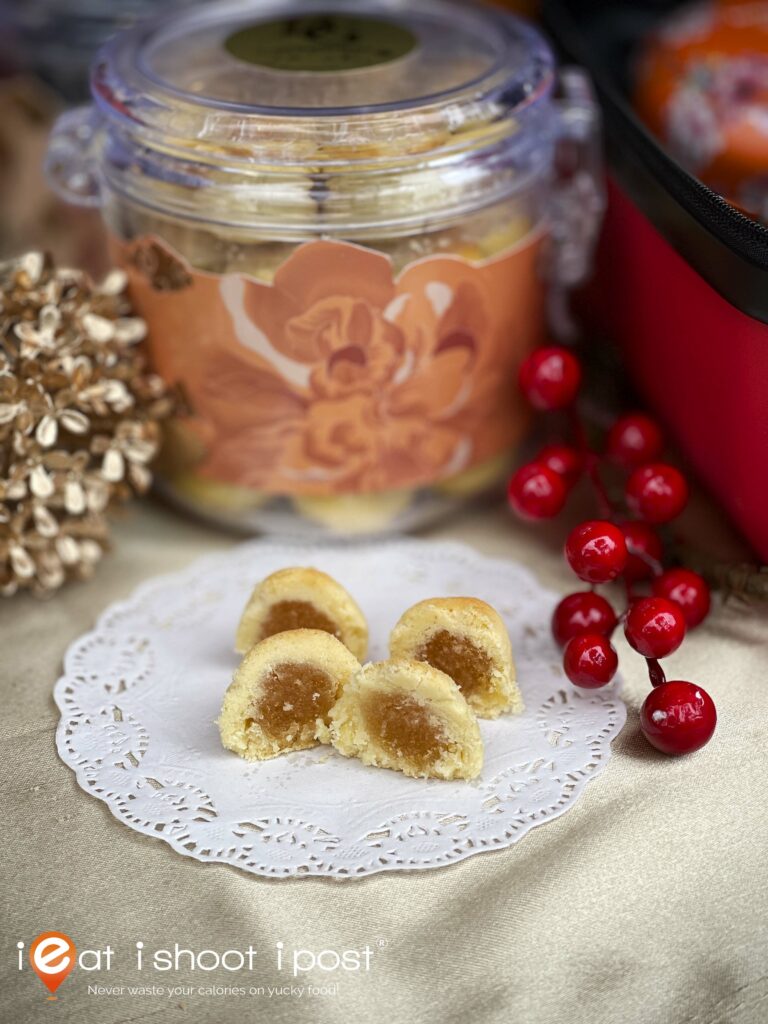 Even if you don't normally eat cookies, Chinese New Year is that time of the year when you would allow yourself indulgence, especially during visitations. There is such demand for these treats that some supermarket shelves were already decked with Lunar New Year goodies before the Christmas season was even over. This Chinese New Year season, we checked out Bread Garden's range of CNY cookies. What we like about Bread Garden's CNY offerings is that they use premium ingredients and are baked fresh locally without the use of preservatives. It's the next best alternative to baking them yourself!
Here's a review of their signature CNY cookies.
Premium Pineapple Tarts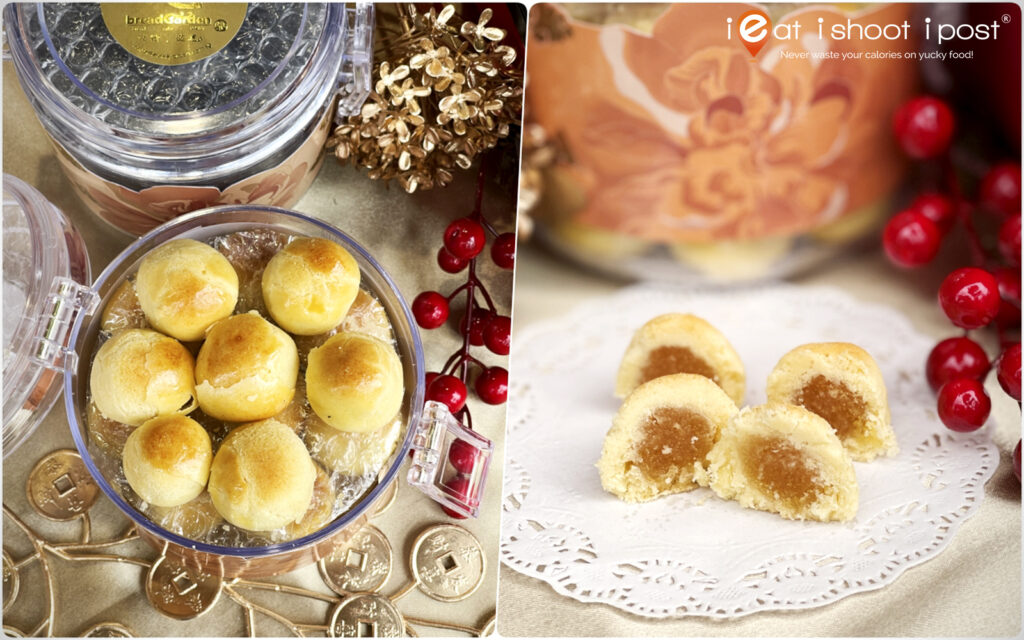 When it comes to pineapple tarts (or balls as they should more accurately be called), I am rather particular. Having made many batches of them before finalizing my own pineapple tart recipe, and I am pleased to report that Bread Garden's premium pineapple tarts have a nice powdery pastry which coats the mouth with buttery goodness that just begs for a sip of hot kopi so that you can pop in the next one. They use the same Australian butter which I would recommend for my own recipe and their pineapple jam is specially procured so that it is less sweet. Well worth the calories!
Premium Bamboo Charcoal Pineapple Tart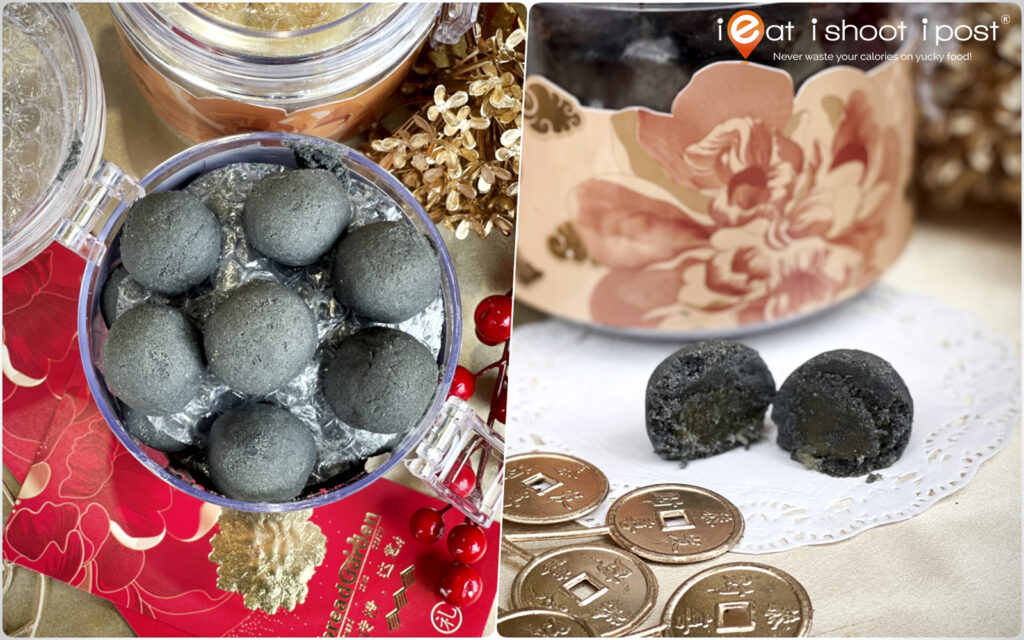 They have a black version of the pineapple tart which is made with charcoal powder which is still trending. Why charcoal? They tell us it's for detox and beautification purposes. I'm not really sure if the amount used in the pastry would make much of difference to your detoxification efforts. Nonetheless, Jonathan Tan (Director of Bread Garden) would quip in Hokkien "Orh Gim, Orh Gim, Ru Kua Ru Jip Sim" (black gold, black gold, the more you look at it, the more you like it)
Kueh Bangkit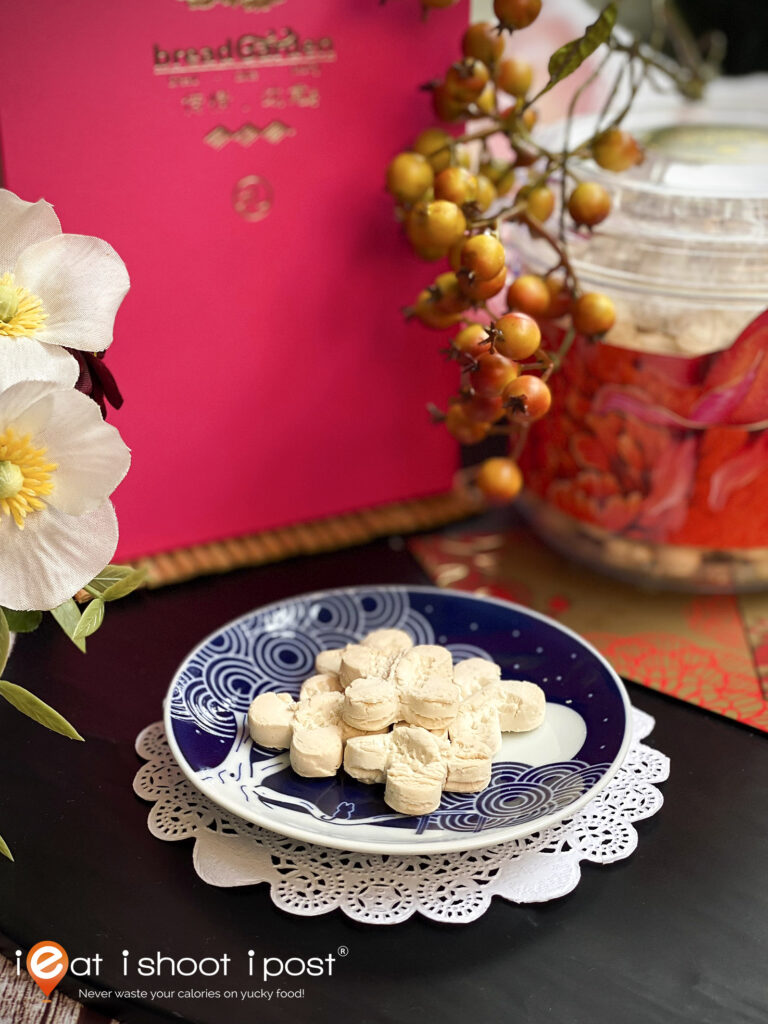 Kueh Bangkit ($24.80/jar) is a traditional CNY cookie that you may not easily find at any bakery as it is not an easy cookie to bake. You know it's done right when the cookies are white, without any tinge of browning. Plus, you need to have just the right mix of coconut and pandan for that aromatic, heavenly experience as the fragrant white cookie melts on first contact with your tongue.
Melting Peanut Cookies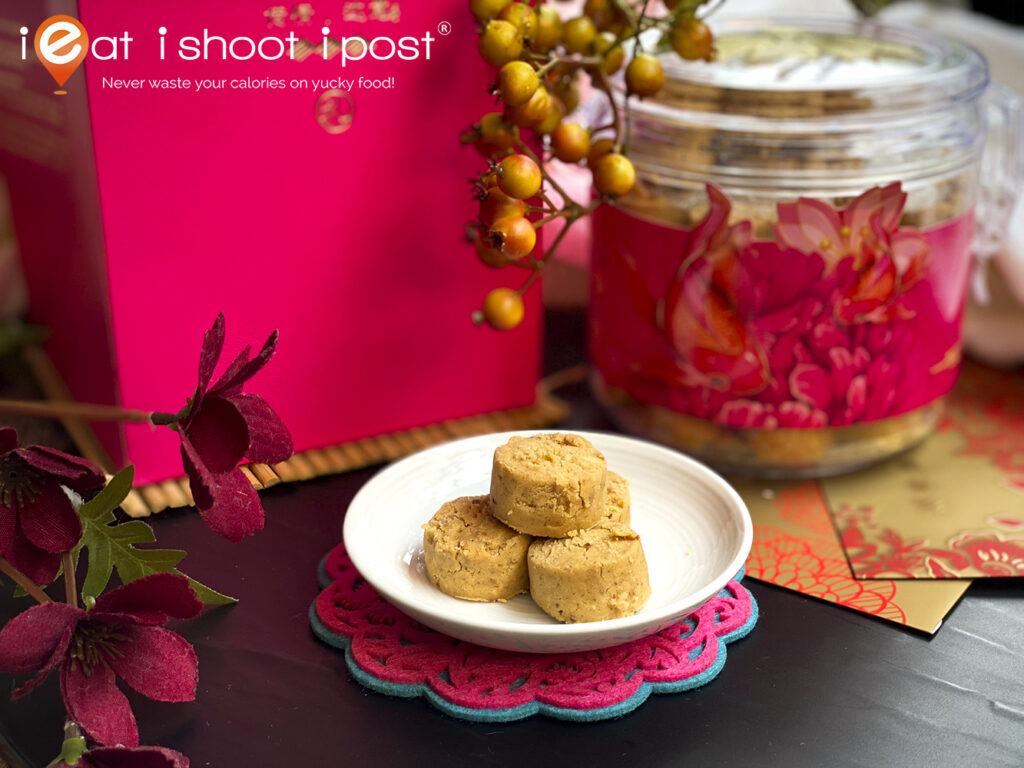 The other traditional melt-in-your-mouth cookie is the Peanut cookie ($24.80/jar). Along with the pineapple balls, this is the other cookie that I look forward to having during CNY. Bread Garden specially procures peanuts from Shangdong and fries them with the skin on to maximize the flavour of the peanuts. They are very crumbly and delicate which is good to eat, but not very good for presentation.
CNY Almond Cookies (Old School)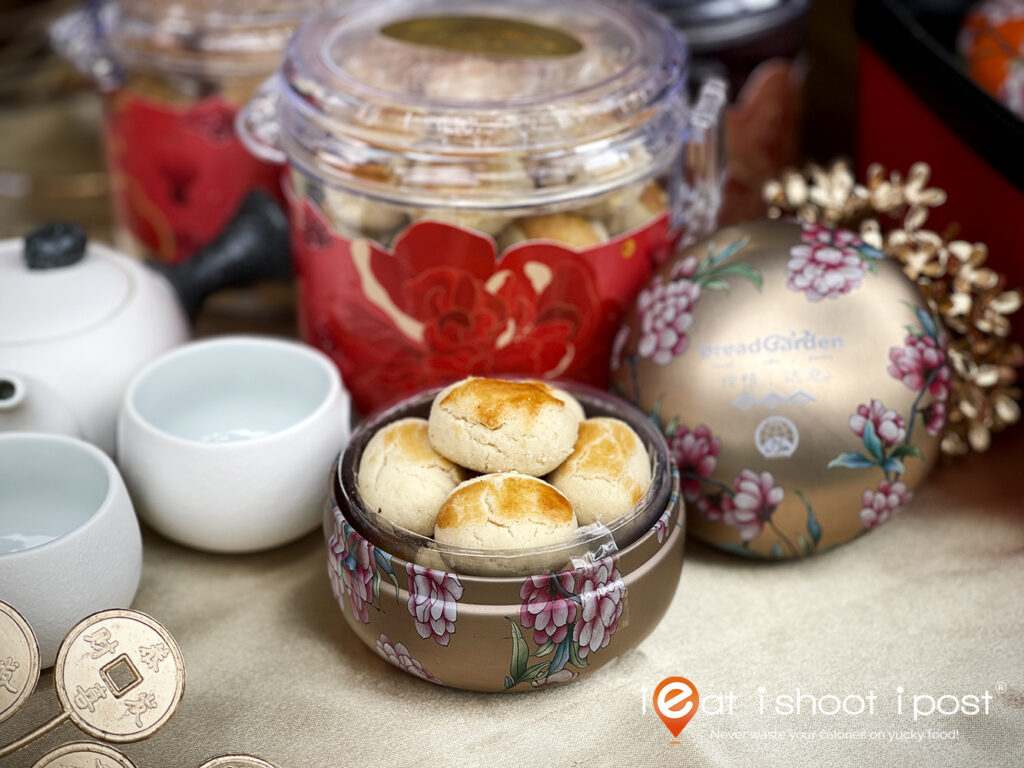 For a bit of nostalgia, try their Old School Almond cookies ($25.80/jar) that are perfectly baked to crumble in your mouth with an unforgettable taste that will transport you back to CNY past.
Dark Choco Sensation Cookies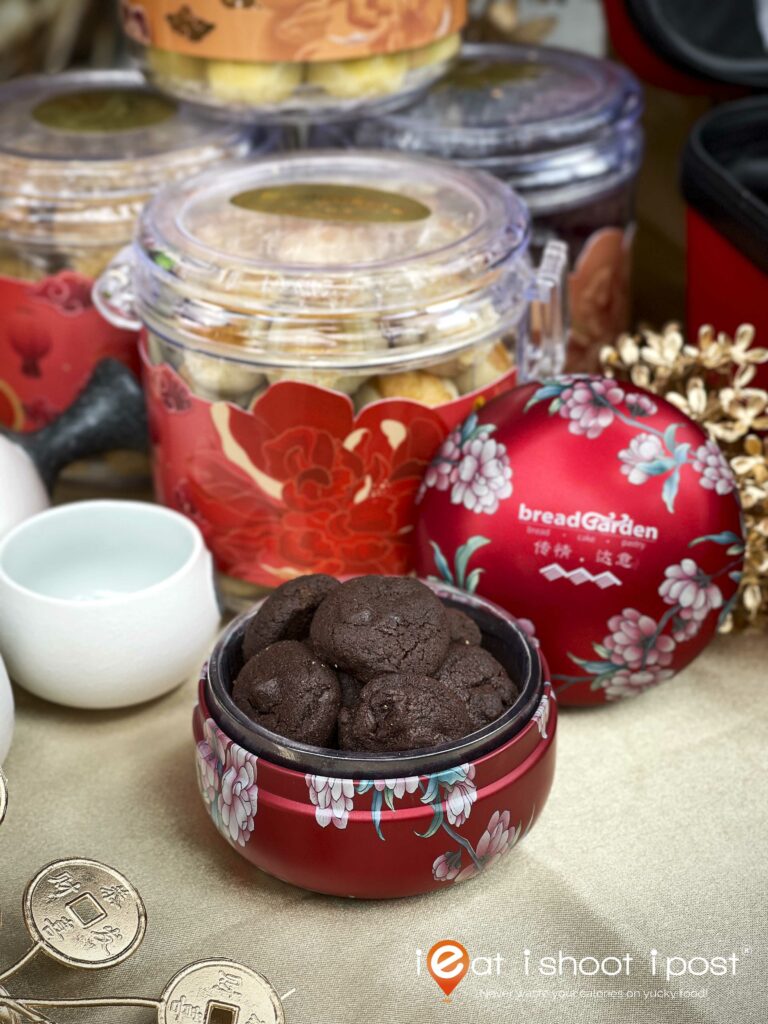 Their dark chocolate cookie ($24.80/jar) may not be a traditional CNY flavor, but it is really good! You get 76% cacao chocolate in the pastry and generous chunks of it in each bite!
Signature Macadamia Buttery Cookies
Another non-traditional CNY cookie that you want to pick up is their Signature Macadamia Buttery Cookies ($28.80/jar) It's essentially rich butter cookies with chunks of crunchy macadamia nuts from Australia. These are really quite addictive and the macadamia nuts really complements the buttery flavour of the cookies. It really makes a difference when they are freshly baked!
Kopi Gao Siew Dai Cookie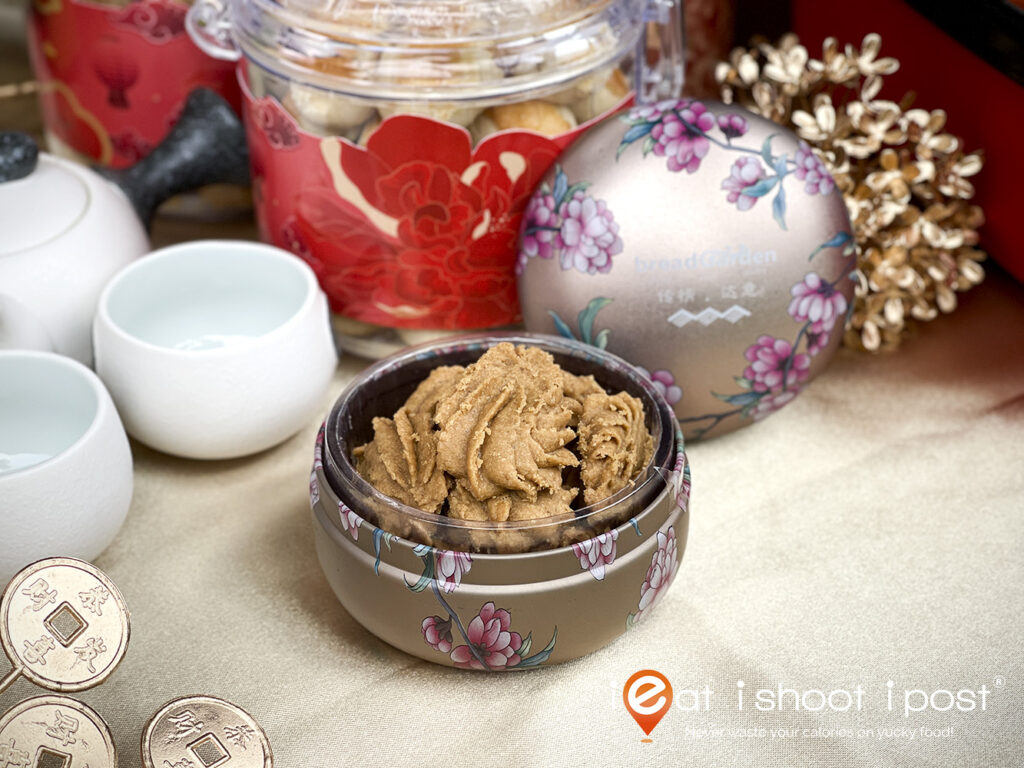 Another buttery treat is the Kopi Gai Siew Dai cookie ($24.80/jar) The malty flavour of Nanyang Kopi will coat your palette when you bite into it. Perfect with a cup of kopi no doubt!
Shrimp Rolls and other CNY Snacks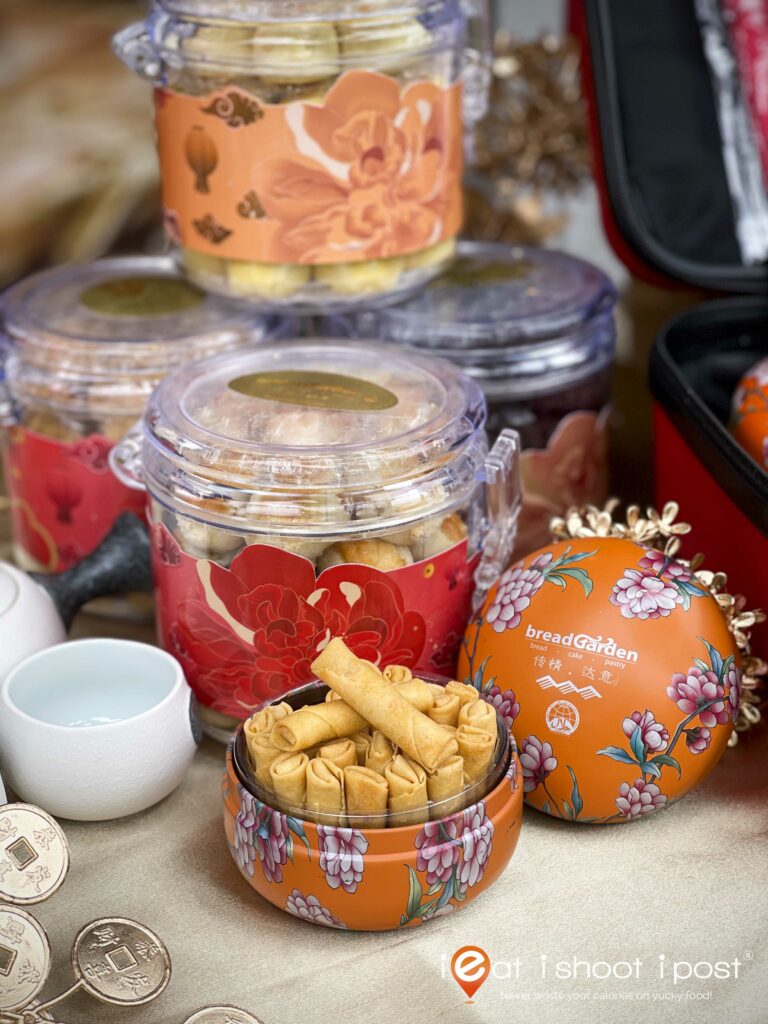 Apart from these popular signature cookies, they have a full range of CNY goodies like Spicy Shrimp Rolls, Premium Honey Almond, and Petite Egg Rolls. Check out their online store for more details.
Festive Packaging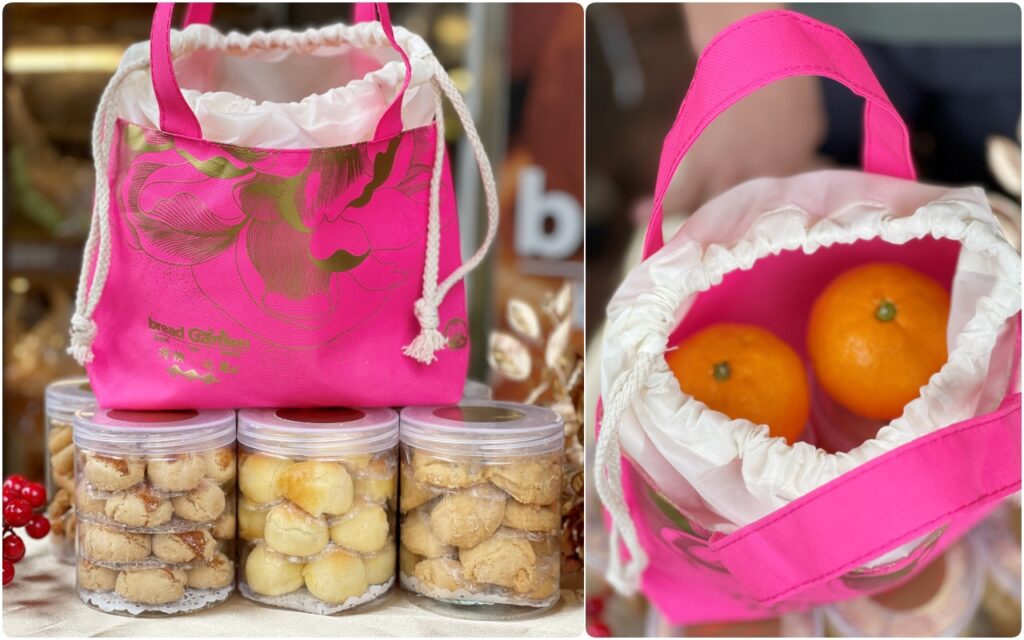 In response to client feedback, Bread Garden added a little "pouch" with a drawstring to their festive goodie bag so it nicely fits two tubs of cookies and two mandarin oranges (not provided). The pouch with the drawstring will prevent the oranges from rolling out of the bag in transit! What a clever idea!
Fortune Gift Bag Options
Signature Fortune Gift Bag

Premium Pineapple Tart
Macadamia Buttery Cookies

Nutty Fortune Gift Bag

Macadamia Buttery Cookies
Old School Almond Cookies

Buttery Fortune Gift Bag

Dark Choco Sensation
Kopi Gao Siew Dai

Classic Fortune Gift Bag

Premium Pineapple Tart
Spicy Shrimp Roll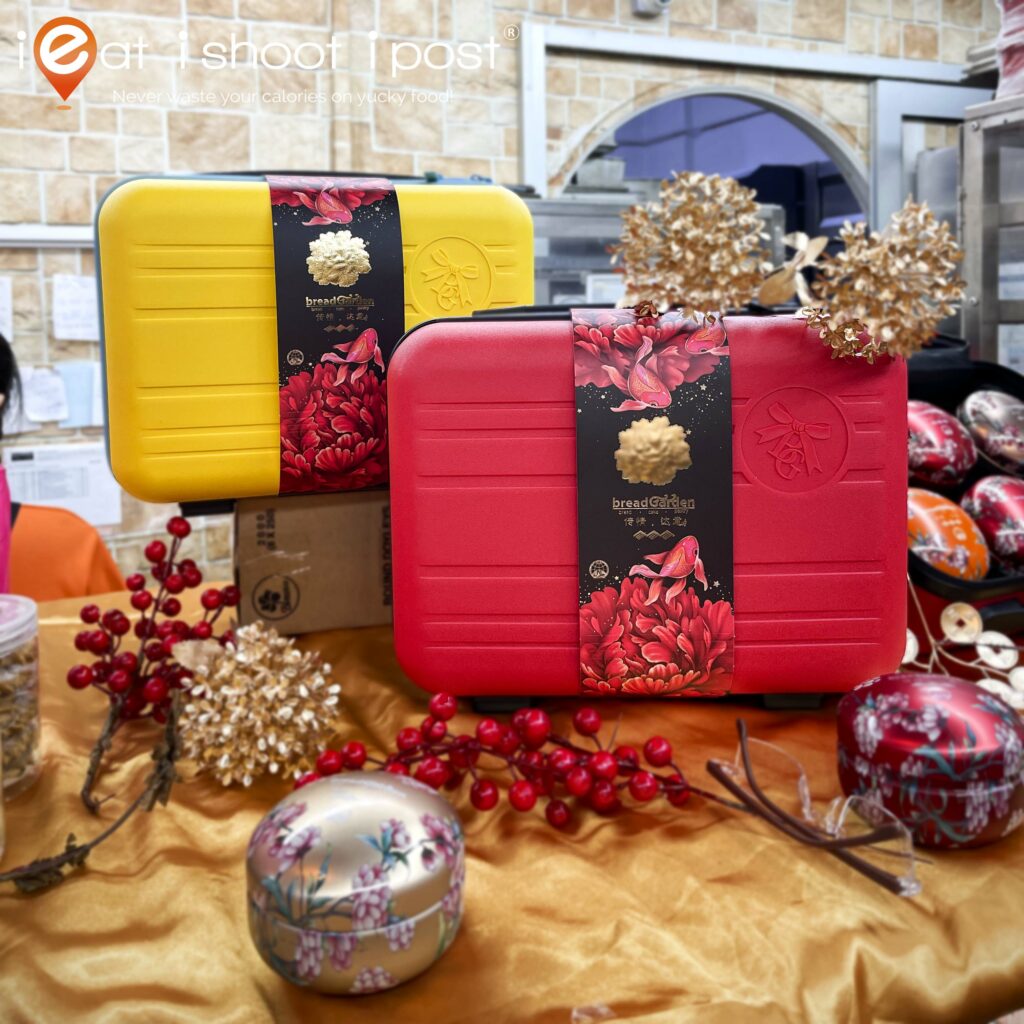 Available in unique Prosperity Red or Royal Yellow mini luggage, the Bountiful Goodie Box comes packed with 6 mini-tubs of Bread Garden's signature goodies. Items include:
Premium Pineapple Tarts
Macadamia Buttery Cookies
Old School Almond Cookies
Dark Choco Sensation
Kopi Gao Siew Dai
Spicy Prawn Roll
Where to purchase
You may pickup your Bread Garden CNY cookies at any of their outlets, online store or these roadshows:
CK Tangs Plaza – until 19 Jan 2023
Vivocity – until 20 Jan 2023
Novena Square – until 20 Jan 2023
Suntec City – until 20 Jan 2023
NEX – until 20 Jan 2023
Lot 1 – until 20 Jan 2023
Bread Garden Outlets
Bread Garden Bukit Batok
Address: Bukit Batok East Avenue 3 #01-257 Block 283, Singapore 650283
Contact: +65 6560 2923
Bread Garden Segar
Address: 485 Segar Road, Singapore 670485
Contact: +65 6710 7931
Bread Garden Woodlands
Address: 768 Woodlands Ave 6, #01-23, Singapore 730768
Contact: +65 6368 5791
Bread Garden Yishun
Address: 417 Yishun Ave 11, #01-343, Singapore 760417
Contact: +65 6555 1138
Conclusion
Having tasted their mooncakes, we were quite confident their CNY cookies will not disappoint and they didn't. I suppose their formula of using fresh premium ingredients with low sugar and no preservatives works. Not to mention, their cookies are also Halal certified so your CNY cookies are good for your Muslim friends coming round to visit this CNY too! Huat ah!

Disclosure: this post is written in partnership with Bread Garden