Update 18 Mar 2020
The original owner has moved to Blk 115 Aljunied Ave 2
The stall is now known as Jiali Seafood Soup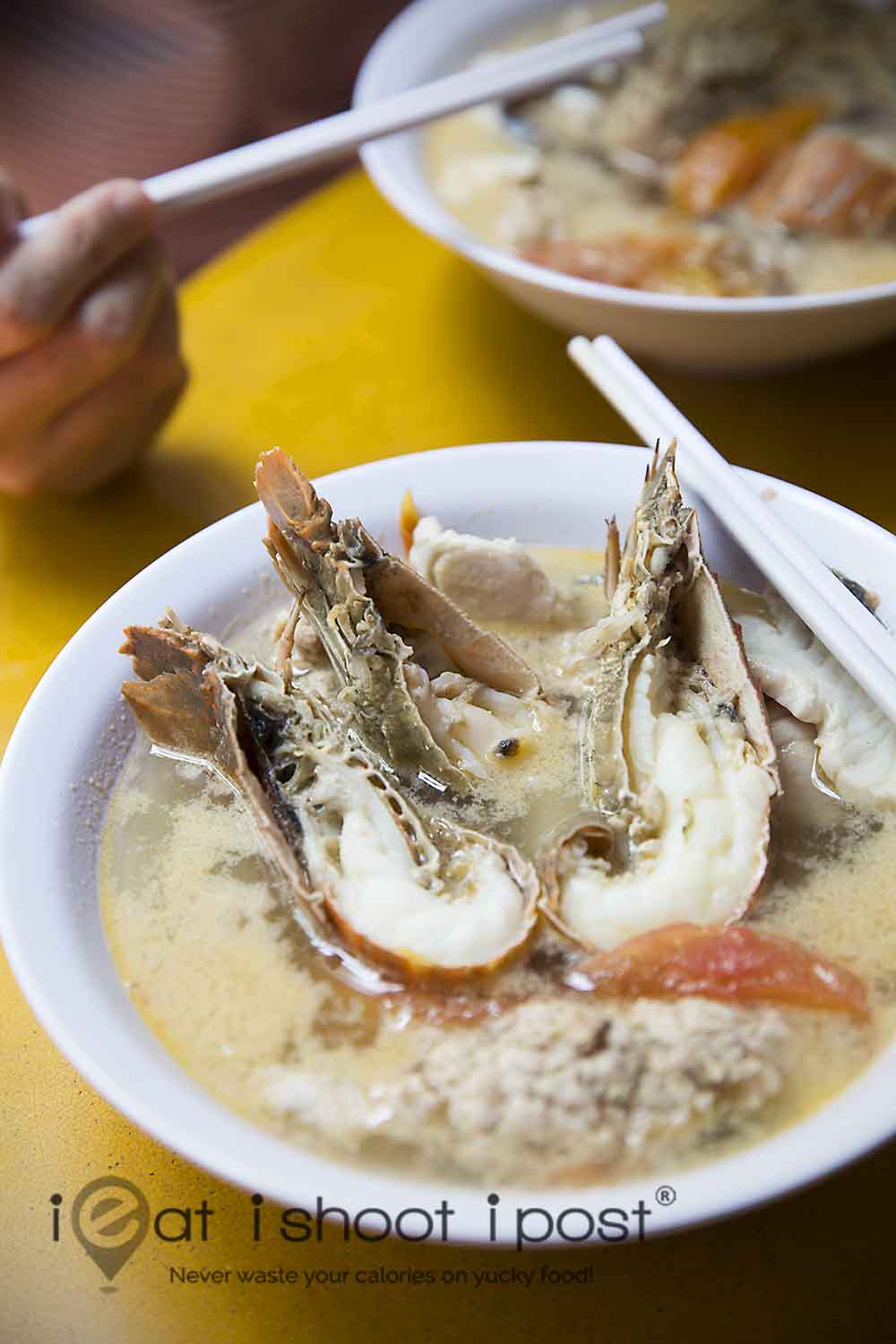 Crayfish has been enjoying a surge of popularity in recent years with the increasing number of stalls serving seafood white beehoon. It was once considered the poor man's lobster, but something that used to cost $12/kg just 5 years ago is now commanding $17/kg and this blog post isn't helping to put a damper on the trend!
Seafood soup comes in different forms. The most simple form is the Teochew fish soup, where you typically get slices of fish cooked in clear soup. Then there is the more elaborate fish head steamboat where the fish is accompanied by other ingredients like yam, tomatoes, sour plums, chinese cabbage and cooked in a charcoal steamboat. "Seafood soup" lies somewhere in between. It probably started as an upmarket version of the fish soup where other seafood like prawns and crayfish are thrown in. Over time, it evolved into something quite distinct.
The form of seafood soup that Sin Kee serves is still relatively uncommon. This stall has been in operation in Marsiling for only five years, but Yan Ji seafood soup at Woodlands has been around since the 80's and has been very popular for a while. That begs the question: Why there aren't more stalls selling this form of seafood soup? As far as I know, aside from Sin Kee, there is also Shun Feng Crayfish Delight at Yishun which also attracts long queues every day.
These three stalls sell a similar type of seafood soup in which minced pork balls are added to the soup together with a choice of crayfish, prawns, sliced fish and other seafood. The true seafood aficionado may balk at the use of minced pork since most of the flavour actually comes from the minced pork rather than the crayfish. Then again only a few fish soup stalls are able to boast that they use only fish bones to cook their stock. Most will have pork bones in the soup stock.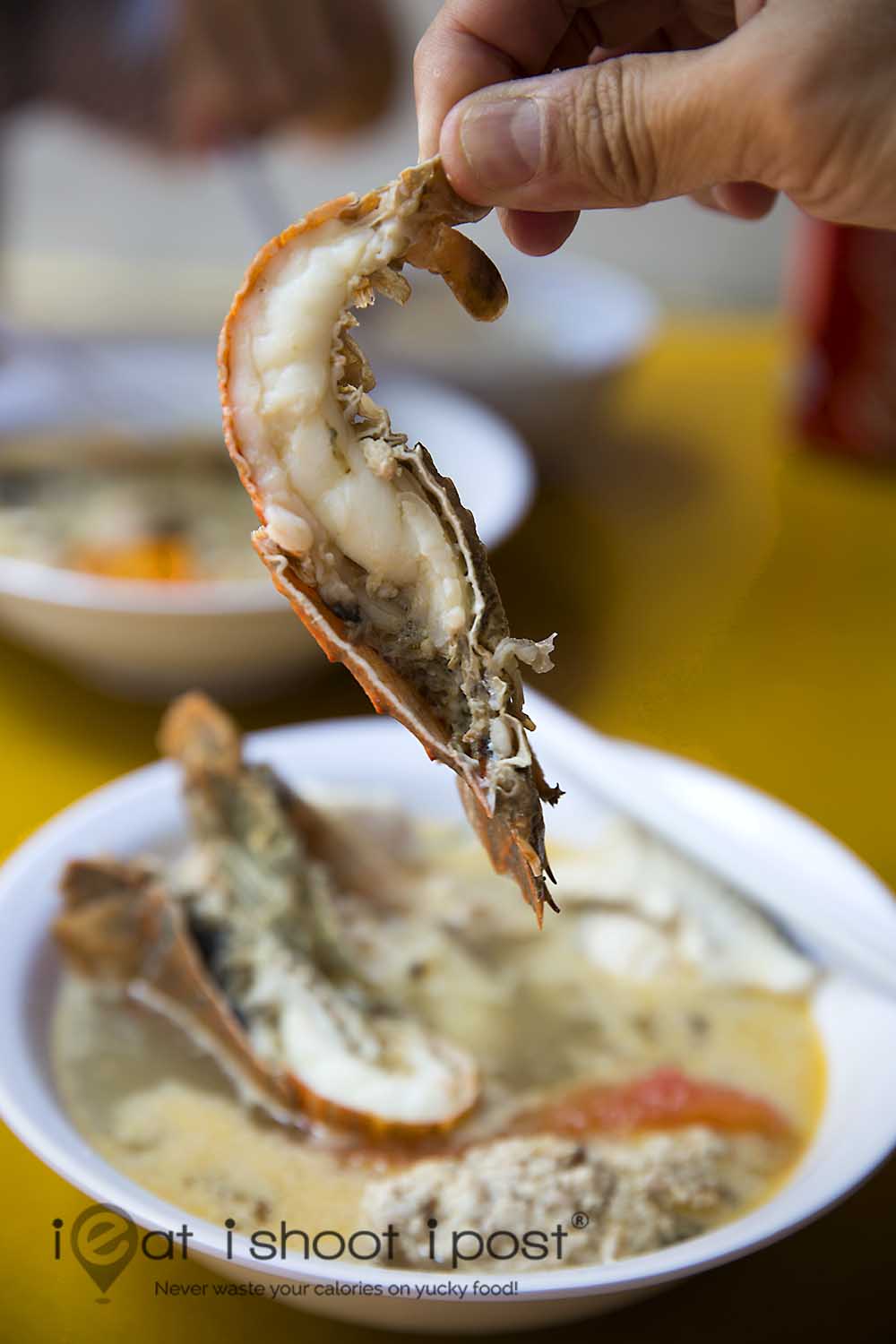 The soup at this stall is very tasty, but as I have alluded to above most of the flavour of the soup comes from the old mother hen, dried scallops, minced meat and dried solefish rather than the crayfish itself. It is still very tasty nonetheless and goes very well with a bowl of white rice. 4.25/5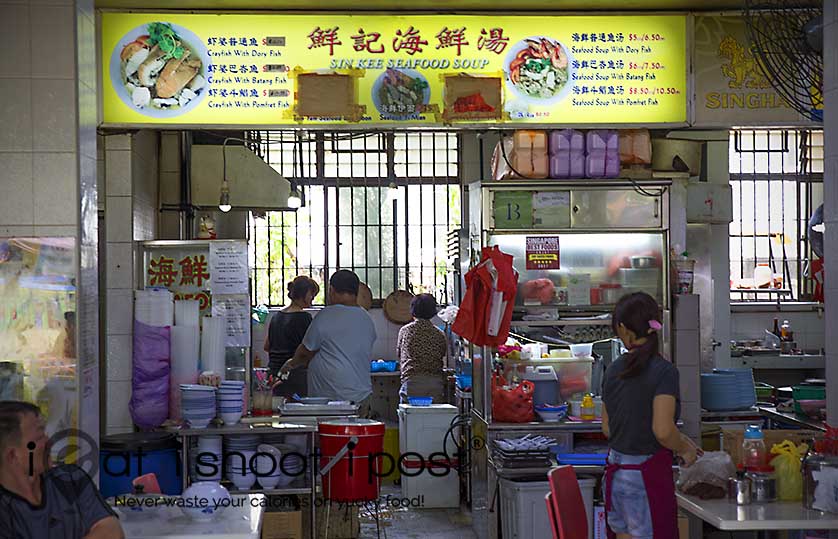 Conclusion
This type of seafood soup seems to be quite popular up North. The soup is very tasty but most of the flavour actually comes from the minced pork rather than the seafood. Although this stall has only been opened for 5 years, they have already build up quite a following, so much so that Yan Ji Seafood Soup also opened a branch at the other end of the same block of flats! I shall have to make another trip up North to see which one is better! Stay tuned!