With iwatch_ueat and SCS Butter

Imagine freshly fried You Char Kway made into rojak! That would be something wouldn't it? It would be especially special for those of us who really enjoy just You Char Kway rojak without all the other vegetables and fruits. When smart alerted me to this particular stall in Macpherson, I simply had to find out if freshly fried You Char Kway is better than toasted You Char Kway when it is tossed into rojak.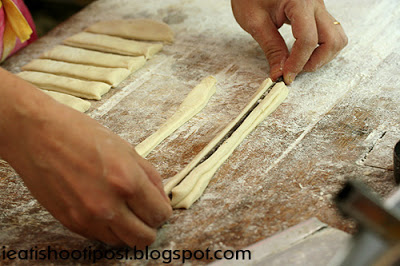 This is a sleepy little stall in a sleepy part of Singapore especially in the afternoons. So the lady needed to fire up the oil in order to make some You Char Kway for us. Amazingly the You Char Kway is still 30 cents each here and a plate of rojak just $2.
The You Char Kway was super crispy and warm but unfortunately the Prawn Paste and Ground Peanuts were not quite up to expectations. A good plate of rojak which really could have been great. 3.75/5
Conclusion
Try it for the novelty of having freshly fried You Char Kway rojak that is really cheap. However, I am still undecided if freshly fried You Char Kway really makes a better rojak than toasted You Char Kway. The only way to find out is to find another stall somewhere that does the same thing but with a sauce with more kick!