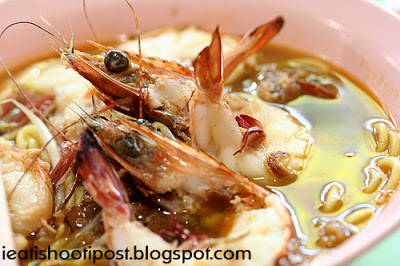 Do you all still remember the hawker centre that used to be below the Whitley Road Flyover? I used to live near there 20 years ago during my NS days and it used to be my usual haunt to get great hawker food. My wife (my girlfriend then) never ceases to remind me of one particular eating spree where I went amok after having just recovered from my wisdom tooth extraction. I was on soft diet for a week and when they finally removed the stitches, all hell broke loose.
I don't actually remember any particular stalls there. All I remember was that there was a lot of good food. Pity that they had to relocate. I guess eating under a flyover is hardly very sanitary with all that exhaust smoke and soot.
This is one of the stalls that traces its roots from the old Whitley flyover Hawker centre and it is one of those Prawn Noodle stalls that often make it to top ten list of prawn mees in Singapore, so I am sure there are many fans. This is a good bowl of prawn mee but the soup that day lacked ooomph. 4/5
Conclusion
I heard they have another stall over at Novena. I wonder if both are of the same standards?