With SCS Butter and the ieatFamily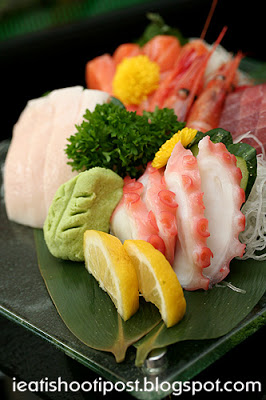 Matsu Sashimi: $40
My kids love Japanese Food. It's always a fight between Japanese Food and MacDonald's every time we ask them what they want to eat. And between Jap Food and MacDonald's, my choice is quite straightforward.
I guess the thing with Japanese food is that the flavours are quite simple and the kids can use their hands to eat stuff like sushi. Then there is the Tempura dishes which always appeals to the kids. When it comes to Sashimi, I am always amazed at how my five year old daughter loves it so much and yet my son would not touch it. Guess she's more like mom.
This being the case, the family is always in search of affordable, family style, casual Japanese restaurants to eat at. I am happy to report that Megumi is yet another of such restaurants to add to the list.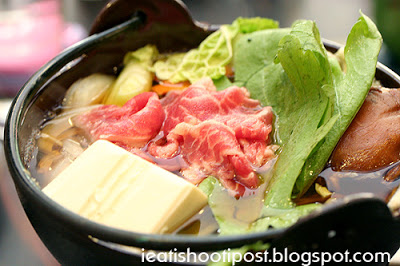 Beef Sukiyaki $17.80
Let me just highlight a few of their more distinctive dishes. The first one that I would say is pretty special is their Sukiyaki/Shabu Shabu which costs $17.80. It is served with a good portion of Hokubee Beef.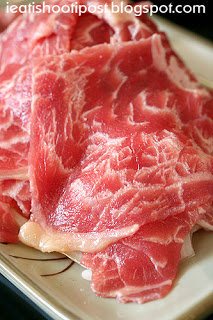 For the uninitiated, Hokubee Beef is beef that is "manufactured" to resemble Kobe Beef. The product itself is called "Meltique" beef and what happens is that they inject a mixture of Canola oil and starch into the normal, otherwise lean beef in order to give it more marbling. When your first look at the picture, you'd be amazed at how the marbling actually looks!
Tastewise, the Hokubee cannot match that of Wagyu. But the texture of the beef is very good and it has that tender "melt in your mouth" quality about it. Healthwise, I guess I can only postulate since there are no research papers that I know of that says that Hokubee Beef is better for you than normal beef. We know that Canola oil is one of those monounsaturated oils that actually lowers your bad cholesterol levels. So, theoretically, it should be better for you than well marbled USDA beef. But don't quote me on that yeah?
Anyway, the sukiyaki soup stock here is pretty good and we really enjoyed the tender beef slices. Of course you cannot compare with having A5 black hair Beef, but it is probably one of the best value Shabu Shabu deals I have come across. 4/5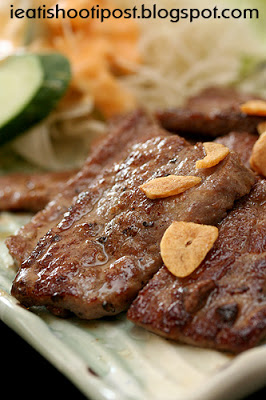 Hokubee Teppanyaki $16.80
Actually, I feel that for the price, Hokubee Beef is actually not bad. It is beefy enough, but it is the tenderness of the beef that is really enjoyable. If you don't tell me that it is artificially injected beef, I could have easily mistaken it for grain fed New Zealand or Australian Beef. Given that I have been to some Japanese Restaurant Chains that serve simply atrocious "Chewing Gum" type beef, I'd go for Hokubee any day (except for days when I get to eat USDA Prime). So when Hokubee is used to prepare any beef dish like this Hokubee Teppanyaki, you do get nice and tender beef without having to pay a bomb for it. 4.25/5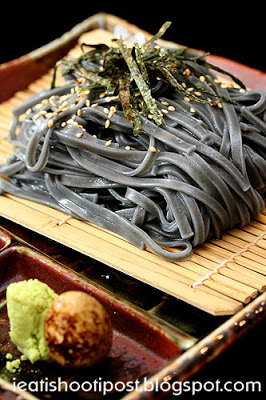 Hiyashi Sumi Udon $9.80
I am sure you all have taken Charcoal Pills for diarrhoea before right? So eating charcoal is not a problem. But what do you think about Fine Charcoal Udon? This is the first time I have come across this particular flavour of Udon, which is served cold. Tastewise, I really cannot say it is really that distinctive. But hey, its a wonderful way to prevent yourself from getting diarrhoea just in case the Sashimi is bad. Just joking lah, the Sashimi here is pretty fresh. I rate it 3/5, but then I am not a cold noodle person. Those that enjoy cold noodles might be in a better position to give it a fair rating.
Conclusion
Another restaurant to add to the list of possible restaurants from family dinners. This restaurant is located in the area of Sunset way which is being touted as the new "Holland V". The restaurant itself is tiny, but there is a large Al Fresco dining area. Good place for a casual Shabu Shabu and to get your usual Japanese fix.
Disclosure:
This review was done by invitation from Megumi and arranged by SCS Butter