With iwatch_ueat and liverpool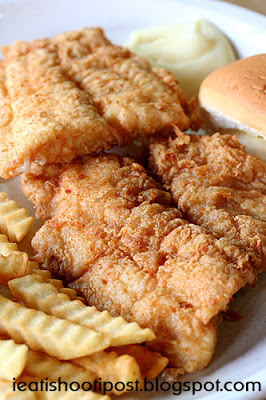 I have decided to create a special label for our very unique style of "Hawker" Western Food which I think should be considered a very special style of hawker food rather than simply "Western" food. You know what I mean? "Hawker" Western Food has Hainanese roots and is typically served with Baked Beans and Chips. In addition, the meats are marinated with a mix of local as well as western sauces.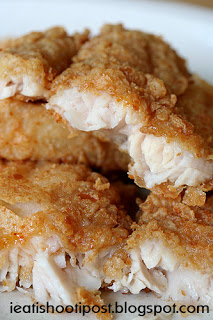 There are many Western Food Stalls around and sometimes it is hard to differentiate between them. But I have found this little stall in the HDB heartland that serves up quality stuff that is cheap and they have a few special points that really makes them special.
Firstly, the batter here is your traditional Hainaese style batter which is made from biscuit rather then bread crumbs. This results in a very light, yet crispy batter which has just that extra crunch to it. The fish and chips here at $4.50 is probably one of the cheapest around, and you don't get the usual Cream Dory which can sometimes taste a little muddy. The owner Jeffrey tells us that there are 3 categories of Dory: Cream, Pacific and White Dory of which he uses the best one which is White Dory. Now I can't get any info about White Dory, so if any readers out there know anything, please share with us.
Anyway the Fish is perfectly fried. The batter is super crisp and light and the fish is juicy. The only complain I have is that it is served with mayonnaise rather than tartare sauce. But at $4.50 for White Dory Fish and Chips, I won't complain too much. 4.25/5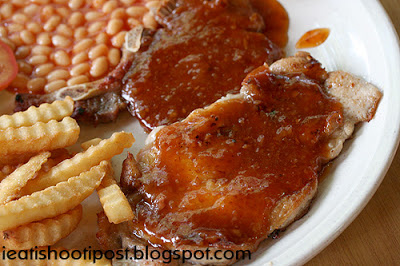 The second thing that differentiates this stall apart is their 40 year old BBQ sauce which is made from 13 ingredients. This sauce has been passed down from his father-in-law who started selling Western Food in Geylang Bahru. The little "bits" that you see in the sauce is fried garlic and onions, then there is Leas and Perrin, HP sauce, Bay leaves and Maggi Seasoning. The rest of the ingredients are kept secret. I must say that I really enjoyed this very unique sauce. Its sweet and a little bit tangy and it has that Asian taste about it. Quite unlike any BBQ sauce that I have tasted.

Pork Chops $4.50
If you enjoy Hainanese Style Pork Chops then you should really pay this little stall a visit. For $4.50, you gett 2 slices or "proper" Pork Chops with the bones still attached. A lot of places give Pork Loin that do not have the bit of bone with which all the nice tender and juicy flesh is attached. The same biscuit batter is used and it is served with the BBQ sauce. This is the cheapest Hainanese Pork Chops in Town and its pretty darn good too! 4.25/5
Conclusion
Good and cheap Hainanese style western food. It is not easy to find this type of biscuit crumb batter anymore, so this is a real gem of a find!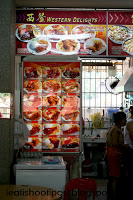 Recommended by Steven Wong