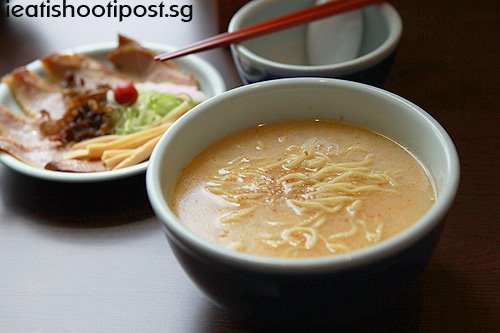 Special Pork Cheek Ramen set $19.90
Ramen. It's the Japanese version of our Bak Chor Mee Soup. But like everything else, the Japanese take on food of other cultures and show the world that perhaps their way of doing it is better than the original. Just take Tonkatsu for example. That dish is really their version of the Pork Schnitzel. But who would take the train to the middle of nowhere in Tokyo to eat a Pork Schnitzel? But for the juiciest Tonkatsu, that's exactly what I did. Another example is mayonnaise, how many of us buy the Japanese version instead? See what I mean?

So Ramen. It's called Ramen because it is an idea borrowed from the Chinese La Mien. But somehow, people are willing to pay $15 for a bowl of Ramen and only $8 for a bowl of La Mien. Even worse, they are only willing to pay $4 for a bowl of Bak Chor Mee and that is only when the stall is quite famous.
At the end of the day, we are talking about Egg Noodles in pork bone soup with some ingredients like slices of pork and eggs on top. But how come the Japanese can do it so that we won't blink an eye at paying upwards of $10 to eat it? If I were to give our best Bak Chor Mee stalls the permission to produce a $10 Bak Chor Mee, I wonder what it would be like? Perhaps, they too will boil the pork bones long enough till it turns milky white and add extra stuff like dried scallops and plenty of Ti Poh (dried sole fish) in it. Perhaps they might even add slices of slowly stewed pork ribs plus other yummy ingredients ingredients in it. Hold on, this is beginning to sound like something I can get at Seng Kee when you order the fish maw noodle soup and add their braised Pork Ribs on top!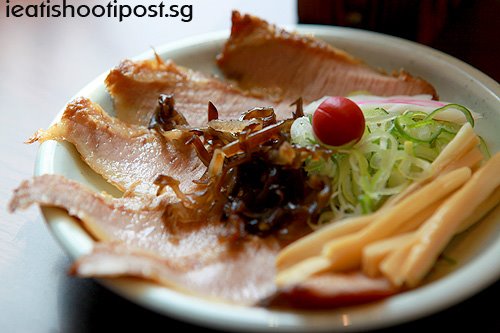 Sliced slivers of juicy Pork Cheek
But let us come back to this Ramen. When I read about this Pork Cheek Ramen from our forum, I just had to go try it. I think it had me at "Pork Cheek". Ironically, the occasion arose because my wife had just returned from Tokyo dissappointed that the Ramen she had there on this occasion was pretty lack lustre. Yes, they do have bad food in Japan too you know. So to make up for the lack of a good Ramen, we decided to try Santouka's Pork Cheek Ramen, which was regarded by our Makan Kaki PChong to be one of the best in Singapore.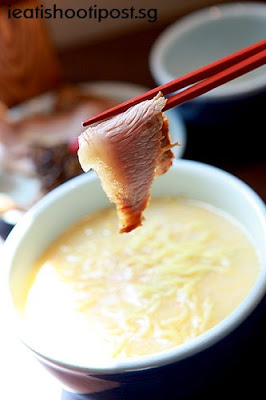 My favourite part of the pig used to be the belly, but now I think it is the cheek. Belly is great as Sio Bak, streaky bacon and Japanese style Char Siew but when it comes to slivers of meat that you savour slowly, I reckon the cheek is second to none. The restaurant proudly proclaims that each pig has only about 200 to 300 grams of Pork Cheek in order to justify their hefty price tag of $19.90 for the Pork Cheek set. Hey, man, I can think of rarer parts of the pig, both of which would only weigh 100g, but I won't pay to eat them!
But anyway, the pork cheeks were heavenly. They were braised till they were so soft that it just dissolves on your tongue. Well almost. I wonder why our local hawkers don't serve braised pork cheeks? The pork bone soup that came with the noodles where satisfyingly creamy and savoury and the noodles were excellent. But just a friendly warning, this little indulgence is going to cost you $20! 4.5/5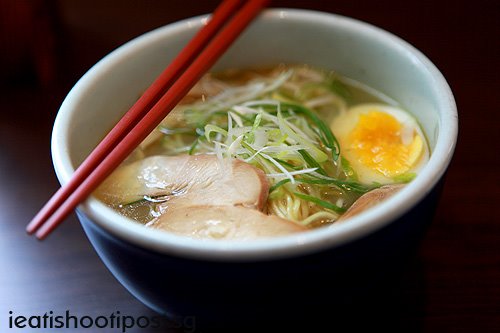 Chicken Ramen
For those who are cutting down on their cholesterol, the chicken ramen is a healthier alternative. But unfortunately, cholesterol usually equals taste. So I found the chicken ramen very ordinary even though they tell me that their customers rave about it. 3.5/5
Conclusion
So what do you think of Ramen vs Bak Chor Mee Soup? Obviously people are happily paying 3 to 4 times the price to eat Ramen. Is the price of Ramen justified or is it simply overpriced?