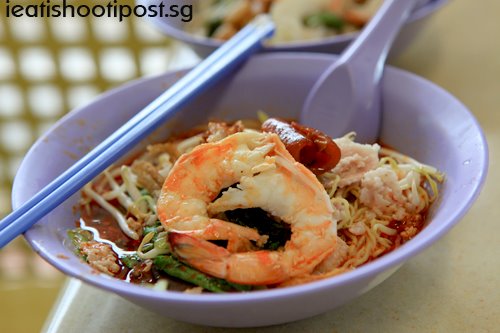 Mee Pok Tar with the Works $4
I have alluded many times to the fact that us Teochews are really very fussy about the freshness. It is part and parcel of the cultural trait of being Teochew that everything must be "Chnee Chnee" (Fresh).
If you want to see an extreme example of this in action, you must come to this Mee Pok Stall in Smith Street Food Centre. But you have to be prepared to queue for at least 20 minutes even in the middle of the afternoon in order to partake of this particular Hawker's dish, nay, I would say, his passion.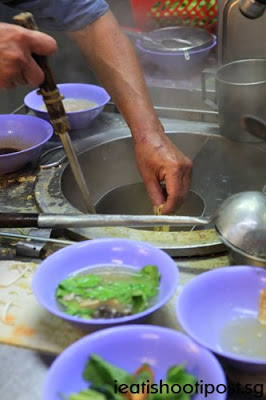 His bowl of Mee Pok Tar with the works is just $4, but it is packed with many quality ingredients many of which he prepares on the spot. When I say "On the spot", I really mean literally "on the spot". The uncle will turn aside while waiting for the noodles to cook to make some dumplings (Giao), then turn back to toss his noodles a few times before turning to his chopping board to slice a few pieces of meat. I also notice that he would pinch the noodles every time he cooks a batch in order to see if they are cooked perfectly. All these things really slow down the process of producing one bowl of noodle which definitely contributes the the length of the queue.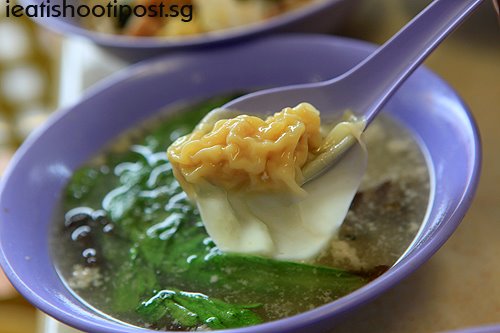 There is no doubt that his ingredients are fresh and for $4 you really do get quite a few goodies. There is one medium sized peeled prawn which tastes like it is a sea prawn rather than the farmed ones, several slivers of crispy sole fish, one dumpling, one pork ball, slices of lean meat and minced meat, braised mushrooms and unique to this stall, a piece of braised pork skin. All the ingredients are excellent but I can't give them top marks because I felt the noodles and sauce lacked a bit of flavour. 4.25/5
Conclusion
This is probably the best value, most elaborate and freshly made Bak Chor Mee that I have ever come across. It really is frustrating that there never seems to be a lull period where the queue is less than 15 mins! But then again, I guess everybody knows a good deal when they see one.