With Amagada, ieatMama and the kids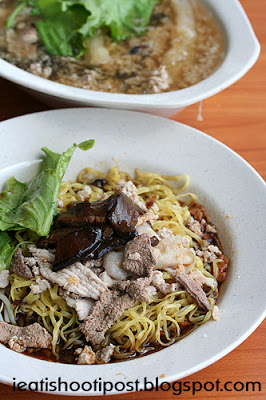 Bak Chor Mee $4
It's been a year since I blogged about Seng Kee. I was looking at my old pictures and felt that I should do justice to their food by doing a better job with the photos. Since my last post, I have changed my camera equipment and had a bit more practice. So I hope you can see that the pictures are now a little nicer now.
Unlike most other Bak Char Mee places, this particular one actually owns the whole restaurant. All the rest of the Bak Chor Mee places I know operate from small stalls as part of a coffeeshop or food centre. This means that our Teochew Ah Hia has got a little more elbow room to experiment with different dishes. So aside from just giving us the standard Bak Chor Mee, Mr Lee has even started to try his hand at Cze Char dishes as well! Oh, he only has one dish at the moment, but it was really good! I'll tell you more about it later.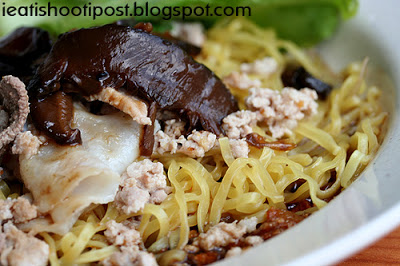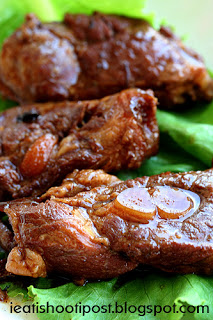 I like this stall not only because the food is great, but they are very friendly as well. And every chance I get to speak to Mr Lee, (a typical Teochew Ah Hia), I always managed to learn something new. This time round he was explaining to me that he slices up the mushrooms, leaves it overnight to extract the juices before combining it with his secret blend of herbs and spices in order to create the unique sauce that goes into his Bak Chor Mee. Of course he was mum about what spices he uses. At least now I know why his BCM tastes a little different from the rest. I like the "mee pok" he uses here as it is the thin and flat type. It has a very good bite and has that excellent eggy flavour. 4.5/5
Those who like braised pork ribs should really give his pork ribs a go. He has tweaked his recipe a little since the last time we spoke. His ribs are always stewed until you can eat the whole thing without leaving any soft bones behind. 4.25/5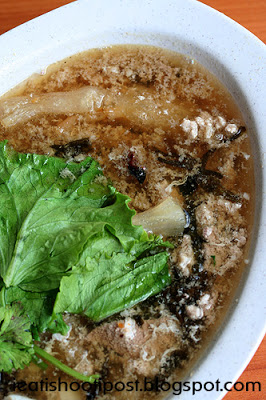 Fish Maw Soup $10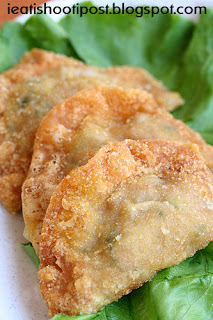 Of all the soups that accompany the BCMs that I have blogged about over the last year, this one stands one head above the rest. I have already elaborated about the quality of the stock in my last post, but I just have to let you know that the real gem at this place is their fish maw soup. For $10 a big bowl, it is well worth the money. It is chock a block full of Fish Maw, minced pork, sliced pork, black fungas and liver. And the soup is so full of pork protein precipitates that even if you feel that you need an extreme umami boost (like having spent a week eating hospital food), I can guarantee that a bowl of this soup will still be "Too Much" for you! Very very shiok and satisfying bowl of soup! 4.75/5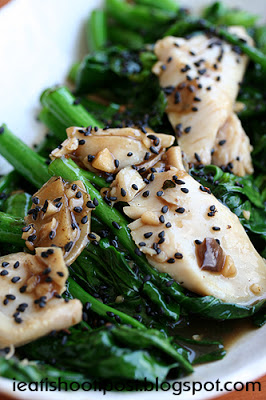 Alright, I promised to tell you about that one Cze Char Dish that Mr Lee has started to do. It is this Kailan with sliced Fish. He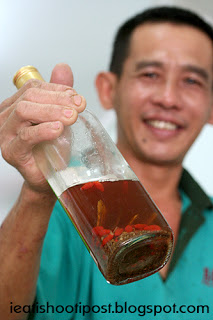 attacks the wok like how he does with the BCM, with lots of noise and gusto. Incidentally, Mr Lee used operate to from a coffeeshop in Eunos where he built his reputation as the "Clop Clop" BCM man. Even now, when he is in action, he makes lots of noise by whacking his metal ladle on the porcelain bowls.
He really gets that wok smokin' when he frys the Kailan. A bit of this, a dash of that, and lots of action and smoke. The end result is a Kailan which quite a distinctive taste. When I enquired why the Kailan tasted so good, he proudly produced this bottle of "moonshine". Well, he didn't really distill the wine himself but he adds his blend of herbs and spices and lets it all soak for a week before using just a few drops of it to spike the dish. I had a whiff of it and take it from me, a few drops is all that is needed!
The Kailan were tender and the sauce was really good. My only complaint is that he uses Batang fish which I thought was a little tough. It would have been great with Toman or Ikan Kurau. 4.25/5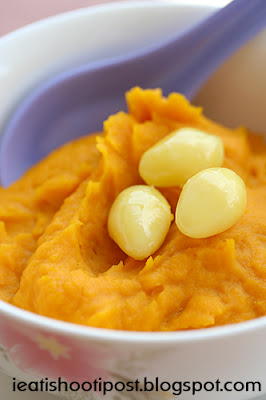 Finally, to the dessert. Yes, dessert. Never thought you 'd be ordering dessert at a BCM place right? But as I said, this restaurant is Mr Lee's playground to experiment with all his favourite food. So here is their pumpkin paste which is made from pure pumpkin and nothing else. No lard, no sugar, simply pumpkin. I suggested that the pumpkin paste would be even more shiok if he would roast the pumpkin instead of steaming it. The roasting process would caramelize the sugars and give it a nice smooth and smoky flavour. As it is, it is quite good but lacks that extra ooomph. 4/5
Conclusion
This is really quite a unique place for BCM. The BCM itself is quite good, but it is the combination of the different dishes, the service and the personality of this Teochew Ah Hia and of course the Fish Maw soup that makes this place my regular BCM haunt.
Link to first Seng Kee Post
Update 2 Oct 2014
Please note that they are now located at the following address:
You can view the Makan Lost and Found Episode here! Many thanks to Sen for providing the link. (I made a very brief cameo appearance in the episode!)
Below was their previous address: