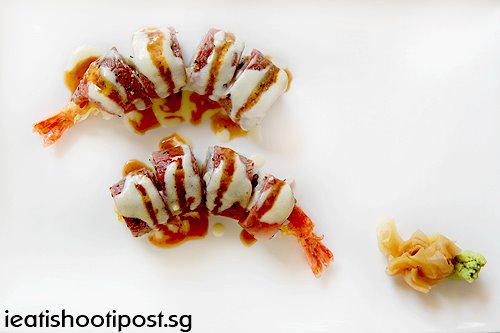 If you are a fan of the Iron Chef series, then the mention of Iron Chef Masaharu Morimoto might conjure up images of fantastic Japanese creations which his critics would say is not Japanese at all. This is the paradox. Chef Morimoto, the man responsible for the highly acclaimed Nobu Restaurant in New York who plays the role of Iron Chef Japan is supposed to represent Japanese cuisine but he always comes up with creations so bizarre that some might question its "Japaneseness". But….. he still manages to beat his challengers most of the time.

Chef Morimoto left Nobu after the series to start his own restaurant, Morimoto, in Philadelphia. This is where our young protagonist comes into the picture. Chef Gunawan Wibisono, an Indonesian by birth, worked his way up the Sushi ladder without formal training to eventually work at Morimoto's kitchen. After he left Morimoto, Chef Gunawan opened Zento in Philadelphia and won numerous praise for his contemporary Japanese cuisine. He and his wife had recently moved here to open another branch of Zento to introduce his creations to Singaporeans.
Truth be told, I was attracted to the fact that there are several dishes at Zento which are inspired by Chef Morimoto. Short of travelling to the US to taste the mighty Morimoto's food, I guess this is the next best option. With the dearth of Japanese restaurants opening up in Singapore, Zento takes Japanese cuisine to uncharted waters. Just like Morimoto's creations in the Iron Chef series, the judges might not think it is classically Japanese, but it tastes so good that they award him the win anyway. After all, when it comes to food, it all boils down to how the it tastes right?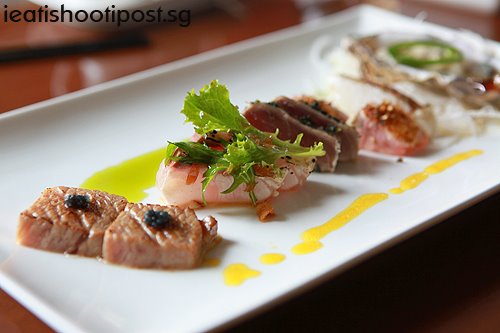 Zento Sashimi Set – Otoro with Caviar, Miso marinated Salmon, Madai with onion vinaigrette, Wasabi encrusted Tuna, live oyster with fish and Yuzu sauce $29 (one and half portion shown in photo)
So if you have been enamored by Japanese food, as are a lot of Singaporeans currently, you would be very glad to know that Zento will challenge you to re-define Sushi and Sashimi. If you have read my previous posts on eating raw fish, you would know that I am quite a late bloomer to the Sushi/Sashimi scene. I went from " I will never ever walk into one", to "Only if I have to accompany my wife into one", to "Hey let's go eat some Sushi!" only of late. So for me, I am starting to really like Sashimi, but I still have a soft spot for a bit of char grill flavour.
If you are still find eating raw fish a little distasteful, then the Zento Sashimi Set might just change your mind. Here you are presented with five different types of fish which have been blowtorched to cook just the exterior. Then, instead of the usual wasabi and soy sauce, they provide different toppings for the different fish. The Aburi (blowtorched) Otoro with Caviar is, as you can imagine, quite heavenly as is the miso marinated Salmon Belly. 4.5/5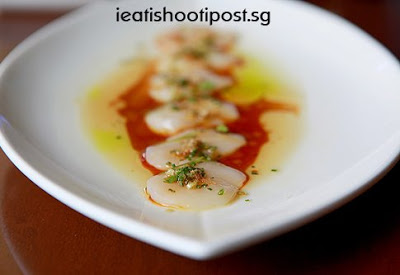 Scallop Carpaccio $25
You can follow the Sashimi set with the Scallop Carpaccio which is also excellent. This is again a creative departure from Scallop Sashimi as they top the scallops with Yuzu sauce, ginger, garlic and Mitsuma leaves, then bathed it with hot grapeseed oil. The combination works very well to bring out the sweetness of the scallops. 4.25/5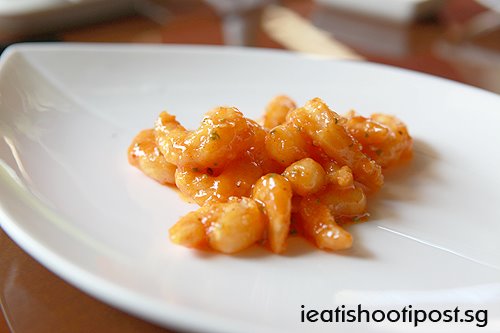 Rock shrimp tempura with spicy kochujan sauce $15
Now we get to the two dishes which were Chef Morimoto's creations. The Rock Shrimp Tempura with a Korean inspired kochujan sauce can be really addictive. However, this dish did remind me a lot of what we can get at the Cze Char places. Perhaps it is novel for the Americans, but I think a lot of Singaporeans will find it very familiar. That said, it was still a dish which resonated with me. 4/5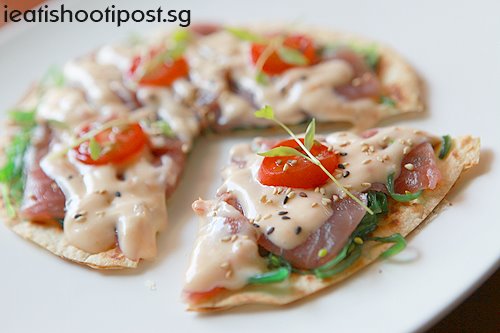 Tuna Pizza $22
The Tuna Pizza is basically it's a crispy thin tortilla chip topped with hiyashi wakame (seaweed), raw tuna and a secret sauce which is imported from the US. The flavours are excellently balanced and the crispy tortilla is a nice contrast to the cold tuna and wakame. Another dish I would order again. 4.25/5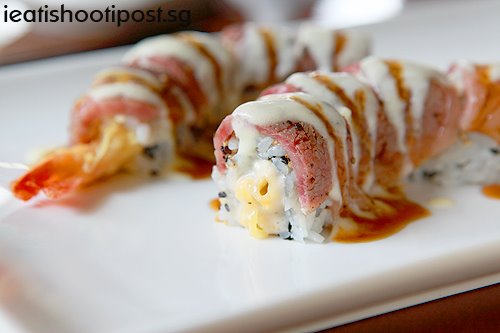 Wagyu Shrimp Tempura Roll with Melted Gruyre and Garlic Sauce $30
Now to the piece de resistance. I have to qualify first that one of my favourite things to eat is a piece of grilled marbled beef with a mouthful of pearly sweet Japanese rice. So I only needed to take one look at the dish to know that the chances of me raving about it is quite high. I am glad to report that I wasn't dissappointed one bit. I think it was brilliant of Chef Gunawan to depart from the usual way of straightening the prawns out for tempura and keep its elegant curved shaped. The curves serve to remind you that beneath that lightly torched Wagyu beef is a tender and juicy giant shrimp! For me, this would be the perfect "Steak and Surf".
The Gruyre cheese sauce gave it just the right amount of creaminess to complement the crunch of the tempura batter and add a wonderful umami kick to the beef. I could just come here and eat just to eat this one dish. 4.75/5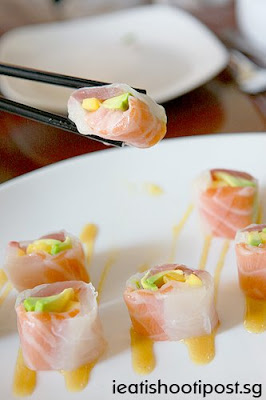 Mango Sashimi – Salmon, Tuna, Yellowtail, Avocado and Mango $25
For those who are trying to cut down on carbos, the riceless sushi rolls are an interesting concept. Instead of the usual Sushi Rice, they taken a few calories off, but still retaining some carbo satisfaction by using rice paper. I like the novelty of the dish but felt the sweetness of the honey mustard sauce overpowers the natural sweetness of the sashimi. Good for dieters. 3.75/5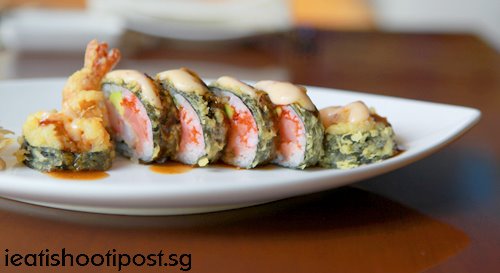 Volcano Roll- $25
I love these small chef owner eateries. It really is a labour of love rather than just a job for the chef. I was told that all the dishes here have been passed by his greatest critic who is none other than Dyana, his wife. If you visit the restaurant, you will get to be introduced to the dishes by her who I think is the real boss of the restaurant. (But maybe I am just extrapolating from my personal life). This passion translates to procuring the freshest fish and making all of their sauces in-house. I mean you just have to respect someone who bothers to make their own coriander oil right?
One of their signature dishes is this Volcano roll which is a deep fried Shrimp Tempura roll with smoked salmon, avocado, crabstick and masago. This is a very tasty Sushi roll whose identity (I am afraid) might get mixed up with the stuff we see at S____ Sushi. The addition of the masago (capelin roe) and their special homemade sauces gives it that extra special touch. 4.25/5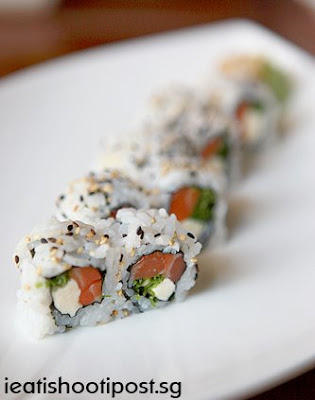 Philly Roll – Salmon, Cream Cheese and Scallion $14
There are so many more items on the menu which I can talk about but I shall stop here with the Philly roll, which I guess celebrates their humble roots from Philidelphia. Cream cheese and salmon is always a great combination, but this is the first time I have seen this combination in a sushi roll. I am partial to this one but Amagada loves it. 4/5
Conclusion
Zento means "Future" (前途 qian2 tu2) in Japanese. I guess its name reflects what they are trying to do by sharing the same spirit of innovation as Iron Chef Morimoto to challenge age old traditions to create new taste sensations. Anything that is novel is always worth a try, but when it is truly good, what is novel will eventually become a classic.
I think there are a few classics in the making here.
Special for ieatishootipost readers:
Complimentary dessert when you mention "ieatishootipost"!
Makan Session in the works:
I am in the midst of organizing a special 10 course tasting menu for everyone which will feature some of the dishes here, including, of course, the Wagyu roll. The special menu will be $38 nett and be held on a Saturday at 2pm. Can I have an indication of how many would be interested to attend?
In order to be notified of this and other events, please join our ieatishootipost facebook group.

This was an invited review