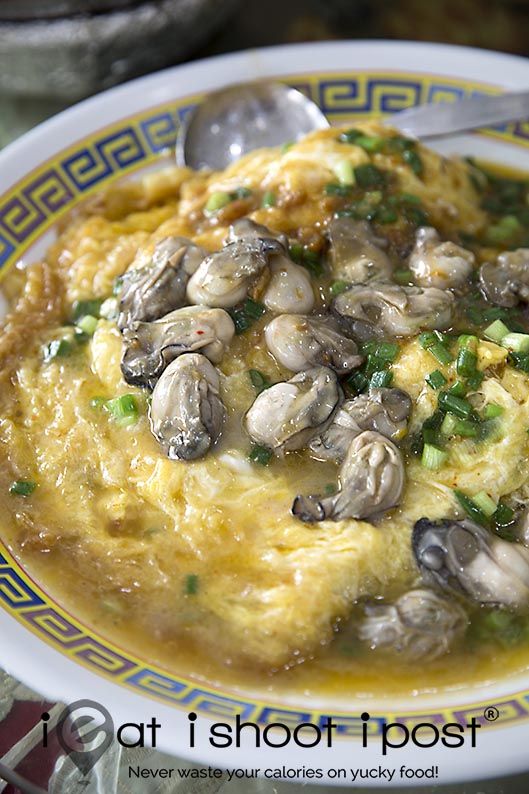 If you happen to be Catholic, you would probably know about Peng Restaurant in Hougang.  When you walk into the restaurant, there is a larger than life size photo of the owners with Bishop Nicholas Chia and I was told that they do a lot of catering for the various Catholic Churches in Singapore!
Ever since I moved to the Hougang area, I have noticed that not only is Hougang full of Teochew people, there also seems to be quite a few Catholic Churches around the area.  I am not sure if Hougang really is the Catholic heartland or its just my skewed observation.  But if it is the Catholic heartland, then Peng Restaurant would certainly one of of the stations along the Via Gastronomia!
Anyway, I better stop pontificating about things I know little about, me being Anglican and all,  and start expounding on the things that I do know a little about — food!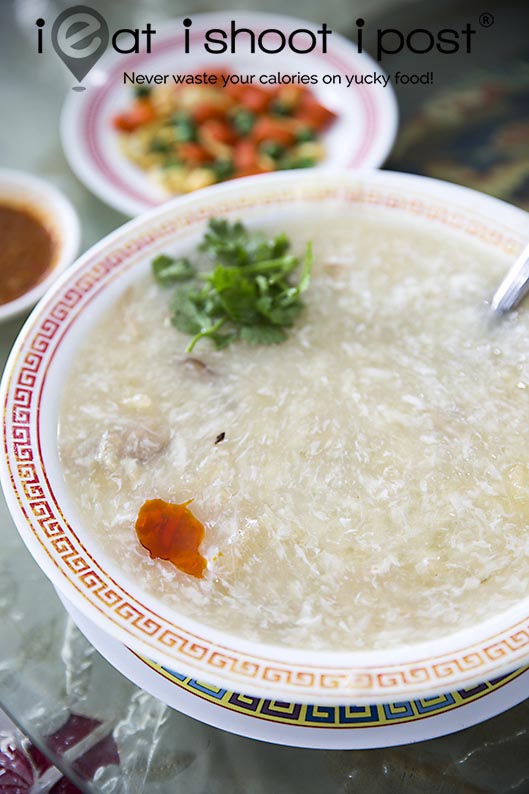 Located along a quiet row of shophouses in a private estate in Hougang, Peng catering is the kind of place that caters to regulars because you would never expect a restaurant to be there.  It's located along the same row of shops as Lee Wee and Bro's Otah which I have written about previously.
The food is quite good in general but as with most restaurants that make it to this blog, there are a few dishes which I felt really stood out.   The first is the oyster omelette which is done in a style that is quite different.  This is more like an orh nerng (oyster egg) rather than an orh luak (oyster omelette with crispy chewy fried potato starch).  The omelette is done very well and they managed to get the eggs to a nice, fluffy texture over which they blanket with a mound of fresh oysters and tasty oyster infused sauce. It certainly is a healthier, less oily version!  4.25/5
The steamed pomfret here is excellent.  The steaming sauce is nicely balanced and the Dao Chior (Chinese Pomfret) is very fresh.  Aaron tells me that they get their fish directly off the fishing boats and delivered fresh to their restaurant.  The fish here are not very big, but they are a good size with very tender flesh.  If you are hankering for Teochew style steamed pomfret, then this is definitely one of the places which I can recommend.  4.5/5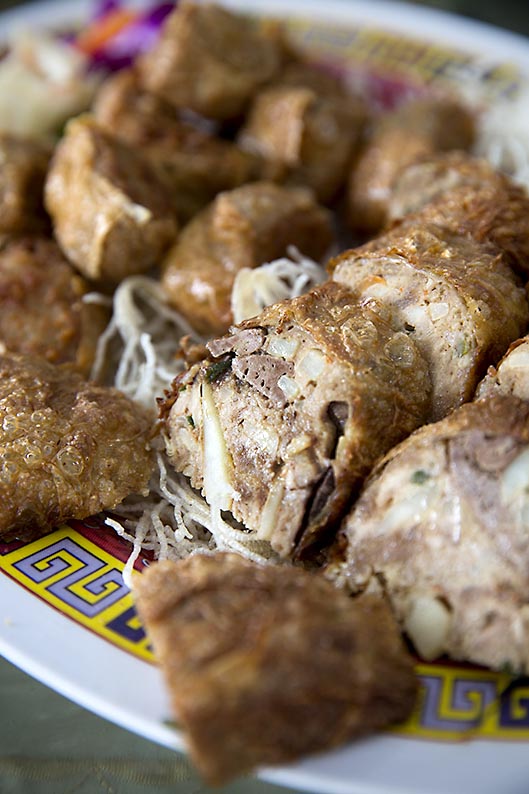 The liver rolls are here great if you like your liver chunky and gamey.  I personally found the offal flavour a tad too strong for my liking and still prefer the ones from Fragrant Garden. But that is just my own preference.  4/5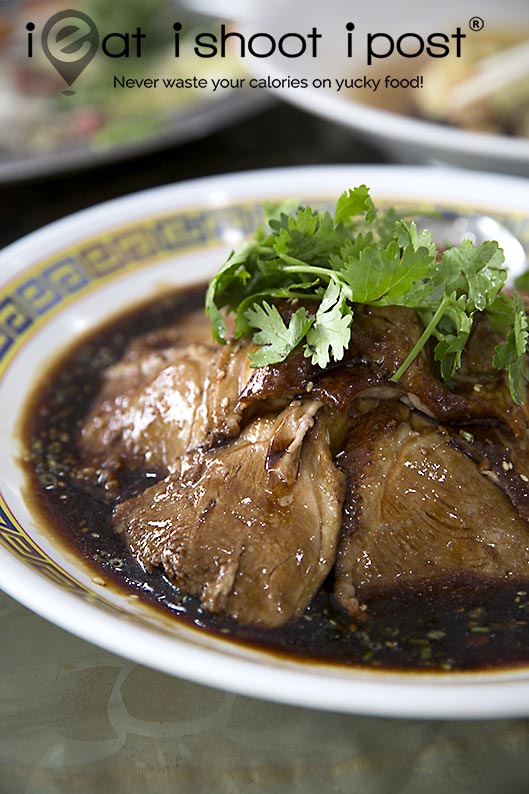 The braised duck here is called braised goose.   But the matriarch here told me that it is not possible to procure fresh geese in Singapore anymore.  They slice the geese in such a way the the meat comes in large slices (along the grain) and so it has a slight chew but still quite tender.  4/5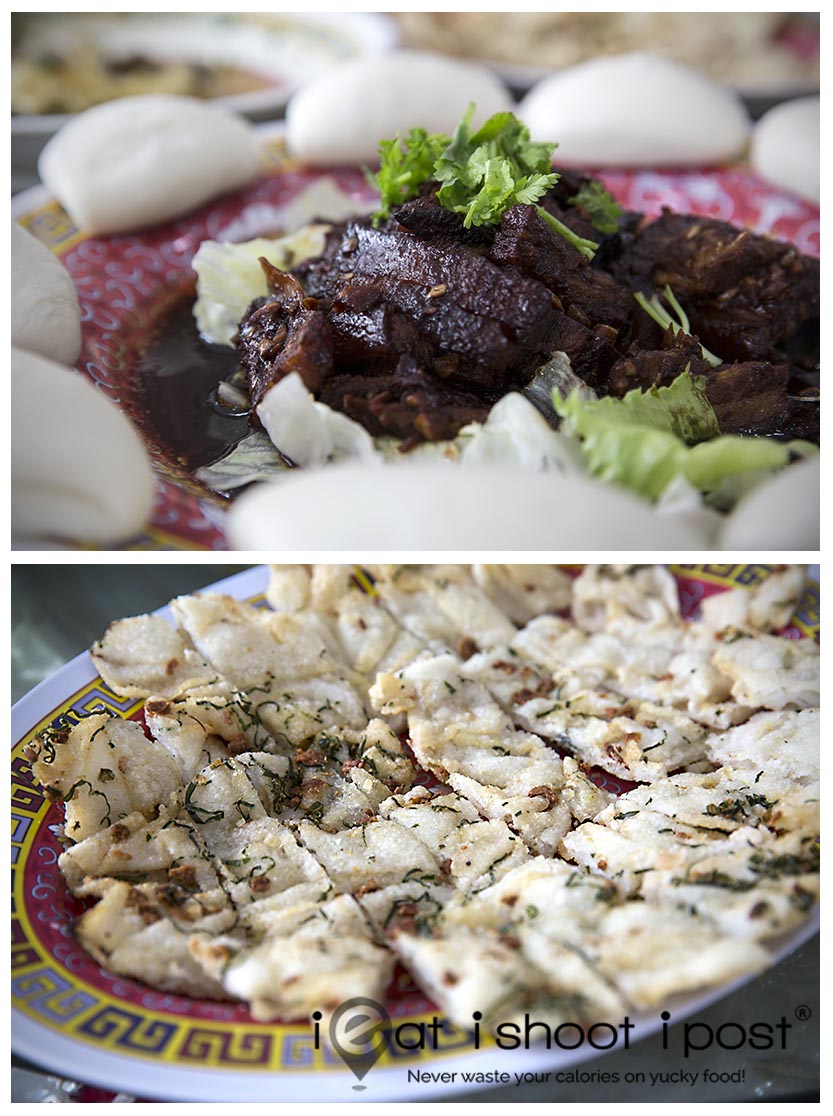 I found the kong bak (braised pork) a little too garlicky for my liking, but some of my other colleagues really loved the garlic bits in the sauce.  4/5  The kway teow (rice noodles) with chye poh (preserved radish) is quite interesting.  Sheets of kway teow with chye poh are fried till they are crisp as crackers.  I think they also put a potato starch batter over it.  It's quite interesting but I still prefer the chewy, slippery texture of the kway teow.  3.5/5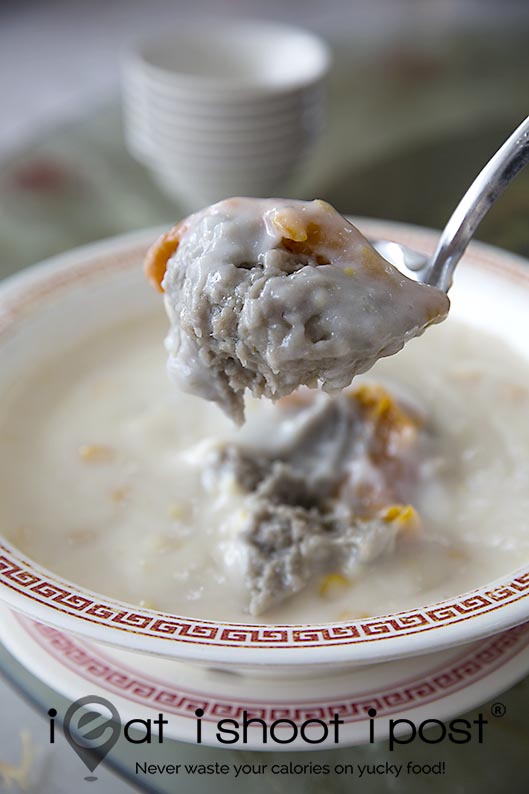 I was disappointed to find that they have added coconut and sweetcorn to their orh nee.  (yam paste)  To me the classic Teochew dish should only be served with pumpkin and ginko nuts.  But again, that is a personal preference.  A lot of Singaporeans would probably like their version with coconut milk which would undoubtedly have their own fans.  4/5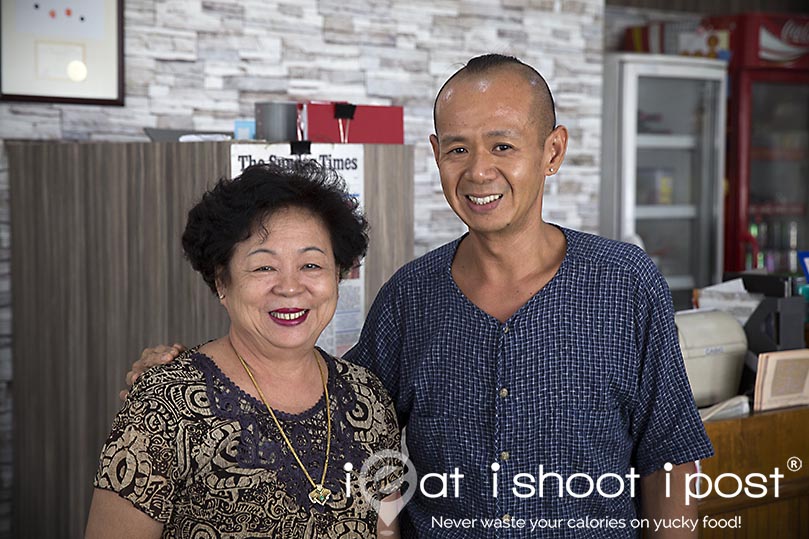 Conclusion
The steamed pomfret here is excellent as is the oyster omelette.   This family run restaurant has been serving dependable Teochew fare for many years and is a quite well regarded by the local community.  They have just undergone renovation and is a very comfortable place to bring your grandparents for a meal.  The bulk of their business is actually in their catering arm, so if you need catering services, do give them a call!