Advertorial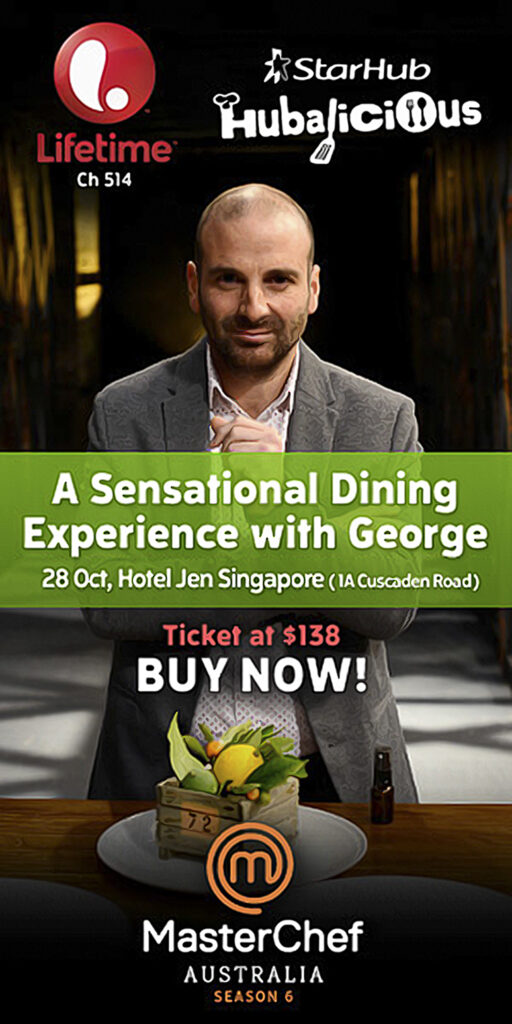 If you are a fan of MasterChef Australia, you would no doubt be already watching Season 6 on LifetimeAsia (StarHub TV Ch 514).   The award winning Australian competitive cooking show has won thousands of fans, one of whom is my dear mom who sent me a whole season on DVD.  (Maybe she's trying to tell me something?)
Anyway, you would be glad to know that George Calombaris, the Masterchef judge who infuses the program with his fiery Greek passion  is doing his Asian tour and will be in Singapore on 28 Oct.  You can get to meet him at the dinner event where he will be cooking up his four course signature dishes as well as sharing some of his cooking tips through a live cooking demonstration.
Fans have already been voting for the top three dishes which they want George to try.  You can still vote by clicking on this link:  lifetimeasia.com/Georgeinsg. I would personally  like to see his reaction to Fishhead Curry!
Tickets to the event are on sale on sale now at $138 and you can purchase them HERE.
Event Details
Date: Tuesday, 28 Oct
Time: 7pm
Venue: Hotel Jen Singapore, 1A Cuscaden Road
This event is co-hosted by Lifetime and StarHub