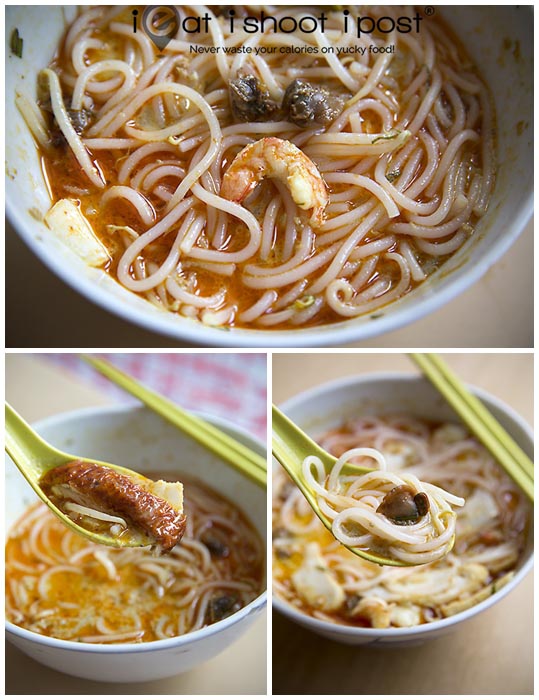 Finding a stall like Geylang Laksa is like landing a 600kg Bluefin tuna.  In order to grow to that size, the tuna had to be able to siam (escape) the millions of hooks in the ocean which has managed to ensnare 96% of its compatriots over the years.  With a net as wide as the World Wide Web and thousands of food bloggers and facebookers, I am amazed to still be able to find stalls such as Geylang Laksa which is still pretty much un-googleable (ok un-bingble as well) after being in business for over 80 years!
There are some fans here, I am sure, who can still remember the man with the brown police hat (The kind that went with the shorts) peddling laksa along Geylang Road in the 70's and 80's.  He would start at Geylang Lor 1 at 7am and make his way to Geylang Lor 42 by midday and back to Lor 1 again by late afternoon.  He had started selling laksa just after the war and had been doing this for forty years before his apprentice, Johnny Lim, took over.
You might be wondering why he had to travel across the length of Geylang road to sell his Laksa? Well, it was to keep one step ahead of the health inspectors (di gu) whose job was to get the hawkers off the streets in those days. So if you wanted to eat his laksa, you need to know the time and place to find him!  Needless to say, the health inspectors also knew about his timetable but were in fact allowing him to continue his trade as he was getting along in years.  It was when the old man finally retired that they persuaded Johnny to settle in a nearby coffeeshop!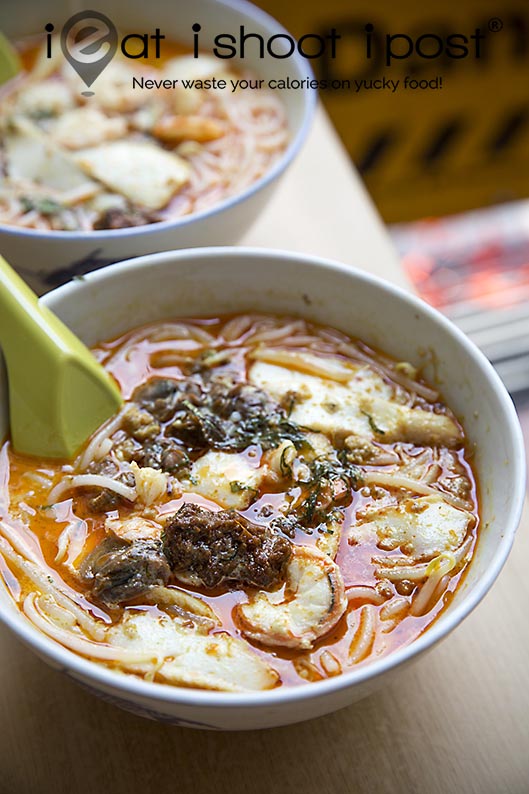 When Evelyn Koh first alerted me to the existence of such a stall, I was a little skeptical.  If it were really as good as she said, you should be able to find something about it on the WWW — but the information was scant.  I couldn't even get the opening and closing times and a contact number!  But my foodie instincts tell me that I should check it out and so I arrived on a Thursday lunchtime only to find that they had sold out!  After much pleading, Johnny finally gave me 2 spoonfuls of gravy that was left at the bottom of the pot.  That was when I knew I was on to something and reserved a bowl of laksa for the next day!
The best word to describe this bowl of laksa is "Old School".  Now, this may not mean much to those who were born after the school had been renovated, but for those who are old enough, "Old School" laksa is laksa which is very fragrant but not overly spicy or overly rich such that you can down a whole bowl and not feel jelak. (bloated)  I remember eating my very first bowl of laksa back in 1987 and that was exactly how I felt.  Super tasty, very fragrant, smooth and full bodied, yet easy on the stomach and mysteriously addictive.  4.5/5
Laksa really is one of the tastiest dishes on earth.  What can be more tasty than a bowl of laksa?  Well, for me personally, there is something that can enhance the whole laksa experience and that is to combine it with a plate of roast chicken (or white chicken).  Fortunately, there is a roast meat shop in the same coffeeshop that sells pretty decent roast chicken!  One hind quarter of chicken $7, one bowl of laksa $3, total cost $10.
Now, compare eating this to eating a bowl of Ramen:
Laksa + Roast Chicken combination: Shiokfactor 9/10 =>  ShiokPer$ Ratio = 9/10 x10= 90 ieat units!
Bowl of Ramen: average shiok factor = 8/10, average price $15 => ShiokPer$ Ratio = 8/15 x10 = 53 ieat units!
Bottomline:
Laksa + Roast Chicken is one of the best value for money way to stimulate the shiok receptors in your brain!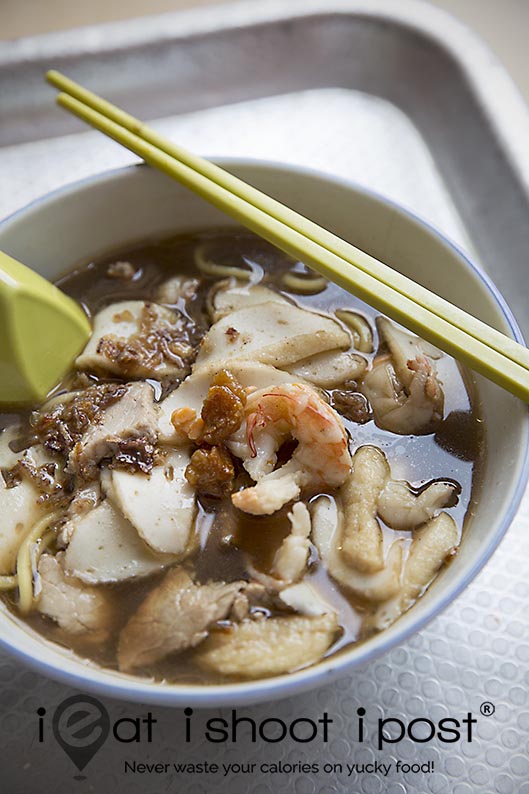 The prawn mee here plays 2nd fiddle to the laksa but I will tell you this.  If it were just selling prawn mee, it would easily make it to the top ten prawn mee in Singapore!  Again the prawn mee is super "Old School", classic Singaporean style prawn mee.  The broth is deceptively clear and just like a good consomme, you will never expect that such a innocent looking broth would harbour such a minefield of umami bombs.  Unlike the new Jumbo prawn mee places, they still slice the medium sized Sua Lor prawns into halves and serve the noodles with lean pork slices.  The pork lard is also deceptively delicious.  They are crunchy and salty and resistance really is futile!  4.5/5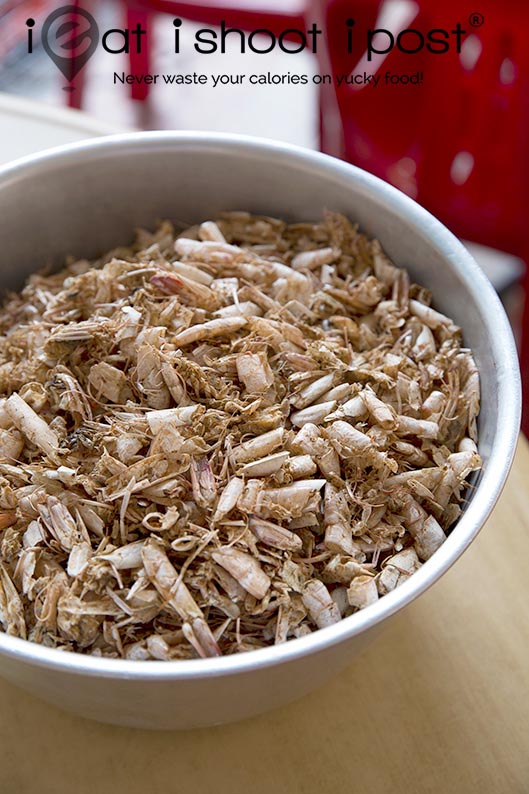 Johnny was kind enough to share with me the secret of a good prawn broth.  He went to the back of the stall and brought out a huge bowl of prawn shells which have already been wok fried until they were dry and crispy.  This, he told me,  was what remained of the 15kg worth of fresh Sua Lor which was delivered today.  In order to ensure that the soup did not have that smelly aftertaste, the secret was to fry the prawns till they are absolutely dry!  I picked up a piece and munched on it and it really tasted like a fragrant keropok!  (deep fried prawn crisps)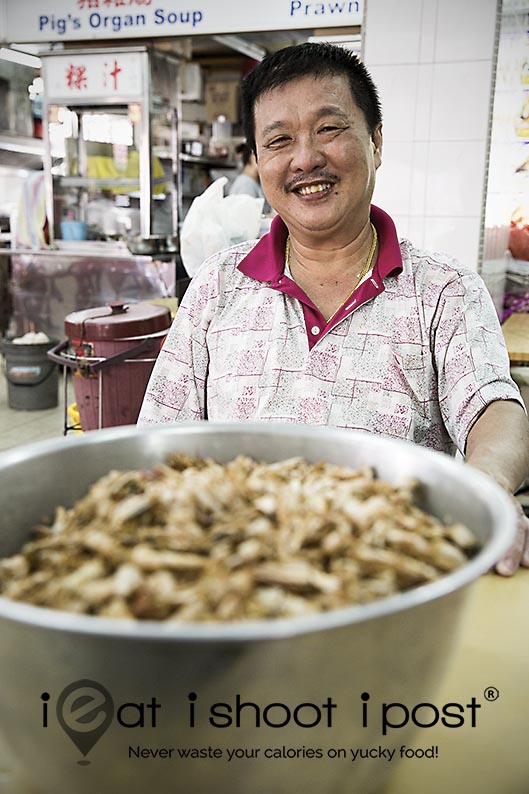 Like every good Teochew Ah Hia, modesty isn't one of Johnny's strong character traits!  He believes that his Laksa is the best in Singapore and that all the others pale in comparison!  I am sure that there are many fans here that would agree!
But is this the best bowl of laksa that he can make?  The answer is a resounding no.  This is the best bowl of laksa that he can make for $3.  The best bowl of laksa that he can make would cost $4.50 to $5 but he is not making it because all his regulars would start complaining.  His son, who is now training to be a chef in Shatec and has plans to take the family recipe to the next level by opening their own standalone laksa restaurant.  Once they do that, he will be able to command a higher price and make the laksa which he knows is the best that he can do.  I am looking certainly looking forward to it!  In the meantime, if you want to taste the upgraded version, you can still get him to cater it for you as he does do laksa buffets for private functions!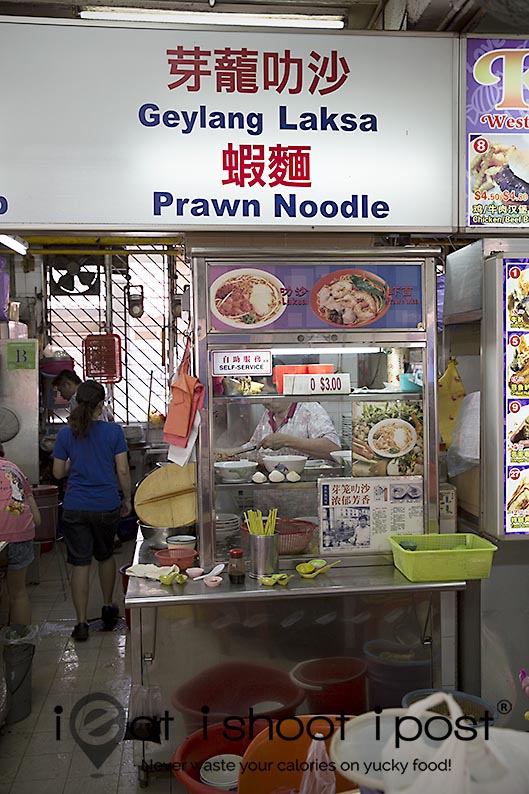 Conclusion
This really is a hidden gem!  Old school laksa and prawn mee.  If you love these two dishes, then you owe it to yourself to make a beeline to the stall ASAP!  Good and cheap doesn't get any better than this!