This Stall is closed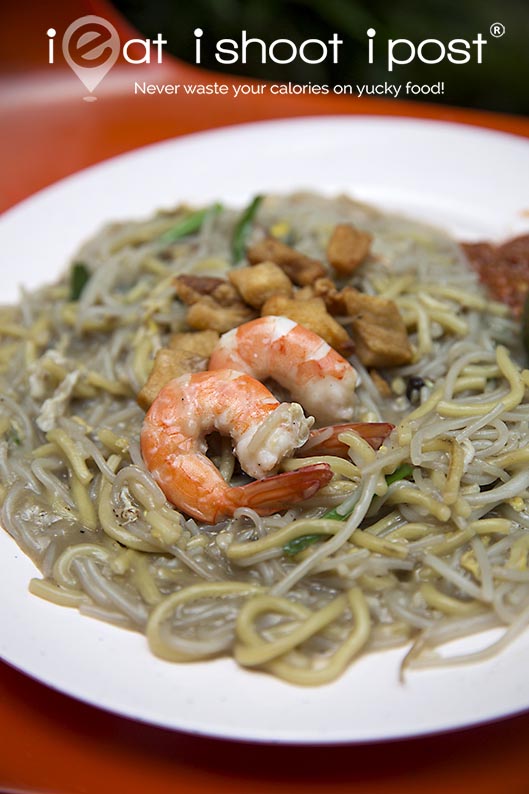 I am glad that there is an increasing concern for the future of our hawker heritage in recent years and much has been said about how we are going to preserve our hawker culture for the next 50 years.  In recent years, there has been a push to get the Pioneer Generation hawkers to impart their skills to younger Singaporeans.  On the surface, this seems like a good thing to do.  But I have spoken to some of these more established hawkers and they tell me that it is not easy taking on some of these young hawker wannabes.  You can try to teach them the skills, but they may not want to listen and still insist on doing things their own way!
The essential quality that a young aspiring hawker needs to have, really, is passion.  Passion and determination.  Having a sifu is good but not essential.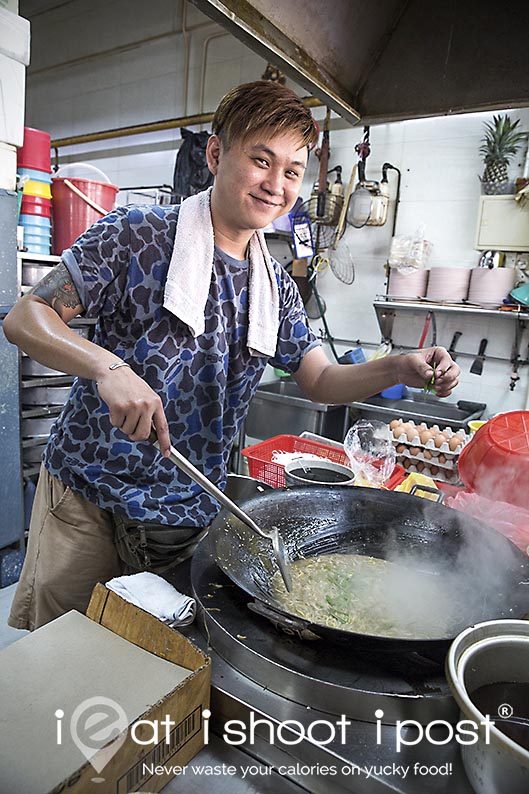 Take John for instance, our young protagonist today.  He did have some basic culinary training in Shatec but he essentially learnt the art of frying Hokkien Mee by observing the Masters.  That, in effect is what a disciple is supposed to do anyway.  A disciple learns by observing his sifu (master) and copying him.   But since John does not have a sifu, he learnt by secretly observing some of the best Hokkien Mee sellers in Singapore and then experimenting with the recipe until he managed to hit all the right notes.
There are a few key essentials in making a good Hokkien Mee and John really understands it.  The first is that Hokkien Mee is a dish that is first fried and then braised.  A lot of places nowadays cook their Hokkien Mee like a pasta where the noodles are just given a cursory stir fry in the wok and then the stock is added and the noodles braised.  That kind of Hokkien Mee is heavily reliant on the flavour of the stock and is easy to replicate in the food courts.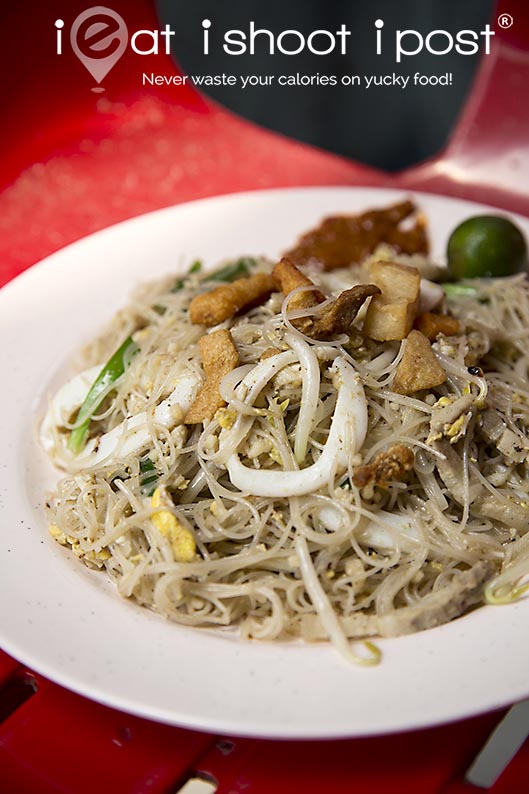 But what gives a good Hokkien Mee its edge is that initial stir fry where the eggs are nicely browned and the noodles are fried till they are just starting to char.  It takes a few more minutes of elbow grease and causes the whole place to be filled with smokey garlicky goodness which is why lesser hawkers tend cut short this part of the process. But John doesn't do that because he is determined to fry it properly which is why the queues got longer than an hour when the crowds started to gather after my initial facebook posting!
The second major factor in a good Hokkien Mee is the stock.  Here is where John's Shatec training was useful.  To make a good stock, the prawn heads were slowly fried until they are dry and then made into the stock.  But John did not stop there, he experimented with all sorts of other seafood ingredients like cuttlefish, lala and flower crabs until he found a good combination that produces a robust stock.  He also added pounded fried solefish (ti poh) and add this to his lard to give his noodles an extra umami boost during the initial frying stage!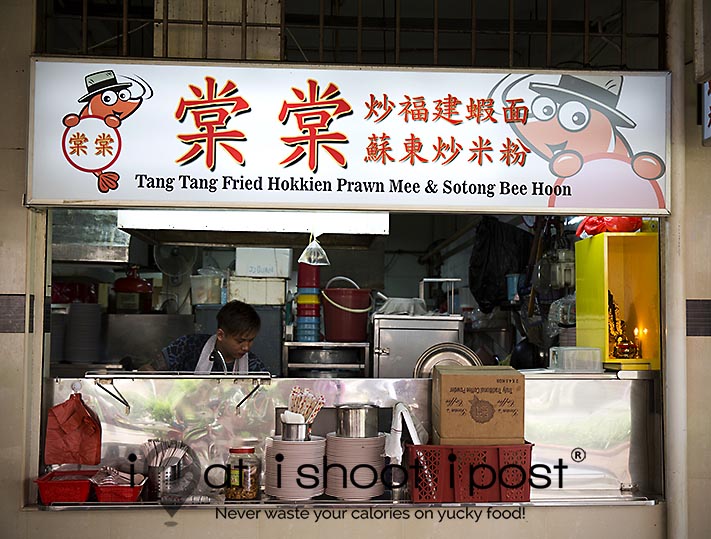 John's Hokkien Mee is one of the best that I have eaten.  The noodles are nice and charred and the flavours are complex and rounded, unlike a lot of places where it is pretty one dimensional because the main source of umami comes from MSG crystals.   It still can't beat Alex's Geylang Lor 29 Hokkien Mee, but it is comparable if not better than a lot of the other well established ones.  The only problem that I see now is for him to be able to maintain the standard of his Hokkien Mee when it gets busy.  He can certainly fry one plate of Hokkien Mee very well when there is no pressure from the crowd, but learning how to fry large batches and maintaining the quality is another challenge that will eventually separate the real masters from the wannabes!  4.5/5
Conclusion
It just goes to show that one doesn't really need a sifu to be able to be a good hawker.  In fact, I know quite a few great hawkers who are self taught!  The real ingredient for success is a lot of passion and determination!