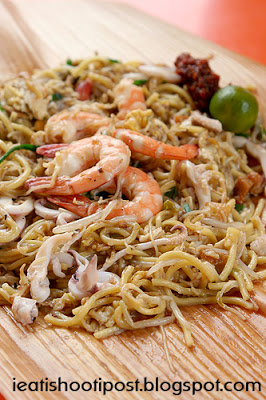 You know about Rochor Mee? (or Lohchor Mee depending on whether you pronounce your Rs) Ever wondered what is the difference between Rochor Mee and Hokkien Mee? There are many explanations that I have come across. One says that Hokkien Mee was originally called Rochor Mee because the Hokkien Coolies would gather around the noodle factories in Rochor and fry the noodles with prawn stock for dinner. Someone else says that Rochor Mee is simply a darker, more gooey version of Hokkien Mee.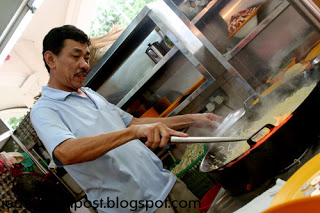 I decided to find a Professor of Hokkien Meeology to get the facts straight.
Having been in the Hokkien Mee business for over 40 years, Mr Alex See, one of the Street Hawkers featured in Yeo's Street Hawker Masters 2007, might just be the person who can help me.
According to Prof See, the Rochor Mee is the Nonya interpretation of the traditional Hokkien Mee. Traditional Hokkien Mee is fried until it is dry and eaten with sliced chillies. It was the Nonyas that came along and made the noodles with more gravy and used sambal to spice up the dish.
So I asked him how come he serves his Hokkien Mee with sambal? To which he quipped that he had no choice since many Singaporeans have grown used to having sambal with their Hokkien Mee. But he gave me a few slices of chilli and told me to eat it with just the sliced chilli if I wanted to taste the original Hokkien Mee. Hmmmm.. the taste is indeed very different.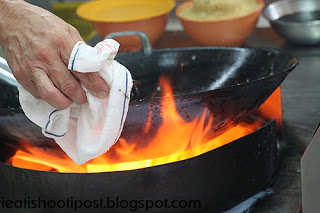 Prof See boasts that his Hokkien Mee is fried in a style that is the same as in the fifties. The emphasis is on having a really hot wok and frying the noodles until you get rid of the "Kee" smell. He explains that a charcoal fire heats up the entire wok and that he uses a special charcoal fire wok which is half the thickness of the normal gas fire woks. This way he can really swirl the noodles around to make sure that every strand gets it fair attention from the wok. Hence his Hokkien Mee is really "fried" and not simply "stewed".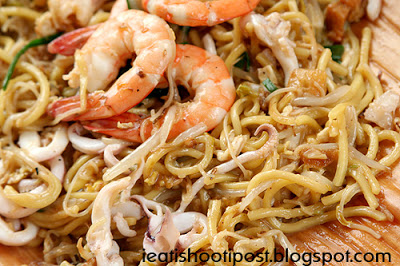 I have been eating here since he opened the stall at East Coast 7 years ago and this has always been one of my top Hokkien Mee spots. The noodles are really darn shiok but can be a little oily. I usually have to control myself as so that I don't overeat and end up filling really full for the rest of the day. 4.75/5
Conclusion
One of the best Hokkien Mees around. The noodles are very well fried and the lard is crispy. I am sure there are already many fans of this particular Hokkien Mee amongst our readers.
Update 24 Feb 2012
Ratings revised to 4.75/5. Visited yesterday with friends from overseas. They are the only Hokkien Mee which I bring overseas guests to and they have never failed to wow my guests!
Video Update:  23 Aug 2016