With iwatch_ueat, Nuffthing and davienne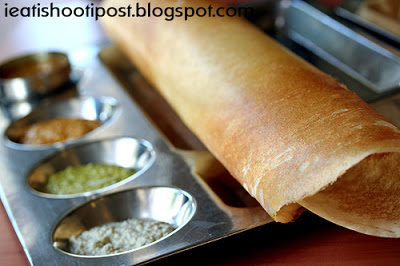 Ghee Roast "Rocket" Dosa Masala $3
I have said it before and I will repeat it again. Of all the different vegetarian cuisines, the one that would come closest to converting me into a herbivore has to be Indian vegetarian. Yes, it comes closest but I am still far from chanting "Fish are friends, not food"!
Very far.
But you know, the day may come when I finally have to succumb to having to lower my cholesterol levels and protecting my heart. Thankfully, I have not reached that stage just yet.
If you have been to Chennai, you will know of this very famous restaurant chain. If you have not, you might not — but now you do, like I did. This restaurant was recommended by one of our readers, Raihana Starbuck, who quite kindly shared her family's favourite eating spot with all of us. She said that "this is the only place in Singapore which has food like what it does in India". Having never had the opportunity to visit India, I thought I might go try it out and get a taste of some "real" Indian food.
What struck me most about the place is the apparent mismatch between the prices and the environment. For $3, you could sit down and enjoy the Ghee Roast Masala Dosa in air-conditioned comfort. And the Dosa was excellent, crispy and thin on the outside with a soft fluffy centre. The coconut and onion tomato chutneys tasted fresh and had a nice bite to it. The addition of the Ghee to the Dosa really gave it even more ooompph, which of course does not help if you are eating this to cut down on your cholesterol intake. The only drawback was the (potato) masala which could have been more tasty. 4.25/5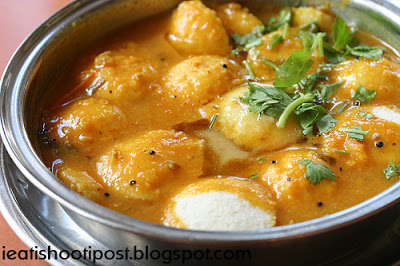 Idli $2.80
Nuffthing asked what this dish was. So I described it to him as "Wha Kor Kueh" in curry, which I thought came quite close. Idlis are steamed rice cakes which is what Wha Kor Kueh is. In retrospect, I think I should have likened it to Putu Piring without the gula melaka. At any rate, the idli is served in their standard dhal and drizzled with ghee which as I mentioned earlier, always adds oommmph to any dish like how pork lard does to Chinese dishes. 4/5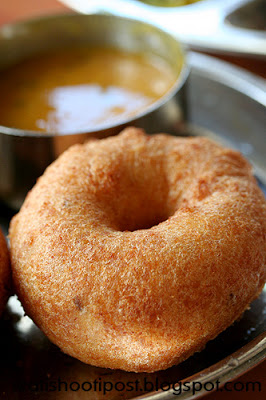 Vadai $2.20 for 2
The Vadais were served fresh and were nice and crispy on the outside and fluffy and savoury within. My only complaint by this stage is that they seem to serve the same dhal for every dish. I was kinda hoping to taste something different. But I guess it is my own fault for not knowing what to order. 4/5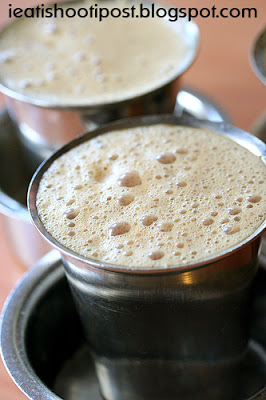 Masala Tea $1.30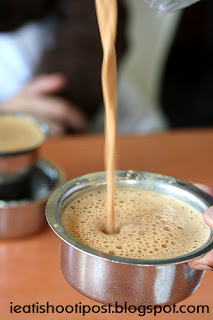 Don't forget to wash the whole meal down with some Masala Tea. Masala Tea, like Teh Halia is a wonderful way to finish off the meal as it serves to wash down all that spice and oil and aids in the digestion of the food. Aside from that, the four of us had some fun practicing our Teh Tarik skills on the table. Some Masala Teas can go a little too heavy on the spices, but I found this one just nice. 4.25/5
Conclusion
Well, I really enjoyed the whole experience and managed to save a few chickens in the process. Truth be said, I don't think I have ever had bad Indian vegetarian food. Then again I haven't really looked. Actually I wouldn't mind going on an Indian vegetarian trail to find the best Indian vegetarian food in Singapore. Perhaps you all can write in and let me know?
Update: 7 Sep 2008
Update: 30 Nov 2008
TKY has informed us that the restaurant is now situated at 86 Syed Alwi Road Singapore 207663.