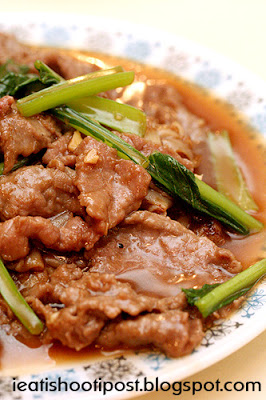 Beef Hor Fun $8.80
They should make this little Hainanese Coffeeshop in Coronation Plaze a Heritage Site! If you really want to re-live the good old days, this is the place to be. It was good that pchong wrote in to tell me about this Beef Hor Fun or I would have really missed the gem of a find!
Now, this is very unusual, but the best Wok Hei flavoured Hor Fun is not found in a Kopitiam, but a good old Hainanese Coffee House! No kidding. I have been lamenting about the lack of Wok Hei Flavour in Hor Fun since the start of this blog and was surprised that I finally managed to find what I was looking for in the most unusual of places.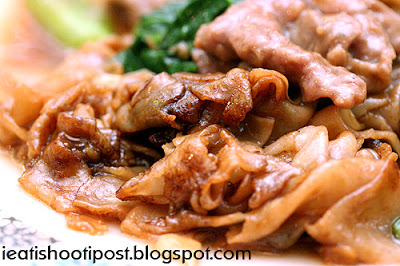 The beef was very nicely flavoured and wonderfully tender without being too spongy. This restaurant sells US Airflown Beef Steaks, so I was wondering if they used US Beef for the Hor Fun as well. It certainly tasted very good. 4.5/5
Students have it good here as they serve $6 set lunches which I have not heard of since the good old Silver Spoon days. However, don't expect to be greeted with a big smile here. No, the lady reminded my RJC librarian back in the days when RJC was still at Mount Sinai. I felt the compulsion not to talk too loud or use my camera too wantonly at this place. Perhaps the school disciplinarian atmosphere is due to the fact that they serve many students here, such that the lady boss has assume a matron-like persona.
Conclusion
My only real complain (all the stuff about the library atmosphere was quite fun actually) is with the price of my plate of Beef Hor Fun. At $8.80++ it is not cheap. Scanning through the rest of the Chinese menu, I also felt the prices could be more compatible with the environment we were in. A Hainanese pork chop with 2 slices of pork costs $13++ for instance. Nevertheless, it is probably the most impressive plate of Beef Hor Fun I have had in ages and the whole experience is definitely not to be missed.
Update: 15 August 2011
This restaurant has shifted to 249 Beach Road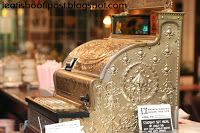 Recommended by pchong (he wrote in twice – persistence pays off)