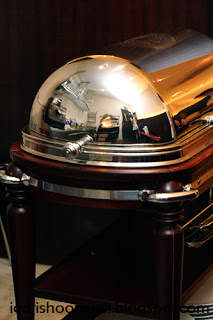 Thanks for being patient.
Here are the details of the ieat Charity Dinner!
Date and Time: 15 September, 7.30pm

Venue: Aston Prime, 467 Joo Chiat Road (Former Casa Bom Vento)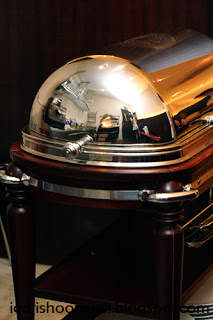 About Aston Prime:
Aston Prime is the newly opened upmarket version of the hugely successful Astons Specialities. The highlight of Aston Prime is the Prime Rib which is served on a Cart. Aston Prime's Full Menu serves other items such as Crab Cakes, Berkeley Rack of Lamb and Wild Salmon fillet, stuff that you would expect to find in a Steak House.
Aston is very generously sponsoring the event which means every cent you donate goes to Charity! This is also a great opportunity for you to sample the dishes and give Aston your feedback as well!
Menu
Starters: Zesty Shrimp Cocktail or Astons Classic Caesar Salad
Soup: Clam Chowder or Minestrone Soup
Mains: Burgandy Prime Rib of Beef 300g or Wild King Salmon Fillet or Half Roast Chicken with Herbs
Desserts: Provided by AG Cafe
Wines: A selection of fine wines will be served and there will also be a short Wine Appreciation Talk. The Wines are also sponsored.
Suggested Donation: $100 per head (All to be donated to AG Home)
If you cannot make it but would still like to donate, please make your cheques to:
"Presbyterian Community Services – AG Home"
And send the cheques to the following address:
Karri Family Clinic
866A Tampines St 83
#03-05
Singapore 521866

We will present the Cheques to Pastor Andrew on the night of the dinner.
If you want to get tax exemption from the donation, please write down your address and particulars on the back of the cheques
If you do not have a Cheque Book, a good idea is to give Vouchers from NTUC or Popular Bookshop or similar outlets and send the vouchers to the above address. Please include your particulars and address so that a receipt can be sent to you.
There have been companies who have written to me wanting to support the Dinner through donation of door gifts and lucky draw prizes. So we are really going to have a bit of fun at the dinner! If you also can contribute something to the AG Home or the Dinner, do write to me at [email protected] and let me know.
What to Do
If you would like to come for the dinner, please write to me, [email protected] with your name, pen name (if you have one) and contact number and indicate whether you are going for the beef, fish or chicken.
The restaurant can only hold 40 pax, so it is on a first come first served basis.
Closing Date: 1 Sep 2007 or when full house