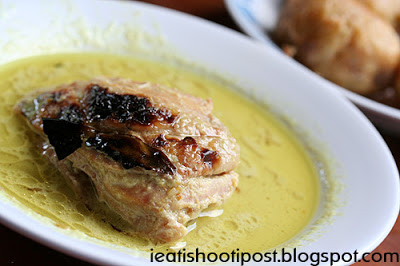 Ayam Opor $2
Sabar Menanti roughly means "Good things come to those who wait patiently". This is quite misleading because one hardly has to wait patiently for a plate of Nasi Padang unless of course the queue is very long. Even though the stall is called Sabar Menanti II, it is quite different from the original Sabar Menanti just across the road at Kandahar Street. Having tasted the food from both stalls, I would say that this is one restaurant where the offshoot is better than the original.
Now, let's get back to my Chicken Korma trail.
The problem with Chicken Korma is that there are several names attached to this dish so there is a bit of confusion over whether you are really ordering the right stuff. This stall calls the dish Opor Ayam but the gravy tastes like the Ayam Korma that I was expecting. The one at Warong Pariman is simply known as Ayam Pangang. Would our Nasi Padang specialists please enlighten us on the finer aspects of this dish?
Whatever you might call it, I call this dish SHIOK! Oh yes, the gravy here is great and almost like the one I remember at the original Rendezvous Restaurant. Oooohhhh, spoon the gravy over the Bergedil and I would gladly trade my Ribeye steak with you. (NZ Ribeye but not Wagyu yeah?) The creamy, green chilli and tumeric scented gravy is definitely one of the top ten yummiest tastes in my books! 4.5/5
Now Beef Rendang also comes in many different styles. This one is the dry type with chunks of tender beef coated with a fragrant spicy paste spiked by Kaffir Lime and Tumeric leaves that gives it a nice spicy-citrus flavour. This is great with rice but you get even more ooomph out of it if you put it in pita bread with cucumber raita. 4.25/5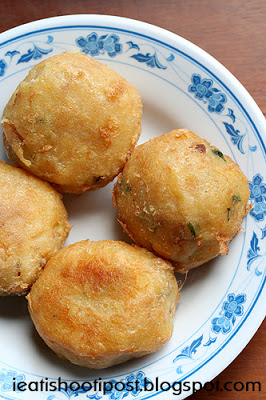 Bergedil 50cent each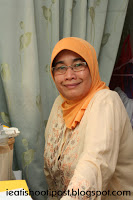 Bergedil is one of my favourite food and I can down half a dozen of these especially when I have the Ayam Opor gravy to drown it in. Mak Cik uses the yellow and creamy Holland potatoes to make the Bergedil, so it's real sweet and creamy. Simple dish it may be, but it delivers maximum satisfaction especially if they are served freshly fried. 4.5/5
Conclusion
A plate of rice, half a dozen bergedil and a big plate of Ayam Opor equals max-oooomph for me!