This place is closed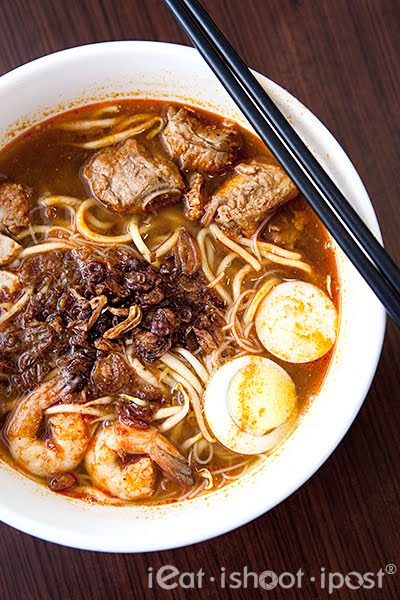 Penang Prawn Mee ($8.90 with pork ribs, $6.00 without)
Penang Road Cafe: Prawn mee with Ooommph! – ieatishootipost
Ah Penang food. Who doesn't like it? I guess we all enjoy it because it is so much like Singapore food, yet different. One good example of this is the Hokkien Prawn Mee. The soup in Penang is usually very robust. So much so that when my friend, the popular food blogger, CK Lam visited Singapore, it was hard to impress her with our prawn noodles. I don't blame her. Prawns are plentiful in Penang, which is why they are famous for their Hae Gor (fermented prawn paste). When I visited Penang, I too found that their prawn noodles were so much more robust than the ones we have here. Part of the reason is that they use these tiny prawns to make the soup which end up looking like Hae Bee (dried shrimps) after they are cooked. These tiny crustaceans are a real flavour booster! Don't play play, OK?

So, no point telling you how good Penang Prawn Mee is and making your mouth water without telling you where you can satisfy that craving right here, right now, right? Right!
All you need to do is to head down to Penang Road! The Penang Road Restaurant that is, not the famous road in Penang where you find the famous Teochew Cendol stall. This restaurant is run by a Singaporean man and his Penang wife and they do a pretty mean Prawn Noodle soup. It doesn't have those small prawns I was telling you about, but they still managed to brew one heck of a soup that is guaranteed to hit all those umami receptors on your tongue. In order to bring out the maximum flavour of the prawns, the heads and shells are fried first, then blended in a food processor before boiling. So you are getting all that wonderful tomally (prawn liver and pancreas and all that sweet stuff in the head) that gives it that wonderful flavour. If you are interested in the recipe, The Food Canon has got Aunty Ruby's recipe written up. But after you see how laborious it is, I think you'd probably just pay the $6.80 to eat it at Penang Road Restaurant. It still hasn't hit the same level as the best ones in Penang, but it can hold its own amongst the best Prawn Mee here. 4.5/5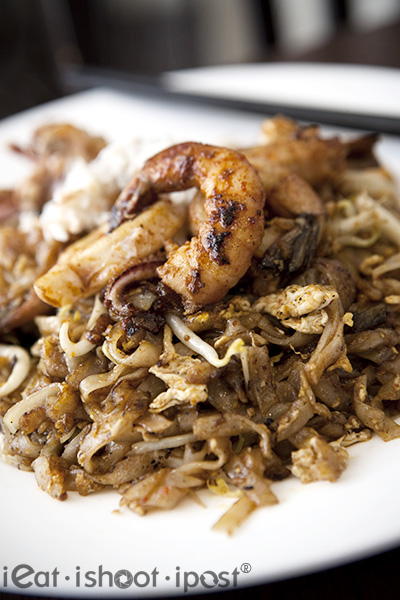 Penang Char Kway Teow $9.90 or $6 without seafood
Penang Char Kway Teow is one of the top three Penang dishes that people would mention whenever you talk about Penang food. Some people like to say that Penang Char Kway Teow is better than Singapore's, but I see them as two different dishes. The Penang version is flavoured with prawns that are first fried in the oil before the kway teow is added whilest the Singapore version has the addition of sweet sauce and the "blood" from cockles just before serving.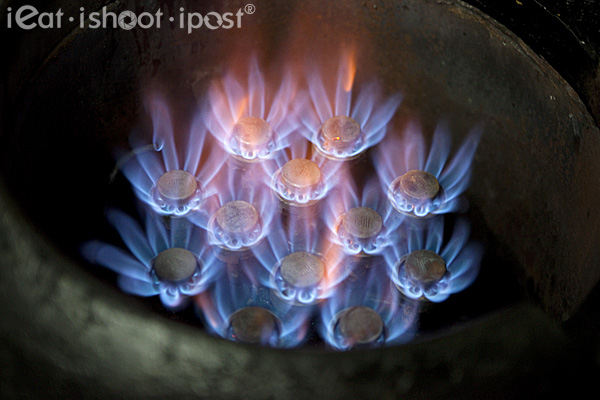 Mushroom head stove sourced from Malaysia
What is similar though is that fact that the quality of your Char Kway Teow really boils down to who is doing the frying. In order to infuse that smokey wok hei flavour into the kway teow, control of the fire and timing is key. Of course, a charcoal fire is still the best way to heat up the cast iron wok but the next best thing, I was told, is to use a mushroom head gas burner. The owners here have made special effort to source this from Malaysia as it is not readily available here and they have one stove that is specially set up just to fry the Kway Teow. So, this is a good place also to satisfy that hankering for Penang fried kway teow although I have to moderate your expectations a little. Don't expect it to be as great as Two Sisters or Ah Leng in Penang and you'd be quite happy with this one. 4.25/5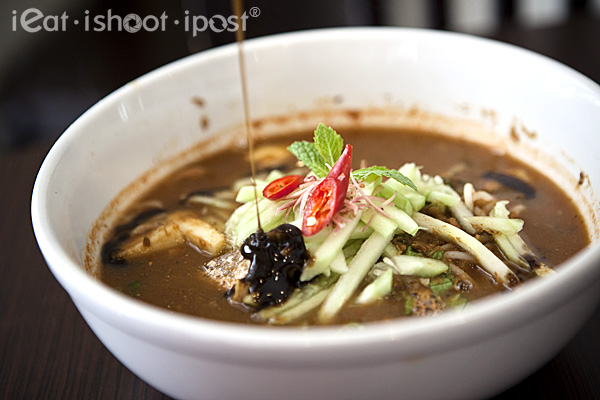 Assam Laksa $6
Malaysia has done very well to have Assam Laksa voted CNNGo's 7th most delicious food in the World but I can't disagree more. If Assam Laksa is the highest ranked dish in Malaysia, then where does that put KL Hokkien Mee and Penang Char Kway Teow? Another reason why I vehemently disagree is that the love for Assam Laksa isn't exactly universal. I for one don't like it and I can say that for a good number of people reading this blog, I am sure. Something like Tomato Ketchup or even Tom Yum Soup is more universal, but Assam Laksa is more like Durian where opinions are polarized.
However, there are many people who love the pungent stench of the pelagic fish (eg scads, selar) mixed with fermented prawn paste and spiked with soury tamarind. If you are one of these, then you should check out the Assam Laksa here which my friends say is pretty good. I already told you I don't like Assam Laksa so its hard to rate this one but I would give it a score of 4.25/5 based on my kakis' opinion.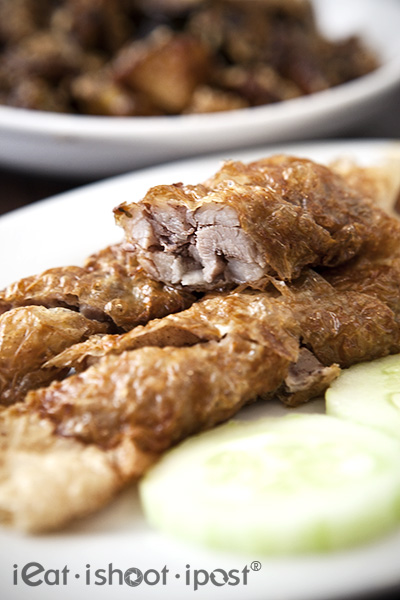 Lor Bak $6
This restaurant's menu is pretty limited. They are planning to expand the menu but in my opinion, there really is no need to as most people would just like to eat the few perennial Penang favourites. I was a little disappointed that the Lor Bak here did not come with any "Lor". These strips of spiced meat that have been wrapped in bean curd skin ie the "Bak" is alright, but without the brown braising sauce, ie the "Lor", it just isn't complete. Just imagine eating Tempura without the dipping sauce! 3.5/5
For dessert, I would go for the Cendol. The one most visible sign that a stall is serious about its cendol is the fact that they bother to make the large kidney beans rather than red beans. Another sign is the colour and translucency of the Cendol.(Those green vermiform things) The paler, less translucent ones usually means that the Cendol is handmade and therefore will have nice pandan scent and soft to the bite. Even though the Cendol here has been sourced from a supplier, I am glad to report that they are still much better than the luminescent green ones that you get at most places. It would have been perfect if the coconut milk was freshly squeezed and they used pure Gula Melaka from Malacca. Don't worry lah, I didn't pick that up from tasting it, I asked the boss — in case you are thinking to yourself: "Wah, Ji Kor Si Peh Li Hai!" (Wah, this fella is brilliant!). 4.25/5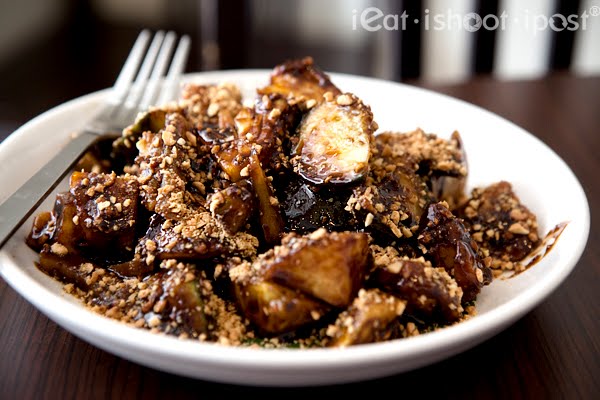 Penang Fruit Rojak $5.50
Unless you really need some fruits, I suggest you give the rojak a miss and order something else. Not that its bad, it just doesn't stand out like the rest of the dishes. To me, its just a normal plate of rojak without the You Char Kway. 3.5/5
Conclusion
Have you noticed that there has been a slew of restaurants selling Penang food lately? Penang food has always been popular amongst Singaporeans but it is only of late that there has been an invasion of Penang restaurants and Penang Road Restaurant is one of the latest to open here. So if you are hankering for some Penang food, Penang Road is just an MRT station away!
Penang Road Cafe
275 Thomson Road
#01-08, Novena Ville
Singapore 307645
62563218, 97862079 (Alan Lim)
11.30am to 2.30pm
5.45pm to 9.15pm
Closed Mondays