Contestant #1: Kedai Kopi Sin Hua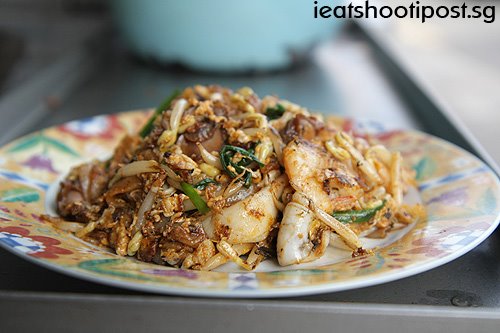 RM 3.50, RM 4 with duck egg
We wasted no time to get to our first food stall. I had skipped breakfast and the inflight meal, so when we touched down in Penang we headed straight for some Penang Char Kway Teow.
Our first photostop was the Temple of the Reclining Buddha and our Tour Guide told us that just around the corner there was a famous Char Kway Teow Stall. So, while the others were busy photographing at the temple grounds, Wahcow and I met up with Penang Blogger, CK Lam and headed for the Char Kway Teow stall.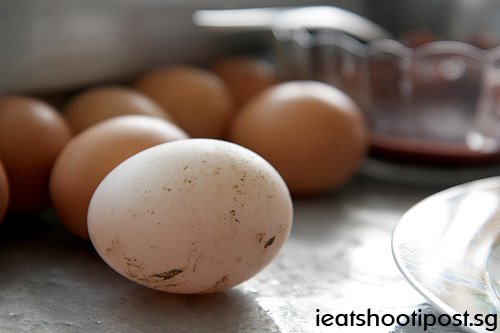 Duck Egg
Now, among all the different Penang hawker dishes, I must say that Penang Char Kway Teow was the one that I really wanted to try. Firstly, because there are not many really good Char Kway Teow in Singapore and secondly, it is one of those dishes that almost everyone says is much better in Penang.
So I was really excited to be sitting in this old Kedai Kopi (coffeeshop) experiencing Penang CKT for the very first time. (I was last in Penang 28 years ago) I have to say that I wasn't too impressed with the frying technique from the outset because the man frying the CKT looked like he needed a cup of Kopi.
Sure enough, when we finally got our plate of CKT, it really was a real anti-climax. The Kway Teow was dry and limp and really wasn't what I had expected Penang Char Kway Teow to be. CK only told me later on that in fact, the stall was really good in the past, but the original lady had left and the guy frying the CKT was actually her helper! 3.5/5
Alright, at least for those people who say that "CKT from any stall in Penang is any time better than Singapore", well it's not true.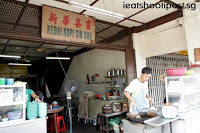 Kedai Kopi Sin Hua
329 Burma Road Opp Pulau Tikus Polis Station
Just 5 mins from Temple of the Reclining Buddha
Open for lunch

Contestant #2: Heng Huat Coffee Shop (Aka Goggle Lady)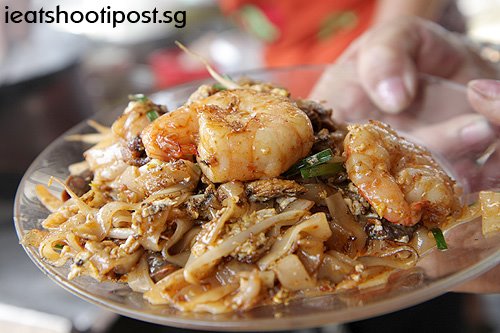 Big Prawn Char Kway Teow RM9
Right after the photoshoot at the Reclining Buddha Temple, the whole group headed for lunch at one of Penang's top two Char Kway Teows. I was told that the usual waiting time is around 45 mins for a plate. Perhaps this can help salvage my impression of Penang Char Kway Teow.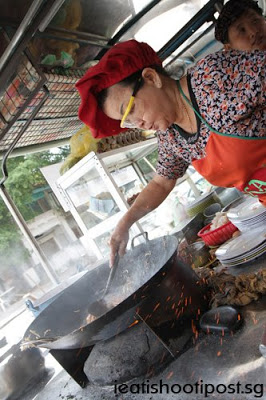 When I first saw how this lady was enthusiastically attacking the wok, I just knew that this was going to be a different plate of Char Kway Teow from that first one. The communist red beret and those goggles only added to the initial excitement as did the sparks flying off the burning charcoal.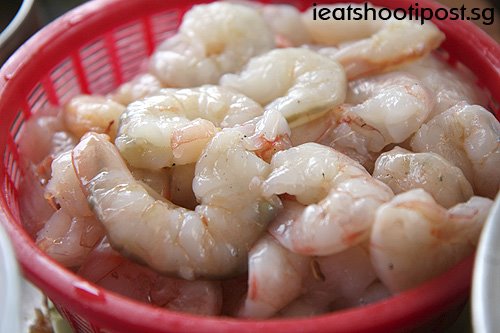 Another thing that really got me excited was the size and quality of the prawns that they used. They were super fresh and wonderfully sweet. The lady tells me that she gets them fresh from the local kelong there. Now, huge prawns like these are not part of the standard Penang Char Kway Teow. But since we came all the way from Singapore, we ordered their most expensive option which costs RM 9. Still quite a bargain compared to what we pay in Singapore.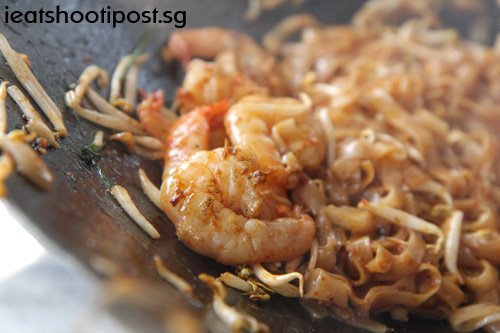 The end product is a Char Kway Teow that was lively, smooth and infused with the umami flavour of the prawns. The Kway Teow also has that elusive Wok Hei and savoury flavour which is often missing in Singapore. Now at least I understand why people often say that Penang Char Kway Teow is better than Singapore's. 4.5/5
OK, this aunty has won back my confidence with Penang Char Kway Teow. It is a far cry from the anaemic one that we had at Sin Hua and definitely worth the calories!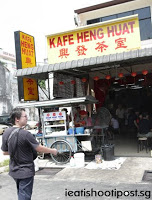 Two Sister's Char Kway Teow
Kafe Heng Huat
Lor Selamat (off MacAlister Road)
Open for lunch
Contestant #3: Ah Leng Char Koay Teow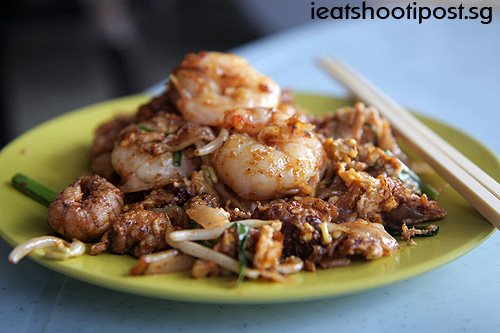 For our final Char Kway Teow, we headed for Ah Leng's which is widely regarded as the best in Penang. One interesting fact is that Ah Leng had actually moved to Singapore around 7 years ago and was frying his Penang Style Char Kway Teow at around the Holiday Inn area for 2 years before he went back to Penang because of some taxation issues. Can anyone here confirm if this is true?
Anyway, Ah Leng's Char Kway Teow is different from Two Sister's because he uses Mantis Shrimp as well as the normal Sea Prawns in his dish. His plate of Char Kway Teow now costs RM 9.50 and is the most expensive around. But Penangites, I was told, do not mind spending more on food as long as it is good.
And it is no wonder that Ah Leng can sell his Char Kway Teow to at this price! This is the best plate of Char Kway Teow I have ever eaten. The Kway Teow had completely absorbed the flavour of the Sea Prawns and Mantis Shrimp so that every mouthful was like eating super umami Keropok flavoured Kway Teow. Ah Leng also uses Duck Egg in his Char Kway Teow which also adds to the richness of the dish. The complexity of flavours in each mouthful was something that I spent a good amount of time analyzing. 4.8/5
Conclusion
If Ah Leng's Char Kway Teow and Hillstreet Char Kway Teow were ever side by side, I have to say that I would choose to eat Ah Leng's Char Kway Teow!
Having said that, I don't think that it is very fair to compare Singapore Char Kway Teow to Penang Char Kway Teow because they are really quite different. So as they say, you are not really comparing apples to apples. First of all, Penang CKT does not have the sweet black sauce. Secondly, it does not include the yellow noodles and thirdly, a lot of the taste is derived from the prawns that they fry together with the CKT. There is a final difference which is not consistently found in all CKT stalls and that is the option of using Duck egg rather than chicken.
So ok, that's my take on Penang Char Kway Teow, do let us know what you think.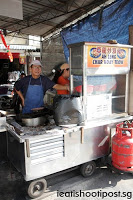 Ah Leng Char Kway Teow
Datuk Keramat Road
Closed on Thursdays
8.30am to 2pm